6 Best
Whoodle

Pet Insurance Plans Compared in 2023

Updated on by Matthew H. Nash – Licensed Insurance Agent

The Whoodle is a cross between a Wheaten Terrier and a Poodle. Other names for the Whoodle include Wheatendoodle, Wheatenpoo, Sweatendoodle and the Sweatenpoo. No matter what you call him, he's a healthy pup with a long lifespan of 12-15 years. But like all dogs, he faces a few potential health conditions that can dampen that high-energy spirit, such as hip dysplasia, eye infections, kidney issues, Addison's disease and retinal atrophy. This is where dog insurance can swoop (heads up – potential five-letter Wordle word by the way) in and help save the day. As a fan of all dogs myself, and a licensed insurance agent, I'm here to help guide you through all of the pet insurance options available to you and your Whoodle. Read more about our unbiased ranking methodology and advertiser disclosure.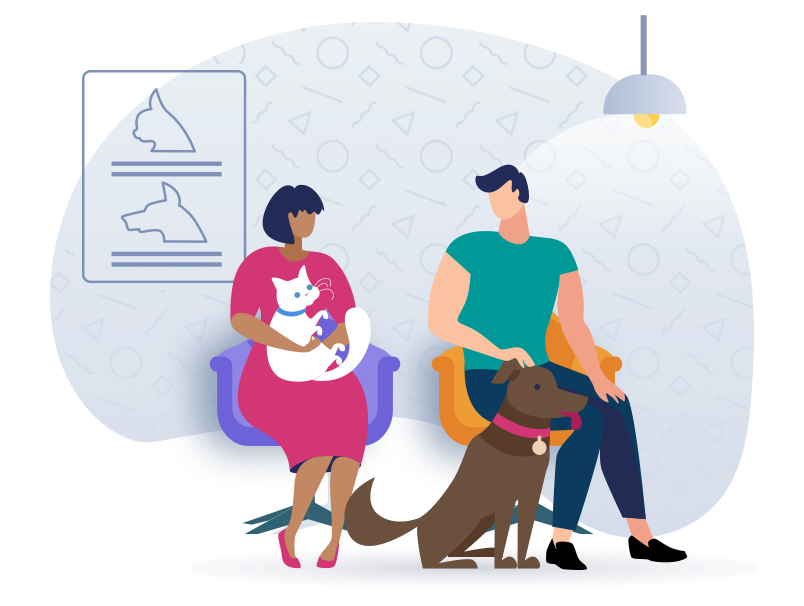 Top Whoodle Pet Insurance Scored, Ranked & With Cost
Use our below table to quickly compare the best Whoodle pet insurance providers. The average monthly specific prices shown are based on a healthy 2-year-old Whoodle with a $500 deductible and 90% reimbursement amount who is located in California with a 90210 zip code. Costs may vary based on age, location, and the coverage amount. Prices are accurate as of May 2023 and are subject to change. For the most up-to-date information, please visit the provider website.
---
Whoodle Pet Insurance FAQs
What is dog insurance and why is it useful for Whoodles?
It may sound confusing, but know that pet and dog insurance are one in the same. Pet insurance will help with medical expenses that may come up throughout your Whoodle's lifetime. The insurance policy will help support you with the potential financial costs of veterinary care. Dog insurance may not cover the entire cost of your dog's medical bills, but it will save money by covering a significant portion of those vet visits. Setting up a dog insurance policy is easy, just select a plan, make the required monthly payments to keep the policy active, and that's it. You'll submit receipts for reimbursement from your pet insurance provider when needed.

Dog insurance helps to support your Whoodle during anything that may unexpectedly come your way. Potential issues for your Whoodle include hip dysplasia, eye infections, kidney issues, Addison's disease (also known as hypoadrenocorticism, occurs when the dog's adrenal glands are not producing enough levels of corticosteroid hormones) and retinal atrophy. Trips to the vet to care for any of these issues is not uncommon and will likely take a bite out of your wallet, which is why pet insurance is a great way to help with the cost of those vet bills.
How old does my Whoodle need to be insured?
Dog insurance providers will want your Whoodle puppy to be at least eight weeks old to start insurance coverage. You should plan on enrolling your pup in a dog insurance plan as soon as you bring him home for the first time. Most pet insurance premiums are based on age, which means the younger you can enroll your Whoodle in a plan, the better.
What are common insurance claims for Whoodles?
Whoodles are generally healthy, but can still face a lot of issues that are common to dogs in general. Potential Whoodle issues include hip dysplasia, eye infections, kidney issues, Addison's disease (also known as hypoadrenocorticism, occurs when the dog's adrenal glands are not producing enough levels of corticosteroid hormones) and retinal atrophy. Your Whoodle is also a very active dog, so a trip to the vet for injuries with broken bones, scrapes and torn muscles is certainly possible. Pet insurance is so important because any of the items on this list will mean a trip to the vet and ongoing medical treatment.
What services for my Whoodle are covered by dog insurance? What services are excluded from coverage?
Like any medical insurance, your policy will cover surprise injuries or accidents and includes surgery, medication, medical tests, emergency care and exam fees. Some pet insurance plans also cover hospitalizations and preventative care. Almost any stumble, or scrape your Whoodle might come across during his lifetime can be covered.

For the exclusions, dog insurance policies will typically not cover the cost of care for pre-existing conditions, which is why it's so important to enroll your Whoodle on a policy as soon as possible.
How does reimbursement work?
Again, just like most insurance policies, you will be responsible to pay the medical bill upfront and you will then submit the vet bill for reimbursement to the insurance provider. Your Whoodle insurance provider will then pay you back a certain percentage of that bill. Your insurance company will determine how much money you'll receive back based on your deductible and reimbursement rate.
Should I enroll in a high deductible or low deductible plan?
Choose from high-deductible plans, low deductible plans, and even plans with no deductible at all. Policies work like any other insurance plans; the higher the deductible, the lower the monthly payment typically, but that means you'll pay a higher cost during those unexpected emergencies. The last thing on your mind during a pet emergency visit should be how am I going to pay for this expensive vet bill. The lower deductible plan may be for you, which means a higher monthly payment, but that will equal less of a financial surprise during a stressful medical emergency.
5 Tips for Keeping Your Whoodle Safe & Healthy
Your Whoodle is a big super cute ball of energy. He's smart, stubborn and fun-loving, all of which can make him a bit of a challenge for training. Either way, he's a loyal member of your family who is going to keep you on your toes for a long time. Including pet insurance in your overall pet budget will help with his overall care. In addition to that insurance, here's a few tips to make sure your Whoodle is happy and healthy.
1. Regular Exercise
Plan on exercising with your Whoodle for at least 30-60 minutes per day. There's a lot of energy balled up in that medium-sized pooch that needs to get out. When you are out, keep him on a leash as he's a very inquisitive dog who wants to take off and explore. Even better if you live near a park or long hiking trails, as there will be lots of new smells to check out regularly to keep him active. Heading out for a quick run or bike ride will also be a fun outing for your Whoodle.
2. Training and Socialization
Early socialization classes will be key for your Whoodle. Learning how to get along with others as well as how to listen to you when there's a lot of energy in the room is important. He's strong and likes to be a leader, so you'll need to be sure to let him know who's boss (hint – that's you). That said, positive reinforcement training will lead to a much happier trained pup. Like most dogs, he does not respond well to negative training such as yelling.
3. Nutritious Diet
Your Whoodle food should be for a medium sized dog with medium energy. Like many dogs, his dietary needs will change from puppy time to senior living. Work with your vet for proper weight guidelines and calorie intake recommendations. Always have clean, fresh water available as well.
4. Love and Affection
Whoodles love their toys (just their name seems to imply they like games and toys). Your Whoodle just wants to be near you and the family. He loves kids too, just know that it's just as important for kids to learn how to behave around dogs as it is for dogs to learn how to behave around kids. It's always a good idea to have supervised play sessions for the first few weeks, even months when you bring your pup into the family for the first time.
5. Regular Grooming
The good news is that if you have allergies, Whoodles are considered to be hypoallergenic, the bad news is that allergy free coat takes some maintenance. Your pup will need regular grooming with daily brushing and a coat trimming every two to three months. Regular nail trimming will also be important. You may want to purchase your own clippers, or plan on a regular appointment with a professional groomer.
Conclusion
Your Whoodle has a name that's as much fun to say as he is to run around with on a beautiful day. His cross between the Wheaten Terrier and a Poodle makes him an amazing, fun-loving family dog. Your pet insurance policy is a great way to ensure that your pup has all the care he needs to be a part of your family for a long time. With all the options for finding a good pet insurance policy, my job is to help guide you through all of the choices available to you, so you make the right insurance choice for you and your Whoodle. Once you select a plan, and pay the monthly premium, your pup is covered for many of the potential reasons where he may need veterinary care. Having pet insurance coverage means your Whoodle can receive the necessary treatment without the stress of facing a pile of medical bills. A company that I suggest looking into is Lemonade pet insurance, they consistently offer the best combination of price and coverage for your Whoodle.
SwiftScore Ranking Methodology for Whoodles
We ranked the best pet insurance policies for Whoodles based on a variety of important factors including the following:
Average monthly price for a 2-year-old Whoodle with a $500 deductible located in the 90210 zip code
Coverage and benefits
Key policy details including accidents and illnesses, surgeries, annual check-ups, cancer treatment, lab tests, and more
AM Best rating of the underwriter
Reimbursement percentage
Annual benefit amount
Technology and user experience

Ease of sign up

Policy language clarity
User reviews
Other state dog insurance resources
Alabama | Alaska | Arizona | Arkansas | California | Colorado | Connecticut | Delaware | Florida | Georgia | Hawaii | Idaho | Illinois | Indiana | Iowa | Kansas | Kentucky | Louisiana | Maine | Maryland |
Massachusetts | Michigan | Minnesota | Mississippi | Missouri | Montana | Nebraska | Nevada | New Hampshire | New Jersey | New Mexico | New York | North Carolina | North Dakota | Ohio | Oklahoma | Oregon | Pennsylvania | Rhode Island | South Carolina | South Dakota | Tennessee | Texas | Utah | Vermont | Virginia | Washington | West Virginia | Wisconsin | Wyoming