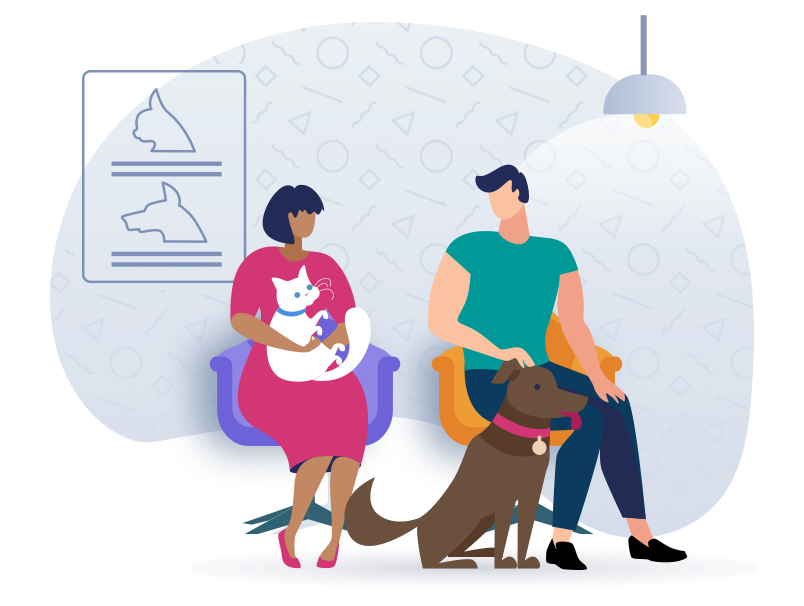 Top Wheaten Terrier Pet Insurance Scored, Ranked & With Cost
Use our below table to quickly compare the best Soft Coated Wheaten Terrier pet insurance providers. The average monthly specific prices shown are based on a healthy 2-year-old Soft Coated Wheaten Terrier with a $500 deductible and 90% reimbursement amount who is located in California with a 90210 zip code. Costs may vary based on age, location, and the coverage amount. Prices are accurate as of June 2023 and are subject to change. For the most up-to-date information, please visit the provider website.
---
Soft Coated Wheaten Terrier Pet Insurance FAQs
What is dog insurance? How is it beneficial for Soft Coated Wheaten Terriers?
To protect your Wheaten with dog insurance, apply for coverage with your insurance provider of choice and keep the policy active by paying the monthly premiums. Should your dog fall ill or become involved in an accident, you will be responsible for paying the veterinary bills upfront. Then, you will be able to submit a claim to your insurance company for reimbursement. Remember that insurance policies usually exclude pre-existing conditions, which is why we encourage pet owners to get their dogs insured while still puppies (8 weeks to 1 year).

Dog insurance is beneficial for Wheatens since they inevitably have veterinary emergencies at some time in their lives. Urgent vet care is expensive. For example, therapies for illnesses such as cancer run upwards of $10,000. Many uninsured pet owners end up putting their dogs down because they cannot afford the care their little pals need, but insurance eliminates this unfortunate possibility.
Are there age requirements to get my Wheaten insured?
If you have a Wheaten puppy, they will need to be at least 8 weeks old before you can insure them. If you have an adult or senior canine pal, the great news is that you can purchase dog insurance at any time. Keep in mind that younger animals are cheaper to insure, so getting your pup dog insurance before their first birthday is best.

An exception to the conventional insurance model is Pawp. They protect up to 6 pets of any age in your household with an "Emergency Fund" for a $24/month flat fee. Please note that Pawp only provides coverage for emergencies as qualified by their virtual team of veterinarians, and the "Emergency Fund" will cover only a single vet bill up to $3,000 for one of your pets in a given year. They also offer unlimited telehealth and pet expert consultations.
Is it worth it to get my Soft Coated Wheaten Terrier dog insurance? If so, what are some of the common reasons for claims?
Wheatens are sturdy dogs, but they come with their fair share of breed-specific health conditions. One such condition is cataracts, which are white film-like substances that form over the corneas. They reduce the amount of light that can enter the eyes. Cataracts are a degenerative disease, which worsens with time and eventually leads to blindness. Cataracts are resolved via surgery and with a high success rate. You can expect to pay close to $4,000.

Another condition costly to resolve is hip dysplasia, which occurs when the ball and socket of the hip joint develop abnormally. The result is that the bone and cartilage grind down over time, leading to severe arthritic pain. While anti-inflammatory and pain medications can help alleviate some pain, they do not cure it. To fully correct this condition, hip replacement surgery is the only option. Costs for such an operation can run as high as $7,000.

While other ailments plague this breed, including kidney disease and renal issues, the two above are some of the most costly (not accounting for accidents).
What does dog insurance include and exclude?
Coverage varies from provider to provider. As a general rule, though, insurance will cover any health-related event considered "sudden and catastrophic." Examples of issues that would be covered include, but not limited to, are ear infections, allergies, broken bones, and urinary blockages. If your dog has a condition upon applying for insurance, it will be listed as a pre-existing condition and not eligible for coverage. Many pet insurance companies now offer "wellness packages" that you can add to your policy, which will pay for routine care such as physical exams, heartworm prevention, vaccinations, and more.
How does the reimbursement process work?
If your dog needs a $10,000 emergency surgery, and your policy offers a 90% reimbursement rate with a $250 deductible, and a $20,000 annual maximum benefit, your provider would reimburse you $7,200 minus the $250 deductible. This would leave you to pay only $1,050 out-of-pocket instead of the original $8,000 total. Should paying the entire bill upfront and waiting for reimbursement cause financial distress, Trupanion might make more sense for your dog insurance needs. Trupanion pays veterinarians in their network directly, so you can give your full attention to helping your dog heal and get well.
Is it better to have a higher or lower deductible?
Different deductibles suit different people and their financial circumstances. A lower deductible comes with higher monthly premiums but cheaper out-of-pocket costs in emergencies. On the other hand, a higher deductible comes with lower monthly premiums but lower out-of-pocket expenses in case of catastrophic events. You are best off running the numbers to determine which best suits your situation. Many pet insurance companies have calculators on their websites you can use when requesting a quote. That said, we've noticed that dog owners typically prefer $250 or $500 deductibles.
5 Useful Strategies for Keeping Your Soft Coated Wheaten Terrier Safe & Healthy
Wheatens are fantastic, family-friendly dogs who are happy, loyal, playful, and intelligent. Nevertheless, they are high-maintenance dogs that require the care of conscientious owners. Below are five tips to help you look after your Wheaten the best you can.
1. Groom your Wheaten every day
Wheatens are an extremely high-maintenance breed. They need to be brushed every day and often multiple times a day. Their coats quickly pick up burs, leaves, and dirt. Also, brushing them throughout the day will help prevent mats from forming. Keep in mind that your Wheaten is in love with life, and they live it to the fullest by rolling in dirt or mud puddles.

Professional grooming is necessary every 4 to 6 weeks. If you decide to groom your Wheaten on your own, consult your veterinarian on how to trim their nails and clean their ears safely. This breed also has very sensitive skin, so you need to ask a groomer for the best hair care products. Never use the human equivalents as they are toxic for dogs and cause irreparable damage.
2. Train your Wheaten early
Wheatens are happy-go-lucky dogs that love to bounce, jump, and smother people and kisses. While this can be cute, it also can be overwhelming and problematic. Training and socializing your Wheaten while they are still a puppy will ensure they are well-adjusted around other people and animals. Remember, Wheatens are still terriers, which means they have a stubborn streak and require a lot of training. Make training a regular part of their lives. Be consistent in your tone of voice, choice of commands, and enforcement of expectations. Avoid harsh reprimands and redirect undesired behaviors toward desired behaviors, using positive reinforcement and rewards-based training methods.
3. Help your Wheaten avoid separation anxiety
Wheatens are not a breed to be left alone for more than 2-3 hours at a time. Only ever do so once they have been housebroken and undergone significant obedience training. Leave them alone for longer and watch them rebel by chewing, tearing, and barking their way through your house. Apart from anxiety, they may also become depressed. Wheatens love their owners and want to be around them as much as possible. Taking them with you to run errands and making sure they get more than enough exercise and playtime each day will keep your Wheaten happy and healthy.
4. Keep your Wheaten hydrated
Wheatens are more high-energy and playful than other terriers as they love to bounce, jump, and be in motion as much as possible. As a result, they can quickly become dehydrated. Be sure to keep their water bowl full of fresh water throughout the day and bring water with you whenever you leave home together. Another way to ensure they get the water they need is to feed them homemade or raw meals full of moisture-rich ingredients such as meat, fruits, and vegetables. Lastly, you can mix in a couple of spoonfuls of water with their meals.
5. Give your Wheaten the proper amount of exercise
Wheatens are an energetic breed of dogs that would play all day if you let them. If you want to avoid them resorting to destructive behaviors, take them on multiple walks per day. They need a minimum of 2-3 hours of exercise broken up throughout the day. Remember to make playtime a significant part of your Wheaten's day too. Fetch is a game this breed adores and is a perfect way to wear them out at the end of the day, so they settle down for the rest of the evening.
Conclusion
Ultimately, selecting the best dog insurance for your adult or juvenile Wheaten is much easier than it may have seemed initially. My team and I recommend buying dog insurance once your puppy is over 8 weeks. The younger your dog is when you get them insured, the better the rates you will get and the fewer restrictions on pre-existing conditions. That said, purchasing dog insurance at any point in your canine's life will provide the necessary coverage for expensive emergency procedures and wellness-related care.
Ready to get started? After countless hours of research, we've found that Lemonade pet insurance consistently performs the best with the lowest monthly premiums.
SwiftScore Ranking Methodology for Soft Coated Wheaten Terrier
We ranked the best pet insurance policies for Soft Coated Wheaten Terrier based on a variety of important factors including the following:
Average monthly price for a 2-year-old Soft Coated Wheaten Terrier with a $500 deductible located in the 90210 zip code (Please note: prices will vary greatly based on your location)
Coverage and benefits
Key policy details including accidents and illnesses, surgeries, annual check-ups, cancer treatment, lab tests, and more
AM Best rating of the underwriter
Reimbursement percentage
Annual benefit amount
Technology and user experience

Ease of sign up

Policy language clarity
User reviews
See dog insurance prices in your state
Alabama | Alaska | Arizona | Arkansas | California | Colorado | Connecticut | Delaware | Florida | Georgia | Hawaii | Idaho | Illinois | Indiana | Iowa | Kansas | Kentucky | Louisiana | Maine | Maryland | Massachusetts | Michigan | Minnesota | Mississippi | Missouri | Montana | Nebraska | Nevada | New Hampshire | New Jersey | New Mexico | New York | North Carolina | North Dakota | Ohio | Oklahoma | Oregon | Pennsylvania | Rhode Island | South Carolina | South Dakota | Tennessee | Texas | Utah | Vermont | Virginia | Washington | West Virginia | Wisconsin | Wyoming