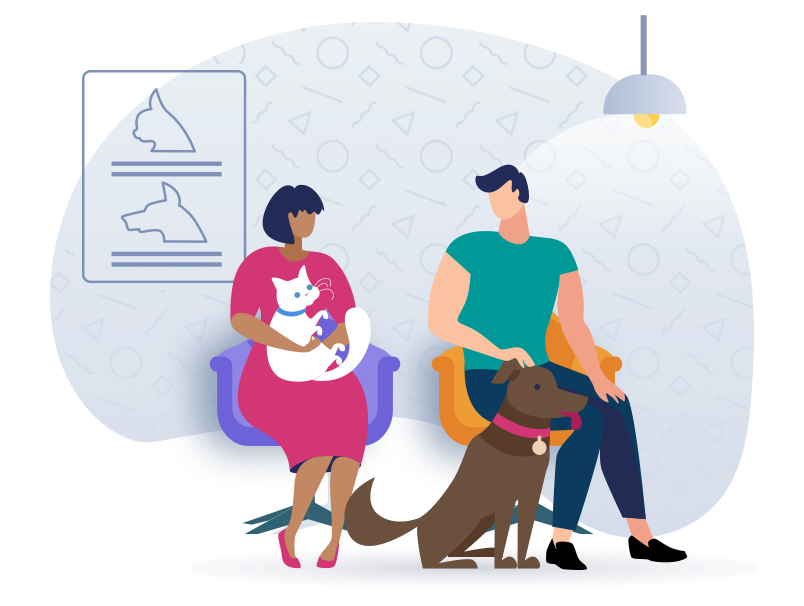 Top Westie Pet Insurance Scored, Ranked & With Cost
Use our below table to quickly compare the best West Highland Terrier Dog pet insurance providers. The average monthly specific prices shown are based on a healthy 2-year-old West Highland Terrier Dog with a $500 deductible and 90% reimbursement amount who is located in California with a 90210 zip code. Costs may vary based on age, location, and the coverage amount. Prices are accurate as of May 2023 and are subject to change. For the most up-to-date information, please visit the provider website.
---
West Highland Terrier Pet Insurance FAQs
What is dog insurance? How is it helpful for West Highland Terriers Dogs?
If you want to protect your Westie with dog insurance, apply to the pet insurance company and keep the policy active by paying the monthly premiums. Should your dog become ill or get involved in an accident, you will have to pay the vet bills at the time of service. After which, you may submit a claim to your provider for reimbursement. Remember that pre-existing conditions are typically excluded from coverage. This is why we suggest people purchase dog insurance while their little pal is still a puppy (8 weeks to one year).

Dog insurance is helpful for Westies because they, like all breeds, inevitably have veterinary emergencies at some point in their lives. Treatments for life-threatening illnesses like cancer can cost upwards of $10,000. Unfortunately, many uninsured dog owners put their canine friends down because they don't have the means to pay for the needed care and procedures. Pet insurance eliminates this heartbreaking possibility.
Does my Westie need to be a certain age to get insured?
Insurance companies will only insure puppies that are over 8 weeks old. The good news is that there are no age limits, which means putting a policy in place for your adult or senior Westie will be easy. Keep in mind that the younger your dog, the cheaper it will be to insure them. We recommend buying dog insurance for your West Highland Terrier before their first birthday.

If you're looking for an alternative form of coverage, Pawp might be an excellent option for you. Pawp offers an "Emergency Fund" for $24/month, which protects up to 6 pets of any age within your household. This "Emergency Fund" covers one of your pets each year for a single vet bill for $3,000 or less. It is important to note that Pawp only pays for emergency care as determined by their virtual veterinary team. Additionally, they offer telehealth and pet expert consultations.
Is it worth it to get West Highland Terrier dog insurance? If so, what are some common reasons for claims?
While West Highland Terriers are prone to several more minor ailments, some major health issues seem to be increasing within the breed.

One such disorder is Legg-Calvé Perthes disease, in which the head or top of the femur bone (ball of the hip joint) loses blood supply, resulting in tissue death. Symptoms of Legg-Calve Perthes are your dog's inability to put weight on its hind legs, the shortening of its limbs, loss of muscle, and restricted hip movement. Such a condition is most commonly found in younger Westies. To correct this, your dog will need a femoral head osteotomy (FHO), a surgery in which the dead part of the femur is removed. These operations tend to have high success rates in small dogs. For the most part, this will enable their legs to bear weight once again within 1-2 weeks of surgery. That said, expect to shell out $4,000 or more for this procedure.

Another condition known to plague West Highland Terriers is cataracts, which appear as a cloudy film over your dog's eye lens. Cataracts block light from entering the eye, and if left untreated for too long, your Westie could end up blind. Surgery is the only solution for cataracts, so expect to pay approximately $4,000.

Dog insurance can reduce most financial stresses when it comes to providing your Westie with the best veterinary care, leaving you with only a mere fraction of the costs. What's more, it allows you to focus your attention on helping your little friend get well.
What does dog insurance include and exclude?
Coverage varies from one provider to the next. A good rule of thumb is that any ailment or illness deemed "sudden and catastrophic" will be covered. Examples of such incidents include allergies, broken bones, skin issues, or urinary blockages. If your Westie has a medical condition when you apply for dog insurance, it will be listed as a pre-existing condition. Therefore, it will not be eligible for reimbursement through the claims process. Pet insurance companies now offer "wellness packages" you can add to your policy. These packages offset the costs for routine care such as physical exams, heartworm prevention, vaccinations, and more.
How does the reimbursement process work?
Suppose your dog needs an urgent surgery costing $10,000. If your insurance policy has a 90% reimbursement amount, a $250 deductible, and a $20,000 annual maximum benefit, your provider would reimburse you $9,000 minus the $250 deductible. The final cost to you would be $1,250 instead of the total $10,000 bill. If footing the entire vet bill at the time of service does not seem manageable for you, you may find Trupanion to be a better alternative. They pay vets in their network directly, so you don't have the stress of waiting to be reimbursed.
Is it better to have a higher or lower deductible?
Whichever deductible you choose will be based on your financial circumstances and preferences. Lower deductibles come with higher monthly premiums and lower out-of-pocket costs in emergencies. In contrast, higher deductibles beget the opposite. It is good to run the numbers to see what best suits your situation. Dog insurance companies have calculators on their websites that you can use to request a quote. That said, most dog owners seem to prefer either $250 or $500 deductibles.
5 Useful Strategies for Keeping Your West Highland Terrier Safe & Healthy
West Highland Terriers may be small, but they have big personalities that endear them to so many people. While they may come across as independent and brave, they still need their humans' help to keep them safe and healthy. Below are a few tips to help get you started on the right foot with your new Westie.
1. Help your Westie cope with separation anxiety
While Westies may not exhibit as many behaviors attributed to separation anxiety as other breeds, they still experience it. There are many ways you minimize the potential for your Westie to suffer from this and tear your house apart. The first is to adhere to a strict daily routine for exercise, play, mealtimes, and bedtime. The second is to ensure a strong training element in their lives, thereby establishing a balance of affection and discipline. Finally, one of the biggest tips for mitigating separation anxiety is giving your Westie a social life. The less attached to your hip, the better their mental and emotional health.
2. Train your Westie early
Training your strong-willed and independent Westie puppy is vital to their adaptability in their adult years. Always start with short obedience training sessions of 5-10 minutes and scatter them throughout the day. Remember to be consistent in your commands, tone of voice, and enforcement of expectations. It is best to avoid harsh reprimands when they behave poorly. Instead, redirect them to desired behaviors and use rewards-based training to encourage the development of good habits.
3. Give your Westie a dynamic range of play and exercise activities
Bursting with energy, Westies love to explore, stay busy, and play. Walks should always be a part of their daily routine, so they can satisfy their penchant for learning about their environment via sniffing. Combine this teaching them tricks and playing games, and your Westie will stay fit and happy. Keep their exercise to times of day with milder weather.
4. Have a regular grooming schedule
Westies may be adorable little dogs, but they are high maintenance when grooming. Their thick coats need brushing at least 3-4 times per week, if not daily, as their fur mats quite easily. Professional grooming every 6 weeks is essential, especially as this breed has overactive sebaceous glands that cause several skin disorders. If your Westie gets dirty on one of their daily outings and you need to bathe them, consult your veterinarian or a professional groomer for the best hair and skincare products specifically for this breed. Never use human products on your Westie as they are highly toxic to dogs.
5. Keep your Westie well-hydrated
Keeping your Westie hydrated is vital to maintaining excellent health. Be sure to give them a fresh bowl of water each day and keep refilling it. However, your Westie's hydration should not solely depend upon their drinking water. Feed them moisture-rich foods such as meats, fruits, and vegetables. You can also mix in a couple of spoonfuls of water with meals. Please be careful not to drown their food, though, as your Westie may reject the meal altogether.
Conclusion
Ultimately, selecting the best dog insurance for your West Highland Terrier is relatively straightforward. We suggest getting dog insurance once your puppy is older than 8 weeks. The younger they are when you insure them, the better the rates and the fewer restrictions there will be on pre-existing conditions. Of course, buying dog insurance at any time in your Westie's life will be a tremendous help when it comes to affording emergency care and promoting wellness.
Ready to get started? After countless hours of research, we've found that Lemonade pet insurance consistently performs the best with the lowest monthly premiums.
SwiftScore Ranking Methodology for West Highland Terrier Dogs
We ranked the best pet insurance policies for West Highland Terrier Dogs based on a variety of important factors including the following:
Average monthly price for a 2-year-old West Highland Terrier Dog with a $500 deductible located in the 90210 zip code (Please note: prices will vary greatly based on your location)
Coverage and benefits
Key policy details including accidents and illnesses, surgeries, annual check-ups, cancer treatment, lab tests, and more
AM Best rating of the underwriter
Reimbursement percentage
Annual benefit amount
Technology and user experience

Ease of sign up

Policy language clarity
User reviews
See dog insurance prices in your state
Alabama | Alaska | Arizona | Arkansas | California | Colorado | Connecticut | Delaware | Florida | Georgia | Hawaii | Idaho | Illinois | Indiana | Iowa | Kansas | Kentucky | Louisiana | Maine | Maryland | Massachusetts | Michigan | Minnesota | Mississippi | Missouri | Montana | Nebraska | Nevada | New Hampshire | New Jersey | New Mexico | New York | North Carolina | North Dakota | Ohio | Oklahoma | Oregon | Pennsylvania | Rhode Island | South Carolina | South Dakota | Tennessee | Texas | Utah | Vermont | Virginia | Washington | West Virginia | Wisconsin | Wyoming