6 Best
Welsh Terrier

Pet Insurance Plans Compared in 2023

Updated on by Matthew H. Nash – Licensed Insurance Agent

Welsh Terriers are medium-sized dogs bred for chasing and trapping prey like foxes, badgers, and vermin. They are a rugged breed of dog with wiry hair and sturdy in stature, with a lovely disposition. It is suggested that the Welsh Terrier is the oldest dog breed in the UK. Some historians claim it is one of the oldest purebred terriers. Bringing home a Welshie is a wonderful experience, but it is important to consider the health conditions associated with this breed. Although Welsh Terriers tend to be healthy, they are still susceptible to certain unavoidable health conditions, some of which may require medical care. Pet care costs are trending upward, making pet insurance a practical decision when adding a furry companion to your family. Pet ownership has been a part of my life for as long as I can remember, and I am also a licensed insurance agent. I am here to help you work through the process to find a comprehensive plan suitable for you and your pet! Read more about our unbiased ranking methodology and advertiser disclosure.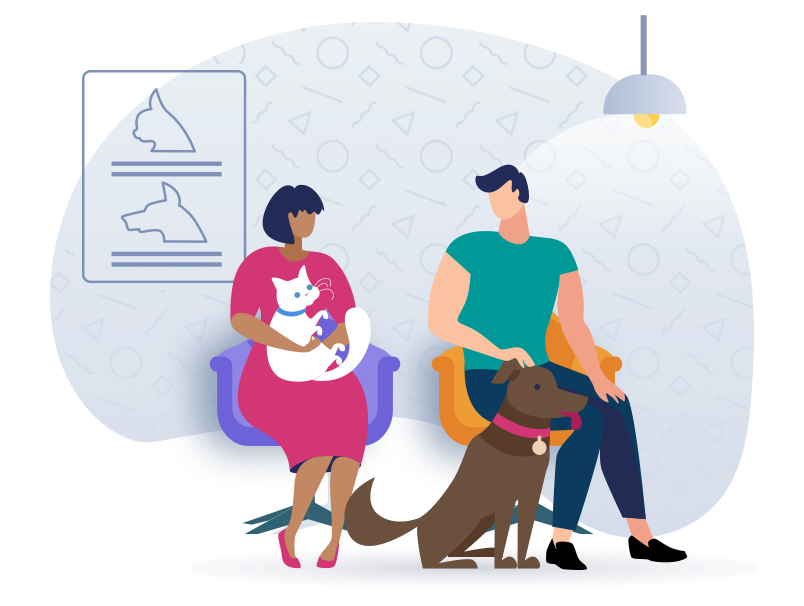 Top Welsh Terrier Pet Insurance Scored, Ranked & With Cost
Use our below table to quickly compare the best Welsh Terrier pet insurance providers. The average monthly specific prices shown are based on a healthy 2-year-old Welsh Terrier with a $500 deductible and 90% reimbursement amount who is located in California with a 90210 zip code. Costs may vary based on age, location, and the coverage amount. Prices are accurate as of January 2023 and are subject to change. For the most up-to-date information, please visit the provider website.
---
Welsh Terrier Pet Insurance FAQs
What is pet insurance, and is it worth the investment for our Welsh Terrier?
The most well-intentioned pet owners may not be able to afford the medical care necessary to treat their dog. Often pet owners elect euthanasia versus treatment or surgery for their pet. Despite efforts made in the veterinary industry to reduce costs, even routine care has become expensive, with typical routine visits upwards of $250. Pet insurance can help alleviate some of the financial burdens. By enrolling in a pet insurance plan, you will pay a small monthly fee for a comprehensive insurance plan for your dog. This plan reimburses you a portion of the costs associated with the treatment. Your small monthly investment can save you hundreds or thousands in veterinary bills.
What is the proper age to insure my Welsh Terrier?
Pet insurance plans do not cover pre-existing conditions, making early enrollment extremely important. Most insurance plans recommend enrollment within the first six months of bringing your pet home, with puppies eligible for coverage at around eight weeks old.
What are a few common insurance claims for the Welsh Terrier?
Welsh Terriers are typically healthy but can often be plagued with breed-specific conditions or diseases that require expensive medical care. Hip dysplasia may affect your Welshie. This condition causes laxity in the hip joint, leading to arthritis and deterioration of the joint. Surgery is a possibility in severe cases. Some eye conditions are seen in Welsh Terriers, including glaucoma, lens luxation, and dry eye. Welsh Terriers may suffer from Atopy, which is hypersensitivity to specific allergens and can cause excessive itching and skin trauma.
What services are typically covered by insurance? What services are excluded from coverage?
Most comprehensive pet insurance plans cover routine care, emergency or specialty care, medications, diagnostics such as X Rays and MRIs, and treatment for chronic and acute conditions, illness, and injury. It is important to enroll your pet as soon as possible. Insurance companies tend to deny claims deemed pre-existing.
Does pet insurance cover dental work?
Dental maintenance, such as cleanings, is not typically covered in most basic plans. Some plans may provide coverage on the care needed for dental injuries, gum disease or infections. Compare the plans on the market to see what works best for you!
Can I use a veterinarian of choice, or are there insurance-approved options?
Pet insurance plans work a bit differently than the human health plans that we use. You are able to use the veterinarian of your choice, due to the fact that your comprehensive plan works on a reimbursement method of payment. You will pay for services upfront and submit a claim for eligible expenses and your insurance policy will reimburse you based on your rate and deductible. As long as they are a licensed practitioner, they should be covered.
Are there discounts for insuring multiple pets?
It is common for pet insurance companies to provide a multiple pet discount. Verify with the various plans to see what works best for you. Coverage may only cover cats and dogs, but there are plans on the market that extend beyond that.
Who pays for services at the time of veterinary care?
Each policy dictates the terms of coverage, but you would pay for services upfront and submit a claim for reimbursement. You are reimbursed based on the rate and deductible you have selected.
How should we choose from a high or low-deductible plan?
There are so many ways to customize your pet's insurance plan, such as selecting the deductible that fits your needs. The deductible is the portion you are responsible for before coverage kicks in. When you select a high-deductible plan, your monthly premiums are slightly lower. A low-deductible plan equates to a higher premium. There is no right or wrong choice, and often the difference in premiums is insignificant. Saving money and providing the best care possible for your pet, is what matters most!
5 Tips for Keeping Your Welsh Terrier Safe and Healthy
Medical care is one of the curative things we can do to help keep our pets healthy. You can do many preventative things every day to keep them happy and healthy.
1. Exercise and Enrichment
Welsh Terriers are active dogs that need an hour of exercise daily to keep them healthy and at the proper weight. An hour a day of exercise is good for your Welshie, but also good for you! The benefits of cardiovascular health are plentiful. Enrichment is a great way to stimulate your pup's mind. Welsh Terriers, like most dogs, tend to get bored, which can lead to destructive behaviors at home. Playing fetch, "find it," and other puzzle-like games will help your pup use his mind.
2. Nutrition
Your Welshie loves food, but it is important to find the right food for his size and energy level. Beware of excessive treats and table food. He may beg and whine for extras, but maintaining an ideal weight is a great way to prevent hip dysplasia and other joint issues. Work with your veterinarian to find the best food for your pup's stage of life.
3. Training and Socialization
Welsh Terriers do best with early socialization around other dogs and children. They are eager to learn and respond well to positive reinforcement training. Welshies are instinctual prey dogs, so that drive will cause them to chase after other small animals. Early socialization helps them adapt to being around other dogs, even small dogs, without considering them prey.
4. Secure the Exercise Area
Welshies have a high prey drive. If they spot something and are off leash, they may run and continue to run until they hunt down that squirrel. Keeping them on a leash is best unless they have a secured area to run.
5. Grooming
Welsh Terriers need to have their coats brushed every week. Professional grooming is recommended every 6-8 weeks. It becomes a wooly, mangled mess if you do not stay on top of brushing their coat. Brushing your pup's teeth daily is a great way to prevent tartar buildup and dental disease. Clipping your Welshie's nails every 3-4 weeks will help prevent snags and nail splits.
Conclusion
Customizing a pet insurance plan has never been more straightforward. Go to Lemonade pet insurance, a company I recommend with competitive pricing and coverage, and take the quick questionnaire. The questionnaire results will help determine the best coverage for your pet based on breed, age, and overall health. There are many add-ons available, making it a plan fit for Fido! It is hard to think about the what-ifs in pet ownership, but sometimes unforeseen accidents and injuries happen. Pet insurance is a great way to mitigate some of these expenses while providing optimal medical care for your pup.
SwiftScore Ranking Methodology for Welsh Terriers
We ranked the best pet insurance policies for Welsh Terriers based on a variety of important factors including the following:
Average monthly price for a 2-year-old Welsh Terrier with a $500 deductible located in the 90210 zip code
Coverage and benefits
Key policy details including accidents and illnesses, surgeries, annual check-ups, cancer treatment, lab tests, and more
AM Best rating of the underwriter
Reimbursement percentage
Annual benefit amount
Technology and user experience

Ease of sign up

Policy language clarity
User reviews
Other state dog insurance resources
Alabama | Alaska | Arizona | Arkansas | California | Colorado | Connecticut | Delaware | Florida | Georgia | Hawaii | Idaho | Illinois | Indiana | Iowa | Kansas | Kentucky | Louisiana | Maine | Maryland |
Massachusetts | Michigan | Minnesota | Mississippi | Missouri | Montana | Nebraska | Nevada | New Hampshire | New Jersey | New Mexico | New York | North Carolina | North Dakota | Ohio | Oklahoma | Oregon | Pennsylvania | Rhode Island | South Carolina | South Dakota | Tennessee | Texas | Utah | Vermont | Virginia | Washington | West Virginia | Wisconsin | Wyoming