7 Best
Vizsla

Pet Insurance Plans Compared in 2022

Updated on May 11, 2022 by Matthew H. Nash – Licensed Insurance Agent

Choosing the right pet insurance for your Vizsla may seem like a daunting task, but it doesn't have to be. As a proud lifelong pet owner and nationally licensed insurance agent, I understand the challenges you face when deciphering policy jargon and determining the best dog insurance company for Vizslas. To make this process simpler for you, I have done extensive research on this topic. Regardless of where you live or the age of your dog, this article has all the information you need. Read more about our unbiased ranking methodology and advertiser disclosure.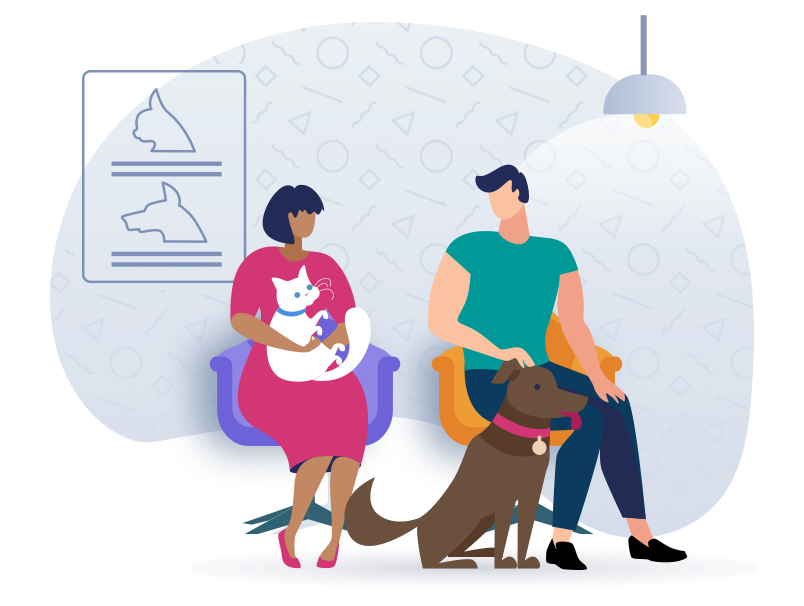 Top Vizsla Pet Insurance Scored, Ranked & With Cost
Use our below table to quickly compare the best Vizsla pet insurance providers. The average monthly specific prices shown are based on a healthy 2-year-old Vizsla with a $500 deductible and 90% reimbursement amount who is located in California with a 90210 zip code. Costs may vary based on age, location, and the coverage amount. Prices are accurate as of January 2022 and are subject to change. For the most up-to-date information, please visit the provider website.
---
Vizsla Pet Insurance FAQs
What is dog insurance? Is it beneficial for Vizslas?
To protect your Vizsla with dog insurance, apply to your preferred insurance company and pay the monthly premiums to keep your policy active. If your dog gets ill or is involved in an accident, you will have to pay the vet bill upfront and then submit a claim to your insurance company to be reimbursed. Insurance companies typically exclude pre-existing conditions, which is one of the reasons we encourage dog owners to get insurance while their furry friends are still puppies (from 8 weeks to 1 year).

Dog insurance is helpful for all breeds, including Vizslas, since they too experience veterinary emergencies, which tend to rack up sky-high bills. For example, treatments for severe illnesses such as cancer can cost upwards of $10,000. More often than not, uninsured dog owners are forced to put their devoted companions down because they do not have the means to pay for the necessary care and procedures. Dog insurance eliminates this heartbreaking possibility.
Are there age requirements for dog insurance?
If you have a puppy, most pet insurance companies will require them to be at least 8 weeks old to put a policy in place. Beyond this, most companies will insure dogs of any age. Nevertheless, younger animals will almost always be cheaper to insure, which is why we recommend getting dog insurance before Vizsla turns 1-year-old.

One exception to a traditional pet insurance company is Pawp. They offer an "Emergency Fund" that covers up to 6 pets of any age in your household for $24 per month. This "Emergency Fund" will cover one of your pets for a single veterinary bill of $3,000 (or less) each year. Pawp's coverage only extends to true emergencies as qualified by their virtual veterinary team, but they also offer unlimited telehealth and pet expert consultations.
Is it worth it to get Vizsla dog insurance? If so, what are some common reasons for claims?
Vizslas are one of the most stunning and rugged hunting breeds around. Still, they are prone to hereditary disorders that tend to be common reasons for claims.

One such condition is hip dysplasia when the ball and joint socket do not develop normally. The result is that the bone and cartilage grind down over time, leading to arthritic pain in the hips that worsens over time. While pain and anti-inflammatory medications can mitigate some situations, most require hip replacement surgery. Such surgeries can cost up to $7,000.

Another condition that plagues Vizslas is entropion. Entropion is when your dog's eyelid rolls inward, and the hair of the eyelid scratches against the cornea, causing your dog constant eye pain, the development of ulcers as well as the formation of a pigment on the cornea. All of which leads to impaired vision. It is worth mentioning that medications may reduce entropion's symptoms, but will not cure it. The only way to successfully treat entropion is surgery, costing upwards of $2,000.

As you can see, an urgent trip to the vet with your Vizsla can relieve you of thousands of dollars. Pet insurance will make sure your dog is covered.
What does dog insurance include and exclude?
Insurance coverage varies from provider to provider. However, ailments or injuries deemed "sudden and catastrophic" are typically covered unless listed as an exclusion in your policy. Such events may include but are not limited to broken bones, infections, urinary tract issues, and allergies. If your Vizsla has a specific ailment before you purchase insurance, it will be noted as a pre-existing condition and, therefore, ineligible for reimbursement via the claims process. Also, ask your provider about "wellness packages." These packages can be added to your policy and extend coverage for routine care such as heartworm prevention, annual physical exams, and vaccinations.
How does the reimbursement process work?
Suppose your dog insurance policy has a $250 deductible, a 90% reimbursement rate, and a $20,000 annual maximum benefit. Should your dog need an urgent surgery that costs $10,000, the insurance company would reimburse you $9,000 minus the $250 deductible. Therefore, your final out-of-pocket cost would be $1,250 instead of the original $10,000. If paying the entire vet bill upfront and waiting for reimbursement stresses you out, Trupanion may be the right choice for you. Trupanion eliminates the reimbursement process by directly paying vets in their network, so you don't have to.
Is it better to have a higher or lower deductible?
On the whole, deductibles are not one-size-fits-all. What you choose will depend on your financial circumstances and preferences. Lower deductibles result in higher monthly premiums but lower out-of-pocket costs in catastrophes. In contrast, higher deductibles yield lower monthly premiums but higher out-of-pocket costs in emergencies. It is always best to run the numbers and see what suits your situation. Many insurance companies have calculators on their websites you can use when requesting a quote. That said, we have found that most dog owners prefer $250 or $500 deductibles.
5 Useful Strategies for Keeping Your Vizsla Safe & Healthy
Vizslas are a strong, brilliant, regal breed. They make great family companions and watchdogs, but there are some ways their owners can help them to remain happy, healthy, and robust.
1. Keep your Vizsla active daily
Vizslas are high-energy working dogs, which means they need ample time outdoors to release all their energy. Adult Vizslas need at least 2 hours each day. Since they are bred as hunting dogs, they benefit tremendously from long walks to explore their surroundings with their noses. They will need ample time to run off-leash in a secure area to complement their walks. Allow them time to run and play as much as possible. Doing so will make your life easier throughout the day and evening. Remember that play is an essential component of their daily exercise. Vizslas that don't get enough exercise will resort to undesired behaviors such as barking and chewing.
2. Give your Vizsla plenty of attention and mental stimulation
Vizslas require a tremendous amount of attention. If you think you'll be able to do anything without them following you around, think again. To keep your Vizsla feeling loved and stimulated, include them in your daily tasks, even if it simply means stroking them as you watch TV or talking to them as you prepare dinner. Without enough thoughtful play and attention, they can experience severe separation anxiety, and it will manifest in various destructive ways. Crate training and giving them ample chew toys to amuse themselves with when they are alone are two crucial ways for maintaining their emotional well-being.
3. Train your Vizslas early
Engage in obedience training sessions daily with your Vizsla pup. Once they are house-trained, you may want to consider moving on to more advanced training. If you're going to succeed in turning your rambunctious puppy into an obedient companion, you will need to be consistent in your commands, tone, and reinforcement of expectations. While there is no doubt that Vizslas are some of the most intelligent dogs out there, they are also some of the most sensitive. They require a lot of praise and positive reinforcement, so avoid harsh reprimands or tones.
4. Feed them a highly nutritious diet
Your Vizsla needs a diet of high-quality food. Homemade or raw food diets may prove to be the most nutritious, especially if you include animal protein along with raw fruits and vegetables. Take care to avoid foods with grains, preservatives, dairy, corn, or various types of meals. Consult your veterinarian for appropriate portion sizes and protein-to-fat ratios for your Vizsla at their specific age. And do not forget to provide them with a bowl of fresh water with unlimited refills each day.
5. Keep your Vizslas warm in winter
Vizslas are a lean breed with a single-layer coat of short hair, which means they have difficulty regulating their body temperature and staying warm. If you live anywhere with damp, chilly days or full-on winter storms, your Vizsla will need a coat, sweater, scarf, and boots to stay safe and healthy while enjoying their outdoor adventures in the colder months.
Conclusion
Ultimately, finding the best dog insurance for your Vizsla is far more straightforward than it may have seemed initially. We suggest buying dog insurance once your puppy is older than 8 weeks. Keep in mind that the earlier in your dog's life that you do, the better the rates you will get, along with fewer exclusions for pre-existing conditions. Regardless, getting your dog insured at any age will be beneficial in paying for both emergency and preventative care.
Ready to get started? After countless hours of research, we've found that Lemonade pet insurance consistently performs the best with the lowest monthly premiums.
SwiftScore Ranking Methodology for Vizsla
We ranked the best pet insurance policies for Vizsla based on a variety of important factors including the following:
Average monthly price for a 2-year-old Vizsla with a $500 deductible located in the 90210 zip code (Please note: prices will vary greatly based on your location)
Coverage and benefits
Key policy details including accidents and illnesses, surgeries, annual check-ups, cancer treatment, lab tests, and more
AM Best rating of the underwriter
Reimbursement percentage
Annual benefit amount
Technology and user experience

Ease of sign up

Policy language clarity
User reviews
See dog insurance prices in your state
Alabama | Alaska | Arizona | Arkansas | California | Colorado | Connecticut | Delaware | Florida | Georgia | Hawaii | Idaho | Illinois | Indiana | Iowa | Kansas | Kentucky | Louisiana | Maine | Maryland | Massachusetts | Michigan | Minnesota | Mississippi | Missouri | Montana | Nebraska | Nevada | New Hampshire | New Jersey | New Mexico | New York | North Carolina | North Dakota | Ohio | Oklahoma | Oregon | Pennsylvania | Rhode Island | South Carolina | South Dakota | Tennessee | Texas | Utah | Vermont | Virginia | Washington | West Virginia | Wisconsin | Wyoming