7 Best
Toy Poodle

Pet Insurance Plans Compared in 2023

Updated on by Matthew H. Nash – Licensed Insurance Agent

The toy poodle is a low-allergen, miniature breed that is not only highly intelligent but friendly around most people and other animals. Their diminutive size may fool you, but toy poodles are incredibly agile and athletic dogs. Perfect as a companion pet, these little curly-haired pups are highly trainable. Many dog breeds carry genetic predispositions that make them prone to certain medical conditions. With many medical conditions, these treatments may come with a hefty price tag. Pet treatment costs continue to rise, making pet insurance a great way to minimize out-of-pocket expenses while providing the best care for your dog. As a licensed insurance agent and lifelong pet owner, I can help you make sense of the pet insurance landscape. Read below to find frequently asked questions and practical care for your Toy Poodle. Read more about our unbiased ranking methodology and advertiser disclosure.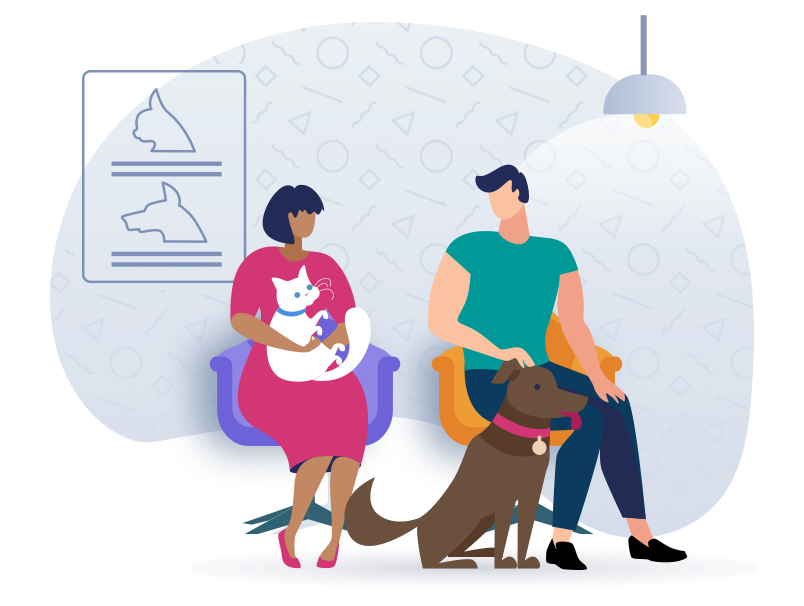 Top Toy Poodle Pet Insurance Scored, Ranked & With Cost
Use our below table to quickly compare the best Toy Poodle pet insurance providers. The average monthly specific prices shown are based on a healthy 2-year-old Toy Poodle with a $500 deductible and 90% reimbursement amount who is located in California with a 90210 zip code. Costs may vary based on age, location, and the coverage amount. Prices are accurate as of January 2023 and are subject to change. For the most up-to-date information, please visit the provider website.
---
Toy Poodle Pet Insurance FAQs
What is pet insurance, and is it worth the investment for our Toy Poodle?
Some may consider pet insurance to be "another monthly expenditure." While that may be true, this small monthly expenditure could save you hundreds or thousands in unplanned veterinary bills. Meeting your monthly premium ensures coverage through a comprehensive insurance plan for preventative and emergency care, treatments for illness or injury, and medicine. No one considers the "what ifs" in pet ownership until it's too late. Economic euthanasia is sadly an option for some well-intentioned pet owners. Their pet becomes sick or needs expensive surgery beyond what they can afford. No one should be forced to make a decision based on their financial standing. Pet insurance offers peace of mind for the pet owner while ensuring the best possible care for your pet.
What is the proper age to insure my Toy Poodle?
You should consider insuring your pet within the first six months of bringing them home. Begin doing research and comparing different plans on the market to see which coverage works best for you. When bringing a new puppy home, it is best to provide coverage around eight weeks. Because most insurance companies will not cover pre-existing conditions, early enrollment is helpful!
What are a few common insurance claims for the Toy Poodle?
Most dog breeds carry some predisposition to illnesses and diseases. Toy Poodles are no different. Hip dysplasia, a defect in the hip joint causing deterioration, may plague your pup. Total hip replacement surgery is the last resort, which can be costly. Small dog breeds like the Toy Poodle are prone to luxating patellas. This condition causes the kneecap to pop out of place. It is manageable but can cause arthritis in the knee over time. Von Willebrand's disease could also affect your pup. This is classified as a genetic bleeding disorder and could lead to other complications. Some medications cause this condition to worsen, making medical intervention vital. Transfusions may be necessary after injury or surgery. Your Toy Poodle could also be prone to a serious heart condition known as dilated cardiomyopathy. The heart becomes enlarged and thin and no longer effectively pumps blood to the body. While there is no cure for this disease, annual maintenance through electrocardiograms, supplements and medications can help control the disease. These are just a few diseases or conditions that could necessitate veterinary care. Toy Poodles are a tiny breed of dog, making them more prone to injuries due to their size. Your comprehensive insurance plan will cover a portion of the care needed for chronic or acute conditions, minimizing your out-of-pocket portion.
What services are typically covered by insurance? What services are excluded from coverage?
While every plan varies slightly, most comprehensive plans cover medical treatment for chronic or acute illnesses or conditions, injuries, infections, preventative care, emergency or specialty care, and medications. Insurance companies will not likely cover preexisting conditions, which is why early enrollment is so important!
Does pet insurance cover dental work?
Routine dental care is not a standard covered service; however, some comprehensive plans may pay for procedures associated with dental injuries or infections. Each plan varies, making it imperative to do the necessary research to ensure your coverage aligns with your pet's needs.
Can I use a veterinarian of choice, or are there insurance-approved options?
Because pet insurance typically works on a reimbursement payment method, most licensed veterinary, specialty, and emergency service clinics are covered.
Are there discounts for insuring multiple pets?
If your pup is adding to your family, or you plan on expanding your fur family soon, it is a good idea to research discount plans for insuring multiple pets. Many insurance plans will offer a discount on multiple pets.
Who pays for services at the time of veterinary care?
While researching plans, you will select a deductible that works best for your financial situation. Once your deductible is met, you pay for services upfront and submit a claim. The insurance company then pays you a portion of the services rendered based on your reimbursement rate.
How should we choose from a high or low-deductible plan?
Each plan varies slightly, but you can typically choose a low-deductible or high-deductible plan based on preference and financial situation at the time of enrollment. When you enroll in a high-deductible plan, your monthly premiums are lower, and the reverse is true for a low-deductible plan; a lower deductible but higher monthly premiums. Whatever plan you choose, a healthy wallet and a healthy pet matter most!
5 Tips for Keeping Your Toy Poodle Safe and Healthy
Pet insurance is a great way to save money throughout your pet's life. You can do many things daily to help your pet live a long and healthy life!
1. Enrichment and Exercise
Enrichment, or mental stimulation, is as important as physical activity. Stimulate your dog's mind through agility training, "find it" games, and other puzzles that keep your pup's mind busy. A busy dog is a well-behaved dog. Walking with your pet daily will help create healthy habits, promote good cardiovascular health, and keep your poodle at his ideal weight. Excess weight can cause issues on your dog's joints, especially with a small dog like your Toy Poodle. Walking your poodle twice a day for 30-minute sessions is recommended.
2. Nutrition
It is recommended to work with your veterinarian to find the best food for your poodle's energy level and size. As overfeeding can lead to obesity and obesity-related issues, high-quality food in the right amount is best. Do not give in to temptations, as they beg for table scraps and extra kibble.
3. Training
The earlier you begin socialization and training, the better. Toy Poodles do best with positive reinforcement training, along with consistency. Poodles are considered one of the most intelligent dog breeds. You will be surprised by how many tricks you can coax your poodle into doing!
4. Size Considerations
Toy Poodles are pint-sized pups susceptible to injury due to their "under the foot" size. While Toy Poodles make lovely family pets, be mindful of small children handling your pup. It is very easy to injure a small dog, even with the best-intentioned children.
5. Grooming
This no-shedding breed has soft, curly hair that must be combed several times weekly to keep tangles at bay. Visiting a dog groomer every six weeks will help manage your pup's wavy locks while clipping nails and keeping eyes and ears clean. Dental care is an essential step in your dog's hygiene. Dental disease is a prevalent issue in dogs but can be prevented or controlled by regular brushing. With practice, tooth brushing can become part of their daily routine!
Conclusion
Finding the best pet insurance plan for you requires some research. While it seems overwhelming initially, there are many options to choose from, which help you customize a plan that fits your needs. We do not consider the what-ifs in pet ownership, but injuries, illness, and even preventative care can become financially cumbersome. With pet care costs on the rise, economic euthanasia is becoming more common. With a small monthly premium, you can provide the care your pup needs, while keeping your finances intact. I recommend looking into Lemonade pet insurance. It is a great company that offers competitive pricing and coverage. You and your beloved pet deserve the best!
SwiftScore Ranking Methodology for Toy Poodles
We ranked the best pet insurance policies for Toy Poodles based on a variety of important factors including the following:
Average monthly price for a 2-year-old Toy Poodle with a $500 deductible located in the 90210 zip code
Coverage and benefits
Key policy details including accidents and illnesses, surgeries, annual check-ups, cancer treatment, lab tests, and more
AM Best rating of the underwriter
Reimbursement percentage
Annual benefit amount
Technology and user experience

Ease of sign up

Policy language clarity
User reviews
Other state dog insurance resources
Alabama | Alaska | Arizona | Arkansas | California | Colorado | Connecticut | Delaware | Florida | Georgia | Hawaii | Idaho | Illinois | Indiana | Iowa | Kansas | Kentucky | Louisiana | Maine | Maryland |
Massachusetts | Michigan | Minnesota | Mississippi | Missouri | Montana | Nebraska | Nevada | New Hampshire | New Jersey | New Mexico | New York | North Carolina | North Dakota | Ohio | Oklahoma | Oregon | Pennsylvania | Rhode Island | South Carolina | South Dakota | Tennessee | Texas | Utah | Vermont | Virginia | Washington | West Virginia | Wisconsin | Wyoming