7 Best
Tibetan Terrier

Pet Insurance Plans Compared in 2023

Updated on by Matthew H. Nash – Licensed Insurance Agent

You've welcomed a Tibetan Terrier into your family, congratulations! You probably already know that Tibetan Terriers are considered to be family-friendly, charming, loyal and sensitive dogs that, when properly introduced, can be great with children. They can be steadfast, determined and clever, translation… stubborn. Tibetan Terriers are known as a relatively healthy breed with a lifespan of 15-16 years. Unfortunately, just like many of our beloved pets, Tibetan Terriers can be prone to a variety of health issues, especially with the joints or eyes. Most of these issues are treatable thanks to modern medicine, but that can take a real bite out of your finances. Pet insurance makes veterinary treatment more affordable for dogs. As a licensed insurance agent and former Tibetan Terrier Owner, I am here to make sense of all the pet insurance options available to help you make the right choice for you and your fur baby. We may receive compensation when you click on the affiliate links below.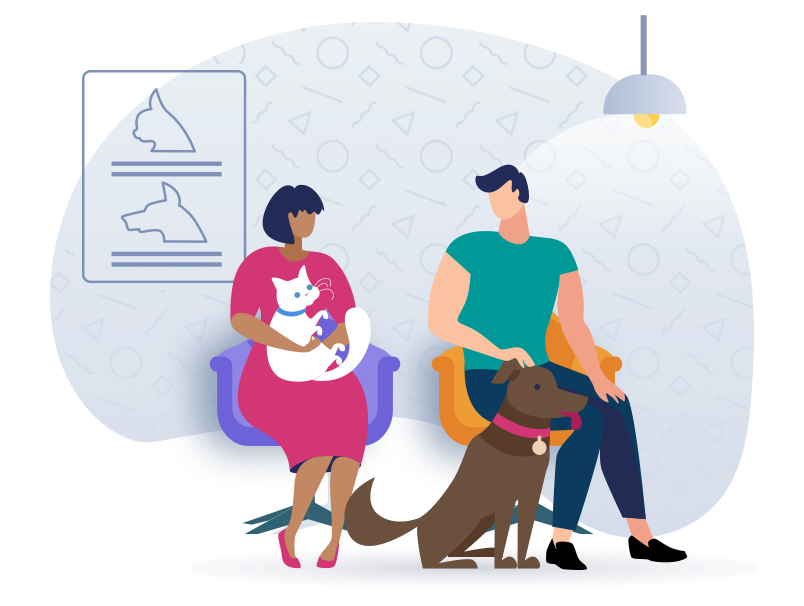 Top Tibetan Terrier Pet Insurance Scored, Ranked & With Cost
Use our below table to quickly compare the best Tibetan Terrier pet insurance providers. The average monthly specific prices shown are based on a healthy 2-year-old Tibetan Terrier with a $500 deductible and 90% reimbursement amount who is located in California with a 90210 zip code. Costs may vary based on age, location, and the coverage amount. Prices are accurate as of January 2023 and are subject to change. For the most up-to-date information, please visit the provider website.
---
Tibetan Terrier Pet Insurance FAQs
What is dog insurance and why would I need it for my Tibetan Terrier?
Dog insurance is a health care policy for the four-legged member of your family. Dog insurance can be a part of pet care that is often overlooked by pet-owners, but it can help save you from surprise costs when your dog needs veterinary medical treatment. Dog insurance will provide medical reimbursement for specific health care expenses covered under the policy and though it may not cover the entire cost of care, it can save owners a significant amount of money when it comes to surprise veterinary bills. Keep in mind, once you select a plan, it's important to make the monthly payments in order to keep the policy active. With a current policy, you can submit applicable vet bills to your insurance provider for reimbursement.

While Tibetan Terriers are generally healthy, dog insurance is helpful as the breed can be prone to some genetic issues that may require expensive veterinary care including hip dysplasia, luxating patella, cataracts and heart murmurs. Tibetan Terriers are also known to have allergy issues to dairy, wheat and other grains. Adding dog insurance for your fur-baby means your Tibetan Terrier will receive the treatment necessary to keep him or her healthy without breaking your bank account.
How old does my Tibetan Terrier need to be insured?
The best time to purchase pet insurance is the day you bring your dog home for the first time. In general, dog insurance providers typically require that puppies be at least 8 weeks old in order to begin insurance coverage. Most pet insurance premiums are based on age, so the younger you can get started, the better.
What are services for my Tibetan Terrier covered by dog insurance? What services are excluded from coverage?
Some dog insurance plans cover hospitalizations and preventative care. Some dog insurance plans also cover hospitalizations and preventative care.

Of course, excluded services also vary by plan, but you can be sure that most dog insurance policies will not cover the cost of care for pre-existing conditions, which is why it's so important to enroll in a policy as soon as possible.
How does reimbursement work?
Typically the pet owner is responsible to pay the dog's medical bill upfront and then submit the vet bill for reimbursement to the insurance provider. Your insurance company will determine how much you will be reimbursed based on your deductible and reimbursement rate.
Should I enroll in a high deductible or low deductible plan?
There's really no right or wrong answer here… it depends on how you want to manage your finances for your Tibetan Terrier. The higher the deductible, the lower the monthly payment, which means you'll pay a higher cost during those unexpected emergencies. On the flip side, the lower the deductible means a higher monthly payment, but less of a financial surprise during a medical emergency.
5 Tips for Keeping Your Tibetan Terrier Safe & Healthy
Along with enrolling your Tibetan Terrier in a dog insurance plan, there are lots of other ways to ensure that your Tibetan Terrier is part of your family for as long as possible.
1. Regular Exercise
Like all dogs, Tibetan Terriers need daily exercise to help maintain a healthy weight and strengthen joints. They are happy and energetic dogs, which means you need a regular routine to keep them active. Your pup will be happy with two, short fifteen minute walks per day, or one longer walk. Another tip, try enrichment toys to keep your dog's mind as busy and active as his or her muscles. Tibetan Terriers also love to charge around in the snow, but will be equally happy to give those muscles a rest with a snooze on the sofa.
2. Nutritious Diet
It's all about body positivity these days, but Tibetan Terriers are known for packing on the pounds, so a healthy diet is key to his or her longevity. Meals should consist of proteins, healthy fats and vegetables, which are packed with essential vitamins and minerals (come to think of it, this diet is true for humans too!).
3. Energy
Tibetan Terriers are known to be very energetic, compared to other dogs, their energy level is moderate to high, especially in their early puppy years. The good news is that they do tend to calm down once they reach about two-years-old.
4. Love and Affection
Tibetan Terriers are as cute on the inside as they are on the outside. They are adaptable small dogs that are loving and have a companionable temperament. Tibetan Terriers will generally be very happy as long as they are in a loving environment – they're good with kids too as long as kids understand how to respect the pup's space.
5. Regular Grooming
Tibetan Terriers have a beautiful fur coat that would be the envy of any dog, but it does require some upkeep. Their coat needs frequent brushing and they can be bathed as much as once a week, once a month at minimum. It depends on your dog's activity level and the coat's length.

The good news is, despite the long hair, which may grow in front of their eyes, Tibetan Terriers have very good eyesight and long lashes that help to keep the fur out of their eyes. They do not shed their coat, which means they require regular grooming in order to keep their fur in check.
Conclusion
Finding the right pet insurance for your Tibetan Terrier is an important step in maintaining your furry friend's health. Trying to figure out what's best for you and your dog can be confusing, but taking this key step to select an insurance policy is the best thing you can do to ensure your Tibetan Terrier is here for as long as possible. After that, it's as easy as paying the monthly premium, and then your furry family member is covered. Now you and your Tibetan Terrier are prepared for the unexpected. In addition to developing chronic health issues, your Tibetan Terrier can become sick or experience an injury at any time. Coverage ensures your dog can receive the necessary care without the financial burden. A company that I suggest looking into is Lemonade pet insurance, they consistently offer the best combination of price and coverage for Tibetan Terriers.
SwiftScore Ranking Methodology for Tibetan Terriers
We ranked the best pet insurance policies for Tibetan Terriers based on a variety of important factors including the following:
Average monthly price for a 2-year-old Tibetan Terrier with a $500 deductible located in the 90210 zip code
Coverage and benefits
Key policy details including accidents and illnesses, surgeries, annual check-ups, cancer treatment, lab tests, and more
AM Best rating of the underwriter
Reimbursement percentage
Annual benefit amount
Technology and user experience

Ease of sign up

Policy language clarity
User reviews
Other state dog insurance resources
Alabama | Alaska | Arizona | Arkansas | California | Colorado | Connecticut | Delaware | Florida | Georgia | Hawaii | Idaho | Illinois | Indiana | Iowa | Kansas | Kentucky | Louisiana | Maine | Maryland |
Massachusetts | Michigan | Minnesota | Mississippi | Missouri | Montana | Nebraska | Nevada | New Hampshire | New Jersey | New Mexico | New York | North Carolina | North Dakota | Ohio | Oklahoma | Oregon | Pennsylvania | Rhode Island | South Carolina | South Dakota | Tennessee | Texas | Utah | Vermont | Virginia | Washington | West Virginia | Wisconsin | Wyoming