7 Best
Texas Heeler

Pet Insurance Plans Compared in 2023

Updated on by Matthew H. Nash – Licensed Insurance Agent

This mixed breed's origin was actually in the state of Texas, thus the name. His big energy and intelligence were specifically bred to herd cattle – deep in the heart of Texas (clap, clap, clap). Healthy herding aside, the Texas Heeler has an impressive lifespan of 12-15 years, but he can face health issues that threaten to cut that life short. Those health problems include eye issues such as cataracts, autoimmune thyroiditis, collie eye anomaly, distichiasis and progressive retinal atrophy. Other potential health problems like epilepsy, congenital hereditary heart issues and elbow and hip dysplasia are also not uncommon. It sounds like a long list, but don't panic, there is help, with one easy step to take in purchasing pet insurance. A dog insurance policy is a simple way to help take care of those expensive vet bills that can quickly add up. As a licensed insurance agent and enthusiastic dog person, I am here to help you with all the pet insurance options available to you and your Texas Heeler. Read more about our unbiased ranking methodology and advertiser disclosure.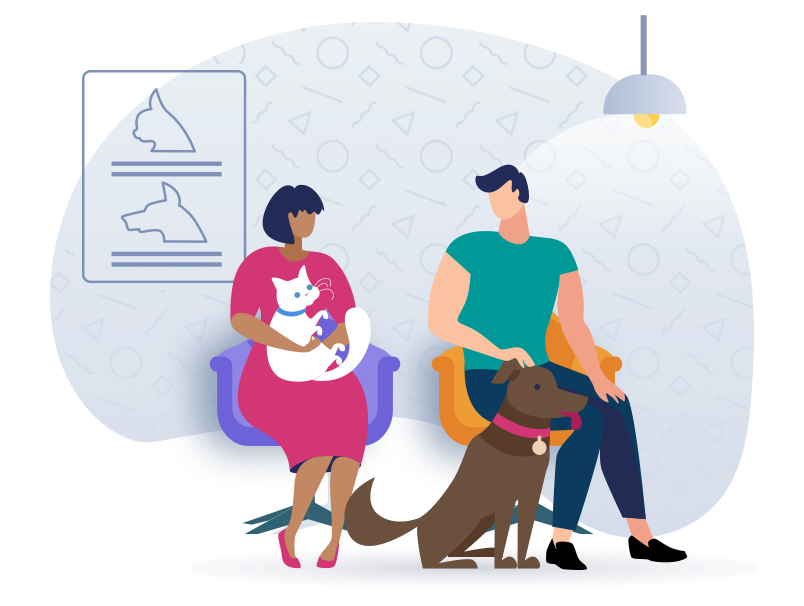 Top Texas Heeler Pet Insurance Scored, Ranked & With Cost
Use our below table to quickly compare the best Texas Heeler pet insurance providers. The average monthly specific prices shown are based on a healthy 2-year-old Texas Heeler with a $500 deductible and 90% reimbursement amount who is located in California with a 90210 zip code. Costs may vary based on age, location, and the coverage amount. Prices are accurate as of January 2023 and are subject to change. For the most up-to-date information, please visit the provider website.
---
Texas Heeler Pet Insurance FAQs
What is dog insurance and why is it useful for Texas Heelers?
Dog insurance is a lot like human health insurance in that it helps with covering expensive medical bills. It's important to note, pet insurance may not cover the entire cost of your dog's medical expenses, but it will save money in the long run. Finding a dog insurance policy is as easy as playing fetch, just select a plan, make the monthly payments to keep the policy active, and that's it. You'll submit receipts for reimbursement from your insurance provider when the bill is paid.

Pet insurance is exactly that, insurance to protect against the unexpected when caring for your Texas Heeler. Your pooch will hopefully be healthy for most, if not all of his lifetime. Potential health issues that your pooch may face include eye problems such as cataracts, , collie eye anomaly (a congenital condition that affects eye development), distichiasis (abnormal/extra eyelashes that can irritate the eye) and progressive retinal atrophy (PRA) (a degenerative disease in the eyes). Other potential health problems like autoimmune thyroiditis (hypothyroidism), epilepsy, hereditary heart issues and elbow and hip dysplasia are also not uncommon. Just one of these problems will mean multiple trips to the veterinarian, with no doubt an expensive medical bill to go along with it. Purchasing a pet insurance policy means your Texas Heeler will receive any necessary treatment without taking a bite out of your bank account.
How old does my Texas Heeler need to be insured?
Pet insurance providers will want puppies to be at least eight weeks old in order to begin insurance coverage, but you should really look into enrolling your Texas Heeler in a dog insurance policy the moment you bring him home for the first time. Most, if not all, pet insurance policies use the pet's age to determine the premium, so the younger you can enroll your puppy in a plan, the better.
What are common insurance claims for Texas Heelers?
Claims for your Texas Heeler may include eye problems such as cataracts, collie eye anomaly (a congenital condition that affects eye development), distichiasis (abnormal/extra eyelashes that can irritate the eye), and progressive retinal atrophy (PRA) (a degenerative disease in the eyes). Other potential health problems like autoimmune thyroiditis (hypothyroidism), epilepsy, hereditary heart issues and elbow and hip dysplasia are also not uncommon. Your Texas Heeler is also a very high-energy dog, so physical issues may be a problem as well, with potential broken bones or cranial cruciate ligament tears (similar to an ACL injury in a human athlete). Hopefully, you don't find yourself in a vet's office with any one of these issues, but if you do, this is where pet insurance can help save the day and your bank account.
What services for my Texas Heeler are covered by dog insurance? What services are excluded from coverage?
Your policy for your Texas Heeler will likely cover surprise injuries or accidents. It also typically includes surgery, medication, medical tests, emergency care, and exam fees. Some dog insurance plans will cover hospitalizations and preventative care as well. Almost any issue, scrape, a broken bone, or pulled muscle your Texas Heeler may face in his lifetime.

It is important to mention that there are services that may be excluded in your policy. Most dog insurance plans will not cover the cost of care for pre-existing conditions, which is why it's so important to enroll your Texas Heeler in a policy as soon as possible.
How does reimbursement work?
You are responsible to pay your Texas Heeler's medical bill upfront and then submitting the vet bill for reimbursement to the insurance provider. Your insurance provider will then pay you a certain percentage of that bill. Your insurance company will determine how much money you'll receive back based on your deductible and reimbursement rate.
Should I enroll in a high-deductible or low-deductible plan?
In general, the higher the deductible you pay means, the lower your monthly payment will be, but in turn, that also means you'll pay a higher cost of that deductible payment during those unexpected emergencies. If you'd prefer not to have a large bill as a deductible during an emergency, then choosing a lower deductible plan may be the right course for you. You'll have a higher monthly payment as a result but less of a financial surprise during a stressful medical emergency.
5 Tips for Keeping Texas Heeler Safe & Healthy
There have been many discussions so far about all of the things that can go wrong with your Texas Heeler, but there are also many things that can go right. Your pooch is smart, athletic, and just a lot of fun. Purchasing a pet insurance policy will help him to stick around for as long as possible. Here are a few extra tips to make sure that your Texas Heeler is as healthy and happy for many years to come.
1. Activity
It should come as no surprise that your Texas Heeler is, at his heart, a herding dog. He'll do best if he has a job to keep him busy and he needs lots of outdoor exercises. A large, fenced-in yard, or better yet, a farm, is the ideal situation. That said, as long as you're able to get him out on regular walks, including jogging, hiking, biking or swimming, for at least 1-3 hours a day, all of that exercise will go a long way to keeping him healthy. One important note, while your Texas Heeler is a high-energy herding dog, he is prone to overheating and may not always be able to show you when he's having trouble. Keep an eye on his activity level and be sure he has a place to cool off and drink water.
2. Training
The Texas Heeler is very trainable with the potential for learning new tricks, especially if you use positive reinforcement training techniques. Early socialization classes will be important as your pup can be wary of strangers and will want to alert the family with his loud bark if someone unfamiliar comes by unannounced. Those puppy classes will help him from an early age learn to adapt to new people and other animals. He'll also do well with mental stimulation with new tasks to learn and dog puzzle toys. Don't forget, he's still a herding dog, so his nature will be to herd small children and other pets in the house potentially. Be sure to monitor the behavior and make the necessary training adjustments.
3. Nutritious Diet
Your Texas Heeler's diet should be that for a medium dog that has high energy (very high energy, in case you were wondering). Your pup needs a lot of exercises, which means they can burn calories easily, but they can also become obese very quickly if they are overfed. Keep a regular meal schedule and remember, that positive reinforcement training means lots of treats; just be sure not to go overboard. Always work with your vet on what is the ideal weight for your Texas Heeler. Clean, fresh water should also be available at all times.
4. Love and Affection
Your Texas Heeler will naturally want to herd, so young children or other animals, such as cats, may be challenging. It's not impossible, but keep working to change the behavior when needed. Your pup just wants to be with you. Be sure not to confuse his love of being outside and running for hours with a desire to be out on his own. He'll love settling down with you for a cozy night in just as much as a run out in a large field.
5. Regular Grooming
The good news here is that your Texas Heeler is about as easy as it gets when it comes to upkeep and grooming. A good brushing every few days will do a lot to keep that coat shiny. A bath or trip to the groomer once a month or so will help clean up from all of those outdoor adventures. That double coat is weatherproof and will shed a bit, but thankfully not too bad. Brushing those teeth, regular nail trimming, and keeping an eye on his ears for dirt and debris will go a long way to keep him in tip-top shape.
Conclusion
Your Texas Heeler is a hard-working dog who will certainly keep you in good shape as your work to get all of his exercise time in each day. Pet insurance is one of the many tools you can use to help keep him around for as long as possible. There are lots of insurance options available, and the enrollment process can be confusing, which is why I'm here to help. Once you've selected a policy for your Texas Heeler and pay the monthly premium, your pup is covered. There are many potential reasons that your Texas Heeler may need veterinary care. Coverage will provide your four-legged family member with the necessary treatment and lessen the stress of dealing with an expensive vet bill. A company that I suggest looking into is Lemonade pet insurance, they consistently offer the best combination of price and coverage for Texas Heelers.
SwiftScore Ranking Methodology for Texas Heelers
We ranked the best pet insurance policies for Texas Heelers based on a variety of important factors including the following:
Average monthly price for a 2-year-old Texas Heeler with a $500 deductible located in the 90210 zip code
Coverage and benefits
Key policy details including accidents and illnesses, surgeries, annual check-ups, cancer treatment, lab tests, and more
AM Best rating of the underwriter
Reimbursement percentage
Annual benefit amount
Technology and user experience

Ease of sign up

Policy language clarity
User reviews
Other state dog insurance resources
Alabama | Alaska | Arizona | Arkansas | California | Colorado | Connecticut | Delaware | Florida | Georgia | Hawaii | Idaho | Illinois | Indiana | Iowa | Kansas | Kentucky | Louisiana | Maine | Maryland |
Massachusetts | Michigan | Minnesota | Mississippi | Missouri | Montana | Nebraska | Nevada | New Hampshire | New Jersey | New Mexico | New York | North Carolina | North Dakota | Ohio | Oklahoma | Oregon | Pennsylvania | Rhode Island | South Carolina | South Dakota | Tennessee | Texas | Utah | Vermont | Virginia | Washington | West Virginia | Wisconsin | Wyoming