6 Best
American Staffordshire Terrier

Pet Insurance Plans Compared in 2023

Updated on by Matthew H. Nash – Licensed Insurance Agent

Buying pet insurance for your American Staffordshire Terrier, also known as the AmStaff or American Staffy, can be overwhelming. With all of the pet insurance companies that have recently flooded the market, it's had to separate the good guys from questionable operators. As a friend of the Staffy and nationally licensed insurance agent, I am going to evaluate and single out the best dog insurance policies so you can protect your good-natured friend. I have done all the research for you regardless of which state you live in or no matter how old your pup is. We may receive compensation when you click on the affiliate links below.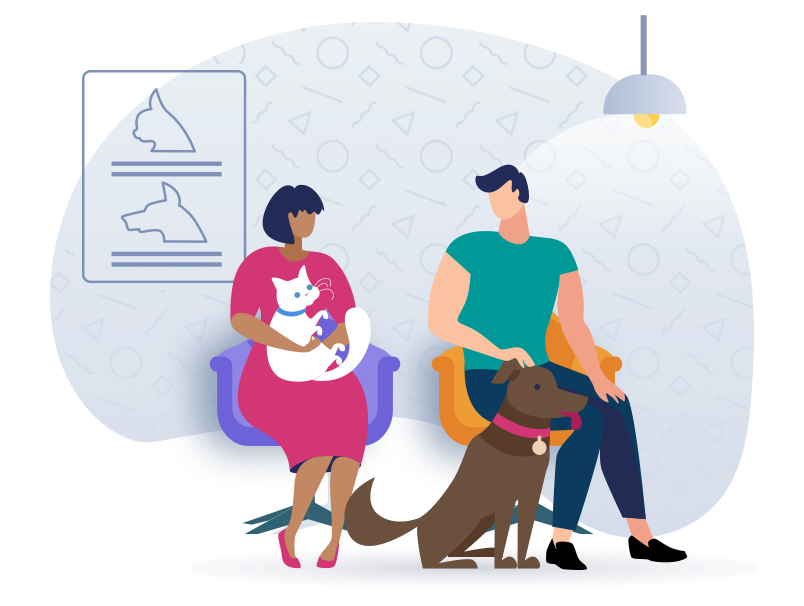 Top American Staffordshire Terrier Pet Insurance Scored, Ranked & With Cost
Use our below table to quickly compare the best American Staffordshire Terrier pet insurance providers. The average monthly specific prices shown are based on a healthy 2-year-old American Staffordshire Terrier with a $500 deductible and 90% reimbursement amount who is located in California with a 90210 zip code. Costs may vary based on age, location, and the coverage amount. Prices are accurate as of January 2023 and are subject to change. For the most up-to-date information, please visit the provider website.
---
American Staffordshire Terrier Pet Insurance FAQs
What is dog insurance and why is it useful for American Staffordshire Terrier?
To fully protect your pet dog via insurance, you will need to sign up with an insurance company and pay a monthly amount to keep the policy active. If your canine friend falls ill or has an accident, you will typically be required to pay ahead of time and then submit a claim for reimbursement from your insurer. One thing that is helpful to know is that insurance companies often like to exclude certain pre-existing conditions and that's why we recommend getting dog insurance while your animal is in the puppy phase (after 8 weeks of age).

Dog insurance is very useful in California since the vet bills can get astronomically high for therapies like cancer treatment that can cost well over $10,000. Many uninsured pet owners have to make the unfortunate decision to put their animal down because they can't afford the cost of treatment their pet needs. Insurance is there to make that not an option.
How old does my puppy need to be to get insured?
Most dog insurance companies require your puppy to be a minimum of 8-weeks-old before you can apply for puppy insurance. However, the majority of providers do not have an age limit for when you can get dog insurance. Although younger animals are typically much cheaper to insure, we recommend you get your dog insurance before their first birthday.

One exception to the rule is Pawp who protects up to 6 pets on one "Emergency Fund" regardless of their age for a flat fee of $19/ month. However, remember that Pawp only covers true vet emergencies that must be qualified first by their virtual vet team. Also note, their plan only covers one of your pets for one vet bill up to $3,000 once per year.
How worth it is to get American Staffordshire Terrier dog insurance and what are common reasons for claims?
Utilize this resource to touch on the most common illnesses for each breed https://cidd.discoveryspace.ca/breeds/overview.html
What is covered and what's excluded with dog insurance?
Coverage varies with each dog insurance provider but generally any accident or illness will be covered unless it is specifically excluded. Typically, anything that is "sudden and catastrophic" will be covered. Think broken bones, eye infection, swallowing a tennis ball or allergies. An example of something that may not be covered is if your dog already has cancer when you apply for insurance then this would be a pre-existing condition that isn't eligible for claims. Many providers now offer "wellness" packages that are usually add-on that cover things like vaccinations, routine check-ups, and heartworm prevention etc.
How does reimbursement work?
Let's say you have dog insurance with a 90% reimbursement amount, a $250 deductible, and a $20,000 annual max benefit. Then imagine something happens that requires a $10,000 emergency vet surgery. In this scenario, your insurance company would reimburse you $9,000 minus your $250 deductible meaning that you would be out of pocket $1,250 instead of $10,000. One company that is an exception to this rule is Trupanion, which offers payment directly to vets in their network. This way you won't have to pay out of pocket.
Is it better to have a lower deductible – what's the sweet spot?
Usually, a lower deductible means higher monthly payments. This means that you will be more out of pocket each month but less out of pocket when there is a catastrophe. You are best to do the math yourself based on your own financial situation and more providers offer an easy-to-use calculator when getting a quote. We've seen that the majority of people choose a $250 or $500 deductible.
8 Useful Strategies for Keeping Your American Staffordshire Terrier Safe & Healthy
Originally bred in England, the American Staffordshire terrier was developed from bulldogs and brought to the United States in the late 19th century. Although this breed is different than the American pit bull terrier, both are considered pit bulls, with a notorious reputation based on their aggressive ancestry. This breed can be loving, loyal, and gentle with proper training and responsible ownership.
1. Know Your Breeder
The AmStaff breed can become aggressive and dangerous if not properly socialized or if bred improperly, so choose a responsible breeder registered with the AKC. Ask for paperwork proving that the dog is registered and inspect the breeder's facility to see the dogs' living conditions.

Consider adopting an AmStaff from a shelter or rescue organization. You get the double bonus of saving a life while getting a chance to acquire a dog with a tested proven temperament. Before you adopt, request a full history and spend ample time with the dog or puppy to determine if the dog is well socialized and fits your lifestyle well.
2. The Importance of Socializing
With any territorial dog, the most critical window of socialization lasts from 7 to 16 weeks, according to the American Society for the Prevention of Cruelty to Animals. However, continue to socialize your dog after this time as well. Interaction with people and dogs confers lifelong benefits. Therefore, it's important to expose your new dog of any age to as many other dogs and people as possible, making all of these experiences positive ones involving play and dog treats.
3. Training
Take your American Staffordshire terrier to puppy and adult obedience classes. While basic training is required for this breed, intermediate or advanced training is recommended by PetPlace.com. This training allows you to keep firm control of your dog with verbal commands and engages his mind, preventing him from developing destructive behaviors. Train your AmStaff using only positive, reward-based techniques; punishment-based training can encourage and foster aggression in this breed.
4. Proper Feeding
Feed your American Staffordshire terrier two or more small meals during the day to prevent gastric torsion, commonly known as bloat. This illness results from an accumulation of air in the dog's stomach, sometimes resulting from rapid eating. The stomach swells, then begins to twist and become obstructed, a condition that can quickly become fatal. Avoid feeding your AmStaff dry food; instead, feed him canned. Choose foods without animal fat or oils listed in the ingredients and don't use an elevated feeding dish, recommends PetPlace.com.
American Staffordshire Terrier pups between 8 and twelve weeks old need four meals in a twenty-four hour period.
Staffy pups 3 to 6 months old should be fed 3 meals daily.
Feed puppies 6 months to one year old 2 meals daily.
One bowl every twenty-four hours is typically adequate by the time the AmStaff terrier reaches his 1st birthday, one bowl every twenty-four hours is typically adequate.
Many times American Staffordshire Terriers might prefer 2 lighter bowls.
5. Spaying & Neutering
Spay or neuter your American Staffordshire terrier before six months of age to prevent aggressive mating behaviors such as territorial marking in the home, the desire to roam or the urge to fight with other dogs over mating rights. This is especially important in this breed, as the drive to mate can magnify aggression in your dog, leading to attacks on other dogs or people.
6. Exercise
An athletic, energetic dog such as the American Staffordshire Terrier requires a lot of exercises. Leaving the dog out in the yard all day is not the right approach, however: Yes, he can run around, but the AmStaff is a people-oriented dog who thrives when he is made part of the family. Long play sessions with his owner develop his physical and psychological health. Always keep him on a leash in public places, especially in parks, beaches, trails or plazas where he may encounter other dogs and potentially become aggressive. Unless your Staffy has been frequently exposed to other dogs, it's best to avoid dog parks as a place of exercise due to the presence of other dogs.
7. Bathing & Grooming
The American Kennel Club recommends a quick once-over with a soft bristle brush every week is usually enough to remove any dirt or other foreign matter. What's more, a good brushing distributes skin oils throughout the coat to help keep it healthy. If an Am Staff gets into something particularly messy, a bath will probably be called for. Otherwise, bathing can wait until when and if he develops a 'doggy' smell. As with all breeds, the AmStaff'˜s nails should be trimmed regularly, as overly long nails can be painful and cause the dog problems while walking and running.
8. Keep Your Staffy Preoccupied
Keep him busy when you are at home, such as fetching objects or performing tricks to keep his mind and body engaged. A lack of exercise or mental stimulation can cause excessive licking in this breed, called lick granuloma, which leads to open sores on your dog's skin. Give your American Staffordshire terrier toys that are interactive, such as balls that hold treats inside and chew toys to keep him busy, especially when you're not present to keep him company.
Conclusion
Finding the right dog insurance for your puppy or grown-up canine is quite straightforward. We recommend signing up for dog insurance once your puppy is over 8-week and the sooner in the dog's life the better since you will get the best prices with the list restrictions on things like pre-existing conditions. However, getting dog insurance at any age of your best buddy's life can be very useful for catastrophic events and for wellness.
Ready to get started? After countless hours of research, we've found that Lemonade pet insurance consistently performs the best with the lowest monthly premiums.
SwiftScore Ranking Methodology for American Staffordshire Terriers
We ranked the best pet insurance policies for American Staffordshire Terriers based on a variety of important factors including the following:
Average monthly price for a 2-year-old American Staffordshire Terrier with a $500 deductible located in the 90210 zip code (Please note: prices will vary greatly based on your location)
Coverage and benefits
Key policy details including accidents and illnesses, surgeries, annual check-ups, cancer treatment, lab tests, and more
AM Best rating of the underwriter
Reimbursement percentage
Annual benefit amount
Technology and user experience

Ease of sign up

Policy language clarity
User reviews
See dog insurance prices in your state
Alabama | Alaska | Arizona | Arkansas | California | Colorado | Connecticut | Delaware | Florida | Georgia | Hawaii | Idaho | Illinois | Indiana | Iowa | Kansas | Kentucky | Louisiana | Maine | Maryland | Massachusetts | Michigan | Minnesota | Mississippi | Missouri | Montana | Nebraska | Nevada | New Hampshire | New Jersey | New Mexico | New York | North Carolina | North Dakota | Ohio | Oklahoma | Oregon | Pennsylvania | Rhode Island | South Carolina | South Dakota | Tennessee | Texas | Utah | Vermont | Virginia | Washington | West Virginia | Wisconsin | Wyoming