6 Best
Staffordshire Bull Terrier

Pet Insurance Plans Compared in 2023

Updated on by Matthew H. Nash – Licensed Insurance Agent

The Staffordshire Bull Terrier is a boxy, sturdy breed dog with a muscular physique and low center of gravity. Recognized by the AKC in 1974, the Staffordshire Bull Terrier is a cross between a Bulldog and a Terrier. While known to be friendly around strangers and playful around their owners, they can be a stubborn breed that requires proper training and early socialization. Staffies are prone to certain genetic conditions that could necessitate costly medical intervention. Pet insurance provides financial peace of mind, so you can arrange proper treatment with your veterinary team while saving money. As a licensed insurance agent and lifelong pet owner, I can help you make sense of the pet insurance process. Below are some frequently asked questions, common claims, and essential tips for caring for your Staffy! Read more about our unbiased ranking methodology and advertiser disclosure.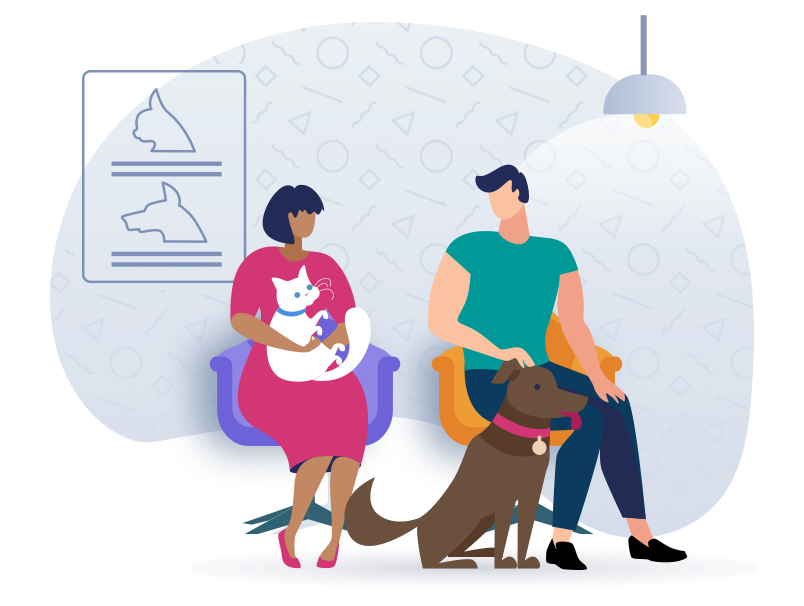 Top Staffordshire Bull Terrier Pet Insurance Scored, Ranked & With Cost
Use our below table to quickly compare the best Staffordshire Bull Terrier pet insurance providers. The average monthly specific prices shown are based on a healthy 2-year-old Staffordshire Bull Terrier with a $500 deductible and 90% reimbursement amount who is located in California with a 90210 zip code. Costs may vary based on age, location, and the coverage amount. Prices are accurate as of January 2023 and are subject to change. For the most up-to-date information, please visit the provider website.
---
Staffordshire Bull Terrier Pet Insurance FAQs
What is pet insurance, and is it worth the investment for our Staffordshire Bull Terrier?
Sadly, economic euthanasia is becoming a more prevalent concern with pet owners. Medical care can be extremely costly, and pet owners must make difficult decisions based on their financial status. Pet insurance works in the same manner as human insurance. Illness and injury are sometimes inevitable, creating an unplanned financial burden once those bills start rolling in. When you enroll with a pet insurance company, you pay a monthly fee, or premium, to keep your policy active. Once your deductible is met, your insurance company will reimburse you a portion of the expenses associated with your pet's care. This monthly investment could save you hundreds or even thousands in unforeseen veterinary bills. Some genetic dispositions put your Staffordshire Bull Terrier at a higher risk for disease or illness, making medical intervention inevitable.
What is the proper age to insure my Staffordshire Bull Terrier?
Most insurance companies recommend early enrollment when your dog is around eight weeks old. Enrollment when they are young, will help prevent the risk of claim rejection for conditions that could be deemed pre-existing. Researching policies before bringing your new dog home is a good rule of thumb. The process of finding a suitable policy can take some time. By the time your dog is in their forever home, you should have adequate coverage in place.
What are a few common insurance claims for the Staffordshire Bull Terrier?
Many breeds are predisposed to certain genetic health conditions. Your Staffy is no different. This breed may suffer from hip dysplasia, a condition that begins when they are growing and causes an abnormal formation of the hip socket. This condition can cause pain and could lead to surgical intervention. Staffies are also prone to mast cell tumors, a type of cancer that causes tumors throughout the body. Clinical presentation varies, but symptoms range from discomfort and malaise to organ involvement. Medications may help manage some symptoms, while surgical excision and chemotherapy can help long-term. Other conditions, such as patellar luxation, elbow dysplasia, allergies, and juvenile cataracts, could plague your pup. While chronic and acute conditions, including injury, may be unavoidable, pet insurance is a great way to help minimize out-of-pocket expenses while providing the best care for your pup.
What services are typically covered by insurance? What services are excluded from coverage?
Insurance plans vary by company, but most typical pet insurance policies cover care associated with illness and injury, including infections, broken bones, acute and chronic conditions, preventative care, medications, and hospitalization. Enrolling your dog early in a pet insurance program will ensure coverage, as most policies will not cover pre-existing conditions.
Is dental work typically covered by pet insurance companies?
Dental disease is prevalent in many dogs. Some dogs damage their teeth through heavy chewing and pull toys or bones. Review your policy to verify coverage, as dental insurance may benefit you.
Can I use a veterinarian of choice, or are there insurance-approved options?
Because you are paying for medical care up front, most veterinary clinics, specialty and emergency clinics, are covered. Explore the various options on the market to find the best program for you and your pet!
Are there discounts for insuring multiple pets?
If your Staffy has another pup friend at home, or you plan on another pet joining your family, it is worth researching multiple-pet discounts. Some programs will provide a discount when you insure more than one pet.
Who pays for services at the time of veterinary care?
Pet insurance companies utilize a reimbursement method for payment. You will pay for services upfront, submit a claim and wait for reimbursement based on the rate and deductible outlined in your plan.
A high or low-deductible plan, which is best?
Customizing your pet insurance policy is easy with low-deductible or high-deductible plans available. When you enroll your pup into a pet insurance plan, your financial situation will help you decide which option is best, a low-deductible or high-deductible plan. Coverage is the same regardless of which plan you choose. A high-deductible plan means you pay a higher deductible but less in monthly premiums. Just the opposite applies to low-deductible plans. You will pay a bit more in monthly premiums but a lower deductible. There are many pet insurance programs to choose from, which will help you tailor a plan that meets your needs. A healthy dog and a healthy wallet are what matter most!
5 Tips for Keeping Your Staffordshire Bull Terrier Safe and Healthy
While pet insurance is an excellent financial safeguard for you and your beloved companion, there are many things you can do every day to ensure your Staffordshire Bull Terrier lives a long and healthy life. Here are just a few!
1. Daily Exercise
Exercise is a great way to keep your dog healthy, but it can also benefit you! Along with improving your cardiovascular health and lowering your blood pressure, daily walks can keep your pup's joints limber and help them maintain their ideal weight. We know that overweight dogs put unnecessary strain on their joints and muscles. Your dog will grow to love his time with you on the trails or down the street. A tired dog is "almost always" a well-behaved dog. Keeping them active helps prevent boredom which can lead to destructive behavior.
2. Nutritious Diet
Staffies are known to pile on the pounds. Finding a biologically appropriate food is vital. Team up with your veterinary team to provide the best food for your dog, and in the right portions, to keep them at their ideal weight. Most vets will recommend their feedings be split twice throughout the day. Your pup will sometimes beg for table food and excessive treats. It's ok to say no! An overweight dog can acquire many other health issues.
3. Crate Training
Staffies tend to develop separation anxiety, making crate training a critical step. Begin with 10-minute increments when they are young. If they feel safe and secure in their crates, they are less likely to experience overwhelming anxiety when you leave. Their crate should be a safe space.
4. Canine Enrichment Games
Your Staffy is curious and playful. Enrichment is a great way to keep your pup's mind busy. Various toys on the market, along with puzzle food dishes, will keep your pup interested! Enrichment games are as important as physical activity. Staffies are intelligent dogs, eager to please.
5. Grooming
Staffordshire Bull Terriers are very low-maintenance dogs when it comes to grooming. Basic weekly brushing, along with nail care, is typically sufficient. Nail care can be tricky sometimes if your dog is sensitive to having his nails trimmed. Start working with them at a young age to get them accustomed to the process. There are many nail trimmers on the market, so try a few to see what works best.
Conclusion
While the pet insurance process may seem overwhelming initially, your efforts by doing the proper research will help you save hundreds or thousands of dollars annually on veterinary care. There are many programs on the market, so customizing a plan to fit your needs is easy. I suggest a company called Lemonade pet insurance, as they offer competitive pricing and comprehensive coverage. Pet ownership is one of the most rewarding things you can do. Your Staffordshire Bull Terrier will provide years of companionship and love. Our job is to ensure they are adequately cared for, and pet insurance is a no-brainer!
SwiftScore Ranking Methodology for Staffordshire Bull Terriers
We ranked the best pet insurance policies for Staffordshire Bull Terriers based on a variety of important factors including the following:
Average monthly price for a 2-year-old Staffordshire Bull Terrier with a $500 deductible located in the 90210 zip code
Coverage and benefits
Key policy details including accidents and illnesses, surgeries, annual check-ups, cancer treatment, lab tests, and more
AM Best rating of the underwriter
Reimbursement percentage
Annual benefit amount
Technology and user experience

Ease of sign up

Policy language clarity
User reviews
Other state dog insurance resources
Alabama | Alaska | Arizona | Arkansas | California | Colorado | Connecticut | Delaware | Florida | Georgia | Hawaii | Idaho | Illinois | Indiana | Iowa | Kansas | Kentucky | Louisiana | Maine | Maryland |
Massachusetts | Michigan | Minnesota | Mississippi | Missouri | Montana | Nebraska | Nevada | New Hampshire | New Jersey | New Mexico | New York | North Carolina | North Dakota | Ohio | Oklahoma | Oregon | Pennsylvania | Rhode Island | South Carolina | South Dakota | Tennessee | Texas | Utah | Vermont | Virginia | Washington | West Virginia | Wisconsin | Wyoming