6 Best
St. Bernard

Pet Insurance Plans Compared in 2023

Updated on by Matthew H. Nash – Licensed Insurance Agent

First-time buyers are often intimidated by the prospect of purchasing pet insurance. In truth, the policy language can be very frustrating to try to navigate if you are not accustomed to it. As a nationally licensed insurance agent and lifelong dog owner, I completely understand just how taxing this process can be. In this article, I have assembled a wealth of information to help you get the best dog insurance for your St. Bernard. Regardless of your pup's age or location, this article has everything you need to know! Read more about our unbiased ranking methodology and advertiser disclosure.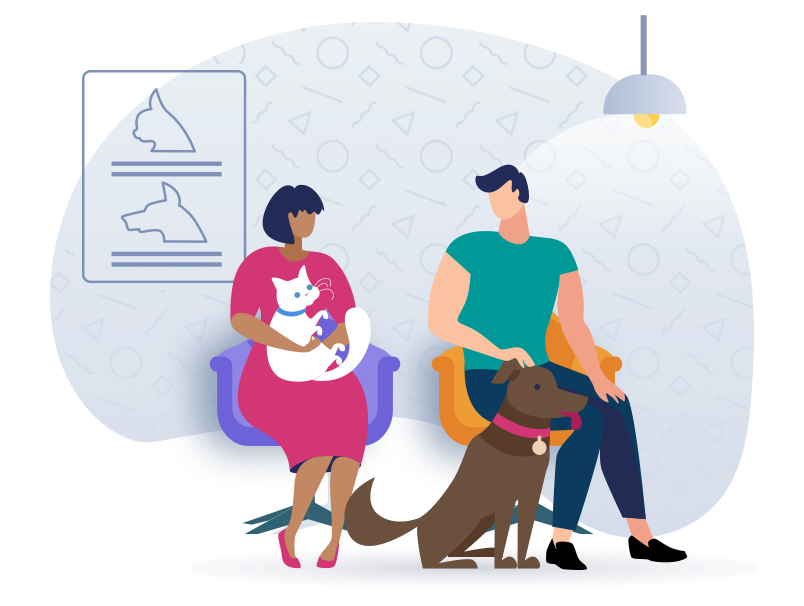 Top St. Bernard Pet Insurance Scored, Ranked & With Cost
Use our below table to quickly compare the best St. Bernard pet insurance providers. The average monthly specific prices shown are based on a healthy 2-year-old St. Bernard with a $500 deductible and 90% reimbursement amount who is located in California with a 90210 zip code. Costs may vary based on age, location, and the coverage amount. Prices are accurate as of January 2023 and are subject to change. For the most up-to-date information, please visit the provider website.
---
St. Bernard Pet Insurance FAQs
What is dog insurance, and why is it beneficial for St. Bernards?
The simplest way to think of dog insurance is, that is medical insurance for your dog. Of course, while we go to doctors for treatment, our pups go to the vet. However, the functional purpose of dog insurance is the same as our medical insurance. It is used to make veterinary care affordable for your canine.

While we recommend dog insurance for every breed of dog, St. Bernards are especially important to insure for several reasons. It is common knowledge that big dogs not only tend to live shorter lives than their smaller canine relatives, but they are also more prone to injury and joint problems due to their size. On top of that, St. Bernards have a host of other potential health issues that come with the breed.

The sheer size of a St. Bernard causes a lot of strain on its heart, which can have severe implications if not adequately addressed. Additionally, St. Bernards are known to have an increased risk of cancer and other skin abnormalities, the latter of which is breed specific. Nevertheless, we love St. Bernards, and because of this, it is vital to have up-to-date dog insurance to meet these issues head-on if and when they arise.
How do I sign up for dog insurance?
Signing up for dog insurance can be very straightforward if you keep a few things in mind. Your first step is to compare different insurance companies and policies to find the best match for your St. Bernard. Every company has variations in its coverage, so it is important to take your time when deciding on the best fit.

Once you have an insurance provider in mind, it is time to contact them. If you have any other questions about the coverage they offer, this is the time to ask. Most insurance companies will let you sign up and begin your coverage the same day! Remember to keep up-to-date on monthly premium payments to ensure that your policy doesn't lapse.
How old does my puppy need to be to get insured?
The majority of insurance providers require that your pup is at least eight weeks of age before it is eligible for puppy insurance. Most insurance companies don't have an age limit for dog insurance on the plus side. Since younger animals are cheaper to insure, we highly recommend getting dog insurance before their first birthday.

One exception to the rule is Pawp, which protects up to 6 pets, regardless of age, on one "Emergency Fund" for a flat fee of $24/ month. However, keep in mind, Pawp only covers true veterinary emergencies. These coverages have to be approved first by their virtual vet team. Also, their plan only covers one of your pets for one vet bill per year and only up to $3,000.
What are some of the most common dog insurance claims for St. Bernards?
1. Dilated Cardiomyopathy
Dilated Cardiomyopathy is very common with larger dogs and can be worsened by certain hereditary traits. Essentially, it is a failure of the heart muscle to contract each time properly. This leads to a host of health issues ultimately caused by poor blood circulation throughout the body.
2. Gastric Dilation-volvulus
Also known as "bloat," gastric dilation-volvulus is another health condition that St. Bernards are very susceptible to. This occurs when the stomach becomes distended with air and twists, reducing the amount of blood flowing back to the heart and digestive organs and inhibiting the passage of food.
3. Hip and Elbow Dysplasia
Both Elbow and Hip Dysplasia are highly common amongst St. Bernards and expensive to treat. "Dysplasia" references the gradual misalignment of a joint that can occur through hereditary means or day-to-day activities. For example, Hip Dysplasia can occur in large dogs that frequently have to climb stairs.
4. Entropion
Entropion is an inherited trait that causes the eyelids to roll inwards. Not only is this painful for the dog, but it can cause the eyes to swell and even lead to corneal ulcers. Entropion is primarily seen in dogs bred for a "droopy face," which makes it abundantly clear why St. Bernards share the risk for this particular disease.
5. Cruciate Ligament Injury
Despite being classified as an "injury," Cruciate Ligament Injury is a threat to St. Bernards in two separate forms. The more common form is a chronic degeneration of the ligaments supporting the knee, while the less common form is an abrupt tearing of the ligaments under stress caused by rapid motion.
What is covered, and what's excluded with dog insurance?
As you may expect, coverage varies depending on the provider. However, most accidents or illnesses are likely covered unless they are expressly excluded in the policy agreement. In most cases, anything that is considered "sudden and catastrophic" will be covered. This includes but is not limited to infections, broken bones, allergies, or even swallowing a foreign object, like a dog toy. Lastly, most providers offer "wellness" packages that cover more routine needs, such as vaccinations, examinations, heartworm prevention medicine, and more.

Most providers will not cover pre-existing conditions as far as what is not covered. This is any ailment requiring ongoing treatment before signing an agreement with them. Additionally, as mentioned above, certain companies may have their own coverage exclusions listed in their policy.
How does reimbursement work?
For example, let's say you have dog insurance with a 90% reimbursement amount, a $250 deductible, and a $20,000 annual max benefit. Tragedy strikes, and you rush your dog to the vet. You learn that your pup requires a $10,000 emergency vet surgery. In this scenario, your insurance company would reimburse you $9,000 minus your $250 deductible meaning that you would be out of pocket $1,250 instead of $10,000. One company that offers an exception to this rule is Trupanion which offers payment directly to veterinarians in their network. This way, you won't have to pay out of pocket.
Is it better to have a lower deductible – what's the sweet spot?
Usually, a lower deductible means higher monthly payments. In exchange for higher monthly premiums, you will owe less money out of pocket for the deductible in the event of an emergency. This is really your choice to make, depending on your financial needs. Many providers offer an easy-to-use calculator when getting a quote. In our experience, most people choose a $250 or $500 deductible.
5 Useful Strategies for Keeping Your German Shepherd Safe & Healthy
1. Keep an Eye on the Heat
Your St. Bernard undoubtedly loves to spend a little bit of time running around and playing in the sun. However, it is imperative to be mindful of heat stress. Big dogs especially can overheat very quickly. Therefore, if your St. Bernard is spending a lot of time outside, be sure to monitor the temperatures and check on your pup regularly to ensure it is not panting too fast or displaying any abnormal behaviors.
2. Hydration is Essential
Proper hydration is essential to keeping your St. Bernard in good health. Large dogs need access to plenty of water at all times, which aids in their immune system support, essential bodily functions, and digestive health, as well as helping them stay cool. Therefore, it is a good practice to never let your St. Bernard's water bowl go dry, barring any special circumstances during house training.
3. Schedule Regular Vet Appointments
Going to the vet regularly is a must for St. Bernards. They are a breed with many different potential genetic health issues, and a good vet will be able to identify those before they become severe through early detection. Not only does this keep your pup safe and happy, but it will save you a lot of money on vet bills in the long run.
4. Keep Human Food Away from your St. Bernard
St. Bernard owners can all agree that these dogs love to eat. I have heard many stories about their incredible food-related feats, including one about an entire lasagna disappearing off of the counter just before dinner. That being said, many foods that we eat are toxic to dogs. If you cannot trust your St. Bernard around food, ensure that nothing gets left out that may harm them if consumed.
5. Keep your St. Bernard on a Leash in Public Places
Chances are, if you own a St. Bernard, you have the biggest dog on the block. Few breeds are as large as these fantastic canines. However, domesticated animals are often no match for wildlife or modern machinery. Therefore, I recommend keeping your St. Bernard on a leash when outside to greatly reduce the risk of being hit by a car or attacked by a wild animal.
Conclusion
St. Bernard is a popular dog breed for a host of reasons! They are great around kids, are powerful protectors, and are truly majestic animals. However, as I have demonstrated in this article, they also carry many risks for health issues. For this reason, dog insurance is a necessity to give your pup the health and happy life that it deserves. Any age is a good time to open a dog insurance policy, but we recommend starting as soon as possible!
Ready to get started? After countless hours of research, we've found that Lemonade pet insurance consistently performs the best with the lowest monthly premiums.
SwiftScore Ranking Methodology for St. Bernards
We ranked the best pet insurance policies for St. Bernards based on a variety of important factors including the following:
Average monthly price for a 2-year-old St. Bernard with a $500 deductible located in the 90210 zip code (Please note: prices will vary greatly based on your location)
Coverage and benefits
Key policy details including accidents and illnesses, surgeries, annual check-ups, cancer treatment, lab tests, and more
AM Best rating of the underwriter
Reimbursement percentage
Annual benefit amount
Technology and user experience

Ease of sign up

Policy language clarity
User reviews
See dog insurance prices in your state
Alabama | Alaska | Arizona | Arkansas | California | Colorado | Connecticut | Delaware | Florida | Georgia | Hawaii | Idaho | Illinois | Indiana | Iowa | Kansas | Kentucky | Louisiana | Maine | Maryland | Massachusetts | Michigan | Minnesota | Mississippi | Missouri | Montana | Nebraska | Nevada | New Hampshire | New Jersey | New Mexico | New York | North Carolina | North Dakota | Ohio | Oklahoma | Oregon | Pennsylvania | Rhode Island | South Carolina | South Dakota | Tennessee | Texas | Utah | Vermont | Virginia | Washington | West Virginia | Wisconsin | Wyoming