7 Best
Somali Cat Insurance

Plans Compared in 2023

Updated on January 16, 2023, by Matthew H. Nash – Licensed Insurance Agent

The search for the best Somali cat insurance plan often overwhelms pet parents as there are numerous options from which to choose. Being a nationally licensed insurance agent and animal lover puts me in a unique position to see the difficulties that complex policy language poses and the challenges of determining the right provider. To help you through this process, my team and I have compiled all of the crucial information you need, regardless of your state of residence or your Somali's age, to make an educated decision for you and your cat. Read more about our unbiased ranking methodology and advertiser disclosure.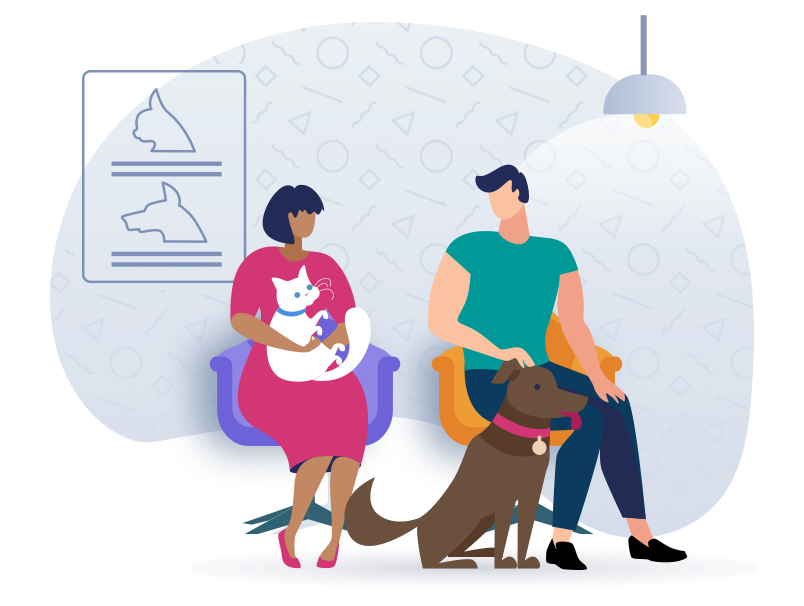 Top Somali Cat Insurance Scored, Ranked & With Cost
Use our below table to quickly compare the best Somali Cat insurance providers. The average monthly specific prices shown are based on a healthy 2-year-old Somali Cat with a $500 deductible and 90% reimbursement amount who is located in California with a 90210 zip code. Costs may vary based on age, location, and the coverage amount. Prices are accurate as of January 2023 and are subject to change. For the most up-to-date information, please visit the provider website.
---
Somali Cat Insurance FAQs
What does cat insurance provide? Can my Somali cat benefit from being insured?
Cat insurance can protect you against the steep and continuously rising costs of emergency veterinary service. It also offers you peace of mind, knowing that you can afford to get your sweet Somali the care they need whenever they may need it.

The Somali breed, like any other, can develop serious health issues at any point in their lives. For example, one such ailment is renal amyloidosis, for which there is no cure. Despite that, with the help of your veterinarian, you can manage your Somali's discomfort and symptoms and improve their quality of life with the right treatments. But, of course, this can cost upwards of $5,000 throughout their remaining years.

Another condition in this breed is pyruvate kinase deficiency, a severe type of anemia. Treatment and long-term maintenance for this problem averages about $3,000 but has cost as much as $8,000 throughout a Somali's life. Cat insurance helps to minimize financial stress during such difficult times.
How old should my Somali be when I insure them?
The youngest age you can insure your Somali is 8 weeks, but many providers will allow you to do so until age 15. However, we recommend purchasing a policy before their 1st birthday to get them complete coverage and the cheapest premiums.

If you are interested in insuring your cat but don't want the inconvenience of deductibles and credit checks, Pawp is the perfect alternative and only costs $24/month. Pawp gives you an "Emergency Fund" that you can use to pay for a single vet bill of less than $3,000 for one of your pets each year. Pawp's only major stipulation is that bill be for an actual emergency as qualified by their virtual team of vets. Other perks of joining Pawp are free unlimited remote veterinary and pet expert consultations.
Are there common reasons for claims among this breed of cats? How is cat insurance worthwhile for my Somali?
While Somalis are generally healthy cats, they are prone to illnesses that are quite costly to treat, not to mention the inevitable accidents that most cats have at one time or another.

One of the most common claims filed for Somalis is pyruvate kinase deficiency, also known as hemolytic anemia. A lack of pyruvate kinase means that a cat's body cannot produce enough red blood cells, which means that, depending on the severity of the condition, a cat may not get enough oxygen moving throughout the body. A cat with this condition may require regular oxygen therapy, frequent blood transfusions and even surgery to remove their spleen, as it often becomes inflamed in such instances. Cat parents can expect to spend $5,000 or more to minimize symptoms and help extend their cats' lives.

A second reason for Somali cat insurance claims is renal amyloidosis, in which "amyloids," an atypical protein, accumulate in the tissue around a cat's kidney cells. With this disorder, a cat's kidneys eliminate healthy proteins through the urine, weakening the body's defense system. It also diminishes the body's ability to prevent blood from clotting and flush toxins from the system. If not treated quickly, renal amyloidosis can be fatal. Symptoms include excessive thirst and urination, skin tenting, sores around the mouth, unnatural weight loss and vomiting. Nevertheless, through anti-inflammatory and hypertension medications, prescription food and fluid therapy, symptoms can be monitored and managed so that the cat can live a relatively healthy life. Costs for such treatment over the years tend to average $3,000 but have run as high as $8,000.

With the potential of incurring such exorbitant veterinary bills, having cat insurance as your first line of defense is a great way to put your mind at ease and ensure your Somali is protected.
What will my Somali cat insurance plan cover and exclude?
Coverage differs from one cat insurance provider and policy to another. Such variety is essential to meeting the needs of cat parents everywhere, irrespective of their financial situation or cat's health. Nonetheless, you can expect a minimum of coverage to protect your cat should they have an accident or illness deemed "sudden and catastrophic." Some qualifying conditions include open wounds, urinary blockages, infections, broken bones and skin disorders.

We urge cat parents to insure their little friends when they are between 8 weeks and 1 year old. When it comes to insurance, we say the sooner, the better. Getting a policy in place before your Somali develops any health issues will guarantee you broader coverage at the best price. When applying for insurance, you can also add a wellness package to your policy so that vaccinations, physical exams, parasite prevention and other routine care will fall under coverage.
How do I navigate the claims process and get reimbursed?
The claims process requires cat parents to pay their Somali's vet bills before leaving the animal hospital. Then, you can file a claim with your cat insurance provider for reimbursement. How much can you expect to get reimbursed? Well, that depends on the terms of your policy, but below is an example for your reference.

The most popular plans among cat parents offer a 90% reimbursement rate and a $250 deductible. Should your cat need a life-saving operation costing $5,000, your insurer would cover $4,500 less your $250 deductible. Therefore, you would only be responsible for $750 instead of the full $5,000.

While the savings are tremendous with cat insurance, we know that paying such steep vet bills upfront and waiting for reimbursement can pose several problems. To simplify the entire process, Trupanion will pay their share of your cat's vet bills directly to the animal hospital if you choose a veterinarian within their network. This saves you time and stress, leaving you to focus on helping your Somali get well.
Will I be better off with a higher or lower deductible?
What you choose for a deductible depends entirely on your finances and personal preferences. That said, we can tell what you can expect from both. For starters, a lower deductible means you will have higher monthly premiums but lower out-of-pocket costs for urgent care. In contrast, a higher deductible gets you lower monthly premiums but will require higher contributions from you for emergencies. We suggest using the calculator your preferred insurance provider features on their website to run the numbers and figure out what best suits your needs and circumstances.
5 Useful Strategies for Keeping Your Somali Cat Safe & Healthy
1. Play with your Somali cat multiple times each day
Somali cats are rambunctious, fun and curious beyond belief. They are some of the most high-energy cats you will ever meet, and they demand frequent interaction and play from their humans. Whether supervising you as you prepare a meal, learning to play fetch or mastering a treat puzzle, your Somali will want a paw in it all. Since they are always eager for more time with you, they will even let you train them to perform tricks or walk on a leash. Remember, Somalis need a variety of toys and cat towers to jump and scratch on. Otherwise, your knick-knacks, furniture, curtains and the contents of your kitchen cabinets will become their toys.
2. Never leave your Somali alone for hours on end
While Somalis are not very vocal cats, they will punish you if you decide to leave them alone for several hours at a time. This breed demands constant attention and engagement. Without it, boredom quickly sets in, and a bored Somali is mischievous and destructive. If you are frequently away from home for more than a few hours, make sure they have another feline or human companion to keep them company.
3. Develop a regular grooming schedule with your Somali
Somalis have stunning, long-haired coats that require daily brushing, particularly during molting season. Doing so will help evenly distribute their skin's natural oils and keep their coats shiny and silky. It will also remove loose fur so that your little pal can remain hairball-free, and your house will stay clean. That said, brushing is only one of several grooming tasks that you need to do regularly, including nail trimming, ear cleaning and teeth brushing. That latter is essential as Somalis are known to develop periodontal disease. Ask your veterinarian to demonstrate safe techniques for all three vital hygiene-related tasks, as doing them incorrectly could permanently injure your beloved kitty. Moreover, it's wise to establish these routines while your Somali is still a kitten so they don't make a fuss about them as they age.
4. Feed your Somali a high-protein diet
This lean, fox-like beauty of a cat bursts with energy for nearly every waking minute of the day. Your Somali will require a premium high-protein diet to maintain their shiny coat and keep them fit and healthy. The best source of quality protein is raw food specifically formulated for cats or top-shelf canned foods. Watch out for those packed with fillers, such as soy, corn, meals, wheat, other grains, chemical additives or gums, as they have little to no nutritional value for cats.
5. Help your Somali cat stay hydrated
Being such a high-energy breed, you must help your Somali stay hydrated. You can take a few easy steps each day to make this happen. The first is to keep a bowl of fresh water out for your Somali at all times. Washing and refilling the bowl daily will keep the water free of hair and dust and prevent bacteria from forming. If you notice your cat does not drink water on their own, consider purchasing a cat fountain to help make it fun for them. Many cats will drink water that flows but not water that sits. Along with feeding them a moisture-rich diet, as advised above, consider stirring a teaspoon of water into their meals. Following these steps can help keep your Somali's kidneys functioning properly and their bladder and urinary tract free from blockages.
Conclusion
Selecting the finest Somali cat insurance plan is a no-sweat, simple process when you have the right information. My team and I encourage cat parents to insure their little pals while they are still kittens (before 1-year-old) to secure the most dynamic and affordable policies available. In any event, insuring your Somali at any age will benefit them immensely as it will cover the majority of emergency costs and promote wellness. Through our comprehensive research, we have found Lemonade pet insurance features the best plans at the lowest rates for Somali cats.
SwiftScore Ranking Methodology for Somali Cats
We ranked the best pet insurance policies for Somali Cats based on a variety of important factors including the following:
Average monthly price for a 2-year-old Somali Cat with a $500 deductible located in the 90210 zip code
Coverage and benefits
Key policy details including accidents and illnesses, surgeries, annual check-ups, cancer treatment, lab tests, and more
AM Best rating of the underwriter
Reimbursement percentage
Annual benefit amount
Technology and user experience

Ease of sign up

Policy language clarity
User reviews
Other state dog insurance resources
Alabama | Alaska | Arizona | Arkansas | California | Colorado | Connecticut | Delaware | Florida | Georgia | Hawaii | Idaho | Illinois | Indiana | Iowa | Kansas | Kentucky | Louisiana | Maine | Maryland |
Massachusetts | Michigan | Minnesota | Mississippi | Missouri | Montana | Nebraska | Nevada | New Hampshire | New Jersey | New Mexico | New York | North Carolina | North Dakota | Ohio | Oklahoma | Oregon | Pennsylvania | Rhode Island | South Carolina | South Dakota | Tennessee | Texas | Utah | Vermont | Virginia | Washington | West Virginia | Wisconsin | Wyoming