7 Best
Siberian Husky

Pet Insurance Plans Compared in 2022

Updated on by Matthew H. Nash – Licensed Insurance Agent

Keeping a Siberian Husky healthy and happy is no small task. Huskies are friendly to mischievous, which means they can get themselves into trouble. Taking on the responsibility of a Siberian means being willing to care for them in all circumstances. Pet insurance is like a safety plan for your energetic best friend, but there are so many plans to choose from, how do you know which one will fit your needs? As a lifelong pet owner, nationally licensed insurance agent, and fan of all things Husky, I have researched for you and explained pet insurance available in any state. Read more about our unbiased ranking methodology and advertiser disclosure.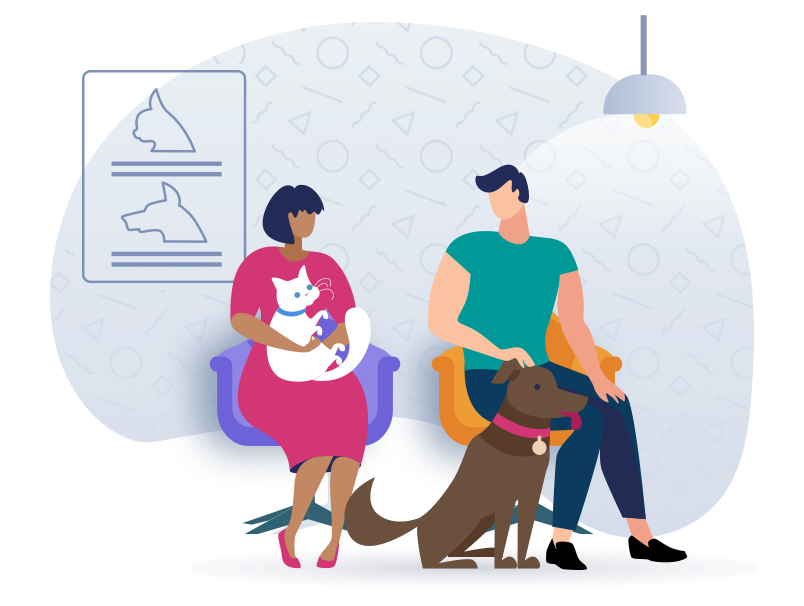 Top Siberian Husky Pet Insurance Scored, Ranked & With Cost
Use our below table to quickly compare the best Siberian Husky pet insurance providers. The average monthly specific prices shown are based on a healthy 2-year-old Siberian Husky with a $500 deductible and 90% reimbursement amount who is located in California with a 90210 zip code. Costs may vary based on age, location, and the coverage amount. Prices are accurate as of January 2022 and are subject to change. For the most up-to-date information, please visit the provider website.
---
Siberian Husky Pet Insurance FAQs
What is pet insurance?
Like health insurance for humans, pet insurance covers domestic pets and some exotics for unexpected accidents or illnesses. There are dog insurance policies for just accidents, while others insure illnesses as well as mishaps. A few providers even have wellness plans that can be added on to your policy.

Accidents cover a variety of insrances, some examples are swallowed objects, broken bones, bite wounds, toxic ingestions, x-rays, or surgery. An illness could be skin conditions, cancer treatment, bloodwork, hospitalizations, digestive issues or prescription medication. A wellness or maintenance plan would cover more routine visits such as vaccines, dental cleanings, parasite screenings or annual wellness exams.
How does dog insurance work?
Pet insurance from most companies works on a reimbursement model. You pay the office visit fees at the vet and then submit a claim for reimbursement. There is typically no network of preferred veterinarians so you can choose whomever you would like to work with. Invoices may be submitted through a form or an online portal; the process varies by provider.

The policyholder pays a monthly premium based on many factors – a breed of pet, gender, age, health history, and location where you live. You also have the option of choosing a deductible-the cost that you will cover until you reach that amount-and then you can begin submitting claims. Deductibles range from $250 to-1,000; the lower the deductible, the higher your monthly fee will be. Consequently, if you select a lower reimbursement rate. Reimbursement rates are a percentage of total costs to be refunded, often between 70-90%. Dog insurance plans will have an annual maximum limit that could be as low as $3,000 or as high as an unlimited amount. The lower the annual limit is, the less expensive the insurance will be every month, but it also means that you will be fully responsible for vet bills once you reach the maximum allowed.
Will everything be covered once I have a policy?
No, pet insurance plans will not cover pre-existing conditions, where symptoms or conditions were present before the plan was purchased. Even once the policy is in place, most have a waiting period of 2-15 days before services are eligible for reimbursement. Many plans will not reimburse for cosmetic procedures such as tail docking and ear cropping, pregnancy/breeding costs, or spay/neuter services. Keep in mind that puppies are not usually eligible until they are 8 weeks of age, and as your pup becomes a senior, monthly premiums increase because more medical care is needed as dogs age.
Are there common insurance claims for Siberian Huskies?
Like all dogs, Siberian Huskies are prone to certain medical ailments because they either inherited them from the family line or the breed is particularly susceptible. Here are a few conditions that are commonly claimed through insurance:
1. Eye-related concerns – cataracts, corneal dystrophy, glaucoma, and entropion
Cataracts, an opacity or loss of transparency in the eye's lens, can be minor if contained in a small area but can lead to blindness if it affects both eyes completely.

Corneal dystrophy is an inherited trait that affects layers of the cornea but can present differently with little to no resulting issues.

Glaucoma occurs when there is increased fluid pressure in the eye and can be hereditary or as a result of other eye disorders. It is painful for a dog and may cause vision impairment or blindness if not addressed immediately.

The inward rolling of the eyelid is called entropion, which irritates the eye's surface and is an inherited disorder.
2. Hemophilia
Hemophilia – a deficiency in blood clotting factors leads to this disorder. A mild case may need no medical intervention but more severe cases need to be monitored for blood loss that may require transfusions.
Can my dog affect my homeowner's insurance?
Yes, owning a dog will potentially impact homeowner's insurance premiums. Dog owners are required to carry extra liability insurance to protect against dog bites. If your dog has a bite history, a provider can refuse to carry them on the plan. Pet insurance companies also maintain a list of restricted breeds that they will not cover at all, and the Siberian Husky makes the list, at least with some providers. It is important to shop around to see which companies restrict certain breeds and to be aware of local ordinances that may have their own breed restrictions.
5 Best Strategies for Keeping Your Husky Healthy & Happy
1. Huskies Need Plenty of Excercise
Siberian Huskies have been used as sled dogs for years. You may not plan on doing any mushing in Alaska but you should find ways to expend their boundless energy. Huskies that cannot release this energy will become destructive. They will need long walks or runs daily at a minimum, and most exercise should be vigorous. Training can serve as mental stimulation for these intelligent dogs, but they are independent, taking patience and leadership. Just remember if you leave them in a fenced yard on their own for too long, boredom will set in and they will either dig under or leap over.
2. Make Sure Your Huskie Is Not Too Hot or Cold
Depending on where you live, the climate should consider if you own a Husky. Siberians possess a double coat-an undercoat and a topcoat-and are quite furry on paws and ears. Their physiology is geared towards colder weather but you don't need to live in the Arctic to own one. Keep in mind that these dogs overheat quickly so there should always be plenty of water on hand, both inside and outdoors. If your Husky will spend a lot of time outside, make sure there is ample shade to escape the sun and heat along with that water. When exercising your dog in high temperatures, give breaks often so they don't overheat.
3. Feed your Siberian Huskie High Quality Food
Surprisingly, Siberians do not need extra-large amounts of food. They were bred for endurance, using minimal food as energy to cover great distances. Adult dogs should be fed twice a day, puppies more often. Their diet should consist of high-quality food, and fresh ingredients where possible. Canned or dry dog food that contains a lot of animal by-products will not provide lasting energy. The more active your Husky is, the more protein she should have.
4. Keep your Huskie Groomed
Grooming is very important for Husky owners and will help cut down on the amount of fur that ends up on the floor in your house. Most dogs will blow their coats twice a year, and this process could take up to 6 weeks each time. Regular weekly brushing helps cut down on shedding and makes your dog cooler in summer. Keep their nails trimmed which will alleviate concerns with the paws for running. Siberians do not need baths that frequently as they groom themselves much like cats and they need their natural oils to prevent dry skin. It is not recommended to shave or clip the fur.
5. Microchip Your Huskie
Huskies are known to be "escape artists" due to their athleticism and their intelligence. They also have a high prey drive and chase anything small, including the neighbor's cat. In addition to always having your dog leashed, It is wise to have him registered according to local laws. You may even want to have a microchip implanted in case he gets out of the yard or away from you on a walk. There will also be requirements to owning a dog such as rabies and other vaccines, especially if you plan to socialize them on pack walks or doggy daycare.
Conclusion
Owning a pet is a rewarding experience as dogs bring us so much joy. In return, your Siberian Husky relies on you to take care of them. Veterinary bills can add up over a dog's lifetime. A smart financial decision is to buy dog insurance to help with unexpected accidents and unplanned illnesses. While it is more cost-effective to purchase a plan when your Husky is young, purchasing pet insurance at any time will benefit you both.
Ready to get started? After countless hours of research, we've found that Lemonade pet insurance consistently performs the best with the lowest monthly premiums.
SwiftScore Ranking Methodology for Siberian Huskies
We ranked the best pet insurance policies for Siberian Huskies based on a variety of important factors including the following:
Average monthly price for a 2-year-old Siberian Husky with a $500 deductible located in the 90210 zip code (Please note: prices will vary greatly based on your location)
Coverage and benefits
Key policy details including accidents and illnesses, surgeries, annual check-ups, cancer treatment, lab tests, and more
AM Best rating of the underwriter
Reimbursement percentage
Annual benefit amount
Technology and user experience

Ease of sign up

Policy language clarity
User reviews
See dog insurance prices in your state
Alabama | Alaska | Arizona | Arkansas | California | Colorado | Connecticut | Delaware | Florida | Georgia | Hawaii | Idaho | Illinois | Indiana | Iowa | Kansas | Kentucky | Louisiana | Maine | Maryland | Massachusetts | Michigan | Minnesota | Mississippi | Missouri | Montana | Nebraska | Nevada | New Hampshire | New Jersey | New Mexico | New York | North Carolina | North Dakota | Ohio | Oklahoma | Oregon | Pennsylvania | Rhode Island | South Carolina | South Dakota | Tennessee | Texas | Utah | Vermont | Virginia | Washington | West Virginia | Wisconsin | Wyoming