6 Best
Sheltie

Pet Insurance Plans Compared in 2023

Updated on by Matthew H. Nash – Licensed Insurance Agent

Used often in commercials as the picturesque completion of a nuclear family or just for their beautiful smiles, Shelties are known for their beautiful looks and friendly nature. Originating as farm dogs from Scottish islands, Shelties are vocal, energetic, and ready to work. With such high energy, this bouncing breed is susceptible to accidents, injuries, and natural diseases and conditions. Pet parents need to stay educated about the fur babies they own and the conditions they are predisposed to already–once you have this information, how can you help finance your pet's long-term health? This article aims to explain the benefits of pet insurance for Shelties (and their parents' wallets!). Read more about our unbiased ranking methodology and advertiser disclosure.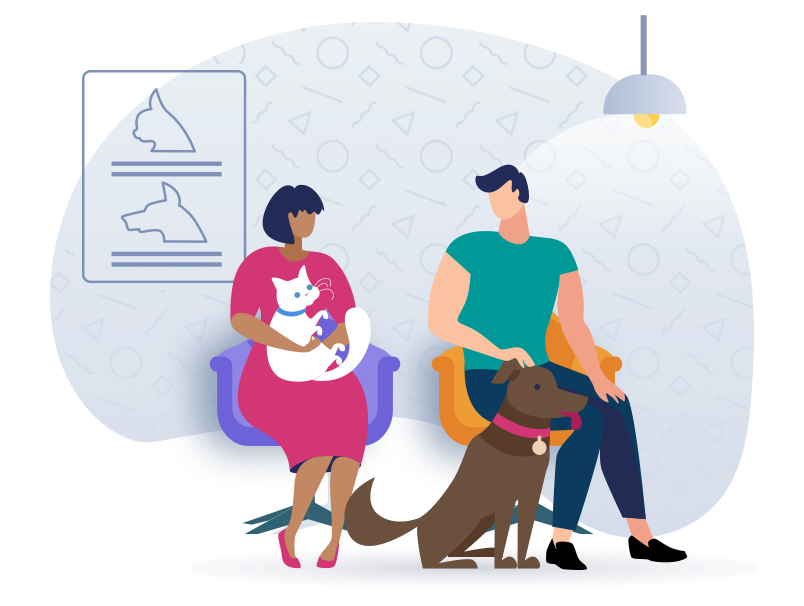 Top Sheltie Pet Insurance Scored, Ranked & With Cost
Use our below table to quickly compare the best Sheltie pet insurance providers. The average monthly specific prices shown are based on a healthy 2-year-old Sheltie with a $500 deductible and 90% reimbursement amount who is located in California with a 90210 zip code. Costs may vary based on age, location, and the coverage amount. Prices are accurate as of May 2023 and are subject to change. For the most up-to-date information, please visit the provider website.
---
Sheltie Pet Insurance FAQs
What is dog insurance and why is it useful for Shelties?
Just like our own health insurance, pet insurance is there to relieve a percentage of healthcare costs for our furry friends. Pet insurance plans are similar to what we choose for ourselves. Owners customize plans based on the deductible they want to pay, reimbursement percentages, and add-ons like coverage for medications, exams, special treatments, and more. Enrolling is as simple as a call to the insurance company, registering your pet and desired coverage, and paying a monthly amount–this gives you invaluable financial aid with veterinary needs and visits.

Shelties are susceptible to several genetic conditions and diseases that can cost pet parents thousands in the long run. Pet insurance gives you the knowledge that whatever happens to your bouncing, barking herder, you have financial aid to keep them happy and healthy.
How old does my Sheltie need to be in order to be insured?
Pet insurance companies usually allow puppies coverage starting at about 8 weeks old. For the most part, you should be able to enroll your Sheltie for coverage when you bring them home from the breeder or shelter.
What are common insurance claims for Sheltie?
Shelties predispose to hip dysplasia, hypothyroidism, Collie Eye Anomaly, von Willebrand's disease, and dermatomyositis. These are usually diagnosed after about two years of age, and require veterinary tests like blood tests, skin tests, eye exams, x-rays, and orthopedic exams. These are all costly bills from vet offices, but pet insurance offsets these costs exponentially and allows pet parents to support their Sheltie's health.
What services are covered by dog insurance? What services are excluded from coverage?
The services available to you and your pup vary depending on your plan, just like health insurance for humans. In general, plans will cover unforeseen injuries and illnesses. Insurance will also cover that treatment if your Sheltie develops a condition, gets an infection, or breaks a bone.

Add-ons provide coverage for medications, medicated foods, hospitalizations, preventative care, and some new therapies.

All insurances have exclusions that apply. Most plans are firm that pre-existing conditions are not covered, so enrolling your pup sooner rather than later is crucial. Regular wellness exams are sometimes not included as well, but health savings accounts are able to cover those costs.
How does reimbursement work?
The majority of dog insurance plans run under a reimbursement model. After a veterinary visit, the pet parent is responsible for paying the bill. Afterward, the vet bill is sent to the insurance company and based on the current deductible and reimbursement rate, a determination is made on the repayment amount.
Should I enroll in a high-deductible or low-deductible plan?
Deductible choices are up to the individual owner and depend on financial and coverage preferences. If you know your pup will have upcoming veterinary visits that you want included your insurance coverage or you prefer frequent check-ups, a lower deductible will make it so that you will be reimbursed for more much sooner, but your monthly premium will be higher. If you are aiming to have emergency coverage, a higher deductible in exchange for a lower monthly premium might be ideal for your family.
5 Useful Strategies for Keeping Your Sheltie Safe & Healthy
In addition to enrolling your pup in dog insurance, there are numerous other ways to ensure that your Sheltie lives a long and healthy life.
1. Regular, Goal-Oriented Exercise
Shelties are farm dogs with a smaller stature that can adjust to apartment living well as long as there is regular exercise. These dogs are extremely intelligent and are bred to work with a goal (usually herding). While regular energy-expending activities like walking are necessary, your Sheltie's brain must also be catered to. It is important to give them toys and games that have goals so their brains are challenged, or they will be bored.
2. Consistent Grooming
Shelties have that beautiful, long double-coat–but only if it is kept well. Shelties have a long top coat over a dense undercoat–this is liable to shed profusely and must be brushed weekly to keep it well-tamed. Shelties don't need to be bathed often, and this coat should not be shaved, as it is meant to protect from sunburn and the elements. Investing in a superior grooming brush is key!
3. Early Socialization
Shelties are known to be very communicative animals–with the right socialization, this barking can be trained and channeled into the correct outlets. Without socialization early, Shelties can become loud, barking nuisances that are hard to control and keep quiet. It is important to begin taking your Sheltie out around people and other dogs early so social situations are not threats and you have an easier time training your Sheltie. After being socialized, Shelties are renowned for their loving nature and are ever-popular as therapy dogs.
4. Early Training
One of the highest-ranked breeds for intelligence and training, Shelties are almost made for training as a work breed. They are classically seen in agility competitions due to their small size and speed. Training your Sheltie will not only bond you with your pup, but give them mental stimulation and goals, which are important to breeds meant to work. Agility tricks, classic commands, therapy training, or even some farm herding are perfect activities for Shelties.
5. Breed-Specific Organizations and Screenings
The American Shetland Sheepdog Association is an organization dedicated to this breed since 1929. Their website offers information on breeders, specialized training, history, and health information. Among this health information, the ASSA keeps research, studies, surveys, and guides on the diseases and conditions Shelties are known to be predisposed for.
Conclusion
We pick up our new puppy and begin the purchases–a new collar, a bed, some toys. But to make sure their future is prepared for, pet insurance should be on that first purchase list. While the process may appear overwhelming, you must choose the best plan for your wallet and pup, pay the monthly premium, and sleep well knowing your canine is covered. Among all the conditions Shelties are at risk for, these beautiful, bouncy creatures can encounter an accident at any time, and insurance helps put your mind at ease that it is handled.
After extensive research, we conclude that Lemonade pet insurance offers the best dog insurance policy at the lowest monthly price for the Sheltie.
SwiftScore Ranking Methodology for Shelties
We ranked the best pet insurance policies for Shelties based on a variety of important factors including the following:
Average monthly price for a 2-year-old Sheltie with a $500 deductible located in the 90210 zip code
Coverage and benefits
Key policy details including accidents and illnesses, surgeries, annual check-ups, cancer treatment, lab tests, and more
AM Best rating of the underwriter
Reimbursement percentage
Annual benefit amount
Technology and user experience

Ease of sign up

Policy language clarity
User reviews
Other state dog insurance resources
Alabama | Alaska | Arizona | Arkansas | California | Colorado | Connecticut | Delaware | Florida | Georgia | Hawaii | Idaho | Illinois | Indiana | Iowa | Kansas | Kentucky | Louisiana | Maine | Maryland |
Massachusetts | Michigan | Minnesota | Mississippi | Missouri | Montana | Nebraska | Nevada | New Hampshire | New Jersey | New Mexico | New York | North Carolina | North Dakota | Ohio | Oklahoma | Oregon | Pennsylvania | Rhode Island | South Carolina | South Dakota | Tennessee | Texas | Utah | Vermont | Virginia | Washington | West Virginia | Wisconsin | Wyoming