6 Best
Shar Pei

Pet Insurance Plans Compared in 2023

Updated on by Matthew H. Nash – Licensed Insurance Agent

Purchasing dog insurance for your Shar Pei can seem like an overwhelming challenge. As a nationally licensed insurance agent and lifelong dog owner, I appreciate the difficulties of deciphering policy jargon and determining the best dog insurance company for Shar Peis. I have done in-depth research to save you time and effort. Regardless of where you live in the country or your dog's age, this article has everything you need to know to get started with dog insurance. Read more about our unbiased ranking methodology and advertiser disclosure.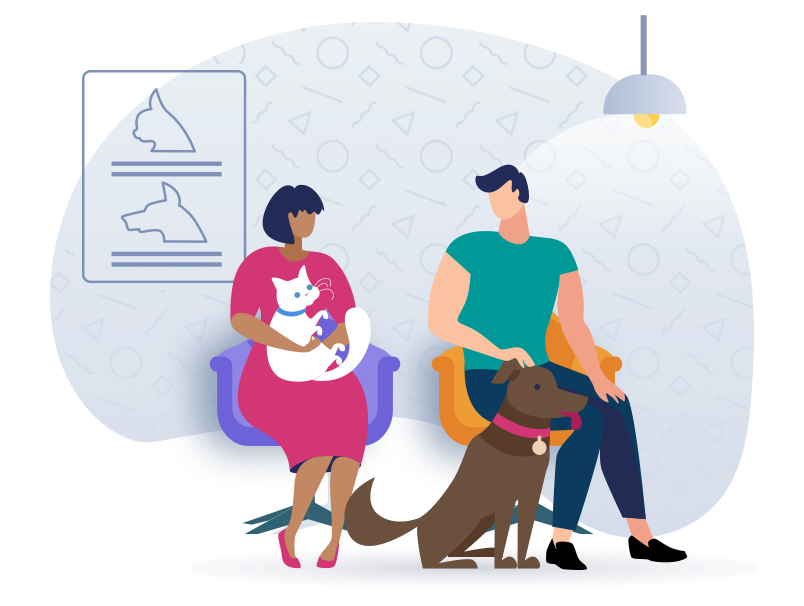 Top Shar Pei Pet Insurance Scored, Ranked & With Cost
Use our below table to quickly compare the best Shar Pei pet insurance providers. The average monthly specific prices shown are based on a healthy 2-year-old Shar Pei with a $500 deductible and 90% reimbursement amount who is located in California with a 90210 zip code. Costs may vary based on age, location, and the coverage amount. Prices are accurate as of January 2023 and are subject to change. For the most up-to-date information, please visit the provider website.
---
Shar Pei Pet Insurance FAQs
What is dog insurance? How is it beneficial for Shar Peis?
To protect your Shar Pei with insurance, you will need to apply for coverage with an insurance provider and pay the monthly premiums to keep the policy active. If your dog gets sick or is in an accident, you will have to pay the veterinary bills upfront. After doing so, submit a claim to your insurance provider for reimbursement. It is important to note that insurance policies tend to exclude pre-existing conditions, which is why we suggest getting your dog insured while they are still a puppy (8 weeks to 1 year).

Dog insurance is beneficial for Shar Peis because, like all breeds, they inevitably have emergencies at some point in their lives and vet bills mount quickly. For example, cancer therapies can cost as much as $10,000. Uninsured pet owners all too frequently have to put their dogs down because they do not have the resources to pay for the necessary treatment.
Are there age requirements for getting dog insurance?
Most dog insurance providers do not have age limits for insuring your dog. However, all dogs must be a minimum of 8-weeks-old to get a policy put in place. Keep in mind that the younger your dog, the cheaper it will be to get them insured, which is why we encourage you to apply for pet insurance before your puppy's first birthday.

One company in the pet insurance world that does things differently is Pawp. For $24 a month, Pawp protects up to 6 pets in your household under one "Emergency Fund," regardless of their ages. However, this "Emergency Fund" only extends coverage for true emergencies as determined by their virtual vet team and does so only for one pet for a single vet bill up to $3,000 once per year. Pawp also offers telehealth services and pet expert consultations as part of their plan.
Is it worth it to get Shar Pei dog insurance? If so, what are some common reasons for claims?
Pet insurance is worth getting because, regardless of your dog's breed, it will help you to pay for costly emergency care. Shar Pei's are no exception to this.

One of the most common reasons for insurance claims amongst Shar Peis is hip dysplasia. Hip dysplasia occurs while your dog is still a puppy and results from the ball and socket of the hip joint developing abnormally. This causes the bone and cartilage to grind down, leading your dog to experience intense arthritic pain that only worsens over time. If not treated early on, your dog's walking could become impaired or next to impossible. Many dogs with this condition end up needing hip replacement surgery, which can cost as much as $7,000.

Another condition Shar Peis are known to suffer from is entropion. This is when your dog's eyelid rolls inward, and the hair of the eyelid chafes against the cornea. Your dog will experience frequent eye pain, ulcers, or the development of pigment on the cornea. All of these can lead to impaired vision. While some veterinarians may prescribe medication to reduce your dog's discomfort, it will not heal entropion. The only option for resolving entropion in your Shar Pei is surgery, which can cost more than $2,000.
What does dog insurance cover?
This differs from provider to provider. However, most policies extend coverage to any ailment or accident that is "sudden and catastrophic." Such instances might include allergies, sinus infections, urinary blockages, skin issues, and more. That said, suppose your dog has an ailment or illness before you insure them. An insurance company will label it a pre-existing condition, and it will not be eligible for reimbursement. Pet insurance companies also offer "wellness" packages that you can add to your basic policy. These packages cover routine care such as vaccinations, heartworm detection and prevention, and physical exams.
How does the reimbursement process work?
How much you are reimbursed will depend upon the policy you buy. Let's say your dog needs an urgent surgery that costs $10,000. If you have an insurance policy with a $250 deductible, a 90% reimbursement amount, and a $20,000 annual maximum benefit, you could expect your provider to pay $9,000 minus your $250 deductible. Your final out-of-pocket costs would total only $1,250 instead of the original $10,000 bill. All too often, uninsured dog owners have to put their beloved canine pal down because they cannot pay for the necessary procedures or treatment. Pet insurance eliminates this devastating possibility.
Is it better to have a lower or higher deductible?
The answer to this question depends upon your financial circumstances and personal preference. A lower deductible means higher monthly payments but lower out-of-pocket costs in a catastrophe. A higher deductible gets you the opposite. You will need to do the math and see what best suits your situation. Many insurance companies have calculators on their websites you can use when requesting a quote. It is worth noting that most dog owners opt for either a $250 or $500 deductible.
5 Useful Strategies for Keeping Your Shar Pei Safe & Healthy
Shar Peis are a loving, devoted, and reserved breed of dogs. People love Shar Peis for the ease they integrate into family life and how protective they are of their owners. While your Shar Pei will be deeply devoted to you, they need your help maintaining good health and hygiene.
1. Train your Shar Pei early
One of the great things about Shar Peis is that they are an easy breed to train if you start early. As long as you are firm and consistent in your commands and reward them for good behavior, they will learn quickly. Never be harsh with your Shar Pei, or they will shut down. Instead, reward desired behavior with treats, praise, and affection, regardless of whether it's the result of your commands or their internal motivation. Train them early in their life, and you will end up with a well-adjusted adult canine. Wait too long, and you will discover how stubborn this breed can be!
2. Care for your Shar Pei's coat appropriately
Shar Peis are very clean dogs that do not shed much as they do not have an undercoat. Light shedding during spring and late autumn is typical, though, as it is with all dogs. Nevertheless, daily brushing will help to loosen dead hair and shed any accumulated dust or dirt. Doing so will keep their skin and coat healthy. A curry brush or a grooming mitt is the best option.

The human equivalents are highly toxic for dogs and can cause painful skin rashes and irritations. Bathing them every 6 to 8 weeks is adequate, but be sure to protect their highly sensitive skin by using only dog-specific skin and hair products. Please consult your vet for their recommendations for the most appropriate products.

When it comes to bathing, focus heavily on the skin between those wrinkles. These are where your Shar Pei has the most bacteria and traps odors, leading to infections. Wash between the folds with dog-specific soap, and then flush those folds with plenty of clean water. After the bath, it is essential to dry those areas thoroughly. Daily cleaning and drying of their facial skin folds and around their mouths are also necessary.
3. Shield your Shar Pei from the heat
Due to the nature of their excess skin and their thin coats, Shar Peis can overheat rather quickly. Be sure to take them outdoors for their daily exercise during the more temperate hours. You may also want to play and exercise them multiple times a day in shorter increments of time. During the hotter months, ensure that your Shar Pei is drinking plenty of water and has a cool, comfortable spot in your house where they can relax.
4. Watch out for Shar Pei fever
As the name suggests, Shar Pei fever is specific to this breed and symptomatic of a deeper underlying health concern. Typical health conditions include liver and kidney disease or failure. If your Shar Pei has an off-and-on fever paired with shivering, joint pain, lethargy, swollen face, puffy eyes, breathing struggles, vomiting, or diarrhea, rush them to a veterinarian immediately. Blood work will be done to help determine the underlying cause of your dog's pain and suffering.
5. Keep your Shar Pei hydrated
Due to being genetically prone to chronic fevers, you must help your Shar Pei stay fully hydrated every day. You will need to have a clean bowl of freshwater available for them at all times. Refill it as frequently as necessary. You may also want to feed your Shar Pei hydrating meals that are low in protein (essential for this breed) and have plenty of fruits and vegetables. Raw food or homemade meals are best for these purebred dogs.
Conclusion
You can see that finding the best dog insurance for your Shar Pei puppy or adult canine is far easier than you may have thought initially. We recommend buying dog insurance once your best pal is 8-weeks or older. The earlier you do so in your dog's life, the cheaper the rates and the fewer exclusions you will have for pre-existing conditions. Nevertheless, purchasing dog insurance at any time in your their life will prove helpful in paying for emergency treatment and supporting preventative care.
Ready to get started? After countless hours of research, we've found that Lemonade pet insurance consistently performs the best with the lowest monthly premiums.
SwiftScore Ranking Methodology for Shar Pei
We ranked the best pet insurance policies for Shar Pei based on a variety of important factors including the following:
Average monthly price for a 2-year-old Shar Pei with a $500 deductible located in the 90210 zip code (Please note: prices will vary greatly based on your location)
Coverage and benefits
Key policy details including accidents and illnesses, surgeries, annual check-ups, cancer treatment, lab tests, and more
AM Best rating of the underwriter
Reimbursement percentage
Annual benefit amount
Technology and user experience

Ease of sign up

Policy language clarity
User reviews
See dog insurance prices in your state
Alabama | Alaska | Arizona | Arkansas | California | Colorado | Connecticut | Delaware | Florida | Georgia | Hawaii | Idaho | Illinois | Indiana | Iowa | Kansas | Kentucky | Louisiana | Maine | Maryland | Massachusetts | Michigan | Minnesota | Mississippi | Missouri | Montana | Nebraska | Nevada | New Hampshire | New Jersey | New Mexico | New York | North Carolina | North Dakota | Ohio | Oklahoma | Oregon | Pennsylvania | Rhode Island | South Carolina | South Dakota | Tennessee | Texas | Utah | Vermont | Virginia | Washington | West Virginia | Wisconsin | Wyoming