7 Best
Schipperke

Pet Insurance Plans Compared in 2023

Updated on by Matthew H. Nash – Licensed Insurance Agent

Affectionately nicknamed Belgium's "little captain", the Schipperke dog is characterized by its small stature, black coat, and little pointed ears. These dogs are naturally hard workers and are incredibly intelligent and curious. However, like any other breed, these dogs are susceptible to several health conditions. Hip, eye and thyroid problems are a few health conditions that can arise in this breed. These conditions can be expensive to diagnose and treat, which is where dog insurance comes in. Pet insurance, or dog insurance, is essentially health insurance for pets. Owners are able to submit veterinary costs to their insurance provider, and can be reimbursed an amount dependent on the insurance plan. Schipperke owners are encouraged to enroll their dogs in health insurance as soon as possible to maximize the benefits that they can get out of it. Although the process may seem complicated, enrolling your dog in pet insurance is a simple yet rewarding procedure. Read more about our unbiased ranking methodology and advertiser disclosure.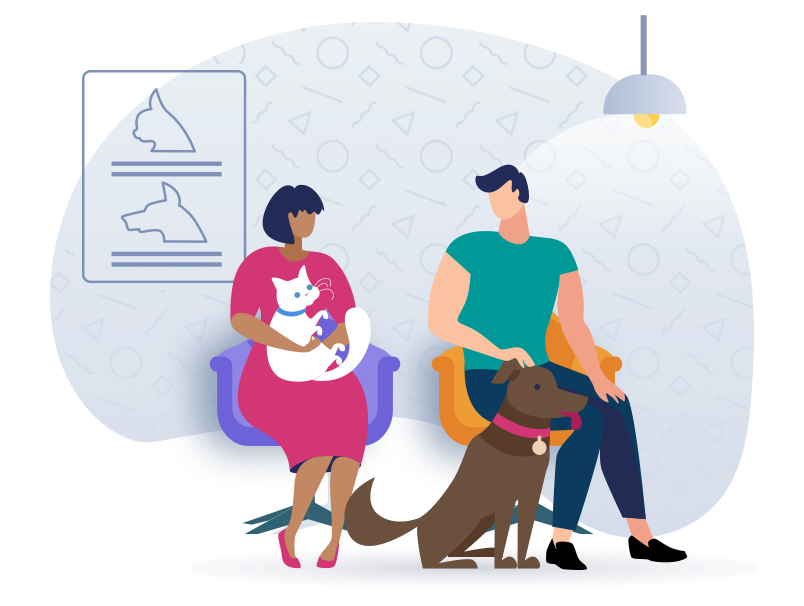 Top Schipperke Pet Insurance Scored, Ranked & With Cost
Use our below table to quickly compare the best Schipperke pet insurance providers. The average monthly specific prices shown are based on a healthy 2-year-old Schipperke with a $500 deductible and 90% reimbursement amount who is located in California with a 90210 zip code. Costs may vary based on age, location, and the coverage amount. Prices are accurate as of January 2023 and are subject to change. For the most up-to-date information, please visit the provider website.
---
Schipperke Pet Insurance FAQs
What is dog insurance and why is it useful for Schipperkes?
Dog insurance is a way for pet owners to receive reimbursement for veterinary costs, similar to our health insurance. Owners can sign their pet up under an insurance plan and pay the monthly fee to keep their dog covered. Medical treatment can be daunting because of the costs, which is why owners are encouraged to enroll their pets as soon as possible. As mentioned previously, Schipperke dogs are susceptible to several types of health conditions. If your dog develops one of these issues, dog insurance can help cover treatment costs.
How old does my Schipperke need to be in order to be enrolled?
A general rule of thumb to keep in mind is that if your pet is old enough to be ethically brought home from a breeder, then they're old enough to be enrolled. This is typically around 8 weeks of age, although it's best to enroll your pet as soon as possible.
What are common insurance claims for Schipperkes?
Schipperke dogs are known to develop hip, eye, and thyroid issues. Schipperkes can develop hip dysplasia, which causes dysfunction of the hip joints. Schipperkes also are prone to cataracts, or clouding of the lens of the eye, and hyperthyroidism, which means that the thyroid produces excess hormones which can then lead to additional health issues. These conditions can require extensive diagnostic testing and long-term treatment.
What services are covered by dog insurance? Which ones are excluded?
Most services that are covered by dog insurance are considered acute care or the sudden onset of illness or injury. This means things like cuts, broken bones, and viral illnesses. Certain treatments and medications may be covered depending on your insurance plan, so it's vital to connect with your insurance provider to clarify what is and isn't covered under your plan. Insurance oftentimes doesn't cover pre-existing conditions, which is why owners are encouraged to enroll their pets as soon as possible.
How does reimbursement work?
Instead of covering costs upfront, pet insurance works through a reimbursement model. When you take your dog to the vet, you as the owner, are responsible for all up-front costs. After your vet bills you for the services provided, you can submit a reimbursement request. The amount you receive depends on several factors such as services and treatment provided, insurance plan, and insurance provider.
Should I enroll in a high-deductible or low-deductible plan?
Enrolling in the "correct" insurance plan completely depends on the pet and owner. Every dog has different needs, and every owner has a different financial situation. Oftentimes, a provider will offer a plan with a high deductible, a plan with a low deductible, and a plan with no deductible. Each plan has its own set of pros and cons, and it's up to the owner to decide what works best for them.
5 Useful Strategies for Keeping your Schipperke Dog Safe and Healthy
1. Provide your Schipperke with plenty of space to run around
Schipperkes are surprisingly active dogs despite their size. These dogs were actually bred to catch rats, so they love to run around and explore. A small backyard would be great for a Schipperke, but they'd also be happy to run around the house too. The most important thing to make sure of is that your dog gets plenty of exercises. Taking your dog for a brisk walk 2-3 times a day and throwing a ball for a game of fetch outside should do the trick.
2. Make sure your dog undergoes training to get rid of bad habits
Because Schipperkes are natural watchdogs, they tend to bark. As hunters, these dogs may be prone to chasing as well. A good recall is a must, so obedience classes would greatly benefit your dog from breaking any bad habits. Schipperkes are very smart dogs, but can also be extremely stubborn, so positive reinforcement will be your friend.
3. Keep your dog socialized
As natural watchdogs, Schipperkes can be skittish around new people. Socializing your Schipperke can help them get comfortable around new people and keep them from barking. Socializing your Schipperke to other dogs can also help them feel more comfortable in social situations like the dog park, and help keep their prey drive at bay.
4. Take your Schipperke swimming
Schipperkes love to swim, and taking your dog swimming can benefit them in more ways than one. Not only is swimming a great form of exercise, you can also bring along some pool toys for some mental stimulation. Playing fetch in the water is a fantastic way to keep your furry friend active. Do be sure to always watch your dog when they're in the water.
5. Groom your Schipperke weekly
The Schipperke has a beautiful black coat that is surprisingly low maintenance. Brushing your dog once each week is enough to keep their fur healthy. Although they don't require much grooming, Schipperkes tend to shed, especially around shedding season. An extra grooming session each week should be adequate to reduce the amount of shedding you see and keep your dog comfortable.
Conclusion
Schipperkes are beautiful little dogs that would do well in either a home with a yard or an apartment. This breed is one that is full of energy and has big personality. With that being said, the fun of owning one of these dogs comes with the risk that they'll get sick. As a pet owner, you are responsible for ensuring that your dog stays happy and healthy. Pet insurance is a great way to cut down on veterinary costs and prevent the fear of vet visits. You can enroll your pet in three easy steps: find a provider, pick a plan, and pay the monthly fee.
After extensive research, we conclude that Lemonade pet insurance offers the best dog insurance policy at the lowest monthly price for the Schipperke.
SwiftScore Ranking Methodology for Schipperkes
We ranked the best pet insurance policies for Schipperkes based on a variety of important factors including the following:
Average monthly price for a 2-year-old Schipperke with a $500 deductible located in the 90210 zip code
Coverage and benefits
Key policy details including accidents and illnesses, surgeries, annual check-ups, cancer treatment, lab tests, and more
AM Best rating of the underwriter
Reimbursement percentage
Annual benefit amount
Technology and user experience

Ease of sign up

Policy language clarity
User reviews
Other state dog insurance resources
Alabama | Alaska | Arizona | Arkansas | California | Colorado | Connecticut | Delaware | Florida | Georgia | Hawaii | Idaho | Illinois | Indiana | Iowa | Kansas | Kentucky | Louisiana | Maine | Maryland |
Massachusetts | Michigan | Minnesota | Mississippi | Missouri | Montana | Nebraska | Nevada | New Hampshire | New Jersey | New Mexico | New York | North Carolina | North Dakota | Ohio | Oklahoma | Oregon | Pennsylvania | Rhode Island | South Carolina | South Dakota | Tennessee | Texas | Utah | Vermont | Virginia | Washington | West Virginia | Wisconsin | Wyoming