7 Best
Saluki

Pet Insurance Plans Compared in 2022

Updated on by Matthew H. Nash – Licensed Insurance Agent

Of course you want the best for your Saluki, but the prospect of potentially expensive medication or surgery might make you worry about your ability to pay for that care without breaking the bank. Many dog owners enroll in dog insurance to help defray some of these out-of-pocket costs. Pet insurance plans offer coverage for diagnostic procedures, medicine, and preventative care, among other things, which could end up saving you thousands of dollars. If you're considering dog insurance and want to know more about it, the following article contains some general information on dog insurance that you might find helpful. Also included are some breed-specific tips on caring for your Saluki to help him live the best life possible. Read more about our unbiased ranking methodology and advertiser disclosure.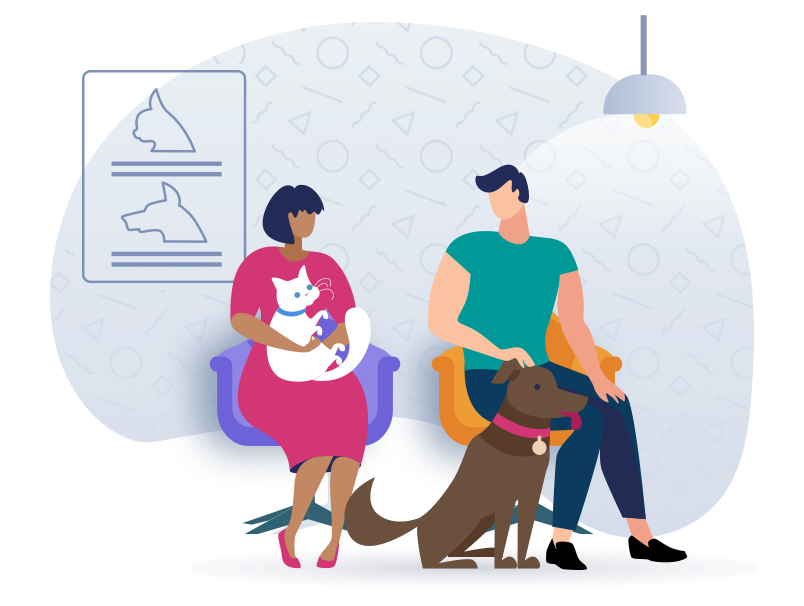 Top Saluki Pet Insurance Scored, Ranked & With Cost
Use our below table to quickly compare the best Saluki pet insurance providers. The average monthly specific prices shown are based on a healthy 2-year-old Saluki with a $500 deductible and 90% reimbursement amount who is located in California with a 90210 zip code. Costs may vary based on age, location, and the coverage amount. Prices are accurate as of January 2022 and are subject to change. For the most up-to-date information, please visit the provider website.
---
Saluki Pet Insurance FAQs
Is dog insurance recommended for Saluki dogs?
Dog insurance is recommended for all dogs, regardless of age, breed, or health. Saluki dogs, like any breed, can face breed-specific issues, but any dog can also be subject to common illnesses like ear infections or dental disease as well as occasionally suffer from unexpected injuries. Many dog insurance providers provide coverage for procedures or treatments that can help in either of these situations, including diagnostic procedures like x-rays, surgery, medicine, and preventative care like dental cleanings, which are recommended for dogs of all breeds.
How early can I enroll my Saluki puppy?
The standard practice with most breeders, which follows veterinarian recommendations, is to wait until a puppy is eight weeks old before sending them to their new home. Most insurance providers align with this timeline and do not insure puppies until they are at least eight weeks old. Whenever you bring your Saluki puppy home, though, is a good time to check with your chosen insurance provider about any specific age requirements they might have.
What common health issues for Saluki dogs would dog insurance help cover?
When a dog's stomach expands with gas, fluid, or food and then rotates, trapping gas and preventing blood flow, veterinarians refer to this condition as bloat, and it can be very serious for large dogs like the Saluki. A physical exam, x-ray, and blood test might all be needed to diagnose the issue correctly, and your veterinarian will likely treat it with medication and, in serious or drawn-out cases, surgery.

Various heart conditions have been detected in the Saluki breed, so it's important to maintain regular check-ups since the early symptoms may be subtle and only discovered by a trained veterinarian through physical exam, x-ray, and sometimes blood tests. Treatments will vary, based on the condition, but most will require life-long monitoring and medication.

With regard to progressive retinal atrophy or other eye conditions like corneal dystrophy or glaucoma, your Saluki dog will likely need care from a veterinary ophthalmologist.

Based on the above information, as the owner of a Saluki dog, you might be interested in dog insurance plans that cover diagnostic procedures like x-rays or bloodwork, medication, and surgery. Most insurance providers will usually exclude coverage for pre-existing conditions. As a result, it is recommended that you enroll your Saluki dog in coverage as soon as possible.
How do I use my dog insurance at my veterinarian's clinic?
Fortunately, dog insurance is very easy and simple to use and is based on a reimbursement model. All you need to do is take your Saluki dog to your regular veterinarian as needed for annual check-ups, for follow-up visits, or for sick visits or emergencies. Most animal hospitals require payment at the time of service, so pay your bill directly to them as usual. After paying your bill, you can submit a reimbursement request to your insurance provider. Your insurance provider is responsible for reviewing your request and comparing it to your chosen plan's rates and coverage to determine the correct amount of reimbursement to send you.
What types of deductibles are available and what is recommended for a Saluki dog?
Dog insurance comes with a range of deductibles, similar to other types of insurance, including high, low, or no deductibles. While there is not specifically a recommended deductible for Saluki dogs, you are in the best position to decide on the best deductible option for your dog insurance plan based on your unique circumstances. If a lower monthly premium is the most important factor for you, you would likely choose a high deductible plan based on your finances. If your dog's health is the primary reason you are looking into dog insurance, though, and you anticipate needing extra veterinary care or regular monitoring and medication, then you might be better off with a lower deductible plan.
5 Useful Strategies for Keeping Your Saluki Dog Safe & Healthy
When healthy, you can expect to spend 10 to 17 years with your beloved Saluki. To make the most of your time with your dog, there are a few specific tips about grooming, feeding, and exercising them that might help you keep him happy and healthy:
1. Grooming
Your Saluki dog will likely have one of two types of coat, either smooth or feathered. Weekly brushing will generally be enough to keep shedding to a minimum, but if your dog has a feathered coat, you should also comb the feathering on the ears, tail, feet, and legs twice a week to avoid matting. The long ears of the Saluki breed may require a snood, a type of knit headgear, to keep the ears from dragging through their food. If you choose not to use a snood, you should invest in water and food bowls with sides that slope inward at the top to help keep the ears clean and dry.
2. Nutrition
Although the Saluki breed is large, measuring up to 28 inches, they tend to keep their athletic and slim build and most are not prone to overeating. In fact, some Saluki dogs are known to be picky eaters, so you should always check with your veterinarian for recommendations about high-quality dog food and ways to make sure your dog is getting the appropriate nutrition.
3. Training
As a breed, Salukis tend to be independent thinkers who are somewhat difficult to train and might require more persuasion than other breeds. Starting as young as possible will help and focus on positive training methods, including lots of praise and treats. Since they are generally calm and well-behaved dogs, your only issues might be training them to walk and run well on a leash and training them not to dig.
4. Exercise
As you might guess from their graceful appearance and long limbs, Saluki dogs love to run. Although every dog is an individual, most Saluki dogs have a high need for activity and will thrive with plenty of walks and running with their owner outdoors. You should remember that the breed has a natural inclination to chase anything that moves, so be sure to keep your dog on a leash even when out for a run unless you are exercising in an enclosed area.

One other thing to keep in mind, regarding exercise and your Saluki dog is that exercise should be one to two hours before or after a meal. Exercising too close to feeding time might exacerbate complications with bloat.
5. Love and Affection
If you're looking for a cuddly and affectionate lap dog, the Saluki dog is probably not for you. As a breed, the Saluki tends to be somewhat aloof and reserved. As long as they get appropriate exercise, they are generally calm and quiet and make good companion dogs but not necessarily playmates for you or your children.
Conclusion
Becoming a dog owner is one of the best decisions you can make for you and your family, since your dog brings so much joy and wonderful companionship into your life. The responsibilities that come with dog ownership, providing food, shelter, love, and veterinary care for your Saluki can sometimes become expensive, especially if your dog ends up needing medication or surgery. If you're worried about your ability to pay for veterinary bills if they start to add up, enrolling in a good, basic dog insurance plan can provide you with peace of mind. To start, I recommend looking at Lemonade pet insurance, which is a reputable insurance company that offers a variety of insurance plans with a range of coverage at reasonable rates. Picking out the coverage that works best for you, your family, your dog, and your finances is easy to do, and Lemonade makes it just as easy to enroll. After you've taken that first step of enrolling, you must pay your monthly premium to keep your coverage active. Rest easy, knowing that financial help is there when you need it to help you give your Saluki dog the best life possible.
SwiftScore Ranking Methodology for Salukis
We ranked the best pet insurance policies for Salukis based on a variety of important factors including the following:
Average monthly price for a 2-year-old Saluki with a $500 deductible located in the 90210 zip code
Coverage and benefits
Key policy details including accidents and illnesses, surgeries, annual check-ups, cancer treatment, lab tests, and more
AM Best rating of the underwriter
Reimbursement percentage
Annual benefit amount
Technology and user experience

Ease of sign up

Policy language clarity
User reviews
Other state dog insurance resources
Alabama | Alaska | Arizona | Arkansas | California | Colorado | Connecticut | Delaware | Florida | Georgia | Hawaii | Idaho | Illinois | Indiana | Iowa | Kansas | Kentucky | Louisiana | Maine | Maryland |
Massachusetts | Michigan | Minnesota | Mississippi | Missouri | Montana | Nebraska | Nevada | New Hampshire | New Jersey | New Mexico | New York | North Carolina | North Dakota | Ohio | Oklahoma | Oregon | Pennsylvania | Rhode Island | South Carolina | South Dakota | Tennessee | Texas | Utah | Vermont | Virginia | Washington | West Virginia | Wisconsin | Wyoming