6 Best
Russian Blue Cat Insurance

Plans Compared in 2023

Updated on by Matthew H. Nash – Licensed Insurance Agent

Choosing the best Blue Russian cat insurance plan can seem like an overwhelming process, especially when it comes to understanding complex policy language. However, with the right information, it can be very straightforward. As a nationally licensed insurance agent and devoted pet parent, I know people's challenges when determining which provider best suits their needs. To help you along, my team and I have researched and compiled all of the essential information you will need for determining the right cat insurance company for your Russian Blue, irrespective of where in the US you live or your cat's age. Read more about our unbiased ranking methodology and advertiser disclosure.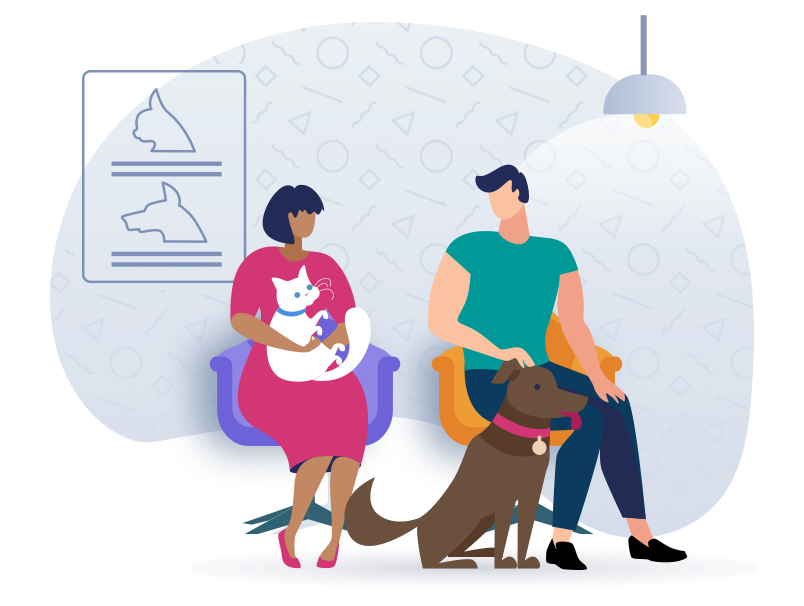 Top Russian Blue Cat Insurance Scored, Ranked & With Cost
Use our below table to quickly compare the best Russian Blue Cat insurance providers. The average monthly specific prices shown are based on a healthy 2-year-old Russian Blue Cat with a $500 deductible and 90% reimbursement amount who is located in California with a 90210 zip code. Costs may vary based on age, location, and the coverage amount. Prices are accurate as of January 2023 and are subject to change. For the most up-to-date information, please visit the provider website.
---
Russian Blue Cat Insurance FAQs
What is cat insurance, and how can Russian Blue cats benefit from it?
Insurance gives cat parents a financial cushion to help with the soaring costs of urgent veterinary care. You can protect your Russian Blue via insurance by applying for a policy with your choice and staying current on the monthly premiums. Should your cat get sick or have an accident, pay the vet's bill at the time of service. Then submit a claim to your insurance provider to get reimbursed.

We encourage you to insure your Russian Blue once they are 8 weeks old, or at the very least before their first birthday. During this period, they will be less likely to develop serious health conditions, which means you should be able to secure a cat insurance plan with broader coverage and better rates. Of course, insuring them at any time can be immensely helpful.

The Russian Blue is one of the few breeds with no real hereditary health issues. However, they can undoubtedly benefit from cat insurance because, as with all breeds, they also experience health emergencies throughout their lives. Two of the most common health problems in cats are diabetes and cancer. The cost of insulin for a diabetic cat can get as high as $100 per month, an expense you'll incur for the rest of your cat's life. Treating cancer is complicated and frequently runs as high as $3,000, sometimes more. Uninsured cat parents have to foot these bills entirely on their own, and if they can't afford the necessary care and procedures run the risk of having to euthanize their beloved feline friends.
How old does my Russian Blue need to be to get insured?
Cat insurance companies usually require your Russian Blue to be at least 8 weeks old before you can insure them. Therefore, having a policy in place before they reach their first birthday is crucial to securing a policy with the broadest coverage and the best rates.

If you want insurance that doesn't require credit checks or deductibles, then Pawp is an excellent option. Pawp offers pet owners an Emergency Fund to protect up to 6 of their pets for a monthly flat fee of $24. You can use the Fund to cover a single veterinary bill for one of your pets as long it is under $3,000 and is for a true emergency as qualified by Pawp's virtual team of vets. Other perks included with the emergency fund are consultations with pet experts and unlimited remote veterinary services.
What are the most typical reasons for Russian Blue cat insurance claims? Is cat insurance worthwhile for them?
While Russian Blue is one of the purest breeds out there, they are still vulnerable to having any number of health problems that plague cats of all breeds.

As mentioned in an earlier FAQ, two of the most common diseases cats experience are diabetes and cancer. Diabetes often requires expensive home insulin treatments that are likely to cost you up to $100 per month for the rest of your Russian Blue's life. On the other hand, cancer treatments vary based on the type and stage of cancer your cat has. For example, an operation to remove a tumor may cost $500, but chemotherapy will cost $2,000-plus for a few months of treatment, and radiation can run as high as $4,000. Insurance could offset a significant portion of any of these fees so that you can focus your attention and energy on caring for your sweet kitty.
What do Blue Russian cat insurance policies include and exclude?
While the full details differ between policies and providers, there is a baseline of coverage to which most cat insurance companies adhere. The baseline involves any ailment or illness providers consider "sudden and catastrophic." These things may include but are not limited to urinary tract infections, broken bones, open wounds, intestinal blockages, and cancer.

It's important to note that any health conditions your cat has/has had prior to them being insured will be listed on your policy as pre-existing conditions and excluded from coverage. If you want expanded coverage for routine care, consider purchasing an optional wellness package, which will cover care such as routine exams, vaccinations, and more.
How do I get reimbursed by my cat insurance provider? How much can I expect to be reimbursed?
Your veterinarian will expect you to pay for their services before you and your Russian Blue leave the animal hospital. Once you do, file a claim by mail or your insurance company's website. The amount your provider reimburses you will depend on your policy's details. Let's look at a hypothetical situation that you can use to do some of your own calculations.

Say you have a cat insurance policy with a 90% reimbursement rate and a $250 deductible, and your Russian Blue needs a major operation costing $5,000. Your provider will reimburse you 90% of $5,000 less the $250 deductible. Therefore, your portion is only $750, but your provider's is $4,250. It's a great deal, considering you would have otherwise had to pay the full $5,000 if you were uninsured.

Remember that all policies will have a yearly maximum benefit amount, $20,000 being one of the most typical. This is the total value of veterinary services for which you are eligible to receive reimbursement in a given policy year. Therefore, you will need to cover those costs yourself if you use the entire benefit amount before the year is up.

Since paying such large veterinary bills and waiting to be reimbursed can be problematic for many, Trupanion offers cat parents a different approach. If you choose a veterinarian within their network, they will pay their share of your Russian Blue's bill directly to the vet. Therefore, you are responsible for only paying your portion at the time of service and do not have to go through the usual claim filing.
Is a higher or lower deductible better?
Your financial circumstances and preferences will determine the deductible you ultimately choose. Be aware that lower deductibles come with higher monthly premiums and lower out-of-pocket costs. On the other hand, higher deductibles have lower monthly premiums and higher out-of-pocket costs in emergencies. We encourage you to run the numbers before choosing a deductible. Many cat insurance companies feature calculators that you can use to request a quote. My team and I have noticed that the most popular deductibles among cat parents are $250 and $500.
5 Useful Strategies for Keeping Your Russian Blue Cat Safe & Healthy
1. Keep your Russian Blue on a high-protein diet
Russian Blue cats love to eat, making it all the more important that you keep them on a high-protein diet as they are natural carnivores. A premium protein-rich raw or canned food free from meals, soy, corn, wheat, other grains or harsh chemicals is vital to maintaining good health. Such a diet will keep your Russian Blue lean, balance their energy levels and minimize their risk of becoming obese and developing diabetes or related disorders.
2. Ensure your Russian Blue stays hydrated
Hydration is fundamental to vibrant feline health. Ensuring your Russian Blue stays well-hydrated can help stave off many severe health problems. You can do a few simple things each day to help with this. First, always keep a bowl of fresh water out for your cat. Be sure to wash the bowl and refill it daily to prevent bacteria from forming or hair and dust from collecting. Second, feed your cat top-quality raw or canned food since they are high in moisture. (Kibble dehydrates.) Third, mix a bit of water with your cat's meals. We recommend starting with a teaspoon and seeing how they respond. Be aware that if you make their food too soupy, your cat will reject it.
3. Learn how to groom your Russian Blue properly
Russian Blues have short, thick coats that shed very little. In fact, they are known as a "hypo-allergenic" cat breed. Nevertheless, brushing them twice each week will help distribute their skin's natural oils and keep their coat shiny and healthy. You will also need to trim your cat's nails and clean their ears regularly. We suggest asking your veterinarian to demonstrate for you before attempting either of these because, if done incorrectly, you could seriously injure your cat.
4. Play with your Russian Blue often
While Russian Blues love to play and entertain themselves, they also thrive with plenty of human interaction. Therefore, we encourage you to play with your kitty at least twice daily. They love feather wands, balls and puzzle toys. Also, having scratching pads and cat trees will keep them moving. Since this breed is susceptible to becoming overweight quickly, engaging them in play will help keep your pal strong and lean––not to mention happy!
5. Maintain clean litter boxes for your Russian Blue
Maintaining clean, hygienic litter boxes is crucial to your Russian Blue's health. Much "bad behavior" exhibited by cats results from their frustration and anxiety about having filthy litter boxes. Just as humans want a clean space to take care of business, so do our furry friends. Scoop out your cat's pee and poo 2-4 times daily as needed. Then, once every 2 weeks or so, empty the litter boxes. Wipe them down with a mild water-vinegar solution, allow them to dry and refill with fresh litter. This will prevent bacteria from forming, which could otherwise lead to urinary infections. The healthiest and easiest litters to clean are those that clump, are fragrance-free and create minimal dust. Be aware that a litter box's location is almost as crucial as its cleanliness. Place litter boxes in areas that are easy for your Russian Blue to access but are also private.
Conclusion
We hope this article helps streamline your search for the best Russian Blue cat insurance policy. We advocate for insuring your little pal as early as possible so you can get them the most coverage. But, of course, insuring your cat at any point in their lives still can offer immense financial support during health emergencies and promote overall wellness.
After extensive research, we conclude that Lemonade pet insurance offers the best cat insurance policy at the lowest monthly for Russian Blue cats.
SwiftScore Ranking Methodology for Russian Blue Cats
We ranked the best pet insurance policies for Russian Blue Cats based on a variety of important factors including the following:
Average monthly price for a 2-year-old Russian Blue Cat with a $500 deductible located in the 90210 zip code
Coverage and benefits
Key policy details including accidents and illnesses, surgeries, annual check-ups, cancer treatment, lab tests, and more
AM Best rating of the underwriter
Reimbursement percentage
Annual benefit amount
Technology and user experience

Ease of sign up

Policy language clarity
User reviews
Other state dog insurance resources
Alabama | Alaska | Arizona | Arkansas | California | Colorado | Connecticut | Delaware | Florida | Georgia | Hawaii | Idaho | Illinois | Indiana | Iowa | Kansas | Kentucky | Louisiana | Maine | Maryland |
Massachusetts | Michigan | Minnesota | Mississippi | Missouri | Montana | Nebraska | Nevada | New Hampshire | New Jersey | New Mexico | New York | North Carolina | North Dakota | Ohio | Oklahoma | Oregon | Pennsylvania | Rhode Island | South Carolina | South Dakota | Tennessee | Texas | Utah | Vermont | Virginia | Washington | West Virginia | Wisconsin | Wyoming