6 Best
Rottweiler

Pet Insurance Plans Compared in 2023

Updated on by Matthew H. Nash – Licensed Insurance Agent

While Rottweiler owners know all the lovable quirks this breed has to offer, getting them covered by insurance can be a daunting task. Rottweilers come with a reputation that can be pretty disappointing for Rottie owners, as it often creates some bias against this affectionate, loyal breed. As a nationally licensed insurance agent and fellow dog owner, I understand the frustrations that come when trying to decide what the best dog insurance company, and policy, is for Rottweilers in particular. Additionally, I know how to decipher otherwise confusing insurance language.

As such, I have done all the research to help you when choosing your Rottie's insurance, no matter which state you live in or how old your canine companion is! Read more about our unbiased ranking methodology and advertiser disclosure.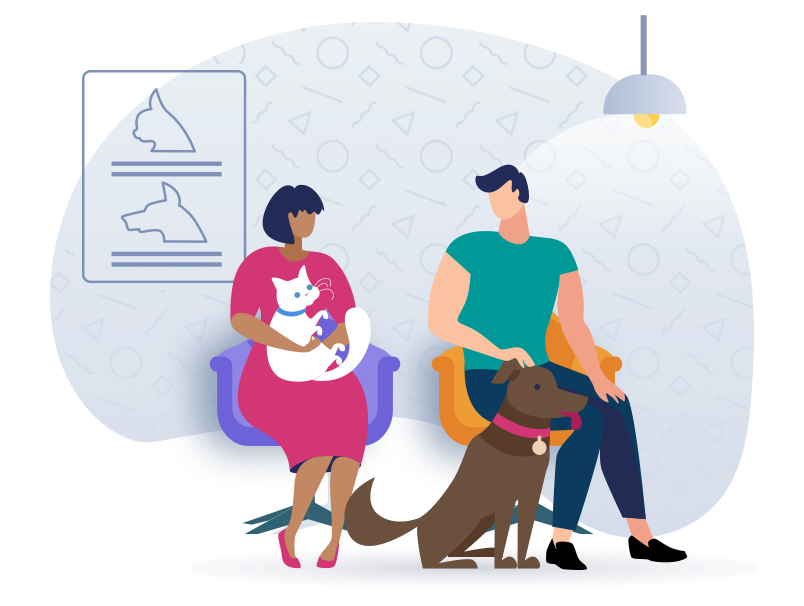 Top Rottweiler Pet Insurance Scored, Ranked & With Cost
Use our below table to quickly compare the best Rottweiler pet insurance providers. The average monthly specific prices shown are based on a healthy 2-year-old Rottweiler with a $500 deductible and 90% reimbursement amount who is located in California with a 90210 zip code. Costs may vary based on age, location, and the coverage amount. Prices are accurate as of May 2023 and are subject to change. For the most up-to-date information, please visit the provider website.
---
Rottweiler Pet Insurance FAQs
What is dog insurance and why is it useful for Rottweiler owners like me?
Dog insurance is a security blanket you can lean on when your Rottweiler runs into an emergency. Typically, you will have to pay your insurance company a monthly fee in order to keep your insurance policy active. This way, if your Rottweiler gets unexpectedly sick or injured, you can submit a claim for reimbursement to your dog insurance company once you've paid your vet.

While it can be tempting to see pet insurance as an added monthly bill, having insurance for your Rottweiler in the case of an emergency can keep you from having to make the unfortunate decision to have your Rottie euthanized. Vet bills come unexpectedly in canine emergencies and are often higher than pet owners often are prepared for. Sadly, pet owners have had to make decisions because they couldn't afford the veterinary care for their pups. In generally more expensive places, like California, cancer treatments for dogs and other therapies can climb to well over $10,000. Although paying for dog insurance every month can sometimes feel a little financially tight, it sure beats paying an unexpected sum of thousands of dollars in one moment.

Most dog insurance companies will not cover pre-existing health conditions, so the earlier you can get your Rottie covered, the better it will be for you financially.
How old does my puppy need to be before I can get them insured?
While there isn't usually an age limit for your dog to be covered by pet insurance, most dog insurance companies will not let you apply for puppy insurance before the puppy is at least 6-8 weeks old. Once your puppy has reached this minimum, however, we recommend buying their insurance plan as soon as possible because the price to buy the initial plan only goes up as your dog ages. Typically, it is cheapest to get your Rottie pup covered before their first birthday.

Pawp insurance provides one exception to this general rule by protecting up to 6 pets for a flat fee of $24 per month regardless of their age. However, this "Emergency Fund" plan comes with the condition that Pawp will only cover "true" vet emergencies, which are reviewed and determined by their virtual vet team. Another factor to consider is that Pawp's plan only covers one pet for one vet bill up to $3,000 once per year.
What are common reasons for dog insurance claims, and is it worth getting my Rottweiler insurance?
Common dog insurance claims include gastrointestinal/stomach issues, skin issues, cancer, and ear and eye infections. For puppies, this list often includes accidents like getting a laceration, swallowing something hazardous, having a bite wound from other animals, and suffering from diarrhea–in addition to the common claims we mentioned for adult dogs. As anyone who has rescued a stray, whether cat or dog, can attest to, each of these issues alone can add up to some pretty expensive vet visits, let alone if two or more are happening simultaneously.

Rottweilers specifically have a predisposition towards hip dysplasia, elbow dysplasia, and a birth defect of the heart known as subaortic stenosis. Additionally, Rotties are vulnerable to eye issues, particularly retinal dysplasia and entropion or rolling back of the eyelids. As larger dogs, health concerns related to their muscles and general body mass grow more common with age, meaning that it can be very beneficial to your finances and your Rottie's long-term health to get them covered by insurance as soon as you can afford to do so.
What is covered and what's excluded with dog insurance?
Each dog insurance company will differ slightly in their definition of a "vet emergency", but overall anything sudden or disastrous in nature to your dog will be coverable. Normally, these kinds of emergencies include things like allergic reactions, a sudden inability to breathe, infections, broken bones, and accidents like getting hit by a car.

On the other hand, dog insurance companies usually will not cover any health condition that is "pre-existing". An example of this can be if your Rottweiler has a recurring issue with diabetes or arthritis. While the pre-existing condition label can be divided into either curable or incurable, it is often not going to be covered by insurance, making it even more important to get your pet covered sooner than later.

Other types of vet expenses that dog insurance may not cover are the "standard" or routine expenses of wellness visits, vaccinations, check-ups, etc. However, your dog insurance company may offer purchasable "add-on" packages to your insurance plan that can help cover these sorts of standard expenses.
How does reimbursement work?
When looking through your dog insurance options, you may have run across the phrase "reimbursement rate". This is the amount that your dog insurance company will reimburse you after you submit a claim for a veterinary emergency. The amount is often depicted as a percentage, usually around 80-90% of your total vet bill.

Here's an example. Let's say you've bought your Rottweiler an insurance plan with a 90% reimbursement rate. Additionally, this plan has a $250 deductible and a $20,000 annual max benefit, meaning it will only cover up to $20,000 in vet emergency bills a year. Then, say your Rottweiler has an emergency surgery that costs $10,000. In this case, you would be reimbursed for $9,000 of the total $10,000 cost. Taking your $250 deductible into account, you will in total be paying $1,250 out of pocket instead of the whopping $10,000. See how dog insurance makes a difference?

While it's not common, one company is an exception to this rule of you paying the vet directly before submitting a claim. Trupanion offers payment directly to vets who are in their network, which would mean that you wouldn't have to pay out of pocket before filing for your reimbursement. With Trupanion, though, you may have to ask around to find out if any of your local vets are in their network.
Is it better to have a high or low deductible – what's the sweet spot?
Normally, buying a dog insurance plan with a high deductible means that you will pay less per month but more in the case of a canine emergency. On the flip side, buying a plan with a low deductible means that you will be paying a bit more each month but less in out of pocket fees when your Rottie runs into a health catastrophe.

I suggest carefully considering your financial situation before deciding which high or low deductible is better for you. Many dog insurance providers offer an easy-to-use calculator when looking for a quote or estimate on what you'll be paying for your specific pup. I noted that most people often choose either a $250 or $500 deductible when purchasing dog insurance.
5 Useful Strategies for Keeping Your Rottweiler Safe & Healthy
Though it's important to be prepared in the case of an emergency, your Rottweiler deserves all the loving protection you have to offer them—day in, day out! Here are 5 helpful tips for keeping your Rottie safe and healthy during all their favorite routines:
1. Excercise is Crucial for Rottweilers Health and Happiness
Rottweilers are large dogs, with more muscle mass than many other dog breeds of their height and stature. To help ensure that your Rottie stays healthy and is able to take on daily adventures, you will need to set aside specific time each day for your Rottweiler to exercise. Rotties often enjoy taking walks with their owners, in addition to participating in vigorous playtime activities.
2. Keep an Eye on What your Rottweiler Eats at Home
Many common household foods are hazardous to your Rottweiler, some of which can actually poison your Rottie. For example, chocolate, raw chicken bones, and grapes can be particularly damaging to your pup. Keep any of these potential toxins secured out of your dog's reach and any household cleaners that may be lying around.
3. Check Your Rottweilers Eyes Daily
Rottie eyes are some of their most vulnerable body parts. Rotties can suffer from several different eye problems, including retinal atrophy and entropion. A great way to keep these problems from worsening when they do happen is by checking over your Rottweiler's eyes daily. Take a damp washcloth and gently wash your Rottie's face, taking care to notice anything that could potentially be different or wrong with their eyes.
4. Don't Lock your Rottweiler in the Car with Windows Closed
Though leaving your Rottweiler in the car can be tempting when you make a quick grocery run, we strongly advise against it. The inside of a car can quickly soar above 100 degrees when it's just roughly 80 degrees outside, so this can be especially dangerous for your dog in the summertime.
5. Frequently Groom Your Pet
Rottweilers can be susceptible to having health problems sneak up on them as a big dog breed. Staying on top of their grooming and veterinary check-ups can go a long way in keeping your Rottie happy and healthy for longer!
Conclusion
While the journey to finding the right dog insurance for your Rottweiler may have been intimidating initially, we hope you now feel more prepared and encouraged! An essential part of protecting your pup is to get them covered by dog insurance once they've reached the 6-8 week age minimum required by most pet insurances. Most dog insurance companies won't cover pre-existing health conditions, so the earlier you get your Rottie covered, their overall care will be more affordable!

As Rottweiler owners, we know what a joy it is to be able to call these big goofs our best friends. Even if your Rottweiler is several years old when they join your family, we still recommend getting them covered, to help protect the both of you in times of canine emergency.
Ready to get started? After countless hours of research, we've found that Lemonade pet insurance consistently performs the best with the lowest monthly premiums.
SwiftScore Ranking Methodology for Rottweilers
We ranked the best pet insurance policies for Rottweilers based on a variety of important factors including the following:
Average monthly price for a 2-year-old Rottweiler with a $500 deductible located in the 90210 zip code (Please note: prices will vary greatly based on your location)
Coverage and benefits
Key policy details including accidents and illnesses, surgeries, annual check-ups, cancer treatment, lab tests, and more
AM Best rating of the underwriter
Reimbursement percentage
Annual benefit amount
Technology and user experience

Ease of sign up

Policy language clarity
User reviews
See dog insurance prices in your state
Alabama | Alaska | Arizona | Arkansas | California | Colorado | Connecticut | Delaware | Florida | Georgia | Hawaii | Idaho | Illinois | Indiana | Iowa | Kansas | Kentucky | Louisiana | Maine | Maryland | Massachusetts | Michigan | Minnesota | Mississippi | Missouri | Montana | Nebraska | Nevada | New Hampshire | New Jersey | New Mexico | New York | North Carolina | North Dakota | Ohio | Oklahoma | Oregon | Pennsylvania | Rhode Island | South Carolina | South Dakota | Tennessee | Texas | Utah | Vermont | Virginia | Washington | West Virginia | Wisconsin | Wyoming