7 Best
Pyredoodle

Pet Insurance Plans Compared in 2023

Updated on by Matthew H. Nash – Licensed Insurance Agent

In the 1980s, dog breeders first started mixing Poodles with other breeds in order to develop new breeds with the intelligence and low shedding qualities of a Poodle and the desirable traits of various other breeds. Crossbreeding Great Pyrenees dogs with Standard Poodles resulted in Pyredoodle dogs, one of the most loyal and lovable breeds in the world. Both intelligent and protective, Pyredoodle dogs make wonderful family pets and excellent guard dogs. Although crossbreeds are generally very healthy, some health issues known to affect Great Pyrenees dogs or Poodles can also sometimes be found in Pyredoodle dogs, including: hip or elbow dysplasia, an eye condition known as entropion, canine Cushing's disease, and bloat, which can be very serious for large dogs. These health conditions usually require physical exams, as well as x-rays, ultrasounds, or, in the case of Cushing's disease, tests of hormone levels. Depending on the issue, your veterinarian might prescribe medication, physical therapy, changes to diet, or even surgery in some cases, which can be expensive. As you consider these breed-specific issues and possible treatments, you might be concerned about your ability to pay for expensive veterinary care. One easy step to take to help ease your mind is enrolling your pet in dog insurance. Fortunately, there are several dog insurance providers on the market today, offering coverage for medications, surgery, and diagnostic procedures, among other things, which could end up saving you thousands of dollars. The following article lays out some information on dog insurance in general, which you might find helpful, especially if you are beginning your research. Further down, I've also included some breed-specific tips to help you keep your Pyredoodle happy and healthy. I hope you find the information in this article useful and helpful. We may receive compensation when you click on the affiliate links below.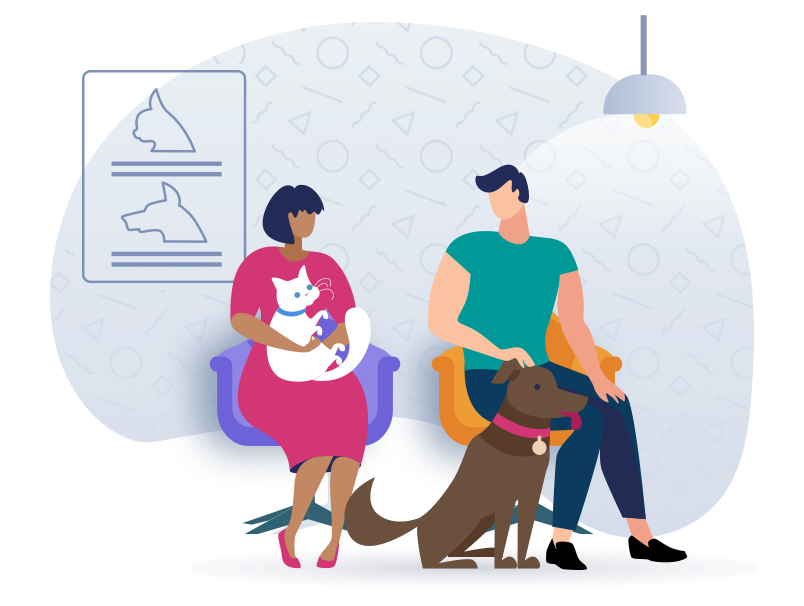 Top Pyredoodle Pet Insurance Scored, Ranked & With Cost
Use our below table to quickly compare the best Pyredoodle pet insurance providers. The average monthly specific prices shown are based on a healthy 2-year-old Pyredoodle with a $500 deductible and 90% reimbursement amount who is located in California with a 90210 zip code. Costs may vary based on age, location, and the coverage amount. Prices are accurate as of January 2023 and are subject to change. For the most up-to-date information, please visit the provider website.
---
Pyredoodle Pet Insurance FAQs
Can I still use dog insurance even when my Pyredoodle is healthy? Or should I wait until my dog gets sick before I enroll?
Dogs of all breeds, ages, and health can benefit from dog insurance. Since dog insurance is basically health insurance for dogs, it can help defray some of the out-of-pocket costs for veterinary care, even for regular check-ups or preventative care like dental cleanings. Even if your Pyredoodle does not struggle with any breed-specific health conditions or issues like hip dysplasia, bloat, or entropion, dog insurance is still recommended because any dog can face unexpected illnesses or injuries that might require costly medication, diagnostic procedures, or surgery. Dog insurance can provide you with some much-needed financial help.
Do insurance providers offer coverage for puppies?
It's important to check with your chosen insurance provider before enrolling your puppy to make sure he meets age and other requirements, but, generally speaking, most insurance providers offer coverage once puppies are eight weeks old or older.
Considering breed-specific issues, what procedures should I make sure are covered for my Pyredoodle dog?
Many large breeds, including Pyredoodles, can struggle with bloat, which is a serious medical condition in which the stomach expands with gas, fluid, or food and then rotates, trapping gas and preventing blood flow. To diagnose the condition, your veterinarian might use a combination of a physical exam, an x-ray, and a blood test. Treatment will likely include medication and surgery in serious or drawn-out cases.

Entropion, an ocular condition where the eyelids roll inward, can lead to irritation to the surface of the eye when the eyelashes rub on the cornea. If left untreated, entropion can seriously damage the surface of the eye. Your veterinarian, or a veterinary ophthalmologist, might treat the condition with medication or surgery.

Hip or elbow dysplasia are common in dogs, especially large breeds. Diagnosis via physical exam and x-ray can help your veterinarian determine the extent of the joint issues, which are usually treated with anti-inflammatory medication, physical therapy, diet changes, and/or surgery as needed.

Canine Cushing's disease involves a malfunction of the adrenal or pituitary glands and is usually treated with medication, including, in some cases, a chemotherapy drug if a tumor is a cause. Dogs with this disease will need regular bloodwork to make sure the medication is effective.

Based on this information, owners of Pyredoodle dogs might look for insurance plans to cover diagnostic procedures like x-rays or bloodwork, medication, and surgery. Since most insurance providers exclude coverage for pre-existing conditions, you should enroll your Pyredoodle puppy as soon as he is eligible.
Once enrolled, how do I use my dog insurance?
Since dog insurance is based on a reimbursement model, it is very easy to use and does not require much guesswork. You must take your Pyredoodle dog to your regular veterinarian as needed, pay your bill directly to your veterinarian's office, and then submit a reimbursement request to your insurance provider. Your insurance provider will review your request and compare it with your chosen plan's rates and coverage to determine the correct amount of reimbursement, which they will then send to you.
What types of deductibles are available with dog insurance and which should I choose for my Pyredoodle dog?
As you might expect, dog insurance plans come with a range of deductible options, just like other types of insurance. While there is no right or wrong choice, you can consider a few factors to help you choose the type of deductible that is best for you and your Pyredoodle dog. Owners of any breed of young, healthy dogs generally feel comfortable with a higher deductible plan because they anticipate minimal veterinary care and are attracted to the lower monthly premiums that often accompany this type of deductible. If your finances are more limited, this option might also appeal to you. If your Pyredoodle is older or seems prone to breed-specific or other health issues, especially ones requiring regular medication and follow-up visits, you might want a lower deductible plan instead, even though it comes with a higher monthly premium.
5 Useful Strategies for Keeping Your Pyredoodle Dog Safe & Healthy
Healthy Pyredoodle dogs can live from 10-12 years on average. To make the most of those years with your beloved companion, here are some breed-specific tips on grooming, nutrition, exercise, and other areas that might help you as you care for your Pyredoodle:
1. Grooming
Depending on which breed your Pyredoodle dog takes after the most, your pet might have either a single or double coat, and the coat will determine how much maintenance your dog needs. Single-coated Pyredoodle dogs require brushing a couple of times a week and are not prone to shedding. On the other hand, double-coated dogs need to be brushed daily to prevent matting and limit shedding.

You should trim your dog's nails or have them professionally trimmed every two to three weeks. Generally speaking, you will know it's time for nail trimming when you hear them clicking on the floor.

Long, floppy, fluffy ears can sometimes be prone to ear infections, so be sure to keep the ears clean and dry, using a warm washcloth with a gentle cleanser or specially-formulated ear wipes.
2. Nutrition
Weighing in at between 85 and 100 pounds, Pyredoodle dogs are big eaters who need a lot of food – usually 5-6 cups a day, distributed evenly in two meals. Since the breed tends to be lazy and struggle with obesity, it's important to choose a high-quality food with a lot of calcium and protein. To avoid complications with bloat, it's best to feed them large-size kibble at specific times to prevent them from eating too fast or overeating.
3. Training and Socialization
Like their Poodle parents, Pyredoodles tend to be very intelligent, easy to train, and eager to please. It's best to start when they are young and small since they do have an independent streak, which is much more difficult to corral when they are bigger.

Although Pyredoodle dogs' size can be intimidating, they can often be timid themselves, so it's important to socialize them early by taking them to dog parks or puppy kindergarten classes at local pet stores.
4. Exercise
Sweet, well-mannered, and calm, Pyredoodle dogs do well living indoors, even in apartments, despite their large size. They do need half an hour to an hour outside to exercise every day though. Thanks to their Great Pyrenees genes, this breed is happiest when they have a job to do, especially herding or protecting small things like children or other animals. Be careful to walk them on a leash or exercise them in an enclosed area since they do tend to wander off looking for something to do.

Never exercise them around feeding time because this practice might lead to bloat. A good rule of thumb is one to two hours before or after a meal.

If you take them for a walk or hike, remember that they overheat easily, given their thick coats.
5. Mental Stimulation
Pyredoodle dogs are usually very intelligent and crave mental stimulation. Dog puzzles and interactive toys might help keep them entertained when you're not playing with them. Otherwise, boredom often leads to destructive behavior, which can be especially problematic given their large size.
Conclusion
As you care for your Pyredoodle dog, providing food, shelter, love, and the appropriate veterinary care, you help ensure your pet has the best and healthiest life possible, giving you many years of loving companionship. It's natural to worry about your ability to pay for veterinary bills if they start to add up. Surgery, ongoing treatments, or medication that must be taken regularly can all be expensive but necessary options at times. Enrolling in a good, basic dog insurance plan can help you pay for your dog's needs.
After extensive research, we conclude that Lemonade pet insurance offers the best dog insurance policy at the lowest monthly price for the Pyredoodle. They offer a variety of insurance plans with a range of coverage at reasonable rates. All you have to do is pick the best plan for you, your family, and your finances. As soon as you enroll your dog, you will have taken the first step toward greater peace of mind that you will be able to provide your dog the care he needs without breaking the bank. Keeping your coverage active is as simple as paying your monthly premium.
SwiftScore Ranking Methodology for Pyredoodles
We ranked the best pet insurance policies for Pyredoodles based on a variety of important factors including the following:
Average monthly price for a 2-year-old Pyredoodle with a $500 deductible located in the 90210 zip code
Coverage and benefits
Key policy details including accidents and illnesses, surgeries, annual check-ups, cancer treatment, lab tests, and more
AM Best rating of the underwriter
Reimbursement percentage
Annual benefit amount
Technology and user experience

Ease of sign up

Policy language clarity
User reviews
Other state dog insurance resources
Alabama | Alaska | Arizona | Arkansas | California | Colorado | Connecticut | Delaware | Florida | Georgia | Hawaii | Idaho | Illinois | Indiana | Iowa | Kansas | Kentucky | Louisiana | Maine | Maryland |
Massachusetts | Michigan | Minnesota | Mississippi | Missouri | Montana | Nebraska | Nevada | New Hampshire | New Jersey | New Mexico | New York | North Carolina | North Dakota | Ohio | Oklahoma | Oregon | Pennsylvania | Rhode Island | South Carolina | South Dakota | Tennessee | Texas | Utah | Vermont | Virginia | Washington | West Virginia | Wisconsin | Wyoming