7 Best
Puggle

Pet Insurance Plans Compared in 2023

Updated on by Matthew H. Nash – Licensed Insurance Agent

Puggles are an absolutely adorable designer breed that is crossed between a beagle and a pug. These small dogs are recognized by their small size, floppy ears, and short but not flat snouts. Puggles are wonderful family pets that get along great with children, and are extremely sociable and intelligent. However, Puggles are susceptible to a number of health conditions. They can inherit a number of health issues such as brachycephalic syndrome from their pug parent, as well as other conditions such as intervertebral disc disease from their beagle parent. Because of the genetic nature of these health conditions, they can be hard to avoid for this breed in particular. This is where dog insurance can come into play. Medical care for your pet can be expensive, especially when ongoing treatment is required. However, dog insurance can reimburse owners, making medical care less stressful. Enrolling your dog in pet insurance can seem daunting, but is actually an easy and rewarding experience. Read more about our unbiased ranking methodology and advertiser disclosure.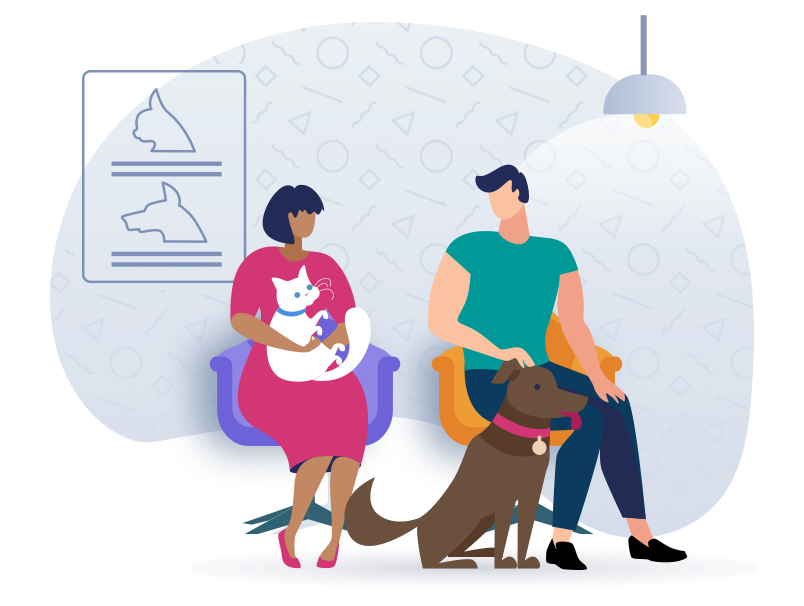 Top Puggle Pet Insurance Scored, Ranked & With Cost
Use our below table to quickly compare the best Puggle pet insurance providers. The average monthly specific prices shown are based on a healthy 2-year-old Puggle with a $500 deductible and 90% reimbursement amount who is located in California with a 90210 zip code. Costs may vary based on age, location, and the coverage amount. Prices are accurate as of January 2023 and are subject to change. For the most up-to-date information, please visit the provider website.
---
Puggle Pet Insurance FAQs
What is dog insurance and why is it useful for Puggles?
Dog insurance is very similar to health insurance for humans. When a pet is enrolled in an insurance plan, the owners can submit reimbursement requests after being billed by their veterinarian. This is incredibly useful for owners that have dogs with ongoing health issues that require long term treatment. As mentioned previously, Puggles can inherit genetic issues from both parents, so enrolling your Puggle in an insurance plan is never a bad idea.
How old does my Puggle need to be in order to be enrolled?
A general rule of thumb to follow is that if your pet is old enough to (ethically) be brought home from the breeder, then they're old enough to be enrolled in an insurance plan. Generally, this is around 8 weeks of age for any dog. It's always a good idea to enroll your pet as soon as possible to ensure that any health issues won't be considered a pre-existing condition, making it harder to obtain the most amount of coverage that you can get.
What are common insurance claims for Puggles?
Puggles are a cross between a pug and a beagle, and as the offspring of two breeds with common health issues, Puggles can exhibit a number of health conditions that either parent may exhibit. Pugs in particular are infamous for their susceptibility to brachycephalic syndrome, which can be common in flat-nosed dogs. This condition causes breathing issues due to the narrower airways in dogs with shorter snouts. This condition can be treated surgically, although less severe cases may not require this extensive of a treatment. Puggles are also susceptible to intervertebral disc disease from their beagle parent.Intervertebral disc disease causes the breakdown of the discs in between the vertebrae of the spine, causing neck and back pain. Treatment for this condition can range from oral medication in mild cases to surgery in severe cases. In any scenario, these treatments can be costly and require multiple vet visits.
What services are covered by dog insurance? What services are excluded?
The services covered by dog insurance can range from plan to plan, but in most cases, insurance covers acute care and new conditions. Acute care can range from treatment of physical injuries (cuts, scrapes, broken bones, etc.) to the treatment of viral or bacterial infections. Some services, such as certain medications or treatment of pre-existing conditions may not be covered, so it's important to check in with your provider to know for certain what can be reimbursed.
How does reimbursement work?
Instead of receiving funds upfront for medical care, pet insurance works on a reimbursement model. When you bring your pet into the vet clinic for care, you as the owner are responsible for any upfront costs. After you've been billed by your veterinarian, you can submit the costs of services to your provider, who will then determine what services are covered by your plan, and how much of the costs will be reimbursed depending on reimbursement rate and the specific plan that your pet is enrolled in.
Should I enroll in a high deductible or low deductible plan?
There is no right or wrong plan to enroll in. Every family is different, and will therefore have different needs. Your provider will likely offer several plans, with a high, low, or no deductible. What you choose to do is completely up to you. The only choice that matters is choosing the plan that is right for you and your pet.
5 Useful Strategies for Keeping Your Puggle Safe and Healthy
1. Puppy-proof your home
Puggles are a naturally inquisitive breed and love to explore. This can present situations where your dog may get into things that you don't want destroyed, or it may accidentally ingest something that can be hazardous to its health. Before your bring your puggle home, make sure to keep all small items off of the floor, put hazardous chemicals or food in places where it won't be able to get to, and keep items that you don't want it chewing on or playing with ina separate room with the door closed.
2. Make sure your Puggle has plenty of company
Puggles are family dogs, in that they don't just have one "person". Instead, Puggles see the entire family as their "people". They're incredibly affectionate dogs and love to be around their family. They don't do well when left alone for long periods of time, and can develop a version of doggy depression. Emotionally neglected dogs are also prone to behavioral issues, so be sure to provide your dog with plenty of social interaction to keep them happy.
3. Use positive reinforcement when training your Puggle
Although Puggles are extremely intelligent, they are also known to be incredibly stubborn as well. This can present issues when training, especially when negative reinforcement is used. Instead, try praising your Puggle when they make progress by using positive reinforcement.
4. Groom your Puggle at least once per week
Puggles do have a short haired coat, but their fur is incredibly dense. Their double coat causes them to shed more than one would expect at first glance. Make sure to brush your Puggle once or twice each week to take care of the shedding. It's also a good idea to wash your Puggle's face when you groom, as their wrinkles can trap dirt and debris, which can cause infection.
5. Stick to a regular mealtime routine
Puggles are notorious scroungers, and will absolutely try to dig scraps out of the trash or dig through open cabinets to find food. In addition to puppy proofing your house, keep your Puggle on a regular meal routine to avoid the development of obesity, which can lead to additional health issues down the road. Puggles should be fed two to three meals each day consisting of a nutritious, reputable kibble. Or if your budget allows, you can try raw feeding your dog. Before attempting to raw feed, be sure to consult your veterinarian to make sure that you'll be feeding your dog a properly balanced diet.
Conclusion
Puggles are wonderful, affectionate family dogs. Although they're relatively low maintenance outside of regular care, they are prone to developing certain health issues that can be inherited from either of their parent breeds. Treatment for these conditions can be expensive and require long-term care. As a pet owner, it's your number one priority to ensure that your dog is healthy and happy. Enrolling your Puggle in pet insurance is a great way to keep your dog healthy while minimizing the costs of vet visits. Enrolling your dog in an insurance plan requires three simple steps: find a provider, pick out a plan, and pay the monthly fee to keep your dog covered.
After extensive research, we conclude that Lemonade pet insurance offers the best dog insurance policy at the lowest monthly price for the Puggle.
SwiftScore Ranking Methodology for Puggles
We ranked the best pet insurance policies for Puggles based on a variety of important factors including the following:
Average monthly price for a 2-year-old Puggle with a $500 deductible located in the 90210 zip code
Coverage and benefits
Key policy details including accidents and illnesses, surgeries, annual check-ups, cancer treatment, lab tests, and more
AM Best rating of the underwriter
Reimbursement percentage
Annual benefit amount
Technology and user experience

Ease of sign up

Policy language clarity
User reviews
Other state dog insurance resources
Alabama | Alaska | Arizona | Arkansas | California | Colorado | Connecticut | Delaware | Florida | Georgia | Hawaii | Idaho | Illinois | Indiana | Iowa | Kansas | Kentucky | Louisiana | Maine | Maryland |
Massachusetts | Michigan | Minnesota | Mississippi | Missouri | Montana | Nebraska | Nevada | New Hampshire | New Jersey | New Mexico | New York | North Carolina | North Dakota | Ohio | Oklahoma | Oregon | Pennsylvania | Rhode Island | South Carolina | South Dakota | Tennessee | Texas | Utah | Vermont | Virginia | Washington | West Virginia | Wisconsin | Wyoming