6 Best
Pug

Pet Insurance Plans Compared in 2023

Updated on by Matthew H. Nash – Licensed Insurance Agent

The charming, loveable Pug has become a household favorite over the years. A lot of personality in a little package, Pugs, are known the world over for their wrinkly brows and large, expressive eyes. Since they're part of your household, one way to take care of them is to consider pet insurance. There are a lot of plans to compare and with confusing insurance terms, it can be overwhelming. As a licensed insurance producer and pug enthusiast, I've done the research for you and regardless of where you live with your pint-sized fur companion, this article has got it covered. We may receive compensation when you click on the affiliate links below.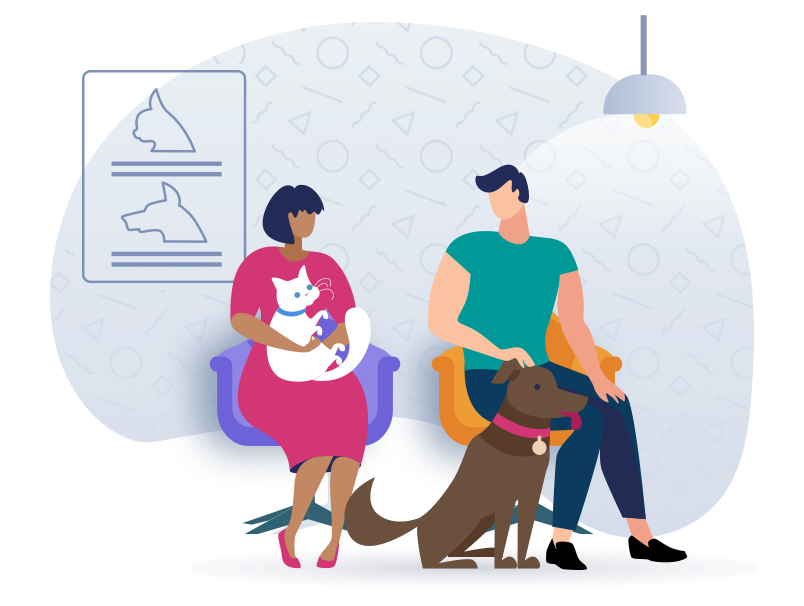 Top Pug Pet Insurance Scored, Ranked & With Cost
Use our below table to quickly compare the best Pug pet insurance providers. The average monthly specific prices shown are based on a healthy 2-year-old Pug with a $500 deductible and 90% reimbursement amount who is located in California with a 90210 zip code. Costs may vary based on age, location, and the coverage amount. Prices are accurate as of January 2023 and are subject to change. For the most up-to-date information, please visit the provider website.
---
Pug Pet Insurance FAQs
What is pet insurance and do I need it for my dog?
Over the lifetime of your pet, accidents will come up and your dog will get sick. A pet insurance policy can help you plan financially for the future. Most insurance for Pugs falls into two categories – coverage for accidents only or plans that insure for accidents and illnesses. Some insurance providers will also offer a supplemental plan for wellness care such as annual exams, vaccines, and flea/tick prevention, but you need to have one of the other policies first. While plans vary by provider, most would cover an accidental bite wound, broken bones, swallowed objects, toxic ingestions, x-rays or MRIs, and surgery. Medical services that might fall under illness could be to treat cancer, urinary infection, skin condition, prescription medication or hospitalization.
How does dog insurance work?
One benefit of pet insurance that makes it easy to use is that you can see any veterinarian; you are not restricted to a specific network. The main reason that's feasible is because the policyholder pays for services up front and then submits claims for reimbursement. Dog insurance plans require a monthly fee (premium) to maintain the insurance. The premium is based on factors such as type of pet, breed and gender, pet age, and location where you live. The cost is also influenced by how much of a deductible you want. The deductible is the amount you pay out of pocket each year before you can get reimbursed. Many plans allow you to choose the deductible amount, often between $250-$1,000; the lower it is, the more you can expect to pay in monthly fees. Most providers will place an annual cap on the amount they will reimburse, but if you'd like it to be unlimited. Another facet of an insurance plan is the reimbursement rate and quite a few insurance companies allow you to set this rate. Reimbursement rates are typically 70-90%; selecting a lower reimbursement rate will keep monthly fees lower.
Will all of my pug's vet visits be covered with insurance?
Yes and no. Most policies will not be available for puppies under 8 weeks of age and coverage could begin to drop off after 14 years of age. No insurance plan will cover pre-existing conditions, when your pug already had symptoms or was treated for a condition before the policy begins, or during the waiting period, which is typically 2-15 days after you buy the insurance. Other medical services usually aren't covered, such as cosmetic procedures – ear cropping and tail docking, spay/neuter, breeding/birth care, prescription food diets, and vaccines or other routine care (unless a separate wellness package is purchased).
Can a dog affect homeowner's insurance?
Pug owners should know that your homeowner's policy typically requires additional liability insurance. This protection covers people injured on your property (from dog bites) or property destruction by a pet. There are breeds that many insurance companies place on a restricted list and will not cover incidents resulting from their ownership but a Pug is not on that list. Though you have a Pug, you will still need to provide information on the bite history of your dog or other dog-related injuries so the provider can decide.
Are there common medical claims for Pugs?
Certain dog breeds have ties to specific medical conditions based on inherited breed traits. Knowing what Pugs are predisposed to is a good idea so you can prepare for the possible financial impact. Below are the most common insurance claims for Pugs:
Keratoconjunctivitis sicca (KCS) – "Dry eye" is commonly referred to as an eye disease that causes deficient tear production. Without sufficient tears, Pugs can get corneal ulcers, which could lead to scarring of the cornea(s). Though there is no cure for KCS, artificial tear replacements and tear stimulants can be used to manage it.
Brachycephalic syndrome is found in breeds with shorter heads where the airways can be obstructed due to various factors. This may cause noisy breathing, coughing, gagging, fainting, and other difficulties that put a strain on the heart. Treatment such as oxygen therapy or corticosteroids may provide short-term relief but surgery may be required to address long-term.
Atopy – "Hay fever" for dogs occurs when they become sensitized to allergens, causing a reaction of (extreme) itchiness. Atopy can be treated by removing allergens when possible, a tolerance build-up of allergy shots, or medical treatment such as shampoos to control itching, antihistamines, or corticosteroids.
5 Ways to Keep Your Pug Healthy & Safe
1. Keep an eye on them in hot or humid weather
Cute, flat-faced Pugs are particularly susceptible to breathing issues so it is important to keep an eye on them in hot or humid weather or while exercising. If their breathing becomes labored or they appear fatigued, stop immediately to assess the situation. Pugs are not able to cool down as quickly as other breeds due to their compressed breathing passages so avoid situations where they may overheat. This is not to say Pugs should not be exercised as it is fine in moderation and some even excel in agility and obedience courses. While on walks, using a harness is recommended as collars/leashes pressure the trachea.
2. Provide cool, clean water
Another way to help cool down your Pug is to provide cool, clean water. Their bowls should be placed on the floor, preferably made of stainless steel or ceramic. Pugs should not have raised food/water bowls as it contributes to bloat, as does a dog eating/drinking too quickly and exercising right after. Kidney and urinary issues are not uncommon for Pugs, so staying hydrated is very important. Some pet owners worry about what chemicals are in tap water and refuse to give their dogs anything that isn't filtered or bottled but that is certainly a personal preference.
3. Regular brushing and bathing
Though their coats are short, it is thick and Pugs shed year-round. Regular brushing and bathing will help loosen dead hairs. Be careful with the pH balance of dog shampoo as Pugs have sensitive skin. Make sure you clean out the folds of his fur between baths. If you use water, you must dry the fur so fungus doesn't become a problem. You can try a grooming wipe or baby oil, both gentle on his skin. Because a Pug's eyes protrude from their face more than the average dog, keep the area around the eye clean from dirt particles and food. Regular nail trims should be part of your grooming practice.
4. Overfeeding
Speaking of food, you know how Pugs love to eat. Due to their size, breathing issues and disdain for a lot of exercise, they can become overweight very easily. Overfeeding them is not good for their joints or their heart. A high nutrition diet made up of food without a lot of fillers and additives is best. This will also help their sensitive skin as chemical preservatives and artificial flavoring can aggravate skin due to food sensitivities. Pugs are beggars so you'll need to remain strong. Occasional treats as a reward while training is fine but look for low calorie/fat goodies.
5. Clean the teeth
You can accomplish two goals at once by using dental chew "greenies" in place of treats as they come in small sizes, too. This way it does not contribute to potential obesity in your Pug but also helps clean the teeth. Because Pugs are a toy breed and brachycephalic, tooth decay is an inherent risk due to overcrowded teeth in a flat face. Try getting your dog used to canine toothpaste and toothbrush early on so it becomes part of the routine. They even make finger sleeves you can rub the toothpaste on to their teeth and it usually tastes good (to them!). A dental exam once or twice a year will allow your vet to check on their mouth's condition.
Conclusion
The adorable Pug will give you plenty of love for years to come. Why not take steps now to help your four-legged companion live a long, healthy life? Pet insurance for your Pug is easy to buy and easy to use. If you purchase a policy early on, it will help avoid pre-existing condition limitations. Even if you have a senior Pug, consider dog insurance for the accidents and illnesses that may come up to give you peace of mind while you enjoy your time together.
Ready to get started? After countless hours of research, we've found that Lemonade pet insurance consistently performs the best with the lowest monthly premiums.
SwiftScore Ranking Methodology for Pug
We ranked the best pet insurance policies for Pug based on a variety of important factors including the following:
Average monthly price for a 2-year-old Pug with a $500 deductible located in the 90210 zip code (Please note: prices will vary greatly based on your location)
Coverage and benefits
Key policy details including accidents and illnesses, surgeries, annual check-ups, cancer treatment, lab tests, and more
AM Best rating of the underwriter
Reimbursement percentage
Annual benefit amount
Technology and user experience

Ease of sign up

Policy language clarity
User reviews
See dog insurance prices in your state
Alabama | Alaska | Arizona | Arkansas | California | Colorado | Connecticut | Delaware | Florida | Georgia | Hawaii | Idaho | Illinois | Indiana | Iowa | Kansas | Kentucky | Louisiana | Maine | Maryland | Massachusetts | Michigan | Minnesota | Mississippi | Missouri | Montana | Nebraska | Nevada | New Hampshire | New Jersey | New Mexico | New York | North Carolina | North Dakota | Ohio | Oklahoma | Oregon | Pennsylvania | Rhode Island | South Carolina | South Dakota | Tennessee | Texas | Utah | Vermont | Virginia | Washington | West Virginia | Wisconsin | Wyoming