6 Best
Pomsky

Pet Insurance Plans Compared in 2023

Updated on by Matthew H. Nash – Licensed Insurance Agent

You'll need to look at what challenges both mom and dad face, namely the Husky and Pomeranian sides, to help prepare for what may lie ahead. For example, those beautiful blue Husky eyes can be enchanting but can lead to eye issues such as inflammation, discoloration or sensitivity to light. Let's not forget, even though your Pomsky is a small/medium pup, he may inherit some big dog problems such as hip dysplasia. On the Pomeranian side, it's important to watch for dental problems, ear infections and skin conditions. There are certainly many things to be mindful about with your adorable pooch. Good thing pet insurance can help keep your Pomsky feeling and looking great. As a happy dog person, whether purebred or designer mix, and licensed insurance agent, I am your guide for all the pet insurance options available to you and your Pomsky. We may receive compensation when you click on the affiliate links below.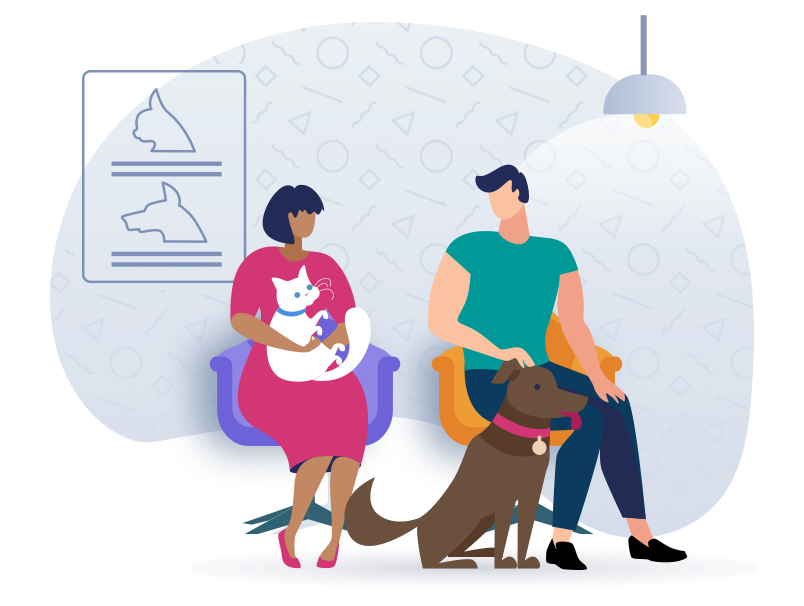 Top Pomsky Pet Insurance Scored, Ranked & With Cost
Use our below table to quickly compare the best Pomsky pet insurance providers. The average monthly specific prices shown are based on a healthy 2-year-old Pomsky with a $500 deductible and 90% reimbursement amount who is located in California with a 90210 zip code. Costs may vary based on age, location, and the coverage amount. Prices are accurate as of July 2023 and are subject to change. For the most up-to-date information, please visit the provider website.
---
Pomsky Pet Insurance FAQs
What is dog insurance and why is it useful for Pomskies?
Pet insurance and dog insurance are one in the same. You can purchase this insurance as part of your healthcare planning for your furry family member. Pet insurance will aid in medical expenses that may come up throughout your Pomsky's lifetime. The insurance policy will support you with the potential financial costs of the veterinary care you'll face. Dog insurance may not cover the entire cost of your dog's medical bills, but it will save money by covering a significant portion of those vet visits. Setting up a dog insurance policy is easy, you'll select a plan, make the required monthly payments to keep the policy active, and be done. When needed, you'll submit receipts for reimbursement from your insurance provider.

Pet insurance helps in your lifetime journey with your Pomsky as it supports you for anything that may unexpectedly come your way. Potential issues for your Pomsky include eye issues such as inflammation, discoloration or sensitivity to light. Other health problems could be hip dysplasia, dental problems, ear infections or skin conditions. Many trips to the vet to take care of any of these issues will put a dent in your bank account, but pet insurance is an easy way to combat the cost of those vet bills.
How old does my Pomsky need to be insured?
The younger, the better! Dog insurance providers will want your Pomsky puppy to be at least eight weeks old in order to start insurance coverage. Plan on enrolling your pup in a dog insurance plan as soon as you bring him home for the first time. Most pet insurance premiums are based on age, which means the younger you can enroll your Pomsky in a plan, the better.
What are common insurance claims for Pomskies?
Pomskies are still new to the dog breed scene, so the long-term health issues are still relatively unknown. However, some known problems include eye issues such as inflammation, discoloration or sensitivity to light (thanks to the Husky blue-eyes side of the breed). Other health problems could be hip dysplasia (again from the big dog Husky side), dental problems, ear infections or skin conditions (all of which are inherited from the Pomeranian half). The other potential for a trip to the vet is that your Pomsky is a very active, some would say hyper dog, so there's a potential for active dog injuries with broken bones, scrapes, and torn muscles. Pet insurance is so important because any of the items on this list will mean a trip to the vet and ongoing medical treatment.
What services for my Pomsky are covered by dog insurance? What services are excluded from coverage?
With all the options available, there's a good chance your policy will cover surprise injuries or accidents and can also include surgery, medication, medical tests, emergency care and exam fees. Some pet insurance plans also cover hospitalizations and preventative care. Almost any stumble, or scrape your Pomsky might come across during his lifetime can be covered.

For the exclusions, dog insurance policies will typically not cover the cost of care for pre-existing conditions, which is why it's so important to enroll your Pomsky in a policy as soon as possible.
How does reimbursement work?
You will be responsible for paying the medical bill upfront and submit the vet bill for reimbursement to the insurance provider. Your Pomsky insurance provider will then pay you back a certain percentage of that bill. Your insurance company will determine how much money you'll receive back based on your deductible and reimbursement rate.
Should I enroll in a high deductible or low deductible plan?
Choose from high-deductible plans, low-deductible plans, and even plans with no deductible at all. Policies work like any other insurance plan; the higher the deductible, the lower the monthly payment typically, which means you'll pay a higher cost during those unexpected emergencies. The last thing on your mind during a pet emergency visit should be how I will pay for this expensive vet bill. The lower deductible plan may be for you, which means a higher monthly payment, but that will equal less of a financial surprise during a stressful medical emergency.
5 Tips for Keeping Your Pomsky Safe & Healthy
Your Pomsky, or Huskerianan, is adorably cute, full of energy, intelligent, loving, and playful. He's also stubborn and a bit on the challenging side for training, but he's a loyal member of your family who will keep you on your toes for a long time. Including pet insurance in your overall pet budget will help ensure that he sticks around for as long as possible. In addition to that insurance, here are a few tips to make sure your Pomsky is happy and healthy.
1. Regular Exercise
Pomskies don't need a lot of space. They are well suited for apartments or larger home living. That said, your pup still has a lot of energy that needs exercise to keep him from destroying your home from boredom. Regular daily walks of at least 30 minutes, along with playtime and mental stimulation toys, will do a lot to keep him on the straight and narrow. His thick coat means that going outside to exercise in the cold won't be an issue and when the weather shows more signs of the sun, jumping in the water and swimming should be on the activity list. The Husky side loves to dig and run, so keep an eye on him if he's running around in the garden and always keep him on a leash when walking in public.
2. Training and Socialization
Your Pomsky will love being near you and the family, just be prepared as intelligence means he will love testing your patience from time to time. Early puppy socialization classes will help him learn to be around other dogs and even people. Early training is also important if you have young children in the house; it's just as important to train the children not to grab your pup's tail as it is to train your Pomsky how to behave around them. Thanks to the Husky side, your Pomsky may also have the drive to chase smaller animals. That socialization training will go a long way in helping to keep this trait in check. It may take some time, but consistently using positive reinforcement training in short increments, 10-15 minutes at a time, will teach your cute pup what it means to behave properly with the family. Your Pomsky may look like a little angel, but that Siberian Husky side loves to be a mischievous little stinker.
3. Nutritious Diet
Pomskies have the same dietary needs as most small to medium dogs. Check with your vet to determine what food is best for your pup to maintain a healthy weight. Many dogs, such as Pomskies, can have food sensitivities or food allergies, leading to itchiness, dry skin or gastrointestinal problems. With this in mind, you may need to be flexible and learn to adapt your pup's diet to his changing food needs.
4. Love and Affection
Your Pomsky will likely develop a special bond with one family member (don't get jealous, there's no doubt your Pomsky loves all of you). One key trait is that your pup dislikes being left alone. He can develop separation anxiety if you're away too long and/or not giving enough attention. If you notice extra barking, whining, chewing on your furniture, or urination on some of your favorite things, chances are good your Pomsky is feeling neglected. All your Pomsky wants from you is time, snuggling up together while watching TV or just being at home.
5. Regular Grooming
That beautiful coat on the Pomsky does take some time and care to keep it in tip-top condition. With a thick double coat, that's thanks to both breeds making up the Pomsky, daily brushing will be a must, especially in the summer months when your pup will shed even more than normal. Monthly baths or trips to the groomer should also be on your to-do list. Be sure to keep an eye on his nails for regular trimming as well. Don't forget about those pearly whites. Just like many small dogs, Pomskies are prone to dental issues. Plan on brushing your pup's teeth daily, or at a minimum, weekly. Check with your vet for what toothpaste will work best and try dental chews as a snack to help keep those teeth healthy.
Conclusion
The Pomsky is one cute, designer breed that will have everyone taking a second glance as you are out on your daily walks. He's cute with lots of gorgeous traits that are bound to turn a lot of heads. As a relative newcomer to the mixed breed world, there are any number of issues that can pop up and make life challenging. Your pet insurance policy is a great way to ensure that your pup has all the care he needs. With all the options for finding a good pet insurance policy, my mission is to help guide you through all of the choices available to you, so you make the right insurance choice for you and your Pomsky. Once you select a plan, and pay the monthly premium, your pup is covered for many of the potential reasons why he may need veterinary care. Having pet insurance coverage means your Pomsky can receive the necessary treatment without the stress of facing a pile of medical bills.
After extensive research, we conclude that Lemonade pet insurance offers the best dog insurance policy at the lowest monthly price for the Pomsky.
SwiftScore Ranking Methodology for Pomskies
We ranked the best pet insurance policies for Pomskies based on a variety of important factors including the following:
Average monthly price for a 2-year-old Pomsky with a $500 deductible located in the 90210 zip code
Coverage and benefits
Key policy details including accidents and illnesses, surgeries, annual check-ups, cancer treatment, lab tests, and more
AM Best rating of the underwriter
Reimbursement percentage
Annual benefit amount
Technology and user experience

Ease of sign up

Policy language clarity
User reviews
Other state dog insurance resources
Alabama | Alaska | Arizona | Arkansas | California | Colorado | Connecticut | Delaware | Florida | Georgia | Hawaii | Idaho | Illinois | Indiana | Iowa | Kansas | Kentucky | Louisiana | Maine | Maryland |
Massachusetts | Michigan | Minnesota | Mississippi | Missouri | Montana | Nebraska | Nevada | New Hampshire | New Jersey | New Mexico | New York | North Carolina | North Dakota | Ohio | Oklahoma | Oregon | Pennsylvania | Rhode Island | South Carolina | South Dakota | Tennessee | Texas | Utah | Vermont | Virginia | Washington | West Virginia | Wisconsin | Wyoming