6 Best
American Pit Bull Terrier

Pet Insurance Plans Compared in 2023

Updated on by Matthew H. Nash – Licensed Insurance Agent

Pit Bulls are perhaps the most misunderstood dogs on earth. Their stocky, muscular bodies are perfect for showing off their downright goofy facial expressions, but these same bodies, unfortunately, remind people of the misguided reputation Pit Bulls to have. As a proud and caring dog owner like you, I know that it's the person who shapes the dog into being either loving or mean.

We understand that not everyone understands this and that it can be hard to find forgiving insurance plans for this silly, sweet breed. Determining the best plan for your Pit Bull pup can feel like a hassle, so we're here to help! I have done all the research to help you pick the best dog insurance for your Pit Bull, no matter how hold your pup is or what state you live in!  We may receive compensation when you click on the affiliate links below.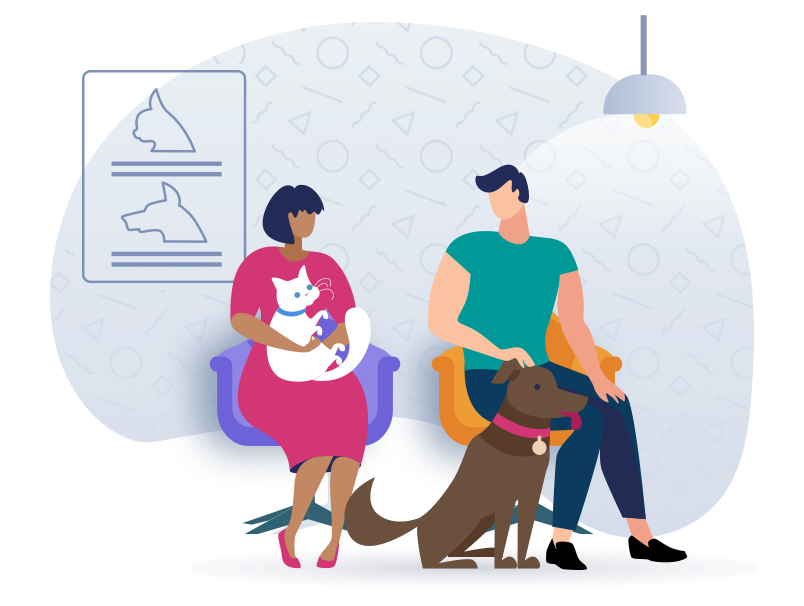 Top American Pit Bull Terrier Pet Insurance Scored, Ranked & With Cost
Use our below table to quickly compare the best American Pit Bull Terrier pet insurance providers. The average monthly specific prices shown are based on a healthy 2-year-old American Pit Bull Terrier with a $500 deductible and 90% reimbursement amount who is located in California with a 90210 zip code. Costs may vary based on age, location, and the coverage amount. Prices are accurate as of January 2023 and are subject to change. For the most up-to-date information, please visit the provider website.
---
American Pit Bull Terrier Pet Insurance FAQs
What is dog insurance and how does it work?
Dog insurance isn't quite the same as the human health insurance we're used to, but that doesn't necessarily mean it's harder to understand! Like many other insurances, dog insurance usually requires a monthly fee to keep it active. This fee is one of the factors you will be deciding on when choosing the right insurance plan for you and your pup.
By keeping your dog insurance active, you are essentially providing you and your Pit Bull a security blanket in the case of a canine emergency. If your Pit Bull suddenly falls ill or gets injured, you "use" your insurance by taking them to the vet, paying the vet, and then submitting a claim to your dog insurance company. Then, you will receive your reimbursement, which usually runs at a rate of 80-90% of the total vet bill. This way, you are only paying a fraction of what could otherwise be a devastating financial blow.
Is it useful for me to have dog insurance as a Pit Bull owner?
As we mentioned earlier, Pit Bulls sadly are met with much misunderstanding. However, though their reputation as intimidating, mean creatures would suggest otherwise, Pit Bulls are just as vulnerable to canine accidents as any other breed.

Though the idea of adding one more monthly payment can sometimes feel overwhelming, we highly recommend thinking twice before casting off the notion of dog insurance altogether. Protecting your Pit Bull snuggle bug with the right dog insurance plan can save you from severe financial loss, not to mention how it can extend the length and quality of your Pit Bull's life. Most pet owners are not prepared for steep veterinary expenses when an emergency does strike. Animal accidents can cost thousands and thousands of dollars, let alone the therapies that may be needed after the initial accident. When pet owners aren't prepared to pay such hefty bills, they sometimes have to make the heartbreaking decision to have their pet euthanized, all because they simply couldn't afford to pay for the vet care.

Having one more monthly financial responsibility may seem unnecessary in the day-to-day, but when your Pit Bull has a veterinary emergency that monthly fee will sure beat having to pay thousands of dollars unexpectedly.
How old does my Pit Bull puppy need to be before I can get them insured?
Though each insurance company may vary slightly, on average your Pit Bull puppy will need to be between 6 and 8 weeks of age before you can apply for and purchase an insurance plan.

Most dog insurance companies don't place an age limit on when you get your pup covered, but it will usually be cheaper to insure a puppy than an adult dog. Because most pet insurance plans do not cover pre-existing health conditions, it is important not to wait too long after first adopting/rescuing/purchasing your dog to get them covered by insurance. We recommend getting your precious pup insured before their first birthday, if you can, to guarantee the cheapest rates at the time of your purchase.

One insurance provider, Pawp insurance, provides an exception to this general age rule by offering protection for up to 6 pets, regardless of their age, for a monthly flat fee of $19. Pawp's "Emergency Fund" plan does have its conditions, however. Pawp will only cover "true" veterinary emergencies, so any emergency you file with Pawp must first be reviewed and decided upon as a true vet emergency by their virtual vet team. Additionally of note, Pawp's plan only covers one pet for a total vet bill of $3,000 a year.
What are common reasons for dog insurance claims?
Though every canine will have specific genetic dispositions and health concerns, some common reasons for why dog owners claim insurance include skin issues, eye/ear infections, stomach issues, and cancer. On top of these, the health problems for a puppy that need to be claimed can include bite wounds from other animals, diarrhea, swallowing something dangerous, and other physical accidents that leave visible wounds and lacerations. As a fellow pet owner, I've seen how much just one of these health concerns can cost in vet bills—and in the case of rescuing a stray dog, who likely has more than one issue, that initial vet visit can be terribly expensive.

Pit Bulls are generally healthy, active dogs when given regular exercise and play opportunities. They can actually live longer than some of their same-size doggy counterparts, but there are a few genetic health issues and dispositions you may have to watch out for including hip dysplasia, knee problems, skin allergies due to their short coats, and a spinal cord disease called degenerative myelopathy. As dogs age, their health concerns tend to get worse, so getting dog insurance for your Pit Bull early could save you a lot of money later on and help your pup live their longest, healthiest, happiest life.
What is covered and what's not covered by dog insurance?
Normally, your dog insurance will cover what the insurance company deems as a veterinary emergency. These kinds of emergencies include doggy emergencies like accidents, broken bones, allergic reactions, and infections. Your insurance company will likely offer a comprehensive list of what exactly they cover under the FAQ section of their website.

What dog insurance doesn't usually cover, however, are the more "standard" expenses related to routine wellness exams, vaccinations, and sometimes spay/neuter operations. Despite this, it is becoming more common for pet insurance companies to offer purchasable add-ons to the basic insurance plan that cover some of these standard procedures and their fees. In addition to the routine expenses, most dog insurances will not cover "pre-existing health conditions", as we mentioned earlier. As with the list of standard expenses, you may want to consult your insurance's information on what they consider to be a pre-existing health condition.

The longer you have the dog, the more likely it is for them to develop a health problem that would be considered pre-existing by insurance companies and thus something insurance wouldn't cover. Getting your Pit Bull covered sooner than later will ensure you better coverage with your dog insurance.
How does reimbursement work?
If you've done any looking into dog insurance before reading this article, you may have heard the phrase "reimbursement rate". This reimbursement is what your dog insurance company reimburses or gives back to you after you've submitted a claim when your dog has a veterinary emergency. Once you've paid the vet and submitted your insurance claim, you will be given back a certain percentage of that total vet bill, usually around 80-90%.

Here's a picture of what this can look like for you and your Pit Bull:

You've purchased an insurance plan for your Pit Bull that has a 90% reimbursement rate, a $250 deductible, and will cover $20,000 in vet emergencies per year (otherwise known as an annual max benefit). Your Pit Bull had an emergency surgery that cost $10,000. In this case, with your reimbursement rate being 90%, you would be reimbursed for $9,000 of the total $10,000 vet bill. Then, taking your $250 deductible into account, you would only be paying $1,250 of that entire $10,000.
See where paying that small fee per month can really add up in your favor?
As we discussed, with most dog insurance companies, you must first pay the vet before submitting a claim and receiving your reimbursement. There is one dog insurance company that is an exception, however. Trupanion offers to pay the vet directly, rather than having you pay the vet first. The vet must, however, be a part of the Trupanion network. For some, not having to pay all of the vet bill out of pocket before receiving a reimbursement can be worth the trade for choosing a vet compatible with Trupanion.
Is it better to have a high or low deductible – which is better?
Knowing which deductible, high or low, is better for you will require you to consider your current finances thoughtfully and what your financial situation will look like for the foreseeable future. To help you make the decision between deductibles, many insurance companies now offer a quote calculator on their website that's easy to use to determine what you would be paying for your particular Pit Bullpup. In our research, we found that most people usually go with a deductible that's either $250 or $500 when they are purchasing dog insurance.

Additionally, knowing which is better for you and your doggy companion means understanding the differences between them. Typically, if you purchase an insurance plan with a high deductible, you will be paying less per month but more when your canine has an emergency. Likewise, if you purchase a plan with a low deductible, you will pay more per month but less out of pocket when your Pit Bull has a veterinary crisis.
5 Useful Strategies for Keeping Your American Pit Bull Terrier Safe & Healthy
While it's important to have that extra protection in a doggy health crisis, it is just as important to give your Pit Bull all the loving care you can provide each and every day. We've collected five helpful tips and strategies to help you keep your Pit Bull happy and healthy while they play and romp around to their heart's content!
1. Excercise
While Pit Bulls aren't the largest dog on the block, they have a stockier build that needs daily activity, whether play or more serious exercise. Take your Pittie out for a walk, hike, or even a romp in some water to help them keep their muscular mass in tip-top shape! 
2. Harfmul Foods
Though some household foods and beverages make sense not to give your Pit Bull, like alcohol, other common foods can be toxic for dogs. Common household foods to keep your Pit Bull out of reach include chocolate, coffee, chicken bones, grapes, citrus fruits, and dairy. Pay attention to your dog's particular reactions to different dog foods and treats in case your pup is actually allergic to an ingredient.
3. Brushing Teeth
If allowed to progress without treatment, dental problems in dogs can quickly steal years from their lives. Though it may not seem like it, mouth problems in your Pit Bull could eventually affect their liver, heart, and kidneys. Infections and tartar buildup can be significantly reduced with proper dental care, something you can easily ask your vet for help with! Even a simple cleaning routine at home can help protect those precious years of your Pit Bull's life.
4. Regular Vet Visits
Congenital heart issues are common in Pitties and can be hard to spot from the outside. Making regular visits to your vet for routine check-ups can help prevent any possible heart issues from escalating unseen where they could cause potentially fatal damage.
5. Don't Leave Your Pit in Hot Cars
Although taking our canine best friends out and about with us is fun, we strongly advise against leaving your Pit Bull in the car while you run errands. Not only could it result in the theft of your beloved pup, but the inside of a car can quickly reach well over 100 degrees when it's just 80 degrees outside, making it especially dangerous to leave your Pit Bull alone in the car in the summertime.
Conclusion
It can be scary to think about the kinds of emergencies that could affect your beloved Pit Bull unexpectedly, but deciding on the right dog insurance doesn't have to be. While your Pit Bull pooch can never be too old for insurance, we suggest getting them covered as early as possible to avoid higher prices and limited coverage. Most insurances require that your puppy be at least 6-8 weeks old before you can apply for coverage, but overall it is cheapest to get them insured young—preferably before their first birthday.

We know just how heartwarming the love of a silly, adventurous, energetic Pit Bull can be—to see their eyes light up, their butts wiggle, and their paws scrabble to get on top of you for cuddles! But we also know that even the seemingly healthiest dog can have an accident or an unseen health issue, making simply having dog insurance on standby much more important. Our extensive research on dog insurance found that Lemonade pet insurance consistently performed the best with the lowest monthly premiums.

The sooner you get your Pit Bull covered, the more your dog insurance will be able to help you when they need emergency veterinary care!
SwiftScore Ranking Methodology for American Pit Bull Terrier
We ranked the best pet insurance policies for American Pit Bull Terriers based on a variety of important factors including the following:
Average monthly price for a 2-year-old American Pit Bull Terrier with a $500 deductible located in the 90210 zip code (Please note: prices will vary greatly based on your location)
Coverage and benefits
Key policy details including accidents and illnesses, surgeries, annual check-ups, cancer treatment, lab tests, and more
AM Best rating of the underwriter
Reimbursement percentage
Annual benefit amount
Technology and user experience

Ease of sign up

Policy language clarity
User reviews
See dog insurance prices in your state
Alabama | Alaska | Arizona | Arkansas | California | Colorado | Connecticut | Delaware | Florida | Georgia | Hawaii | Idaho | Illinois | Indiana | Iowa | Kansas | Kentucky | Louisiana | Maine | Maryland | Massachusetts | Michigan | Minnesota | Mississippi | Missouri | Montana | Nebraska | Nevada | New Hampshire | New Jersey | New Mexico | New York | North Carolina | North Dakota | Ohio | Oklahoma | Oregon | Pennsylvania | Rhode Island | South Carolina | South Dakota | Tennessee | Texas | Utah | Vermont | Virginia | Washington | West Virginia | Wisconsin | Wyoming