7 Best
Norfolk Terrier

Pet Insurance Plans Compared in 2022

Updated on by Matthew H. Nash – Licensed Insurance Agent

The Norfolk Terrier breed traces back to 1800s England when breeders developed small terriers for fox hunting and ratting. Among the smallest working terriers, Norfolk Terrier dogs are generally no taller than 10 inches at the shoulder. They are active, intelligent, and feisty and make excellent family pets since they get along with people of all ages and love adventure. Although they are a generally healthy breed, they are prone to some breed-specific health concerns, including patellar luxation, hip dysplasia, and heart conditions, including mitral valve disease. Diagnosis of these health issues usually includes a physical exam followed by x-rays, and treatment can include anti-inflammatory medication, physical therapy, or even surgery in some cases, which can be expensive. In addition to breed-specific concerns, common illnesses like ear infections or dental disease, as well as unexpected injuries, can affect even the healthiest dog. When caring for your Norfolk Terrier dog, veterinary bills might begin to pile up. If you're worried about the potential costs of veterinary care, you might be interested in dog insurance to help cover some of those costs. Below, I've included some basic information about dog insurance, in general, to help you get started in your search. There are also a few breed-specific tips about caring for your Norfolk Terrier dog. I hope you find some of the information useful. Read more about our unbiased ranking methodology and advertiser disclosure.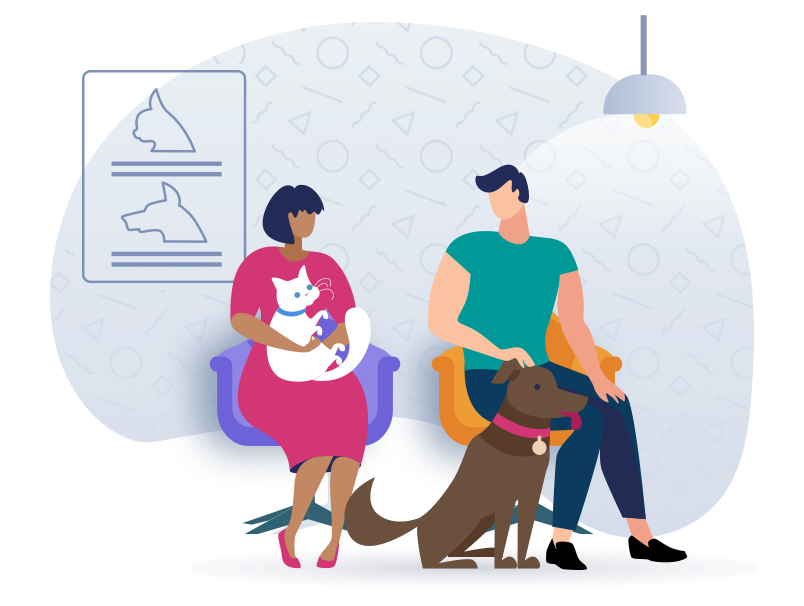 Top Norfolk Terrier Pet Insurance Scored, Ranked & With Cost
Use our below table to quickly compare the best Norfolk Terrier pet insurance providers. The average monthly specific prices shown are based on a healthy 2-year-old Norfolk Terrier with a $500 deductible and 90% reimbursement amount who is located in California with a 90210 zip code. Costs may vary based on age, location, and the coverage amount. Prices are accurate as of January 2022 and are subject to change. For the most up-to-date information, please visit the provider website.
---
Norfolk Terrier Pet Insurance FAQs
What breeds of dog is dog insurance good for?
Dog insurance is good for any breed of dog because, like health insurance for people, dog insurance offers coverage for certain medical procedures or medication that any dog might need when they are sick or injured. For instance, if your Norfolk Terrier dog suffers from mitral valve disease, which is known to affect this breed, your veterinarian will most likely prescribe medication that must be taken regularly to help manage the condition. Enrolling in a dog insurance plan that provides some medication coverage could save you a lot of money. Issues like hip dysplasia and patellar luxation might be treated with anti-inflammatory medicine, physical therapy, or surgery, and dog insurance can help ensure that you can provide all the veterinary care your dog might need, no matter the state of your bank account. Generally speaking, any dog owner can benefit from dog insurance. Many policies cover not only medicine and surgery but also diagnostic procedures like x-rays, which are sometimes necessary, and preventative care like dental cleaning, which is useful for any dog.
At what age should I enroll my Norfolk Terrier puppy?
Most insurance providers reserve coverage for dogs older than eight weeks. However, you should always check with your chosen provider to make sure that your puppy is eligible, since different providers might have specific age requirements or other restrictions for eligibility.
What specific issues for Norfolk Terrier dogs should I watch out for and get insurance coverage for? Are any procedures excluded?
As mentioned earlier, Norfolk Terrier dogs can sometimes suffer from joint problems like hip dysplasia, where the hip joint is not properly developed, leading to looseness in the joint and wearing down of cartilage patellar luxation, where the kneecap occasionally pops out of place. To address these issues, your veterinarian might prescribe anti-inflammatory medication, physical therapy, diet changes, and/or surgery.

Mitral valve disease in dogs is usually diagnosed by listening for a heart murmur followed by an x-ray or ultrasound. Certain medications, taken regularly, can help.

Based on these health issues, you might look for insurance that provides coverage for diagnostic procedures like x-rays, medication, and surgery. In addition, some plans cover preventative procedures like dental cleanings, which are recommended for all dogs.

Most insurance providers will not cover pre-existing conditions, so it's a good idea to enroll your Norfolk Terrier dog as soon as possible.
How do I use my dog insurance plan if my Norfolk Terrier dog gets sick?
Using dog insurance is very simple. If your dog is sick, take him to your regular veterinarian. Pay your veterinarian's office directly for services rendered, usually on the same day. Dog insurance works on a reimbursement model, so all you have to do after paying your bill is send in a reimbursement request to your insurance provider who will review your request and, based on your plan rates and coverage, send you the appropriate amount of reimbursement. This same process works for regular veterinary appointments as well.
What types of deductibles are available? Which should I get?
Most dog insurance providers offer plans with different options, including high deductibles, low deductibles, or no deductibles. While there is no specific type of deductible recommended for a Norfolk Terrier dog, or any other breed, you should consider your dog's health and the state of your finances when choosing which type of deductible you want. For instance, owners of young, healthy Norfolk Terrier dogs might choose a higher deductible plan, anticipating minimal veterinary care, with the bonus of having a lower monthly premium. This type of deductible might also be preferable for younger people just starting out or for those with more constrained budgets. As your Norfolk Terrier dog ages, you might benefit from a lower deductible plan instead, especially if you know your dog might need regular care or medication for heart or joint issues.
5 Useful Strategies for Keeping Your Norfolk Terrier Dog Safe & Healthy
Healthy Norfolk Terrier dogs can live from 12 to 16 years, providing you and your family with loving companionship and spunky fun for a long time. Taking into consideration some of the following breed-specific tips on grooming, nutrition, and other areas might help you make the most of your time with your little Norfolk Terrier dog:
1. Grooming
The hard, wiry, straight coat of the Norfolk Terrier dog requires extra care when grooming. The coat should be hand-stripped twice a year, which is a time-consuming process of pulling out loose hair by hand or with a special tool. Many owners take their dogs to professional groomers for this process. If you choose not to strip the coat, your dog will have a scruffy appearance, which some owners actually prefer. The downside to not stripping the coat is that your Norfolk Terrier dog will shed more. The upside to stripping the coat, besides a neater appearance, is that the coat sheds dirt and is water resistant, and your dog will need fewer baths.

Aside from stripping the coat, brushing or combing twice weekly will help prevent mats in the coat.
2. Nutrition
Your Norfolk Terrier should be satisfied with half a cup to one cup of food a day, split evenly into two meals. With their winning personalities, this breed can be good at begging, but try not to give too many treats. Small dogs tend toward obesity, exacerbating joint issues or leading to arthritis or diabetes.
3. Hit the Road
Norfolk Terriers love a good adventure. They are adaptable and up for anything, and their small size makes them very portable. This small, friendly breed is popular with RVers or families who travel a lot. Just keep in mind that terrier personality loves to chase small prey and be sure to keep your Norfolk Terrier dog leashed or in an enclosure so they don't go running off after squirrels or birds.
4. Exercise
Even though your Norfolk Terrier is a small dog, he needs plenty of activity. You should plan to spend at least an hour a day walking, hiking, or playing with your dog to help him expend his energy. This breed also does well in dog sports like agility courses and tracking. Due to a high prey drive from their days as hunting dogs and ratters, Norfolk Terrier dogs tend to chase rabbits, squirrels, or birds when out on a walk, so you should always keep him leashed when exercising unless in an enclosed area.
5. Love and Affection
Although every dog is an individual, most Norfolk Terrier dogs are known to be friendly, upbeat, and adventurous. Bred to be companion dogs, they thrive in a family environment. Despite their small size, they are sturdy and tough, so they do well with active children and other dogs; however, be careful if you have other household pets like cats, birds, hamsters, or other rodents since your Norfolk Terrier dog might see these as prey.
Conclusion
Your Norfolk Terrier dog is a part of your family, and you want the best of care for him whenever he needs it. When veterinary bills start to add up, you might worry about your ability to pay for surgery or medication if he needs it. Enrolling your Norfolk Terrier in dog insurance is an easy step toward easing your mind.
After extensive research, we conclude that Lemonade pet insurance offers the best dog insurance policy at the lowest monthly price for the Norfolk Terrier. Research their plan options and pick what works best for you, based on your wants, needs, and financial circumstances. Enrolling your dog is easy. Keeping your coverage active is easy too – just pay your monthly premium. Dog insurance is a great way to care for your dog's needs.
SwiftScore Ranking Methodology for Norfolk Terriers
We ranked the best pet insurance policies for Norfolk Terriers based on a variety of important factors including the following:
Average monthly price for a 2-year-old Norfolk Terrier with a $500 deductible located in the 90210 zip code
Coverage and benefits
Key policy details including accidents and illnesses, surgeries, annual check-ups, cancer treatment, lab tests, and more
AM Best rating of the underwriter
Reimbursement percentage
Annual benefit amount
Technology and user experience

Ease of sign up

Policy language clarity
User reviews
Other state dog insurance resources
Alabama | Alaska | Arizona | Arkansas | California | Colorado | Connecticut | Delaware | Florida | Georgia | Hawaii | Idaho | Illinois | Indiana | Iowa | Kansas | Kentucky | Louisiana | Maine | Maryland |
Massachusetts | Michigan | Minnesota | Mississippi | Missouri | Montana | Nebraska | Nevada | New Hampshire | New Jersey | New Mexico | New York | North Carolina | North Dakota | Ohio | Oklahoma | Oregon | Pennsylvania | Rhode Island | South Carolina | South Dakota | Tennessee | Texas | Utah | Vermont | Virginia | Washington | West Virginia | Wisconsin | Wyoming