6 Best
Newfoundland

Pet Insurance Plans Compared in 2023

Updated on by Matthew H. Nash – Licensed Insurance Agent

Has your Newfie's vet ever suggested that you enroll them in dog insurance, but you weren't sure where to start with finding a good plan? Have you ever contemplated purchasing dog insurance but weren't sure if it would be worth it? Well, you are not alone because confusion regarding dog insurance is quite common among dog owners. As a fellow dog owner and Licensed Insurance Agent, I understand this confusion and strive to assist dog owners with navigating the dog insurance world. This article will help answer any questions, including pet insurance, how it works, and why it may be worth purchasing. The best part is that dog insurance can benefit Newfoundlands all over the country, regardless of location. Read more about our unbiased ranking methodology and advertiser disclosure.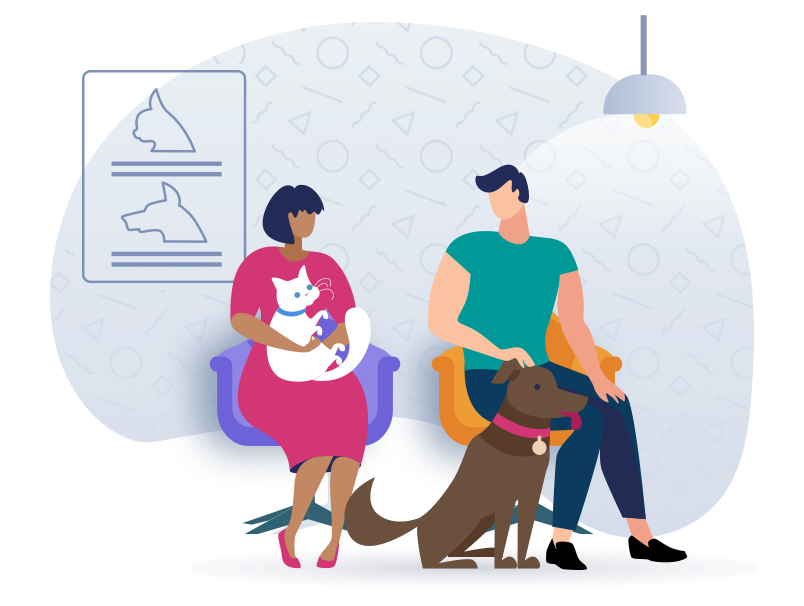 Top Newfoundland Pet Insurance Scored, Ranked & With Cost
Use our below table to quickly compare the best Newfoundland pet insurance providers. The average monthly specific prices shown are based on a healthy 2-year-old Newfoundland with a $500 deductible and 90% reimbursement amount who is located in California with a 90210 zip code. Costs may vary based on age, location, and the coverage amount. Prices are accurate as of January 2023 and are subject to change. For the most up-to-date information, please visit the provider website.
---
Newfoundland Pet Insurance FAQs
What is dog insurance and why is it useful for Newfoundlands?
Dog insurance is medical coverage for canines. Dog insurance is intended to help cover the costs of veterinary care, as veterinary care can be quite expensive. Most dog insurance plans operate using a reimbursement model, which means that you pay the initial vet bill as the dog owner, but can then request reimbursement from your insurance carrier.

While a monthly payment is required to keep insurance policies active, dog insurance is worth the investment for Newfoundlands, as they can experience health issues that may require veterinary care. Also, as mentioned earlier, veterinary care can be expensive, with certain procedures and treatments costing thousands of dollars. Finally, just like all dogs, Newfoundlands can become sick or injured at any time, and dog insurance helps pay for any medical attention that may be required unexpectedly.
How old does my Newfoundland need to be to get insured?
Most dog insurance companies impose certain age requirements that must be met to enroll in insurance. In most cases, insurance companies will require that your Newfie is at least 8 weeks old before he or she can be protected by insurance coverage.
What are the most common insurance claims for Newfoundlands?
Like other purebred dogs, Newfoundlands have genetic predispositions for certain conditions that may require medical treatment. The two most common conditions that Newfoundlands experience are subaortic stenosis, a congenital heart defect, and hip dysplasia, which commonly affects large dogs and may cause mobility issues. Other common conditions in Newfoundlands are certain eye conditions, such as cataracts, entropion, and dilated cardiomyopathy. Any/all of these conditions may require treatment by your Newfie's vet.
What is covered and what's excluded from dog insurance?
Dog insurance plans will cover any veterinary care that is needed to treat sudden illness or injury, at a minimum. This includes emergency surgeries, viral and bacterial infections, and broken bones.

Some plans will offer "add-on" coverage, such as prescription medication and preventative care, that dog owners can purchase in addition to the basic insurance plan.

In terms of exclusions, most dog insurance plans will not cover any care related to pre-existing conditions, or any diagnoses that occurred before the beginning of coverage. For this reason, we highly recommend enrolling your Newfie in coverage as soon as possible, as Newfies are prone to developing health conditions as they age.
How will I be reimbursed?
Once you hit your deductible, you will then be able to begin requesting reimbursement for veterinary bills. The process of reimbursement is fairly simple. Once you receive a bill for veterinary services, you will pay the bill in full directly to your Newfie's vet. Then, you can submit a reimbursement request along with a copy of the bill to your insurance provider. Your insurance provider will determine how much you will be reimbursed based on the total bill amount, reimbursement rate, and deductible.
Is it better to have a higher or a lower deductible?
A plan with a lower deductible usually means a higher monthly payment, but you will need to pay less out-of-pocket before being reimbursed. The opposite is true for plans with higher deductibles. One plan is not necessarily better than another; it all depends on what is best for you and your finances. If you prefer to pay less out-of-pocket in monthly payments, a plan with a higher deductible may be the way to go.
5 Useful Strategies for Keeping Your Newfoundland Safe & Healthy
Despite their size, Newfies truly are gentle giants. They are known for having sweet dispositions and are excellent family dogs. However, like many large dog breeds, Newfies are also known for exhibiting certain health conditions. In addition to enrolling in dog insurance, there are other important health strategies that you can implement to help keep your Newfie healthy.
1. Regular Visits with the Vet
One of the most important practices you can implement to ensure your Newfie's health is bringing your Newfie to the vet for regular check-ups. Even if your Newfie appears to be in good health, bringing your pup to the vet for routine exams can help catch emerging health issues early and prevent long-term problems.
2. Avoid raw-hide bones
Newfies have big, strong jaws that make them excellent chewers. While Newfies love to chew, especially when they are puppies, you must avoid giving your Newfie raw-hide bones. Parts of these bones can break off and be a choking hazard. If ingested, these bones can also cause gastrointestinal problems.
3. Provide plenty of chew toys
As mentioned in the previous sections, Newfie puppies need LOTS to chew on, as their teeth and jaws develop. To avoid losing shoes and furniture to your Newfie's chewing, ensuring that your pup has many toys to chew on is helpful.
4. Timing of meals and exercise
Newfies are prone to experiencing a variety of gastrointestinal problems. For example, if Newfies engage in rigorous exercise shortly after eating, they can become severely bloated, which may require medical attention. To prevent this condition, it is recommended that you feed your Newfie small meals in moderation and refrain from exercising immediately after meals.
5. Hot spot care and prevention
In addition to gastrointestinal problems, Newfies are also prone to "hot spots", which are irritated patches on the skin. Since allergies are common in Newfies, it is thought that hypersensitivity to allergens can cause Newfies to lick these spots more frequently, which can cause bacteria to grow. To help prevent hot spots, it is recommended that you monitor for patches on the skin and keep your Newfies fur cool and dry.
Conclusion
Anyone who owns a Newfie can probably agree that all you want is for them to be happy and live a long and healthy life. While dog insurance can be confusing, all you need to do is find a plan that works for you, pay the monthly premium, and then you will be covered for when your Newfie needs veterinary care. Since Newfies can be prone to certain chronic conditions, especially later in life, enrolling in dog insurance may be a good idea to protect your pup and your bank account.
Ready to get started? After countless hours of research, we've found that Lemonade pet insurance consistently performs the best with the lowest monthly premiums.
SwiftScore Ranking Methodology for Newfoundlands
We ranked the best pet insurance policies for Newfoundlands based on a variety of important factors including the following:
The average monthly price for a 2-year-old Newfoundland with a $500 deductible located in the 90210 zip code (Please note: prices will vary greatly based on your location)
Coverage and benefits
Key policy details include accidents and illnesses, surgeries, annual check-ups, cancer treatment, lab tests, and more
AM Best rating of the underwriter
Reimbursement percentage
Annual benefit amount
Technology and user experience

Ease of sign up

Policy language clarity
User reviews
See dog insurance prices in your state
Alabama | Alaska | Arizona | Arkansas | California | Colorado | Connecticut | Delaware | Florida | Georgia | Hawaii | Idaho | Illinois | Indiana | Iowa | Kansas | Kentucky | Louisiana | Maine | Maryland | Massachusetts | Michigan | Minnesota | Mississippi | Missouri | Montana | Nebraska | Nevada | New Hampshire | New Jersey | New Mexico | New York | North Carolina | North Dakota | Ohio | Oklahoma | Oregon | Pennsylvania | Rhode Island | South Carolina | South Dakota | Tennessee | Texas | Utah | Vermont | Virginia | Washington | West Virginia | Wisconsin | Wyoming