7 Best
Neapolitan Mastiff

Pet Insurance Plans Compared in 2023

Updated on by Matthew H. Nash – Licensed Insurance Agent

The Neapolitan Mastiff, also known as the mighty Mastiff, is a "larger-than-life" dog breed with natural instincts to guard and protect its owner. This gentle giant is loving and loyal and makes a great companion for those with ample space. Like many large dog breeds, they are vulnerable to medical conditions that can be treated but can also be an overwhelming financial constraint. There is good news. Pet insurance is an option for most pet owners, and it allows you to make decisions that are best for your pet without the concern of the cost associated with such care. As an informed pet owner and licensed insurance agent, I can help you make sense of the pet insurance landscape so that you can make the best decision for you and your furry companion. Read more about our unbiased ranking methodology and advertiser disclosure.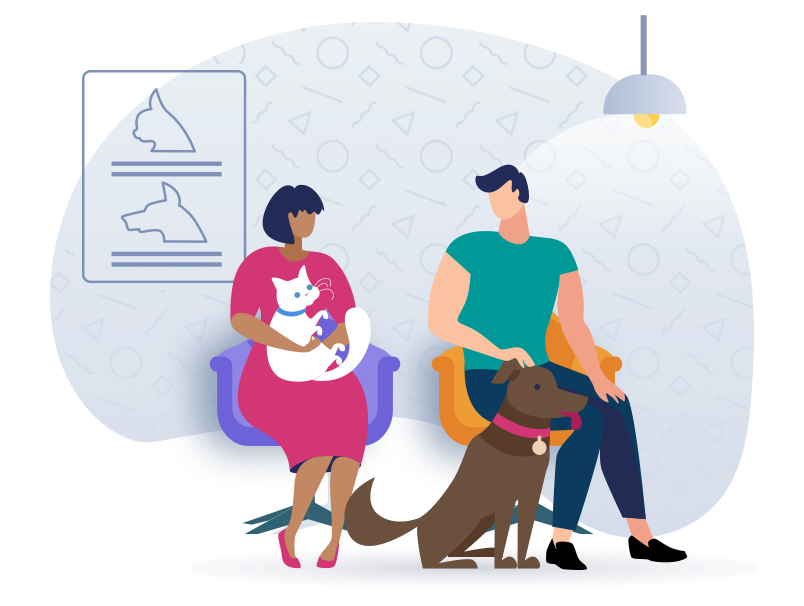 Top Neapolitan Mastiff Pet Insurance Scored, Ranked & With Cost
Use our below table to quickly compare the best Neapolitan Mastiff pet insurance providers. The average monthly specific prices shown are based on a healthy 2-year-old Neapolitan Mastiff with a $500 deductible and 90% reimbursement amount who is located in California with a 90210 zip code. Costs may vary based on age, location, and the coverage amount. Prices are accurate as of January 2023 and are subject to change. For the most up-to-date information, please visit the provider website.
---
Neapolitan Mastiff Pet Insurance FAQs
What is pet insurance, and is it worth the investment for our Neapolitan Mastiff?
When you embark upon pet ownership, you must ask yourself how financially prepared you are to handle emergency illnesses and injuries. Some surveys suggest that fewer than half of pet owners carry a comprehensive pet insurance policy. It is usually on the docket of well-intentioned pet owners, but often forgotten about. Routine care can set you back hundreds of dollars annually, while emergencies or chronic medical conditions can cost thousands to treat, depending on the situation. A small monthly investment, known as your premium, allows you a complete list of benefits that will help you cover the cost of emergency veterinary medicine, routine care, diagnostics and treatment of chronic illnesses or injuries, medications, and more. Pet insurance works to protect your pet but also your finances. No one expects a $5000 bill from an emergency visit for something your pup swallowed, necessitating surgery. Accidents happen, illnesses are inevitable and inherited conditions make pet insurance a no-brainer.
What is the proper age to insure my Neapolitan Mastiff?
Early enrollment is an essential step in the pet insurance process. Most insurance providers recommend enrollment around eight weeks of age for puppies. More mature dogs, or even senior dogs depending on the company, will require a waiting period before coverage eligibility. Waiting too long to enroll can lead to claim denial for pre-existing conditions.
What are a few common insurance claims for the Neapolitan Mastiff?
Your Neapolitan Mastiff is a large breed that may have the propensity to develop certain genetic conditions that necessitate treatment. Heart failure is caused by dilated cardiomyopathy and may affect your Mastiff, causing heart muscles to become very thin, so the heart has to work harder and eventually becomes enlarged. Medications, diet, and rest are all helpful management tools. A condition of the hip known as hip dysplasia tends to afflict large breed dogs like the Mastiff. This is a degenerative condition where the hip joint deteriorates and grinds when the dog is walking or running. In severe cases, a total hip replacement could be the only cure, while milder cases cause loss of mobility and complacency. A total hip replacement can run up to $7000 or more. Varying growth rates in the dog's elbow can cause a condition known as elbow dysplasia. This condition may cause elbow laxity, and lameness and sometimes requires surgery. Chronic and acute conditions such as broken bones, illnesses, or injuries may also affect your pup, so a comprehensive pet insurance policy is your safeguard against those financial constraints.
What services are typically covered by insurance? What services are excluded from coverage?
Every insurance company differs slightly in its offerings, so it is important to review each plan and all that they cover, to ensure you find the best fit for your pet. Basic pet insurance plans cover illnesses or injuries that are urgent in nature and unplanned. Most companies provide add-on coverages, so you can customize a plan that works for you. These well-rounded plans may cover the cost of some routine or preventative care such as vaccines and check-ups, behavioral therapy, and even chiropractics. A vast majority of basic plans will cover the cost of accidents, broken bones, chronic and acute illnesses, medications, and hospitalizations. Pre-existing conditions will not be covered, so early enrollment is vital!
Does pet insurance cover dental work?
Dental wellness is not typically covered, however, some plans may offer this as an add-on option, so it is important to do your research. Some may cover accidents or infections of the mouth, but that also varies by plan.
Can I use a veterinarian of choice, or are there insurance-approved options?
Most licensed veterinarians, including those in specialty care or emergency care, are covered.
Are there discounts for insuring multiple pets?
Most pet insurance plans offer a multiple-pet discount. Verify with the insurance companies that you are reviewing, to be sure that you are eligible for this. While most pet insurance companies cover cats and dogs, you may find extended coverage for exotic pets.
Who pays for services at the time of veterinary care?
Typical pet insurance plans utilize a reimbursement method of payment. You will pay upfront for services received but should receive reimbursement from your insurance provider within the same week. Some plans offer quick turnaround times, so pay attention to that when doing your research.
How should we choose from a high or low-deductible plan?
This is not a "one size fits all" answer. Upon enrollment, you should select a deductible that you feel comfortable paying should your pet need medical treatment. Some elect to pay a higher deductible but save a bit each month on their premiums. Others are hesitant to pay a larger lump sum at the time of care and prefer a lower deductible, with slightly higher monthly premiums. The option that works best for you, is the best choice. The level of care remains the same!
5 Tips for Keeping Your Neapolitan Mastiff Safe and Healthy
Dogs are our best friends. Pet insurance may help us with the financial constraints of pet ownership, but there are many things we can do at home to help them live a long and happy life.
1. Daily Exercise
Your Neapolitan Mastiff, will benefit from daily walks. Exercise keeps them at a healthy weight, helps reduce stress, improves your cardiovascular health, and keeps your pup calm. Dogs tend to get bored, which can lead to destructive behavior. The best way to help reduce the risk of boredom is by taking a daily walk, but also encouraging enrichment play. Mental stimulation every day is just as important as physical activity, to create a balanced and happy dog!
2. Proper Nutrition and Food Intake
Neapolitan Mastiffs are large dogs with large appetites. It is important to maintain a proper feeding schedule and to avoid overfeeding, which can lead to obesity-related issues, and can worsen joint issues. Be sure to work with your veterinarian to find high-quality food for their size, stage in life, and activity level.
3. Training
Begin the training process as early as possible to yield the best results. Your Mastiff will do best with lots of rewards and positive reinforcement. It is important to socialize your pup as early as possible, with other animals and children.
4. Drooling Issues
Neapolitan Mastiffs have a tendency to drool, a lot! You will find yourself cleaning your furniture and walls quite often. Be sure to wipe their mouths often to keep them dry and to avoid odor and infection.
5. Regular Grooming
Neapolitan Mastiffs are minimal shedding dogs that require weekly combing. Nail care is an important part of their grooming routine. If nails get too long, your pup could snag carpeting or furniture, damaging their nails. As well as their drooling issue, they have many wrinkles and folds. To prevent yeast and bacteria from growing in their folds, it is important to take a damp rag and wipe their folds and dry them thoroughly.
Conclusion
Your floppy-jowled Mastiff is sure to quickly become a beloved family member, a mainstay in your everyday life. It is hard to think of them becoming sick, or even injured. Pet insurance is something all pet owners should consider, to avoid unforeseen veterinary bills that can cost into the thousands. Most are not financially ready to pay for an expensive surgery or hospitalization. With pet insurance, you pay a small monthly fee, which creates peace of mind and financial security for you and your family. One company that I recommend reviewing is Lemonade pet insurance. Their competitive pricing and coverage, along with many additional benefits, creates the perfectly balanced policy for your Mastiff!
SwiftScore Ranking Methodology for Neapolitan Mastiffs
We ranked the best pet insurance policies for Neapolitan Mastiffs based on a variety of important factors including the following:
Average monthly price for a 2-year-old Neapolitan Mastiff with a $500 deductible located in the 90210 zip code
Coverage and benefits
Key policy details including accidents and illnesses, surgeries, annual check-ups, cancer treatment, lab tests, and more
AM Best rating of the underwriter
Reimbursement percentage
Annual benefit amount
Technology and user experience

Ease of sign up

Policy language clarity
User reviews
Other state dog insurance resources
Alabama | Alaska | Arizona | Arkansas | California | Colorado | Connecticut | Delaware | Florida | Georgia | Hawaii | Idaho | Illinois | Indiana | Iowa | Kansas | Kentucky | Louisiana | Maine | Maryland |
Massachusetts | Michigan | Minnesota | Mississippi | Missouri | Montana | Nebraska | Nevada | New Hampshire | New Jersey | New Mexico | New York | North Carolina | North Dakota | Ohio | Oklahoma | Oregon | Pennsylvania | Rhode Island | South Carolina | South Dakota | Tennessee | Texas | Utah | Vermont | Virginia | Washington | West Virginia | Wisconsin | Wyoming