7 Best
Munchkin Cat Insurance

Plans Compared in 2023

Updated on by Matthew H. Nash – Licensed Insurance Agent

One of the most unique cat breeds is the Munchkin cat, which is characterized by extremely short legs caused by a genetic mutation. Although they do occur naturally, many Munchkin cats are bred for this distinctive feature. Unfortunately, because of that genetic mutation, Munchkin cats are sometimes predisposed to certain health issues, mostly related to joints and bones. The most common issues for Munchkin cats are

1) Lordosis, which is a curving spine in the lower back;
2) pectus excavatum, where the cat's sternum and ribs grow improperly; and
3) osteoarthritis is a degenerative disease of joint tissues, bone, and cartilage.

Although these issues can be serious, your veterinarian can provide various treatments, medications, and sometimes surgery. If you are worried about the costs, enrolling your Munchkin cat in pet insurance is a great step toward making necessary veterinary care more affordable. Many pet insurance providers are on the market, and hopefully, the information provided in this article will help you make sense of it all. Read more about our unbiased ranking methodology and advertiser disclosure.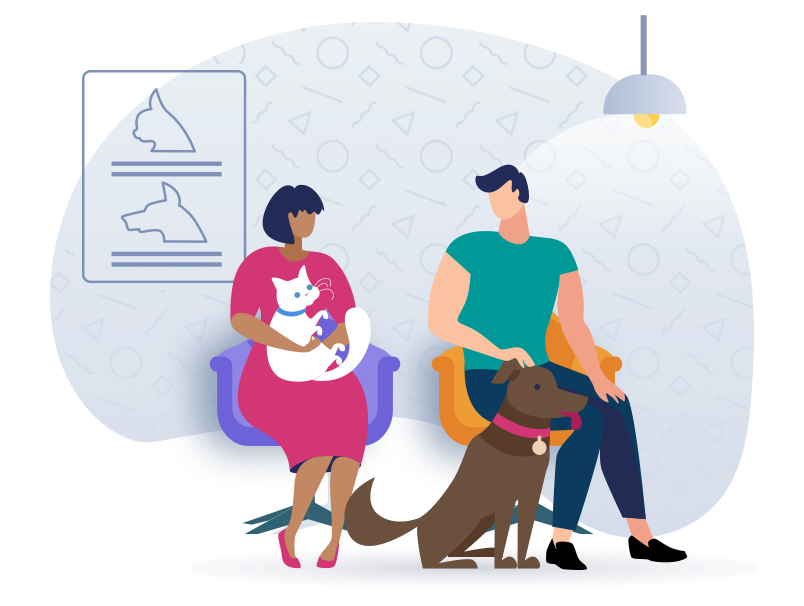 Top Munchkin Cat Insurance Scored, Ranked & With Cost
Use our below table to quickly compare the best Munchkin Cat insurance providers. The average monthly specific prices shown are based on a healthy 2-year-old Munchkin Cat with a $500 deductible and 90% reimbursement amount who is located in California with a 90210 zip code. Costs may vary based on age, location, and the coverage amount. Prices are accurate as of January 2023 and are subject to change. For the most up-to-date information, please visit the provider website.
---
Munchkin Cat Insurance FAQs
What is cat insurance, specifically?
When your cat is sick or injured and requires veterinary care, cat insurance can help you cover the financial costs for that treatment. Think of it as health insurance for your pet. Although your cat insurance plan might not completely pay for the entire bill, it is possible that your plan will take care of a significant portion of the cost, saving you thousands of dollars. After doing some research, you can pick the plan that best suits you and your cat's needs, as well as your finances. Once you enroll, you must pay a monthly premium to ensure your coverage stays active and in place for when you might need it. Your insurance provider will determine how much reimbursement you can receive once you submit applicable veterinary care bills.
Do I really need cat insurance for my Munchkin cat?
All cats are subject to common feline illnesses like upper respiratory infections, feline lower urinary tract disease, diabetes, or feline leukemia. However, Munchkin cats have several additional breed-specific health issues, mostly due to their unique bone structure. The most serious conditions Munchkins face, as noted previously, are 1) Lordosis, or spine curvature; 2) pectus excavatum, also known as "hollow breast"; and 3) osteoarthritis. Depending on the specific condition, your veterinarian might recommend a multi-layered treatment approach, sometimes including weight management, dietary supplements, medication, physical therapy, or surgery.

Also, due to their more limited mobility and reduced agility, Munchkin cats can be subject to injury if left on higher surfaces like countertops or tall cat towers. Given this fairly wide range of potential health issues for Munchkin cats, having cat insurance in place before you actually need to use it is a good idea.
What is the best age for me to enroll my Munchkin cat?
Most kittens can be weaned at 8 weeks, so that is often the youngest age that you can bring your Munchkin cat home. Many pet insurance providers also require your cat to begin coverage at least 8 weeks or older. For Munchkin cats specifically, if they are diagnosed with pectus excavatum, where the cat's sternum and ribs grow improperly, the best time for surgery is generally between 8 and 12 weeks old, so having pet insurance in place around this age is recommended.
What types of care are covered or excluded?
As you research your options, you will get a better idea of care coverage, which varies by insurance plan. In general, though, most cat insurance plans should cover veterinary care for unexpected illnesses like infections as well as injuries like broken bones. Since your Munchkin cat's bone and joint issues might necessitate diagnostic procedures like x-rays, as well as prescription medicine or physical therapy, these are specific things you should make sure are included in your cat insurance plan. Some plans also include coverage for outpatient procedures, emergency hospitalization, and preventative care like dental cleanings.

As with included services, excluded services also vary by plan. In general, though, similar to a lot of human health care plans, most cat insurance plans will not cover the cost of care for pre-existing conditions. Since some of your Munchkin cats' issues are diagnosed early and best addressed when they are young kittens, it makes sense to enroll your pet as soon as possible to potentially protect you against some of these exclusions.
How does cat insurance work at the vet's office?
Cat insurance plans are based on a reimbursement model. The pet owner takes the cat to the veterinarian, and the veterinarian charges you directly for their services. After paying the bill, you need to submit a reimbursement request to your insurance provider. Your insurance provider will review your bill and send you the appropriate amount of money.
What type of deductible is best for Munchkin cat owners?
Cat insurance, like other types, has different deductibles and monthly premium choices. High deductible plans, low deductible plans, and sometimes no deductible plans all offer various advantages and drawbacks, depending on what you're looking for. Munchkin cat owners might consider a lower deductible plan, given the range of medical issues your cat might face. On the other hand, higher deductible plans have the benefit of a lower monthly premium.
5 Useful Strategies for Keeping Your Munchkin Cat Safe & Healthy
While enrolling your Munchkin cat in cat insurance is a great way to help ensure their health, there are other things you can do to give your furry companion a long, healthy, and happy life. With the right care, some Munchkin cats can live up to 15 years.
1. Mental Stimulation
Munchkin cats love to play with their owners and are highly energetic. They're also very intelligent and benefit greatly from mental stimulation, including enrichment activities and toys like puzzle boxes, treat mazes, circuit and track toys, and even electronic devices with cat-specific apps. Their intense curiosity sometimes gets Munchkin cats in trouble without adequate mental stimulation from toys and activities.
2. Indoor Exercise
Although Munchkin cats are very active, keeping this breed inside is a good idea, rather than allowing them to roam outdoors unsupervised. Munchkin cats thrive in apartments and homes and are known to be a bit too friendly without recognizing the dangers presented by other animals. Because of their smaller size and mobility issues, Munchkin cats are at a physical disadvantage against other cats, dogs, or wildlife predators and are more likely to become injured in fights or attacks. If you truly want to share the great outdoors with your Munchkin cat, a safe and fun option might be investing in an enclosed pet stroller or cat backpack. Other breeds sometimes respond well to being walked with a harness, but the Munchkins' short legs make this activity less appealing for them since they might tire quickly.

Even though they might not jump as high as their longer-legged counterparts, Munchkin cats still hop and climb and enjoy scratching posts, window perches, and shorter cat towers to help them reach new heights.
3. Nutritious Diet
Munchkin cats are obligate carnivores like all cats, which means their digestive systems have trouble processing grains or gluten. Providing your Munchkin cat with a high-quality, high-protein food, whose first ingredient is meat is an easy way to help them stay healthy. Some veterinarians recommend wet food only, but wet or dry food will work as long as it is good quality and has minimal ingredients. You can also provide a few crunchy treats, some of which have the additional benefits of helping keep your cat's teeth clean.
4. Love and Affection
One of the reasons Munchkin cats are such a popular breed, aside from their cute appearance, is how generally friendly and loving they are. They love to interact with people and will often delight their owners during playtime by scurrying after toys in a way that is reminiscent of the side-to-side movement of a ferret, or even sometimes sitting up on their haunches like a rabbit.
5. Share the Wealth
Aside from their distinctive appearance, Munchkin cats have another interesting trait that sets them apart from other cat breeds: they're hoarders. Munchkin cat owners report that they often find jewelry and small, shiny objects missing, only to discover that their cat is the culprit, stashing a hoard of trinkets somewhere in the house. So, if you want to keep your jewelry safe, ensure it's somewhere high and out of reach and provide your Munchkin cat with plenty of shiny alternatives, like foil crinkle balls or tinsel pom pom cat toys.
Conclusion
Suppose you own a Munchkin cat and are worried about the cost of health issues down the road. In that case, cat insurance can help give you peace of mind that you will be able to provide the best veterinary care for your beloved companion, regardless of your financial circumstances, should they become sick or injured at any time. Picking a cat insurance policy may seem confusing at first due to the wide range of insurance providers out there who offer a lot of different plans, but if you focus on what you think you will need, based on your specific Munchkin cat, you will be able to pick the best plan for you. Simply paying the monthly premium, maybe even using an auto-pay option, will keep your coverage active, so it's there when you need it.
After extensive research, we conclude that Lemonade pet insurance offers the best cat insurance policy at the lowest monthly for Munchkin cats.
SwiftScore Ranking Methodology for Munchkin Cats
We ranked the best pet insurance policies for Munchkin Cats based on a variety of important factors including the following:
Average monthly price for a 2-year-old Munchkin Cat with a $500 deductible located in the 90210 zip code
Coverage and benefits
Key policy details including accidents and illnesses, surgeries, annual check-ups, cancer treatment, lab tests, and more
AM Best rating of the underwriter
Reimbursement percentage
Annual benefit amount
Technology and user experience

Ease of sign up

Policy language clarity
User reviews
Other state dog insurance resources
Alabama | Alaska | Arizona | Arkansas | California | Colorado | Connecticut | Delaware | Florida | Georgia | Hawaii | Idaho | Illinois | Indiana | Iowa | Kansas | Kentucky | Louisiana | Maine | Maryland |
Massachusetts | Michigan | Minnesota | Mississippi | Missouri | Montana | Nebraska | Nevada | New Hampshire | New Jersey | New Mexico | New York | North Carolina | North Dakota | Ohio | Oklahoma | Oregon | Pennsylvania | Rhode Island | South Carolina | South Dakota | Tennessee | Texas | Utah | Vermont | Virginia | Washington | West Virginia | Wisconsin | Wyoming