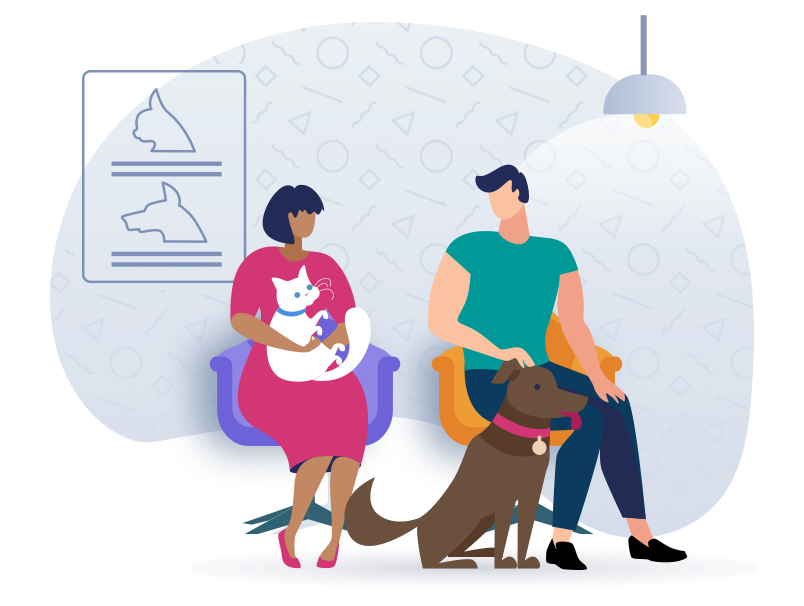 Top Mastiff Pet Insurance Scored, Ranked & With Cost
Use our below table to quickly compare the best Mastiff pet insurance, providers. The average monthly specific prices shown are based on a healthy 2-year-old Mastiff with a $500 deductible and 90% reimbursement amount who is located in California with a 90210 zip code. Costs may vary based on age, location, and the coverage amount. Prices are accurate as of January 2023 and are subject to change. For the most up-to-date information, please visit the provider website.
---
Mastiff Pet Insurance FAQs
What is dog insurance? How is it useful for Mastiffs?
Protecting your dog with insurance requires you to apply for coverage with your preferred insurance company and pay the monthly premiums to keep the policy active. If your little pal becomes sick or has an accident, you will need to pay the vet bill in full at the time of service. Then, you may submit a claim to your provider for reimbursement. Keep in mind that most insurance companies do not extend coverage to pre-existing conditions, which is why we recommend getting dog insurance while your canine is still a puppy (8 weeks to 1 year).

Dog insurance is beneficial for Mastiffs because, like most dogs, they inevitably face health emergencies at some point in their lives. After all, treatments for diseases such as cancer can exceed $10,000. Uninsured pet owners often face the devastating reality of putting their beloved dogs down because they cannot afford the procedures and care required. Insurance eliminates this heartbreaking possibility.
What are the age requirements to get my Mastiff insured?
Most pet insurance companies do not have age limits for getting your dog insured. They do, however, require that your puppy be at least 8-weeks-old before you can put a policy in place. Keep in mind that younger animals usually receive better rates, which is why we encourage pet owners to get dog insurance before their pup turns 1-year-old.

An exception to the conventional pet insurance model is Pawp. Pawp protects a household of up to 6 pets of any age under an "Emergency Fund" for a $24/month flat fee. Be aware that this "Emergency Fund" covers a single vet bill for one of your pets per year. The cap for this vet bill is set at $3,000. An extra perk Pawp offers is telehealth and pet expert consultations.
Is it worth it to get Mastiff dog insurance? What are some common reasons for claims?
Mastiffs are some of the largest dogs out there, but don't let their sturdy frame fool you. There are numerous hereditary ailments from which this breed is known to suffer.

One major condition is known as pulmonic stenosis. This is when a dog is born with an unnaturally narrow pulmonic valve in its heart. Echocardiography and angiography are common tools used for diagnosis. Should your Mastiff have a severe case of pulmonic stenosis, you can expect to spend up to $10,000 for surgery.

Another common condition found in this breed is hip dysplasia. Hip dysplasia occurs when the ball and socket joint of the hip does not develop normally. This results in the bone and cartilage grinding down and severe arthritic pain. Many Mastiff owners find their dog would benefit the most from hip replacement surgery to guarantee a high quality of life. This type of operation can easily cost $7,000 or more.

These are only two conditions you may encounter with your Mastiff, but others include cataracts, entropion, hypothyroidism, and more. Dog insurance would guarantee your Mastiff the veterinary care they deserve while affording you the time and energy to focus your attention on them instead of fretting about the financial side of things.
What does dog insurance include and exclude?
This varies from one provider to the next, but as a general rule, coverage will be extended to any health-related event that is "sudden and catastrophic." Some examples may include swallowing a non-food item, infections, urinary blockages, skin issues, and more. However, suppose your dog has an ailment or illness before getting an insurance policy in place. In that case, it will be labeled a pre-existing condition and will not be eligible for reimbursement. Another aspect of dog insurance is "wellness" packages, which you can purchase alongside your basic policy as a bonus. Such packages cover preventative measures such as vaccinations, heartworm detection and prevention, and physical exams.
How does the reimbursement process work?
For hypothetical purposes, let's imagine you have a dog insurance policy with a $250 deductible, a 90% reimbursement rate, and a $20,000 annual maximum benefit. If your dog needed a $10,000 emergency surgery, the insurance provider would reimburse you $9,000 less the $250 deductible. Therefore, the final cost to you would only be $1,250 instead of the $10,000 total bill. Should the idea of footing the entire bill up front and waiting for reimbursement stress you out, you may like Trupanion. Trupanion pays vets in their network directly, unlike conventional pet insurance companies, so you don't have to worry about it.
Is a higher or lower deductible better?
The answer is not as cut and dry as some may hope. The deductible you choose will be specific to your financial circumstances and personal preference. Should you choose a lower deductible, you can expect higher monthly payments but lower out-of-pocket costs in the event of a catastrophe. The reverse would apply to higher deductibles. You need to run the numbers and see what best suits your circumstances. Many pet insurance providers have calculators you can use when requesting a quote. That said, we have noticed most dog owners prefer either a $250 or $500 deductible.
5 Useful Strategies for Keeping Your Mastiff Safe & Healthy
Mastiffs are some of the most gentle and calm dogs you could add to your family. While they may seem very relaxed, there is still plenty to consider when caring for dogs of this breed.
1. Exercise your Mastiff daily
Mastiffs can seem happiest when lounging on the sofa with their owners, but their mental and physical well-being depends on regular exercise. Otherwise, they run the risk of quickly becoming overweight. Keep your Mastiff's exercise moderate, avoiding anything that involves too much strain on their joints or causes them to overheat (excessive running or jumping). Twice-daily walks are the perfect way to ensure your Mastiff stays fit, healthy, and happy. And don't forget playtime!
2. Clean your Mastiff's face twice per day
While Mastiffs' grooming needs are relatively low-maintenance, their faces need regular washing. With a warm, damp cloth, wash around your Mastiff's eyes. Remove any goo that has accumulated, and then wash between their skin folds and around their mouths. Finally, wipe away any remaining moisture with a warm, dry cloth. Moisture buildup between skin folds can lead to infections and open wounds. Also, their excessive drooling may cause a bacterial buildup around the jawline, which is why regularly wiping this area down is essential. By taking a few minutes to do this each morning and evening, you'll drastically improve your Mastiff's quality of life.
3. Maintain a regular, simple grooming routine
Mastiffs are very low maintenance when it comes to grooming. Brush them daily with a firm bristle brush or pet grooming gloves. Doing so will reduce any accumulation of dead hair and dust and also stimulate your dog's skin.

The good news is that Mastiffs only need to be bathed once every 6 to 8 weeks. Mastiffs prefer gentle, warm water baths. Always avoid cold or hot water. Make sure you use dog-specific shampoo and other hygiene products as their human equivalents are toxic for dogs.

Clip their nails once per month, or sooner, if you hear them clicking on the floor. Ask your veterinarian for guidance on how to cut their nails appropriately. Leaving nails to grow too long can cause health problems, including an irregular gait, and can be painful for your Mastiff. And lastly, learn from your veterinarian how to appropriately clean your Mastiff's ears.
4. Brush their teeth daily
Dental disease is a serious problem amongst this breed. Dental disease in dogs can result in chronic pain, tooth and gum loss, along with kidney, liver, and heart issues. Therefore, you must brush your Mastiff's teeth daily–twice daily, if you so choose. Daily brushing will prevent tartar and plaque from building up and reduce the potential for cavities and infections. Once you get your Mastiff used to a brushing routine, they will love it and all the attention that comes with it.
5. Train your Mastiff young
Mastiffs are known for being stubborn. You can root much of this stubbornness out by training them as young as possible. This breed responds best to short 15-minute (or less) training sessions. Your goal is to train your Mastiff how you want them to behave at home and outside the home. Be consistent with your commands and the tone you deliver them with, use a reward system, and remember not to be harsh with them. Sharp or severe treatment will send them into shutdown mode and may even bring out their stubborn streak.
Conclusion
As you can see, choosing the best dog insurance for your adult or juvenile Mastiff is far more straightforward than you may have thought. My team and I suggest getting dog insurance when your puppy is more than 8 weeks old. The earlier you do so, the better the rates and the fewer restrictions you will have for pre-existing conditions. That said, purchasing insurance at any point in your dog's life will prove helpful when it comes to treating emergencies and promoting wellness.
Ready to get started? After countless hours of research, we've found that Lemonade pet insurance consistently performs the best with the lowest monthly premiums.
SwiftScore Ranking Methodology for Mastiffs
We ranked the best pet insurance policies for Mastiffs based on a variety of important factors including the following:
The average monthly price for a 2-year-old Mastiff with a $500 deductible located in the 90210 zip code (Please note: prices will vary greatly based on your location)
Coverage and benefits
Key policy details include accidents and illnesses, surgeries, annual check-ups, cancer treatment, lab tests, and more
AM Best rating of the underwriter
Reimbursement percentage
Annual benefit amount
Technology and user experience

Ease of sign up

Policy language clarity
User reviews
See dog insurance prices in your state
Alabama | Alaska | Arizona | Arkansas | California | Colorado | Connecticut | Delaware | Florida | Georgia | Hawaii | Idaho | Illinois | Indiana | Iowa | Kansas | Kentucky | Louisiana | Maine | Maryland | Massachusetts | Michigan | Minnesota | Mississippi | Missouri | Montana | Nebraska | Nevada | New Hampshire | New Jersey | New Mexico | New York | North Carolina | North Dakota | Ohio | Oklahoma | Oregon | Pennsylvania | Rhode Island | South Carolina | South Dakota | Tennessee | Texas | Utah | Vermont | Virginia | Washington | West Virginia | Wisconsin | Wyoming