7 Best
Manx Cat Insurance

Plans Compared in 2023

Updated on by Matthew H. Nash – Licensed Insurance Agent

If you see a very round cat with a thick coat and no tail, you are probably looking at a Manx cat. This unique breed originated on the Isle of Man in the Irish Sea. The Manx cat's "tailessness" is a dominant gene mutation. The genetic mutation likely spread among the cats on the Isle of Man over centuries. Today, the genetic abnormality continues to give the breed its special look, but, unfortunately, it also means that Manx cats are susceptible to several related health issues. Manx cats' shorter spines sometimes fail to provide proper nerve and muscle endings. In fact, in the first four months of life, owners should especially watch their cats for signs of arthritis, weak hindquarters, nerve problems, and spina bifida, which is a general term for conditions where the spinal column doesn't form properly.

Even if your Manx cat does not suffer from any of these breed-specific issues, all cats get sick with various illnesses, ranging from mild to serious. Proper veterinary care for your feline companion is one of the most important ways that you can care for them. Purchasing cat insurance can be a great idea, especially if you think your Manx cat might need expensive veterinary care in the future. In this article, I've included information that I hope you'll find helpful, using my cat ownership and insurance license as a guide. Read more about our unbiased ranking methodology and advertiser disclosure.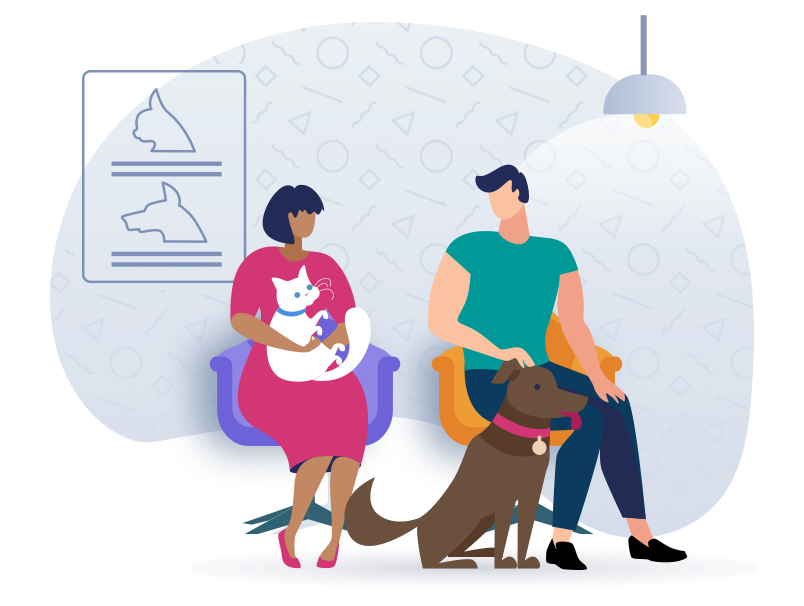 Top Manx Cat Insurance Scored, Ranked & With Cost
Use our below table to quickly compare the best Manx Cat insurance providers. The average monthly specific prices shown are based on a healthy 2-year-old Manx Cat with a $500 deductible and 90% reimbursement amount who is located in California with a 90210 zip code. Costs may vary based on age, location, and the coverage amount. Prices are accurate as of January 2023 and are subject to change. For the most up-to-date information, please visit the provider website.
---
Manx Cat Insurance FAQs
Do I need cat insurance for my Manx cat?
As mentioned previously, Manx cats can sometimes have spine and nervous system health issues, due to the genetic mutation that shortens their tail. "Rumpy" Manx cats, which refer to the cats with no tail, are most at risk for issues like spina bifida or arthritis. However, "rumpy risers," "stumpies," and "longies," which are Manx cats with a knob of a tail, a short kinked or curved stump, or a tail that is almost normal length respectively, can also be affected by these breed-specific issues. Since addressing these health concerns can run the gamut of medication, surgery, or physical therapy, it might give you peace of mind to enroll your Manx in cat insurance, which can help cover some of the financial costs of veterinary care. Although your insurance plan might not cover all your costs completely, it might at least cover a significant portion.

Aside from health concerns specific to Manx cats, any cat can be subject to common feline sickness like urinary tract infections or respiratory viruses. Also, since Manx cats are known to like high perches and to be excellent jumpers, there is always the possibility of an injury that might require veterinary care. Having good cat insurance coverage in place before any of these issues comes up gives you the best chance to provide veterinary care for your furry friend without worrying about breaking the bank.

Once you pick the best plan for your needs, just pay the monthly premium to make sure your coverage is available when you need it. Reimbursement will depend on which plan you choose and what services are covered. Your insurance provider will determine the correct amount you're eligible to receive, taking the guesswork out of it for you.
When is the best time to enroll my Manx cat in cat insurance?
Coverage for most kittens starts around 8 weeks, or, the age at which most kittens are weaned and adopted. The first four months of your Manx cat's life are crucial to ensure they are healthy. Although spine and nervous system issues are often obvious in kittens, spina bifida can also be symptomless and only discovered incidentally to treatment for other conditions such as limping, incontinence, and weakness in the hind legs. Diagnosis requires a veterinary exam, x-ray, and MRI scans. Enrolling your Manx cat in cat insurance as quickly as possible is a great idea, so your plan and coverage are already in place before you even need them.
What type of coverage should I look for?
Many good pet insurance providers on the market offer a wide range of coverage. Although each insurance plan is different, in general, most plans cover veterinary care for common, unexpected illnesses or injuries. Since some spine and nervous system issues specific to Manx cats sometimes require frequent veterinary monitoring, antibiotics, diagnostic procedures like x-rays or MRIs, or even surgery or physical therapy, looking for insurance coverage for these types of care is probably a good idea.

Veterinary care for pre-existing conditions is often excluded, so enrolling your Manx cat in cat insurance, especially within the first four months of life, is a good idea.
Does my vet need to be "in-network" with my insurance plan?
Unlike many health insurance plans for people, pet insurance is based on a reimbursement model. Your vet does not need to be "in-network" with your insurance provider. Under the reimbursement model, you pay your veterinarian upfront for services rendered. Then submit a reimbursement request to your insurance provider. The insurance provider reviews the bill and reimburses you based on your selected plan coverage.
Does it matter what type of deductible I choose?
Given your Manx cat's potentially significant health issues, an insurance plan with a low deductible might make sense, even if your monthly premium is a little bit higher. If that type of plan doesn't make sense for your current finances, you will also find plans with a high deductible and lower monthly premium, or even a plan with no deductible. Every plan has advantages and drawbacks, and there is no right or wrong answer. Just choose the coverage and plan that makes the most sense for your needs.
5 Useful Strategies for Keeping Your Manx Cat Safe & Healthy
Once you've enrolled your Manx cat in the cat insurance plan of your choice, the following are some additional tips to provide the best life possible for your feline friend. Manx cats can live as long as 10 to 14 happy, healthy years given the proper care.
1. Frequent Grooming
Manx cats can be either shorthair or longhair and all have a dense, plush double coat. A double coat means they have an extra layer of fur that gives them additional warmth and protection. Unfortunately, a double coat also means shedding, especially with longhair Manx cats. Weekly grooming is non-negotiable, but daily grooming is ideal to limit shedding and hairballs.
2. Two's Company
The Manx is an easygoing, highly-sociable breed. They love people. In fact, they will often jump in your lap as soon as you sit down. They like other cats, too. Left alone too much, they will likely get into trouble, since they have been known to use their paws to open cabinets. So, if you're able, it might be a good idea to have at least two cats if you have a Manx cat.
3. Nutritious Diet
Obesity can be a danger for all cats, but Manx cats seem especially prone to overeating. Their diet should include fish oils and omega-3 fatty acids to help keep their thick coats healthy. Also, all cats need to eat meat. So, buying cat food where the first ingredient listed is meat is important to maintain optimum health. Either wet food or dry food will work, but Manx cats do not like chilled food, so you might have to warm up canned food. Your veterinarian might be able to suggest some good, high-quality brands of cat food and give you recommendations on how much to feed daily.
4. Water Works
Maybe it stems from their island ancestry, but Manx cats enjoy the water. Many Manx cat owners quickly discover that their pet can learn how to turn on the faucet with its paws. They love to play in sinks or their water bowls, which can be very messy. However, investing in a cat drinking fountain might satisfy their urge for running water while also encouraging them to drink and keeping them out of the kitchen or bathroom sink. Just buy a good waterproof mat to keep under the fountain.
5. Hit The Road
For hundreds of years, sailors used Manx cats in the Irish Sea to help keep their ships rodent-free. A love of adventure stemming from those early seafaring days may have been passed on to the Manx cats of today, who seem to love to travel. They make great companions on car rides and cross-country RV trips. Their high trainability means that you can train them to walk with a harness and leash, which is essential to keeping them safe on the road. Also, don't forget that they are great jumpers and "handy" with their paws, so keep an eye on them when away from home to keep them safe and out of trouble.
Conclusion
The Manx cat is a wonderful, loving breed with many unique traits. If you are worried about the cost of health issues down the road, though, it's never too early to enroll your beloved companion in cat insurance. Cat insurance can help ease your mind about your ability to provide the best veterinary care for your feline friend, regardless of your financial circumstances. Picking a cat insurance policy from the many options available may seem daunting or confusing at first. It might be helpful to focus first on what you think you will need, based on the health of your specific Manx cat, as well as thinking about issues specific to the breed, and then just pick the best plan for you. Paying the monthly premium is all it takes to keep your coverage active.
After extensive research, we conclude that Lemonade pet insurance offers the best cat insurance policy at the lowest monthly for Manx cats.
SwiftScore Ranking Methodology for Manx Cats
We ranked the best pet insurance policies for Manx Cats based on a variety of important factors including the following:
Average monthly price for a 2-year-old Manx Cat with a $500 deductible located in the 90210 zip code
Coverage and benefits
Key policy details including accidents and illnesses, surgeries, annual check-ups, cancer treatment, lab tests, and more
AM Best rating of the underwriter
Reimbursement percentage
Annual benefit amount
Technology and user experience

Ease of sign up

Policy language clarity
User reviews
Other state dog insurance resources
Alabama | Alaska | Arizona | Arkansas | California | Colorado | Connecticut | Delaware | Florida | Georgia | Hawaii | Idaho | Illinois | Indiana | Iowa | Kansas | Kentucky | Louisiana | Maine | Maryland |
Massachusetts | Michigan | Minnesota | Mississippi | Missouri | Montana | Nebraska | Nevada | New Hampshire | New Jersey | New Mexico | New York | North Carolina | North Dakota | Ohio | Oklahoma | Oregon | Pennsylvania | Rhode Island | South Carolina | South Dakota | Tennessee | Texas | Utah | Vermont | Virginia | Washington | West Virginia | Wisconsin | Wyoming