7 Best
Komondor

Pet Insurance Plans Compared in 2023

Updated on by Matthew H. Nash – Licensed Insurance Agent

Sometimes known as the Hungarian Sheepdog, the Komondor breed has guarded flocks in Hungary from predators and thieves for over a thousand years. Although U.S. breeders recognized the breed in 1937, imports from Hungary stopped after World War II and then the Cold War, and the Komondor breed almost died out. In 1962, U.S. and Hungarian breeders revived the breed. With its unmistakable white corded coat, the Komondor is an exceptionally large breed, with males reaching a minimum of 27.5 inches. As with other large breeds, Komondor dogs do have some breed-specific health issues, including bloat/gastric dilatation-volvulus (GVD), entropion, and hip dysplasia. Veterinary treatment for these issues often includes medication and sometimes costly surgery. Even if your Komondor dog is completely healthy and never subject to any of these health concerns, any dog can experience periodic bouts of unexpected common illnesses or can become injured, requiring additional veterinary care that can start to add up. Many dog owners enroll their pets in dog insurance to help offset some of these costs. The following article discusses general dog insurance and provides some breed-specific tips about grooming and feeding your Komondor dog. As you begin your research into pet insurance options, I hope you find some helpful information here. Read more about our unbiased ranking methodology and advertiser disclosure.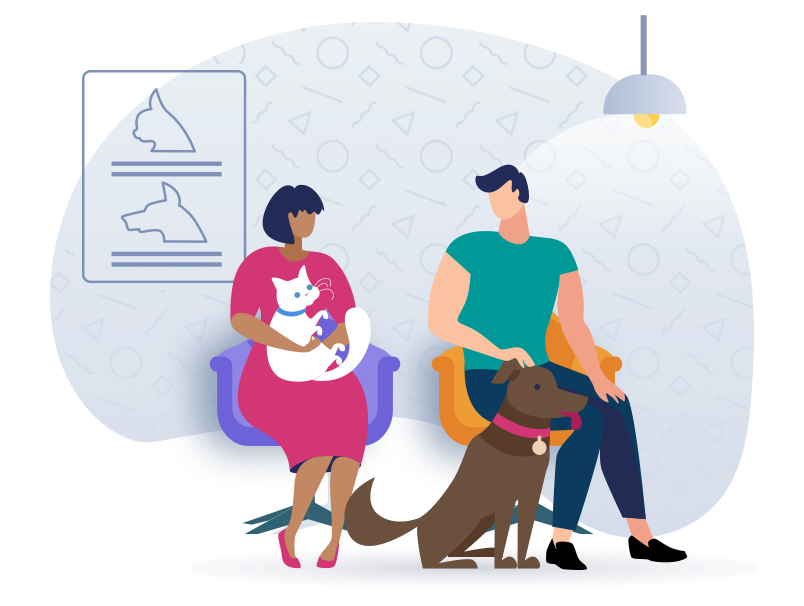 Top Komondor Pet Insurance Scored, Ranked & With Cost
Use our below table to quickly compare the best Komondor pet insurance providers. The average monthly specific prices shown are based on a healthy 2-year-old Komondor with a $500 deductible and 90% reimbursement amount who is located in California with a 90210 zip code. Costs may vary based on age, location, and the coverage amount. Prices are accurate as of January 2023 and are subject to change. For the most up-to-date information, please visit the provider website.
---
Komondor Pet Insurance FAQs
How can dog insurance help my healthy Komondor dog?
Unfortunately, even the healthiest dog, regardless of breed, can sometimes come down with an ear infection or dental disease, or suffer from an unexpected injury. For Komondorok (the plural of Komondor) specifically, potentially serious conditions like GVD, entropion, and hip dysplasia can lead to expensive medications and surgeries, so having a good dog insurance plan could end up saving you thousands of dollars. Many dog insurance policies offer coverage for medicine and surgery but also for diagnostic procedures like x-rays and preventative care like dental cleaning, among other things, which is helpful for any dog.
At what age should I enroll my Komondor puppy?
If you followed breeder and veterinarian recommendations, you probably waited until your Komondor puppy was at least eight weeks old before bringing him home. In keeping with this common practice, many dog insurance providers also wait until a puppy is at least eight weeks old to start coverage, however, you should always check with your chosen provider to make sure your dog meets any specific age requirements they might have.
What are some common issues for the Komondor breed? Are there specific procedures I should ensure my insurance plan covers?
As mentioned previously, the Komondor breed can face some health issues known to affect large dog breeds. GVD is a serious medical condition in which the stomach expands with gas, fluid, or food and then rotates, trapping gas and preventing blood flow. Your veterinarian might diagnose GVD through a physical exam, an x-ray, and a blood test and will likely treat your dog with medication and surgery.

With entropion, an ocular condition where the eyelids roll inward, irritation to the eye's surface results from eyelashes rubbing on the cornea. Left untreated, serious damage to the surface of the eye can occur. Treatment for entropion involves medication or surgery.

Hip dysplasia occurs when the hip joint is not properly developed, which leads to looseness in the joint and the wearing down of cartilage. This condition can be diagnosed via physical exam and x-ray and is usually treated with anti-inflammatory medication, physical therapy, and surgery.

Keeping these breed-specific health conditions in mind, finding a dog insurance plan that covers certain diagnostic procedures like x-rays and blood tests; medication; physical therapy; and surgery is recommended.

Enrolling your Komondor dog as soon as possible is a good idea because most dog insurance plans, similar to health insurance plans for people, exclude coverage for pre-existing conditions.
How do I use my dog insurance if I need it?
Since dog insurance works on a reimbursement model, all you need to do is take your Komondor dog to the veterinarian, pay your veterinarian directly, and then send in a reimbursement request to your insurance provider. The plan you choose will determine the amount of reimbursement you receive, based on coverage and rates.
Is a high deductible plan better than a low deductible plan?
Like other types of insurance, dog insurance plans can have a high deductible, a low deductible, or sometimes no deductible. There is no right or wrong plan; the type of deductible you choose is up to you and should be based on your circumstances. For instance, if you have a young, healthy Komondor, you might choose a higher deductible plan because those usually come with a lower monthly premium. On the other hand, if you are worried about some of the breed-specific issues discussed above, you might be interested in a lower deductible plan.
5 Useful Strategies for Keeping Your Komondor Dog Safe & Healthy
With an average lifespan of 10 to 12 years, Komondorok are strong, loyal dogs who can sometimes have an independent streak. The following tips on grooming, nutrition, training and socialization, exercise, and love and affection might help you make the most of your time with your Komondor dog:
1. Grooming
The distinctive, corded white coat of the Komondor breed doesn't shed very much but does require a bit of extra work to maintain. Komondor puppies' coats begin to cord when the dogs are between eight months and a year old. Once the hair is corded, dog owners must be careful to separate the cords regularly to maintain the appearance. The cords should not be brushed out but should be separated by hand, which is easy to do, every few months. In addition to separating the cords, Komondor dogs' coats should be washed regularly with shampoo since they are known to attract dirt and debris, which can lead to foul odors. Always be sure to rinse the shampoo out completely and then dry the coat thoroughly by squeezing the cords with towels to avoid the coat smelling like mildew.
2. Nutrition
Although Komondorok are large dogs, you should be careful not to overfeed your puppy. Rapid growth due to overfeeding can sometimes result in hip dysplasia, so many owners of large-breed dogs choose specially formulated large-breed puppy food to avoid this problem. In addition, since bloat can sometimes be an issue for Komondor dogs, it's important to feed your dog twice a day to prevent overeating at a single meal. Always check with your veterinarian for recommendations of high-quality dog food and amounts to feed your Komondor dog to help him maintain a healthy weight. Obesity is a common problem for dogs, exacerbating hip dysplasia.
3. Training and Socialization
Because the Komondor breed was developed to guard flocks, these dogs tend to be extremely protective of their families and are often wary of all strangers. They might tend to bark or lunge at people or animals they perceive as threats. To minimize this tendency, starting obedience training and socialization of your Komondor dog as young as possible is crucial.

If possible, work with a breeder who raises Komondor puppies in their home, emphasizing socialization. You can continue socializing your Komondor dog throughout his life by taking him with you on outings and visits to friends and neighbors, introducing him to dog parks, and taking advantage of puppy socialization classes at pet stores. This early and frequent socialization and training will help him learn to recognize normal interactions versus what might truly be a threat.

Early training is also vital because this large breed eventually reaches a less manageable size, weighing between 60 to 100 pounds or more. You want to instill good habits while you can.
4. Exercise
As puppies, Komondorok are very active, but once they reach maturity around 3 years old, they are generally satisfied with a short walk or two daily or playing in a fenced-in yard. Due to their large size, this breed does best in a home with a large yard with a solid fence at least six feet high. Generally speaking, electronic fences don't work well with these dogs, since the shock doesn't provide enough deterrent.
5. Love and Affection
Komondorok are very gentle and affectionate dogs with their families and are good with children and other pets. It's important to supervise children playing with these dogs, to ensure the dogs don't misinterpret chasing and screaming to mean that "their" children are in danger from their friends or other pets, which might lead to aggressive behavior "protect" them. Obedience training and socialization should help your Komondor dog to recognize the difference between friendly play and danger.

Given their size, you might think Komondor dogs should be kept outside. However, because these dogs are devoted to their families, they should be inside with you when you are home, rather than isolated outdoors.
Conclusion
Providing your Komondor dog with shelter, food, lots of love and attention, and regular veterinary care will help ensure the best life possible for your beloved companion. Although your individual dog might be extremely healthy, if he does develop any breed-specific medical conditions that require additional care, including surgery, you might be faced with costly veterinary bills. Rather than worrying about your ability to pay for treatment, surgery, or medication that your dog might need, consider enrolling in a good dog insurance policy. Doing so could end up saving you thousands of dollars.
After extensive research, we conclude that Lemonade pet insurance offers the best dog insurance policy at the lowest monthly price for the Komondor. Look through their plan options, keeping in mind the type of coverage you think might be helpful and your current finances. Pick what works best for you, and enroll your dog. Keeping your coverage active is as simple as paying your monthly premium to ensure your insurance is there when you need it.
SwiftScore Ranking Methodology for Komondors
We ranked the best pet insurance policies for Komondors based on a variety of important factors including the following:
Average monthly price for a 2-year-old Komondor with a $500 deductible located in the 90210 zip code
Coverage and benefits
Key policy details including accidents and illnesses, surgeries, annual check-ups, cancer treatment, lab tests, and more
AM Best rating of the underwriter
Reimbursement percentage
Annual benefit amount
Technology and user experience

Ease of sign up

Policy language clarity
User reviews
Other state dog insurance resources
Alabama | Alaska | Arizona | Arkansas | California | Colorado | Connecticut | Delaware | Florida | Georgia | Hawaii | Idaho | Illinois | Indiana | Iowa | Kansas | Kentucky | Louisiana | Maine | Maryland |
Massachusetts | Michigan | Minnesota | Mississippi | Missouri | Montana | Nebraska | Nevada | New Hampshire | New Jersey | New Mexico | New York | North Carolina | North Dakota | Ohio | Oklahoma | Oregon | Pennsylvania | Rhode Island | South Carolina | South Dakota | Tennessee | Texas | Utah | Vermont | Virginia | Washington | West Virginia | Wisconsin | Wyoming