6 Best
Keeshond

Pet Insurance Plans Compared in 2023

Updated on by Matthew H. Nash – Licensed Insurance Agent

Considered the national breed of the Netherlands, the Keeshond dog worked on barges up and down the Rhine River as far back as the 1800s both as a watchdog and companion to the barge captains. Eventually, the breed almost died out until Baroness van Hardenbroek took an interest in them and helped bring them back to popularity in 1920. This lively and affectionate breed tends to be extremely vocal, leading some owners to turn to surgery to have them debarked, but a more humane solution is to start training them at a young age to know when and how to stop barking. Unfortunately, barking is not the only issue of concern with Keeshond dogs; health conditions sometimes seen in the breed include hip dysplasia, patellar luxation, mitral valve disease, a group of heart defects known as Tetralogy of Fallot, thyroid problems, Addison's disease, progressive retinal atrophy, and skin and coat problems. Treatment for these issues can run the gamut of prescription medication, surgery, physical therapy, hormone therapy, and care from a veterinary opthamologist. Although your Keeshond dog may be completely healthy and never subject to any of these health concerns, all dogs can suffer periodically from unexpected illnesses or injuries, and veterinary care can become expensive. Many dog owners turn to dog insurance to help defray some of these costs. The information included in the following article covers general dog insurance and breed-specific tips about grooming and caring for your Keeshond. I hope you find some of the information helpful as you consider your dog insurance options. Read more about our unbiased ranking methodology and advertiser disclosure.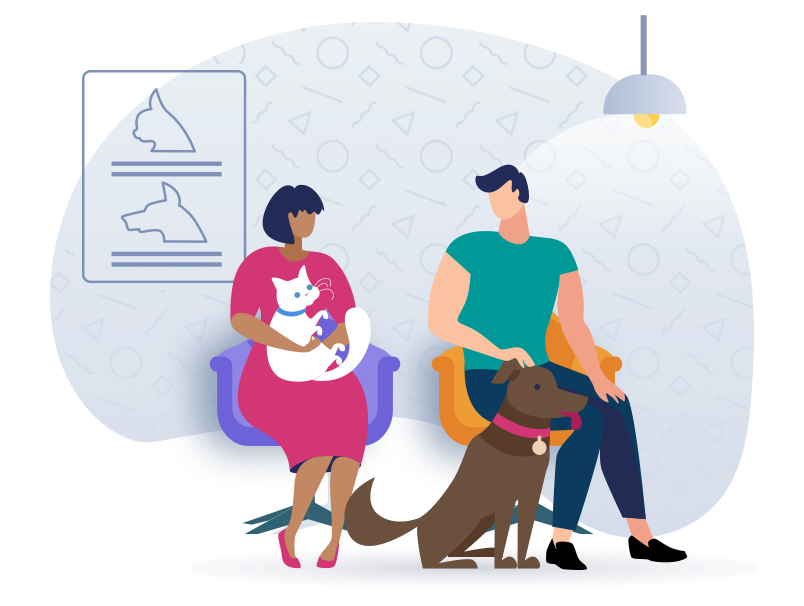 Top Keeshond Pet Insurance Scored, Ranked & With Cost
Use our below table to quickly compare the best Keeshond pet insurance providers. The average monthly specific prices shown are based on a healthy 2-year-old Keeshond with a $500 deductible and 90% reimbursement amount who is located in California with a 90210 zip code. Costs may vary based on age, location, and the coverage amount. Prices are accurate as of June 2023 and are subject to change. For the most up-to-date information, please visit the provider website.
---
Keeshond Pet Insurance FAQs
Should I buy dog insurance even when my Keeshond dog is healthy?
Even healthy dogs can face unexpected illnesses like ear infections or suffer injuries. Having some good, basic dog insurance in place is a good idea for all dog owners, regardless of the health or breed of their individual dog. In addition, treatment for many of the breed-specific health issues that can affect Keeshonds, such as joint issues like hip dysplasia and patellar luxation, heart issues like mitral valve disease and Tetralogy of Fallot, thyroid problems, Addison's disease, which occurs when the adrenal gland fails to make certain hormones, progressive retinal atrophy, and skin and coat problems, can include medicine, ongoing hormone therapy, or surgery, which can be expensive. Fortunately, many dog insurance policies offer coverage for medicine, diagnostic procedures like x-rays, surgery, and preventative care like dental cleaning, among other things. Therefore, enrolling your Keeshond dog is highly recommended even when he's healthy.
Will dog insurance cover my Keeshond puppy, or does my dog need to be older?
Many dog breeders and veterinarians recommend waiting until your puppy is between eight and ten weeks old before bringing him into your home. Based on this common practice, many dog insurance providers also wait until a puppy is at least eight weeks old before offering coverage. If your Keeshond puppy is less than eight weeks old, you can always check with your chosen insurance provider to see if their age requirements are different.
What specific procedures might I need to have covered for my Keeshond dog?
A dog insurance plan that covers certain diagnostic procedures like x-rays, ultrasounds, blood tests, urinalysis, and electrocardiogram could be helpful for your Keeshond dog because your veterinarian might use those methods when diagnosing hip dysplasia, patellar luxation, Addison's disease, hypothyroidism, mitral valve disease, and Tetralogy of Fallot issues. To treat these and other health issues, veterinary care will likely include medication, physical therapy, surgery, and ongoing hormone replacement therapy for thyroid issues and Addison's disease. Many insurance providers include these treatment options in their insurance plans. If you're not concerned about any of these breed-specific health conditions, enrolling in some good, basic coverage for treatment of unexpected illnesses or injuries, or preventative care like dental cleanings is a great idea.

Enrolling your Keeshond dog as soon as possible is recommended because most dog insurance plans, similar to health insurance plans for people, exclude coverage for pre-existing conditions, and some conditions like mitral valve disease and Tetralogy of Fallot can affect Keeshond dogs at a young age, typically within the first year of life.
Once I've enrolled, how do I use my dog insurance plan?
Dog insurance works on a reimbursement model, which means that you, as the dog owner, are responsible to pay your veterinarian directly for services rendered, and then your insurance provider will reimburse you for some of the costs, based on the plan you choose. In some ways, a reimbursement model is simpler since you don't have to find an "in-network" veterinarian, you don't have to present an insurance card, and you don't have to worry whether your veterinarian's office accepts your insurance. Whenever your Keeshond dog needs to visit your veterinarian, whether for a regular, annual check-up, for an injury, or for an unexpected illness, go to the veterinarian as usual, pay your bill as you normally would, and then submit a reimbursement request to your insurance provider. Your insurance provider will review your request, compare it to your plan's coverage and rates, and then send you the appropriate reimbursement amount.
What type of deductible is recommended for Keeshond dogs?
The type of deductible you choose is really up to you, and there is no right or wrong plan when it comes to deductibles. Depending on your finances and the health and age of your Keeshond dog, you may be more comfortable starting out with a higher deductible and a lower monthly premium, especially if your Keeshond dog is young and healthy or if your finances are tight. On the other hand, if you anticipate your Keeshond dog needing surgery or ongoing hormone therapy or medication, a lower deductible might be a better choice, even if it means you will likely pay higher monthly premiums.
5 Useful Strategies for Keeping Your Keeshond Dog Safe & Healthy
Keeshond dogs live an average of 13 to 15 years, and you want your dog to enjoy those years, living the happiest, healthiest life you can provide for him. The following tips on grooming, exercise, nutrition, etc., might help you make the most of your time with your Keeshond dog:
1. Grooming
You might guess that Keeshond dogs shed heavily with their fluffy appearance, and you would be right. In fact, their dense, long, fluffy coats have three layers – a thick double topcoat, a wooly undercoat, and a long outer coat. They definitely have a lot of hair, and need brushing three to four times a week during shedding seasons in spring and fall. The rest of the time, you can reduce shedding by brushing just once or twice a week, so the Keeshond dog's grooming needs are not as rigorous as some other breeds. In fact, you'll likely only need to spend about an hour caring for the coat each week, using a soft slicker brush on the cottony puppy coat, and then a pin brush and stainless steel comb when your Keeshond gets older. You might also invest in a good pair of shears or scissors for trimming the hair on the feet or take it to a groomer when necessary. Under no circumstances should you shave your Keeshond dog's coat since it provides insulation from the heat and cold.
2. Nutrition
Depending on their size, your Keeshond dog will most likely do well with one to two cups of high quality food per day, distributed evenly in two meals. Your veterinarian should be able to provide you with recommendations for brands of dog food, whether dry or wet food is better for your dog, and amounts to feed your dog to maintain a healthy weight. Overfeeding your dog or providing too many treats or table scraps could lead to obesity, which results in other health issues for dogs.
3. Barking
Originally developed to be used as watchdogs on barges in the Netherlands, the Keeshond dog is known for its loud, sharp bark that scared away would-be robbers from the cargo. The Keeshond dogs of today have retained this trait, which can sometimes be problematic for owners and neighbors alike. As an alternative to surgery to debark your dog, work with a trainer, starting as early as possible, to train your puppy to know when barking is appropriate.
4. Exercise
Perhaps as a result of their history living and working on small barges, today's Keeshond dogs don't have high exercise requirements and can thrive in small homes, such as apartments or condos. Your dog will likely be satisfied with a couple short walks or one, longer walk a day. Due to their intelligence, however, your Keeshond dog would likely benefit from activities like agility sports, puzzles, and indoor games.
5. Love and Affection
Known by some as "velcro" dogs, Keeshond dogs are extremely loving and loyal and form close bonds with their families, getting along with kids, other pets, and strangers as long as their owners approve of them. This breed is ideal for owners who are often at home and don't travel a lot. In fact, if left alone for too long, they have been known to bark incessantly or engage in destructive behavior.
Conclusion
All dogs need shelter, food, and lots of love and attention. You provide all these to your Keeshond dog as well as regular veterinary care. If at any time your dog develops a medical condition known to affect these breeds, or suffers from an unexpected illness or injury, you might be faced with costly veterinary bills and might worry about your ability to pay for treatment, surgery, or medication that your dog might need. A good dog insurance policy could end up saving you thousands of dollars.
After extensive research, we conclude that Lemonade pet insurance offers the best dog insurance policy at the lowest monthly price for the Keeshond. Take a look at their plan options and pick what works best for you and your dog. To keep your coverage active, all you have to do is pay your monthly premium. Your coverage will be there whenever you need it, even in the case of an emergency, so you can rest easy and enjoy your time with your beloved companion.
SwiftScore Ranking Methodology for Keeshonds
We ranked the best pet insurance policies for Keeshonds based on a variety of important factors including the following:
Average monthly price for a 2-year-old Keeshond with a $500 deductible located in the 90210 zip code
Coverage and benefits
Key policy details including accidents and illnesses, surgeries, annual check-ups, cancer treatment, lab tests, and more
AM Best rating of the underwriter
Reimbursement percentage
Annual benefit amount
Technology and user experience

Ease of sign up

Policy language clarity
User reviews
Other state dog insurance resources
Alabama | Alaska | Arizona | Arkansas | California | Colorado | Connecticut | Delaware | Florida | Georgia | Hawaii | Idaho | Illinois | Indiana | Iowa | Kansas | Kentucky | Louisiana | Maine | Maryland |
Massachusetts | Michigan | Minnesota | Mississippi | Missouri | Montana | Nebraska | Nevada | New Hampshire | New Jersey | New Mexico | New York | North Carolina | North Dakota | Ohio | Oklahoma | Oregon | Pennsylvania | Rhode Island | South Carolina | South Dakota | Tennessee | Texas | Utah | Vermont | Virginia | Washington | West Virginia | Wisconsin | Wyoming