7 Best
Karelian Bear

Pet Insurance Plans Compared in 2023

Updated on by Matthew H. Nash – Licensed Insurance Agent

The Karelian Bear Dog is an eager hunter who is very independent. Congratulations on adding this amazing dog to your family as this rare Finnish breed is considered to be a national treasure in his home country. Your medium sized pup has a lifespan of 11-13 years. He's courageous, persistent and is one skilled hunter. Unfortunately, one thing your Karelian Bear Dog (KBD) can't escape are potential health issues that could have a major impact on his life. The cute dog, with the even cuter name, faces several potential issues that aren't necessarily different from what most other dogs face. Those issues include hip dysplasia, eye problems, such as cataracts, dental disease, infections and more. All of these health issues will require a lot of time with a veterinarian, along with a significant chunk of your wallet to cover the costs. This is where pet insurance can make bringing a dog like a KBD into your family much more affordable. Dog insurance will help you cover the health issues your Karelian Bear Dog may face throughout his lifetime. As a dog person myself, I'm here to help you navigate all of the pet insurance options that are out there and available to you and your Karelian Bear Dog. Read more about our unbiased ranking methodology and advertiser disclosure.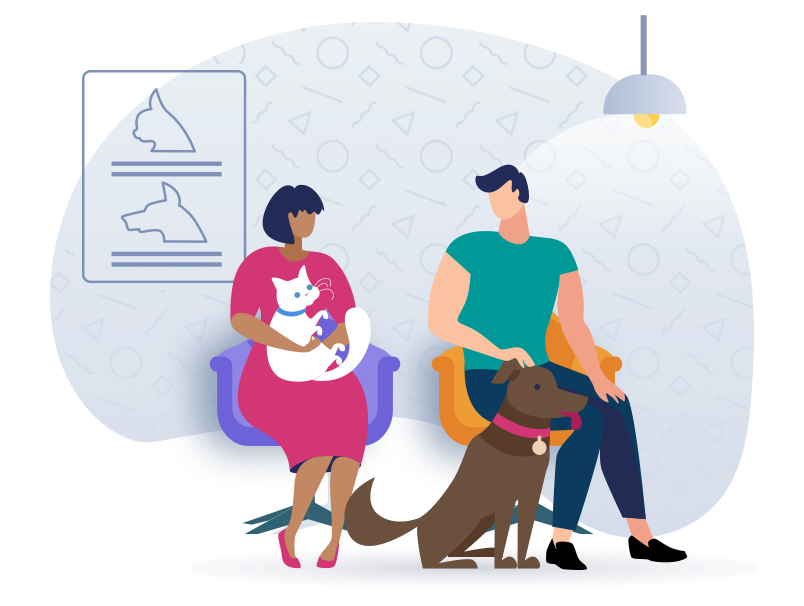 Top Karelian Bear Pet Insurance Scored, Ranked & With Cost
Use our below table to quickly compare the best Karelian Bear pet insurance providers. The average monthly specific prices shown are based on a healthy 2-year-old Karelian Bear with a $500 deductible and 90% reimbursement amount who is located in California with a 90210 zip code. Costs may vary based on age, location, and the coverage amount. Prices are accurate as of January 2023 and are subject to change. For the most up-to-date information, please visit the provider website.
---
Karelian Bear Pet Insurance FAQs
What is dog insurance and why is it useful for my Karelian Bear Dog?
Dog insurance is insurance you can purchase to protect your Karelian Bear Dog from any number of issues that may happen in his lifetime. It's important to include dog insurance as part of your overall support system for your pet as it helps make sure he can live a long and healthy life. To purchase dog insurance, you'll simply need to select a plan, then be sure to make the required monthly payments as this is what will keep your policy active. If and when you need that extra support for your KBD, you'll submit the vet receipts to your insurance carrier who will then reimburse you for a portion of your bill.

Just as the name says, insurance is that extra layer of protection for your KBD when you're facing the unexpected. Your Karelian Bear Dog is hearty and doesn't have a long list of genetic health issues, but that doesn't mean he can escape the myriad of potential problems that all dogs face. Some issues are hip dysplasia, which is caused from an abnormal development of the hip joints, cataracts, a loss of vision due to cloudiness that can develop in the lenses of the eyes, dental disease, infections and more. Dog insurance will help fight these issues and keep him around and part of the family for as long as possible.
How old does my Karelian Bear Dog need to be insured?
Just like many insurance companies, pre-existing conditions typically are not covered, which is why it's important to purchase coverage sooner rather than later. Typically dog insurance providers will want puppies to be at least eight weeks old before starting a pet insurance policy, but you should think about starting the process of a policy for your KBD as soon as he's home with you. Pet insurance premiums are based on age, so the younger you can enroll your pup in a plan, the better.
What are common insurance claims for Karelian Bear Dogs?
It's a smart move to include pet insurance as part of your KBD's overall health budget. Some claims that could be part of his lifetime are hip dysplasia, which is caused from an abnormal development of the hip joints, and cataracts, a loss of vision due to cloudiness that can develop in the lenses of the eyes. Your KBD is also prone to infections, both bacterial and viral, and unfortunately your KBD is more likely than other dogs to be prone to dental disease. Remember, your KBD is also a very active dog, so there's always the risk of physical problems that have nothing to do with hereditary history, like a broken bone or torn muscle. These conditions will need ongoing medical treatment and monitoring by a veterinarian, so pet insurance is key to a happy and healthy Karelian Bear Dog.
What services for my Karelian Bear Dog are covered by dog insurance? What services are excluded from coverage?
Dog insurance coverage can be unique to each dog, it really depends on what kind of policy you purchase. Your policy can take care of a long list of issues such as surprise injuries or accidents. Pet insurance policies can also include surgery, medication, medical tests, emergency care and exam fees. Some dog insurance plans will also cover hospitalizations and preventative care.

There are also issues that may be excluded in your plan. As mentioned previously, most dog insurance policies will not cover the cost of care for pre-existing conditions, which is why it's so important to enroll your KBD in a policy as soon as possible.
How does reimbursement work?
You are responsible to pay your dog's medical bill upfront, unless you have a very talented dog who can pay his own bills (which of course would be awesome). You'll then need to submit the vet bill for reimbursement to the insurance provider and they will pay you back a certain percentage of that bill. Based on your deductible and reimbursement rate, your insurance company will determine how much money you'll receive back.
Should I enroll in a high deductible or low deductible plan?
You can choose a high deductible plan, which means you'll have a low monthly payment, but expect to pay a higher amount in the deductible when it's time to use your policy. Choosing a lower deductible means you'll pay a higher monthly payment, but a lower deductible will be due during that time of a stressful emergency.
5 Tips for Keeping Your Karelian Bear Dog Safe & Healthy
Your KBD's coat looks and feels a lot like a Samoyed or Siberian Husky, but that's really where the similarities end. Your Karelian Bear Dog is rare and unique (in fact he got his name from his ability to hunt and track brown bears – moose and wild boar are also on that hunting list). Ensuring he has the best care is sure to be one of your top priorities. Here's a few more tips to make sure your KBD lives a long and happy life.
1. Regular Exercise
You already know that your Karelian Bear Dog is a hunting dog by nature who is also very social. He's a working dog who needs a job and prefers to be outside and needs plenty of space to run free. He needs lots of mental and physical stimulation. Those big-game hunting skills mean your KBD has an extremely sharp sense of smell and sense of direction, which translates to, when out exercising, and you're not hunting moose or bears, then your KBD should be on a leash to keep him from taking off after moving animals. He's really an amazing partner for sporty types who love the outdoors.
2. Training and Socialization
It's important to know that Karelian Bear Dogs have a unique temperament and they are naturally aggressive towards other animals. Your KBD will need deliberate socialization and early training if you plan to have multiple animals in the house. He'll alert you to the presence of any strangers or other animals that he doesn't know. Professional obedience training with your KBD is certainly a good idea. His nature is to be a tenacious, independent hunter, so know that he may be better off as your one and only pet.
3. Love and Affection
Karelian Bear Dogs tend to have very strong personalities. KBD's are very affectionate with their people, but can be aggressive with strangers. You've probably already learned that It's not uncommon for your KBD to develop a bond with their favorite person in the household.
4. Nutrition
Your Karelian Bear Dog will thrive with high quality dog food, which can be commercially manufactured or prepared at home. Remember, it's always important for dog food to be appropriate for your dog's age, such as puppy food for your little one and senior food for your aging pup. Work with your vet on which human foods are safe for your KBD and which should be avoided. Nutrition for your KBD is important as obesity can lead to significant health problems such as metabolic and digestive disorders, back pain, heart disease or can cause or worsen joint problems. Always be sure to have clean, fresh water available at all times.
5. Regular Grooming
With his Finnish origins, it's no surprise that your Karelian Bear Dog has a dense double coat, that was designed to keep him warm in cold, harsh conditions (even his ears are extra furry to protect from frostbite). With all of that fur, your KBD only requires a surprisingly simple grooming routine. In addition to the regular weekly grooming, the occasional bath will keep your KBD looking in his tip top shape. He also has fast growing nails that will need regular trimming or grinding to avoid over growth, splitting or cracking. Check those cute furry ears on a regular basis as well to avoid any wax buildup and debris, which can result in an infection. Brushing of those pearly whites is also a must.
Conclusion
The Karelian Bear Dog is a very unique canine, I mean how many people can actually say the breed of their dog is a BEAR DOG? A dog insurance policy is important to keeping your KBD as a member of your family for as long as possible. There are a lot of insurance options available and the enrollment processes can be confusing. All you have to do is select the best plan for you and your dog, pay the monthly premium, and then your Karelian Bear Dog is covered. There are many reasons that your KBD may need veterinary care. Having coverage means your pup can receive the necessary treatment without the stress of figuring out how you'll pay for it all.
After extensive research, we conclude that Lemonade pet insurance offers the best dog insurance policy at the lowest monthly price for the Karelian Bear.
SwiftScore Ranking Methodology for Karelian Bears
We ranked the best pet insurance policies for Karelian Bears based on a variety of important factors including the following:
Average monthly price for a 2-year-old Karelian Bear with a $500 deductible located in the 90210 zip code
Coverage and benefits
Key policy details including accidents and illnesses, surgeries, annual check-ups, cancer treatment, lab tests, and more
AM Best rating of the underwriter
Reimbursement percentage
Annual benefit amount
Technology and user experience

Ease of sign up

Policy language clarity
User reviews
Other state dog insurance resources
Alabama | Alaska | Arizona | Arkansas | California | Colorado | Connecticut | Delaware | Florida | Georgia | Hawaii | Idaho | Illinois | Indiana | Iowa | Kansas | Kentucky | Louisiana | Maine | Maryland |
Massachusetts | Michigan | Minnesota | Mississippi | Missouri | Montana | Nebraska | Nevada | New Hampshire | New Jersey | New Mexico | New York | North Carolina | North Dakota | Ohio | Oklahoma | Oregon | Pennsylvania | Rhode Island | South Carolina | South Dakota | Tennessee | Texas | Utah | Vermont | Virginia | Washington | West Virginia | Wisconsin | Wyoming