6 Best
Italian Greyhound

Pet Insurance Plans Compared in 2023

Updated on by Matthew H. Nash – Licensed Insurance Agent

Italian Grehyonds have been around for centuries with some examples being found in art dating back 2,000 years. With a lifespan of 12-15 years, the Italian Greyhound, or IG, is a healthy breed with few genetic issues, but there are some things that you'll need to be on the lookout for, namely Legg-Calve-Perthes disease, periodontal disease, hypothyroidism and some autoimmune problems. All of these issues mean you could be speeding a lot of time in a veterinarian's office, where costs will add up quickly. One way to save on those vet bills is with the help of pet insurance. As a licensed insurance agent, and big time dog fan, I am here to help you with all of the dog insurance options that are available to you and your IG. We may receive compensation when you click on the affiliate links below.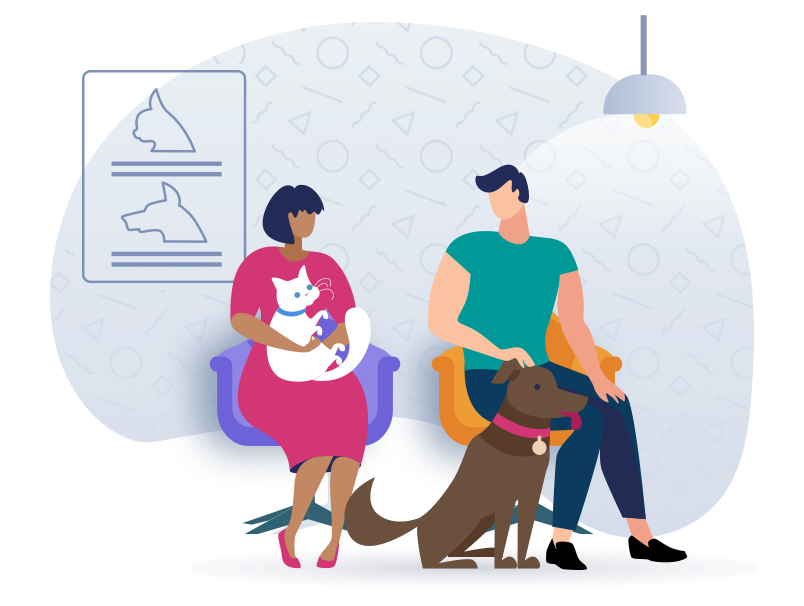 Top Italian Greyhound Pet Insurance Scored, Ranked & With Cost
Use our below table to quickly compare the best Italian Greyhound pet insurance providers. The average monthly specific prices shown are based on a healthy 2-year-old Italian Greyhound with a $500 deductible and 90% reimbursement amount who is located in California with a 90210 zip code. Costs may vary based on age, location, and the coverage amount. Prices are accurate as of January 2023 and are subject to change. For the most up-to-date information, please visit the provider website.
---
Italian Greyhound Pet Insurance FAQs
What is dog insurance and why is it useful for Italian Greyhounds?
Dog insurance is similar to medical insurance we use as humans, it helps cover the expensive cost of doctor/vet visits. While pet insurance may not cover the entire cost of your vet bill, it will save you a significant amount of money when it comes to the total percentage of what you will need to pay overall. Purchasing and utilizing dog insurance is simple, you'll need to select a plan, make the monthly payments to keep the policy active, and that's it. When needed, you'll submit receipts for reimbursement from your insurance provider.

Dog insurance is a key part of managing your Italian Greyhound's health as it will prepare you for anything that may pop up health wise with your beloved four-legged family member. While the IG is generally healthy, there are potential problems that may lead to issues, Legg-Calve-Perthes disease, periodontal disease, hypothyroidism and some autoimmune problems. Be sure to avoid hazardous situations that could lead to leg and tail fractures. You can bet even just one of these issues will need the help of an experienced veterinarian to manage and provide ongoing treatment, which inevitably equals a large vet bill. Purchasing a pet insurance policy means your Italian Greyhound will receive any necessary treatment without leaving your wallet in the dust.
How old does my Italian Greyhound need to be insured?
Your Italian Greyhound must be insured as soon as possible. Pet insurance providers will want puppies to be at least eight weeks old in order to begin insurance coverage, but you should consider enrolling your IG in a dog insurance policy the moment you bring her home for the first time. Most, if not all, pet insurance policies use the age of the pet to determine the premium, which means the younger you can enroll your puppy in a plan, the better.
What are common insurance claims for the Italian Greyhounds?
The Italian Greyhound has been around for a while, thousands of years really, and is generally very active and healthy. With all that history, there's a lot that is known about the genetic history of the IG, but that doesn't mean they're immune issues, including Legg-Calve-Perthes disease (a disease that occurs when not enough blood supply makes it to the ball portion of the hip-joint), periodontal disease, hypothyroidism and some autoimmune problems. Epilepsy and patellar luxation are also not out of the question. Plus, you need to watch out for hazardous situations that could lead to leg and tail fractures.
What services for my Italian Greyhounds are covered by dog insurance? What services are excluded from coverage?
Coverage for your Italian Greyhound under a dog insurance policy can take on many forms. You can plan on your IG policy to cover surprise injuries or accidents, we've already talked about the potential for broken bones with the Italian Greyhound. Coverage also typically includes surgery, medication, medical tests, emergency care and exam fees. Some dog insurance plans will cover hospitalizations and preventative care as well. Nearly any problem your IG may encounter in her lifetime, including infections or broken bones and strained muscles.

Excluded services also vary by plan, but in general, most dog insurance policies will not cover the cost of care for pre-existing conditions, which is why it's so important to enroll your Italian Greyhound in a policy as soon as possible.
How does reimbursement work?
As with many pet insurance policies, the dog person is responsible to pay the pet's medical bill upfront and then submit the vet bill for reimbursement to the insurance provider. Your Italian Greyhound insurance provider will then pay you back a certain percentage of that bill. Your insurance company will determine how much money you'll receive back based on your deductible and reimbursement rate.
Should I enroll in a high deductible or low deductible plan?
There are many pet insurance plans out there to fit any budget. Choose a high deductible plan, low deductible plan, and even a plan with no deductible at all. It just depends on you and your budget for your Italian Greyhound. Yes, there's lots of options and it can be very confusing, but that's where I come in to help you make sense of it all. The higher the deductible you pay means the lower your monthly payment, but that also means you'll pay a higher cost during those unexpected emergencies. You may not want to have to worry about costs when dealing with an emergency. If that's the case, then choosing a lower deductible plan may be the right course for you. That means you'll have a higher monthly payment, but less of a financial surprise during a stressful medical emergency.
5 Tips for Keeping Your Italian Greyhound Safe & Healthy
Enrolling your Italian Greyhound in dog insurance is one of the best ways to ensure that your IG will be given the best possible care, but there are also other ways to make sure that your pup is a member of your family for as long as possible.
1. Activity
Italian Greyhounds, no surprise, are a very active breed that need a lot of exercise… I mean just look at them. Their sleek look, short fur and thin frame just scream 'I'm fast.' Weighing between 7-14 pounds, the IG actually doesn't need a long walk, they are a small dog after all and will be just as happy on your lap as they will be playing games with the family, or even another dog. That said, walks are a good way to go. If you end up at the dog park, make sure there's a separate area for small dogs as the large dogs can be a hazard for this little breed. Even very well trained IGs should not be allowed off a leash while out and about in an unfenced area since small moving animals are a huge incentive for the IG to take off and run, possibly right into danger. One more thing to keep in mind, with her short fur, the IG is not a fan of the cold (this gives you an excuse to purchase one of those cute dog sweaters for the colder months).
2. Training
The Italian Greyhound, like many dogs, responds best to reward based training methods. Positive reinforcement goes a long way with this one, rather than negative punishment. It's important to be firm with commands and lavish your IG with praise when deserved. Keep in mind, the IG is smart, but she's also sensitive. She'll remember when she's been treated badly. She can hold a grudge and can definitely be stubborn.
3. Nutritious Diet
The Italian Greyhound will do well with high-quality dog food like all dogs. Read the ingredients and be sure the list includes some meat as the first ingredient, not a grain or by-product. The cutie is small, so it's easy for them to pack on the pounds quickly. Purchase food that is appropriate for your IG's age, such as puppy food for your little one and senior food for your older IG. It's always a good idea to work with your vet on your Italian Greyhound's diet to ensure she's at a healthy weight and getting the proper nutrition to keep her healthy. Clean, fresh water should also be available at all times.
4. Love and Affection
The Italian Greyhound is family friendly, and can form strong attachments with the human members of her family. Don't be surprised when she follows you around the house. She's the perfect size to play games in a fenced yard and will be more than happy to curl up with you on the couch while you catch up on some binge watching.
5. Regular Grooming
The good news with the Italian Greyhound is that grooming that short glossy fur is fairly straightforward. Occasional brushing to remove the dead hair is really all that's needed. The most important grooming tip for the IG is that her teeth need to be brushed regularly, really daily is best. A specialized dental cleaning by a vet should also be done about one a year, or as often as recommended by your veterinarian. Regular baths are not necessary, unless this little cutie gets into something she shouldn't of course. Her nails will need regular attention, with a grinding tool, this is where you may want to call in a professional groomer.
Conclusion
Planning and purchasing the right pet insurance plan for your Italian Greyhound is the best way to keep your pup healthy. The volume of insurance options available and the enrollment processes can be confusing, but that's why I'm here to help. You'll select the best plan for you and your IG, pay the monthly premium, and then your Italian Greyhound is covered. There's many reasons that your IG may need veterinary care. Having coverage means your pup will receive the necessary treatment without the stress of facing a financial pitfall.
After extensive research, we conclude that Lemonade pet insurance offers the best dog insurance policy at the lowest monthly price for the Italian Greyhound.
SwiftScore Ranking Methodology for Italian Greyhounds
We ranked the best pet insurance policies for Italian Greyhounds based on a variety of important factors including the following:
Average monthly price for a 2-year-old Italian Greyhound with a $500 deductible located in the 90210 zip code
Coverage and benefits
Key policy details including accidents and illnesses, surgeries, annual check-ups, cancer treatment, lab tests, and more
AM Best rating of the underwriter
Reimbursement percentage
Annual benefit amount
Technology and user experience

Ease of sign up

Policy language clarity
User reviews
Other state dog insurance resources
Alabama | Alaska | Arizona | Arkansas | California | Colorado | Connecticut | Delaware | Florida | Georgia | Hawaii | Idaho | Illinois | Indiana | Iowa | Kansas | Kentucky | Louisiana | Maine | Maryland |
Massachusetts | Michigan | Minnesota | Mississippi | Missouri | Montana | Nebraska | Nevada | New Hampshire | New Jersey | New Mexico | New York | North Carolina | North Dakota | Ohio | Oklahoma | Oregon | Pennsylvania | Rhode Island | South Carolina | South Dakota | Tennessee | Texas | Utah | Vermont | Virginia | Washington | West Virginia | Wisconsin | Wyoming