7 Best
Irish Wolfhound

Pet Insurance Plans Compared in 2023

Updated on by Matthew H. Nash – Licensed Insurance Agent

The Irish Wolfhound is an ancient breed of dog originating in Ireland. They were bred to hunt, namely wolves, but also deer, boar, and elk. Their stature is taller than any other breed, and males can weigh up to 180 pounds, making them a perfect companion for some. They are affectionate, calm, and loyal pets; however, Irish Wolfhounds have a relatively short lifespan, living an average of 6-8 years. Because of their massive size, they are predisposed to several health issues. Some of these conditions can become costly, making pet insurance a great choice for most pet owners! As a lifelong pet owner and licensed insurance agent, I am here to help you navigate the pet insurance process. Read more about our unbiased ranking methodology and advertiser disclosure.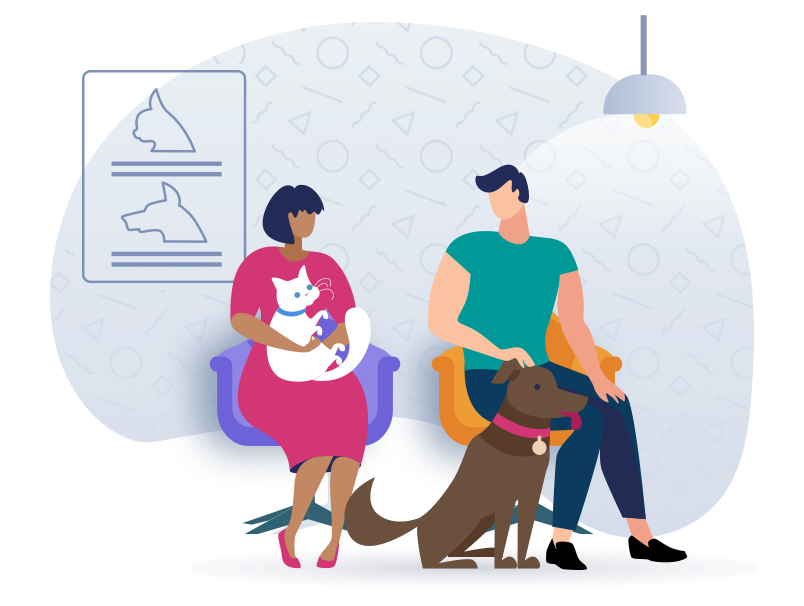 Top Irish Wolfhound Pet Insurance Scored, Ranked & With Cost
Use our below table to quickly compare the best Irish Wolfhound pet insurance providers. The average monthly specific prices shown are based on a healthy 2-year-old Irish Wolfhound with a $500 deductible and 90% reimbursement amount who is located in California with a 90210 zip code. Costs may vary based on age, location, and the coverage amount. Prices are accurate as of January 2023 and are subject to change. For the most up-to-date information, please visit the provider website.
---
Irish Wolfhound Pet Insurance FAQs
What is pet insurance, and is it worth the investment for my Irish Wolfhound?
We do not often see into the future when we bring a new pet home. Some dogs are prone to certain illnesses and injuries which necessitate medical treatment. With medical costs continuing to rise every year, the cost of treatment may become financially overwhelming. Pet insurance is a great way to reduce out-of-pocket expenses while providing the best care possible to your beloved pet. Pet insurance plans are fairly straightforward, allowing you to customize the best plan that works for you. A small monthly investment maintains your comprehensive pet insurance policy. Once your chosen deductible is met, a portion of your medical bill is covered and reimbursed to you. Unfortunately, economic euthanasia is an option many are forced to choose, given their financial situation and the exorbitant cost of veterinary care.
What is the proper age to insure my Irish Wolfhound?
Early enrollment is one of the most important steps you should take when providing coverage for your new pet. Most companies recommend that coverage begins within six months of bringing your furry friend home or around eight weeks for new puppies. Early coverage will help you avoid claim denial for pre-existing conditions.
What are a few common insurance claims for the Irish Wolfhound?
Hip dysplasia could affect your Irish Wolfhound. This degenerative condition affects the hip joint and can cause immobility and arthritis, leading to expensive total hip replacement surgery. Also found in Irish Wolfhounds is a condition known as elbow dysplasia. Varying growth rates in the three bones that make up your dog's elbow may cause laxity and lameness, sometimes requiring surgery. Osteochondrosis Dissecans (OCD), another orthopedic condition found in Irish Wolfhounds, causes improper cartilage growth in the joints. This condition is often caused by improper diets high in calcium and protein. A liver shunt is a condition commonly seen early on, but the clinical presentation of the disease may not yet be evident until the dog reaches almost two years old. The vessels from the body to the liver do not close properly, making it difficult for the liver to filter efficiently. Corrective surgery is beneficial long-term, but other options are available for management. Heart disease, known as dilated cardiomyopathy, could affect your Irish Wolfhound. Medications and lifestyle modifications can manage symptoms; however, there is no cure. Large dogs are also more prone to bloat and bone cancer.
What services are typically covered by insurance? What services are excluded from coverage?
While there are nuances between policies, typical coverage may include preventative care, treatment for chronic and acute illnesses and injuries, treatment at specialty care clinics, hospitalizations, and emergency care. Coverage varies, but pre-existing conditions are usually not covered.
Does pet insurance cover dental work?
Some policies may cover the costs associated with dental injuries or infection, but each plan varies. Dental wellness is not typically a covered service, but some plans may include this. Do some research and decide what's best for you.
Can I use a veterinarian of choice, or are there insurance-approved options?
Pet insurance works on a reimbursement payment method. Typical plans are accepted at licensed veterinary, specialty, or emergency service clinics.
Are there discounts for insuring multiple pets?
If Fido is not an "only pet" in the house, there is good news! Many plans offer a multiple-pet discount. While coverage is typically for cats and dogs, some policies may include other animals. Verify with your insurance company to see what they offer.
Who pays for services at the time of veterinary care?
Pet insurance works on a reimbursement payment method, meaning you pay for services rendered upfront. You will receive payment from your insurance company depending on your deductible and reimbursement rate.
How should we choose from a high or low-deductible plan?
Everyone has a unique financial situation. Whichever deductible you choose can affect your monthly premium costs. With a higher deductible plan, your monthly premiums are lower. Just the opposite with the low-deductible plan. With many dog insurance plans to choose from, it is crucial to understand your financial situation. Some companies may choose an annual deductible or per-incident deductible. Whichever plan you choose, the result is the same, a healthy dog and a healthy wallet for you!
5 Tips for Keeping Your Irish Wolfhound Safe and Healthy
We know pet insurance is an excellent financial safeguard for you and your family. However, there are many things you can do each day to ensure your Irish Wolfhound lives a happy and healthy life!
1. Exercise
You might be tempted to walk your Irish Wolfhound daily when you bring them home. However, because these dogs grow rapidly, it is essential to allow adequate rest to avoid skeletal disorders. This is recommended through the first six months of their lives. Beyond six months, 20 minutes of gentle play is all that is recommended. Exercise and play are not recommended immediately following mealtime due to the risk of bloat.
2. Proper Nutrition and Food Intake
It is recommended to feed your Irish Wolfhound twice a day to avoid the possibility of bloat. Every dog has different needs based on its size and age. Contact your veterinarian for food recommendations, as certain foods can be too high in protein or calcium, worsening joint issues.
3. Accommodations at Home
Irish Wolfhounds do best in a home without stairs. Due to their large size, stairs can eventually lead to damaged joints. In addition, a fenced-in yard is essential for this breed. Their instincts are to chase, so they will run if they see another animal. Underground fencing is not typically strong enough to deter their instincts, so a physical fence is best.
4. Training
Positive reinforcement training works best for Irish Wolfhounds. They are giant teddy bears and very sensitive to harsh correction. Starting when they are young yields the best results. They are brilliant dogs and eager to please.
5. Regular Grooming
Weekly combing sessions will ensure your Irish Wolfhound maintains a mat-free coat. You will likely need to enlist the help of an experienced groomer to get you started. Special brushes can be used to thin their coat, while scissors can trim other areas. They must have their coats stripped a couple of times a year to help remove dead hair from the outer coat.
Conclusion
Enrolling your Irish Wolfhound into a pet insurance plan may seem overwhelming; however, the benefits of having a money-saving plan in place are worth the effort. We do not consider illness and injuries when we bring our new pup home, nor the thought of expensive vet bills. A great company that I suggest researching is Lemonade pet insurance. With competitive pricing and coverage, your Irish Wolfhound can live a happy and healthy life with you and your family!
SwiftScore Ranking Methodology for Irish Wolfhounds
We ranked the best pet insurance policies for Irish Wolfhounds based on a variety of important factors including the following:
Average monthly price for a 2-year-old Irish Wolfhound with a $500 deductible located in the 90210 zip code
Coverage and benefits
Key policy details including accidents and illnesses, surgeries, annual check-ups, cancer treatment, lab tests, and more
AM Best rating of the underwriter
Reimbursement percentage
Annual benefit amount
Technology and user experience

Ease of sign up

Policy language clarity
User reviews
Other state dog insurance resources
Alabama | Alaska | Arizona | Arkansas | California | Colorado | Connecticut | Delaware | Florida | Georgia | Hawaii | Idaho | Illinois | Indiana | Iowa | Kansas | Kentucky | Louisiana | Maine | Maryland |
Massachusetts | Michigan | Minnesota | Mississippi | Missouri | Montana | Nebraska | Nevada | New Hampshire | New Jersey | New Mexico | New York | North Carolina | North Dakota | Ohio | Oklahoma | Oregon | Pennsylvania | Rhode Island | South Carolina | South Dakota | Tennessee | Texas | Utah | Vermont | Virginia | Washington | West Virginia | Wisconsin | Wyoming