6 Best
Irish Water Spaniel

Pet Insurance Plans Compared in 2023

Updated on by Matthew H. Nash – Licensed Insurance Agent

Often mistaken for a large poodle, the Irish Water Spaniel is anything but… As the name implies, your Irish Water Spaniel is from Ireland, and yes, with her webbed feet and water-repellent coat, she loves to swim. With a lifespan of 10-12 years, you've done well in choosing the newest member of your family as your IWS is generally a healthy dog, but there are a few things that she can't quite out-swim. A few issues that may float her way include otitis externa, inflammation of the ear, canine hip dysplasia (CHD) or distichiasis, and malformed eyelashes that can irritate the eyes and lead to corneal ulcers. It's also important to note that your Irish Water Spaniel is prone to having adverse reactions to sulfa antibiotics and deworming medication. You'll likely do anything to make sure your IWS is healthy. One easy step you can take right now is purchasing pet insurance. A dog insurance policy is a simple way to help care for expensive vet bills that can quickly add up. As a licensed insurance agent and all-around dog person, I am here to help you with all the dog insurance options available to you and your Irish Water Spaniel. Read more about our unbiased ranking methodology and advertiser disclosure.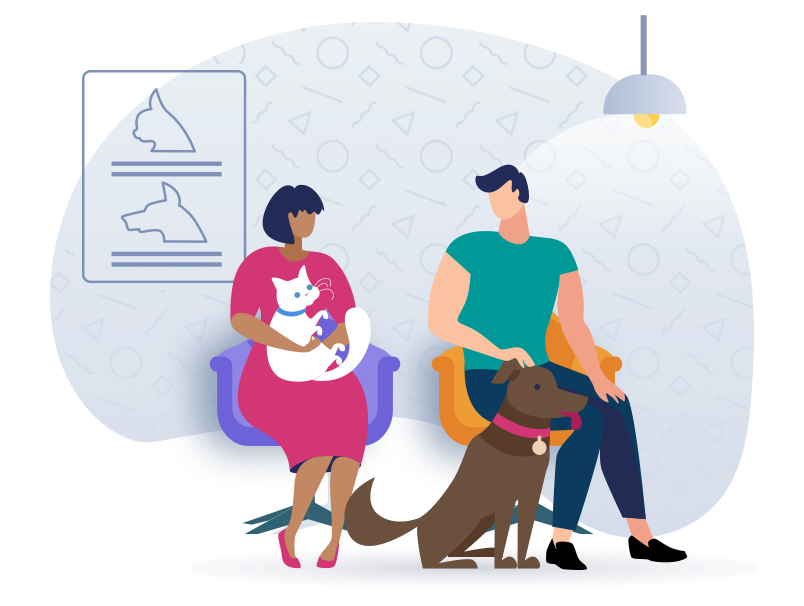 Top Irish Water Spaniel Pet Insurance Scored, Ranked & With Cost
Use our below table to quickly compare the best Irish Water Spaniel pet insurance providers. The average monthly specific prices shown are based on a healthy 2-year-old Irish Water Spaniel with a $500 deductible and 90% reimbursement amount who is located in California with a 90210 zip code. Costs may vary based on age, location, and the coverage amount. Prices are accurate as of July 2023 and are subject to change. For the most up-to-date information, please visit the provider website.
---
Irish Water Spaniel Pet Insurance FAQs
What is dog insurance and why is it useful for Irish Water Spaniels?
Dog insurance is much like human health insurance in that it helps cover expensive medical bills. Pet insurance may not cover the entire cost of your dog's medical bill, but it will save you money when it comes to the total cost. Purchasing and utilizing dog insurance is simple, you'll need to select a plan, make the monthly payments to keep the policy active, and that's it. When needed, you'll submit receipts for reimbursement from your insurance provider.

Pet insurance gives you that extra layer of protection to prepare you for the unexpected when it comes to caring for your pooch. Luckily the Irish Water Spaniel is known as a healthy breed, but you really never know where your dog's health can take a turn. Potential health issues that can pop up include otitis externa, inflammation of the ear, canine hip dysplasia (CHD) or distichiasis, malformed eyelashes that can irritate the eyes and potentially lead to corneal ulcers. Facing even one of these problems will mean multiple trips to the veterinarian, with an expensive medical bill to follow shortly thereafter. Purchasing a pet insurance policy means your Irish Water Spaniel will receive any necessary treatment without drowning your bank account (yes, water pun intended).
How old does my Irish Water Spaniel need to be insured?
Pet insurance providers will want puppies to be at least eight weeks old in order to begin insurance coverage, but you should really look into enrolling your IWS in a dog insurance policy the moment you bring her home for the first time. Most, if not all, pet insurance policies use the age of the pet to determine the premium, so the younger you can enroll your puppy in a plan, the better.
What are common insurance claims for Irish Water Spaniels?
Since your Irish Water Spaniel is usually a healthy breed, there's not a lot to worry about when it comes to hereditary issues, but there are still some things that can pop up and make life more challenging. Claims for your IWS may include otitis externa, which is an inflammation of the ear, canine hip dysplasia (CHD) or distichiasis, malformed eyelashes that can irritate the eyes and lead to corneal ulcers. Your Irish Water Spaniel is also a very active, energetic dog, so physical issues may also be a problem with potential broken bones or even a pulled muscle. Hopefully you don't find yourself in a vet's office with any one of these diagnoses, but if you do, this is where pet insurance can help save the day and your bank account.
What services for my Irish Water Spaniel are covered by dog insurance? What services are excluded from coverage?
Your policy for your Irish Water Spaniel will likely cover surprise injuries or accidents. It also typically includes surgery, medication, medical tests, emergency care and exam fees. Some dog insurance plans will cover hospitalizations and preventative care as well. Almost any issue your IWS may face in her lifetime, including infections, broken bones, and strained muscles.

Be prepared as there are services that may also be excluded in your policy. Most dog insurance plans will not cover the cost of care for pre-existing conditions, which is why it's so important to enroll your Irish Water spaniel in a policy as soon as possible.
How does reimbursement work?
You are responsible for paying your Irish Water Spaniel's medical bill upfront and then submitting the vet bill for reimbursement to the insurance provider. Your IWS insurance provider will then pay you back a certain percentage of that bill. Based on your deductible and reimbursement rate, your insurance company will determine how much money you'll receive back.
Should I enroll in a high deductible or low deductible plan?
There's no right or wrong answer here. How you want to manage your finances for your Irish Water Spaniel is up to you. In general, the higher the deductible you pay means the lower your monthly payment will be, but in turn, that also means you'll pay a higher cost of that deductible payment during those unexpected emergencies. If you'd prefer to not have a large bill in the form of a deductible during an emergency, then choosing a lower deductible plan may be the right course for you. As a result, you'll have a higher monthly payment, but less of a financial surprise during a stressful medical emergency.
5 Tips for Keeping Irish Water Spaniel Safe & Healthy
You've made a significant investment in your Irish Water Spaniel. By now you know she's playful and independent and you've probably already learned there's a reason so many descriptions of the IWS say she's a clown at heart. Pet insurance will help her stay a member of your family for as long as possible. Here's a few extra tips to make sure that your Irish Water Spaniel keeps us clowning around with her well into her lifetime.
1. Activity
Your Irish Water Spaniel is, no surprise here, a sporting dog. She was bred to be a hunter, retrieving ducks from the water. She's a medium dog who is active and full of high energy, so lots of exercise, at least one hour a day, is key to keeping her from getting bored and out of trouble. Long walks or hikes and some running alongside a bike will do the trick. The tried and true, chase the ball in the yard also works. Of course, it says right in the name, she's a water dog. With her webbed feet and two-layered, water-repellent coat, she loves to swim too. Your IWS is also friendly with other dogs, so playing at the dog park with lots of dog friends will keep her active physically and mentally (plus, who doesn't love spending time playing with lots of friends. All those viral videos of dogs jumping in a pool together, you can bet there's an Irish Water Spaniel in there having a blast.). Your IWS will be happiest if she has a job that keeps her body busy and her mind occupied.
2. Training
Your Irish Water Spaniel is very eager-to-please and loves to work with people. She's a great family dog who loves kids. It's important to get the whole family involved in her training. Keeping training sessions short and, most importantly, fun and interesting, will keep her (and the kids too for that matter) from getting bored. Your IWS will respond best to positive, reward-based training methods. She can tend to be reserved with strangers, even sometimes timid, so early socialization will go a long way in her overall training success.
3. Nutritious Diet
Like most dogs, your Irish Water Spaniel will thrive with high-quality dog food, whether that's commercially purchased or homemade is up to you. Whatever diet you choose, be sure you're feeding your pup appropriately based on her age… puppy food for the little one, senior food for your older friend, you get the idea. Treats are important for training, but don't go overboard. Always work with your vet on what is the ideal weight for your IWS. Clean, fresh water should also be available at all times.
4. Love and Affection
Your Irish Water Spaniel will love being part of your family. If you have small kids, teaching them how to respect your pets is important. As long as kids understand the boundaries, then everyone will be able to live in harmony. Your IWS will also be a good guard dog, assuming you make that part of your training. They want to be with you but also want to protect you. The IWS is not usually aggressive, but she can have a deep, protective sounding bark.
5. Regular Grooming
You'll want to begin grooming your Irish Water Spaniel when she's still a puppy, to really help her get used to the process and reinforce that grooming is a positive experience. Gentle brushing and nail and ear cleaning should be part of the overall grooming routine. Your IWS is hypoallergenic, so that special coat will need a good trim, to neaten it up and reshape, at least every two months. You know your IWS likes to swim, but it turns out that coat also needs water exposure as it helps promote the "ringlets" that make up her beautiful coat. Brushing her teeth a few times a week will help prevent dental disease too.
Conclusion
Your Irish Water Spaniel is known to be a bit of a clown, but she's also going to become a loving member of your family, that is when she's not in the pool. Pet insurance is one of the many tools you can use to help keep her around for as long as possible. There's lots of insurance options available and the enrollment processes can be confusing, so I'm here to help. Once you've selected a policy for your Irish Water Spaniel, you then pay the monthly premium, and as easy as that, your IWS is covered. There's many reasons that your Irish Water Spaniel may need veterinary care. Having coverage will provide your pup with the necessary treatment and lessen the stress of dealing with a huge vet bill.
After extensive research, we conclude that Lemonade pet insurance offers the best dog insurance policy at the lowest monthly price for the Irish Water Spaniel.
SwiftScore Ranking Methodology for Irish Water Spaniels
We ranked the best pet insurance policies for Irish Water Spaniels based on a variety of important factors including the following:
Average monthly price for a 2-year-old Irish Water Spaniel with a $500 deductible located in the 90210 zip code
Coverage and benefits
Key policy details including accidents and illnesses, surgeries, annual check-ups, cancer treatment, lab tests, and more
AM Best rating of the underwriter
Reimbursement percentage
Annual benefit amount
Technology and user experience

Ease of sign up

Policy language clarity
User reviews
Other state dog insurance resources
Alabama | Alaska | Arizona | Arkansas | California | Colorado | Connecticut | Delaware | Florida | Georgia | Hawaii | Idaho | Illinois | Indiana | Iowa | Kansas | Kentucky | Louisiana | Maine | Maryland |
Massachusetts | Michigan | Minnesota | Mississippi | Missouri | Montana | Nebraska | Nevada | New Hampshire | New Jersey | New Mexico | New York | North Carolina | North Dakota | Ohio | Oklahoma | Oregon | Pennsylvania | Rhode Island | South Carolina | South Dakota | Tennessee | Texas | Utah | Vermont | Virginia | Washington | West Virginia | Wisconsin | Wyoming