6 Best Irish Terrier
Pet Insurance

Plans Compared in 2023

Updated on by Matthew H. Nash – Licensed Insurance Agent

Do any research on the Irish Terrier, and you'll quickly discover that his nickname is the "Daredevil" of the Emerald Isle. That moniker alone conjures up images of a bold, mischievous, smart and crafty dog, and don't forget cute. This medium-sized pooch is well known for his fiery red short-haired coat and temperament to match – see "Daredevil." This fun-sized ball of energy has a 13-14 years lifespan, and while he's considered a healthy dog, he can't outrun every issue. The breed is prone to hyperkeratosis (hardened, cracked footpads), cystinuria (bladder stones), and issues that can affect all dogs, such as bacterial and viral infections. Dog insurance will help you cover the health issues your Irish Terrier may face throughout his lifetime. As a dog enthusiast, my job is to help clarify what pet insurance options that are out there and available to you and your Irish Terrier. Read more about our unbiased ranking methodology and advertiser disclosure.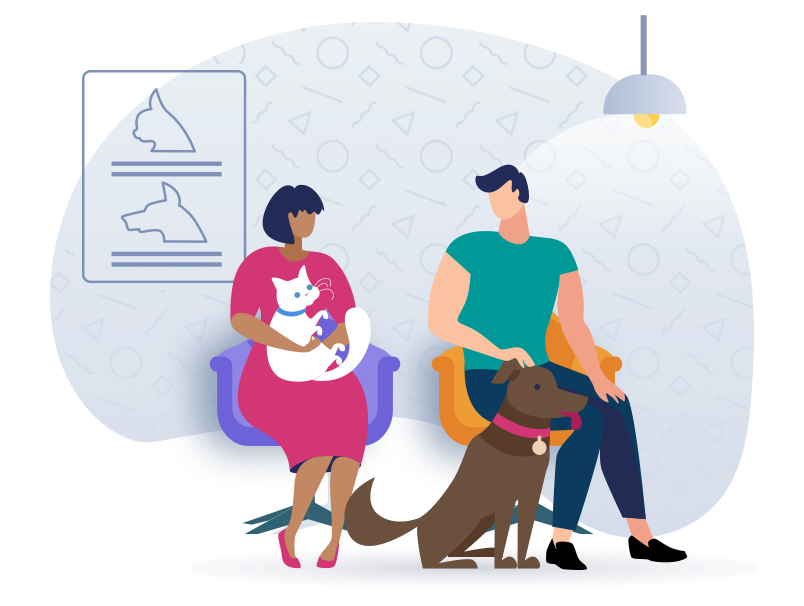 Top Irish Terrier Pet Insurance Scored, Ranked & With Cost
Use our below table to quickly compare the best Irish Terrier pet insurance providers. The average monthly specific prices shown are based on a healthy 2-year-old Irish Terrier with a $500 deductible and 90% reimbursement amount who is located in California with a 90210 zip code. Costs may vary based on age, location, and the coverage amount. Prices are accurate as of August 2023 and are subject to change. For the most up-to-date information, please visit the provider website.
---
Irish Terrier Pet Insurance FAQs
What is dog insurance and why is it useful for my Irish Terrier?
Dog insurance is a smart way to protect your Irish Terrier from any number of issues that may happen in his lifetime. It's important to include dog insurance as part of your overall support system for your pet as it helps make sure he can live a long and healthy life. To purchase dog insurance, you'll simply need to select a plan, then be sure to make the required monthly payments as this is what will keep your policy active. If and when you need that extra support for your Irish Terrier, you'll submit the vet receipts to your insurance carrier who will then reimburse you for a portion of your bill.

As the name says, insurance is that extra layer of protection for your Irish Terrier when facing the unexpected. Your Irish Terrier is healthy and luckily doesn't have a long list of genetic health issues, but that doesn't mean he can escape potential problems that all dogs face. Some genetic issues are hyperkeratosis (hardened, cracked footpads) and cystinuria (bladder stones). Issues that all dogs face, especially active dogs like the Irish Terrier, are physical injuries such as broken bones, pulled muscles or any number of bumps and scrapes he may literally run into. Dog insurance will help fight these issues and keep him around and part of the family for as long as possible.
How old does my Irish Terrier need to be insured?
Like many insurance companies, pre-existing conditions typically are not covered, so it's important to purchase coverage sooner rather than later. Many dog insurance providers will want puppies to be at least eight weeks old before starting a pet insurance policy, but you should think about starting the process of a policy for your Irish Terrier as soon as he's home with you. Pet insurance premiums are based on age, so the younger you can enroll your pup in a plan, the better.
What are common insurance claims for Irish Terriers?
There are a couple of common hereditary claims that may pop up throughout your Irish Terrier's lifetime, namely hyperkeratosis, which is a hardening or cracking of his footpads, and cystinuria, also known as bladder stones. Like all dogs, your Irish Terrier is also prone to infections, both bacterial and viral, and let's not forget, your IT is also a very active dog, so there's always the risk of physical problems that have nothing to do with hereditary histories, like a broken bone or torn muscle. These conditions will need ongoing medical treatment and monitoring by a veterinarian, so pet insurance is key to a happy and healthy Irish Terrier.
What services for my Irish Terrier are covered by dog insurance? What services are excluded from coverage?
Your dog insurance policy can cover many issues such as surprise injuries or accidents. Pet insurance policies can also include surgery, medication, medical tests, emergency care, and exam fees. Some pet insurance plans will also cover hospitalizations and preventative care.

On the flip side, some issues may be excluded in your plan. As mentioned previously, most dog insurance policies will not cover the cost of care for pre-existing conditions, which is why it's so important to enroll your Irish Terrier in a policy as soon as possible.
How does reimbursement work?
You will need to pay your dog's medical bill upfront. You'll then need to submit the vet bill for reimbursement to the insurance provider, who will pay you back a certain percentage of that bill. Your insurance company will determine how much money you'll receive back based on your deductible and reimbursement rate.
Should I enroll in a high-deductible or low-deductible plan?
The choice is really up to you as it depends on how you want to manage your finances. Choose a high deductible plan, which means you'll have a low monthly payment, but expect to pay a higher amount in the deductible when it's time to use your policy. Choosing a lower deductible plan equals a higher monthly payment, but a lower deductible will be due during that time of a stressful emergency.
5 Tips for Keeping Your Irish Terrier Safe & Healthy
Your Irish Terrier can trace his roots back to Ireland. Of all of the breeds of Terrier, the Irish Terrier is considered to be one of the oldest Terrier breeds. He's an active dog that can be comfortable in the suburbs or the city. Here are a few more tips to make sure your cosmopolitan Irish Terrier lives a long and happy life.
1. Regular Exercise
Your Irish Terrier is lively, joyful, playful, and, as you probably already know, full of boundless energy. He's an athlete who needs space, so a fenced yard is ideal. Of course, just a yard isn't enough, he'll need a daily walk on a leash (you never know when he'll want to dart off after a squirrel or other critter) for his mental and physical health. The IT is a very skilled athlete, so agility and flyball events are a good outlet for his extra energy.
2. Training and Socialization
Like many dogs, the Irish Terrier is very smart and willing to please. But, despite that willingness, he is strong-willed, independent, and stubborn. Getting him in early to basic training and puppy socialization classes will be extremely helpful in his long-term training success. Irish Terriers enjoy training and relish the bonding time between their human and themselves while learning commands. No surprise, motivation with positive reinforcement with food and toys work extremely well. Watch out for dominance issues as Irish Terriers will often try to dominate other dogs; this is where early socialization is a must.
3. Love and Affection
Training will establish a strong, loyal bond with your Irish Terrier. Consistently reinforcing that training bond should be a lifelong process. Your IT is a wonderful family dog with people and children. After a day of exercise and training, he'll want nothing more than some quiet snuggle time with you.
4. Nutrition
The Irish Terrier's diet is similar to most dogs. Choose a high-quality dog food appropriate for your dog's age, as in puppy, adult or senior food, as well as his activity level. You should check with your vet, or breeder, for which foods are best. Also, work with your vet on what is a healthy weight for your pup. Always be sure to have clean, fresh water available at all times.
5. Regular Grooming
Your Irish Terrier is hypoallergenic and really shouldn't shed much, if at all. He may have a short coat, but that doesn't mean it's all free and clear on the grooming front. That fiery red fur will need regular brushing, stripping, and trimming to keep it in tip-top shape. That dense and wiry coat is very close to his skin for a reason; it creates a tight, water-resistant layer, like a raincoat. Plus, underneath that wiry outer coat is a dense undercoat, like an extra layer, that protects from the elements as it traps body heat on a cold rainy day. The whole coat system is all very well designed, but it needs extra loving care to keep it performing at an optimal level. The coat should be hand stripped, rather than clipped, by a professional groomer a couple of times in a year. You should plan on brushing that coat weekly to ensure any dirt or loose hair is removed. The good news is, he really only needs a bath when he's dirty. Trimming his nails and brushing his teeth also need to be part of your regular routine.
Conclusion
The Irish Terrier is very distinct in looking, energetic, and loyal. He's everything you could want in a dog and a loving family member. Adding a dog insurance policy is an important part of keeping your Irish Terrier as a family member for as long as possible. There are many insurance options available, but you must select the best plan for you and your dog, pay the monthly premium, and then your Irish Terrier is covered. There are, unfortunately, many reasons that your IT may need veterinary care. Having coverage means your pup can receive the necessary treatment without the stress of figuring out how you'll pay for it all.
After extensive research, we conclude that Lemonade pet insurance offers the best dog insurance policy at the lowest monthly price for Irish Terriers.
SwiftScore Ranking Methodology for Irish Terriers
We ranked the best pet insurance policies for Irish Terriers based on a variety of important factors including the following:
Average monthly price for a 2-year-old Irish Terrier with a $500 deductible located in the 90210 zip code
Coverage and benefits
Key policy details including accidents and illnesses, surgeries, annual check-ups, cancer treatment, lab tests, and more
AM Best rating of the underwriter
Reimbursement percentage
Annual benefit amount
Technology and user experience

Ease of sign up

Policy language clarity
User reviews
Other state dog insurance resources
Alabama | Alaska | Arizona | Arkansas | California | Colorado | Connecticut | Delaware | Florida | Georgia | Hawaii | Idaho | Illinois | Indiana | Iowa | Kansas | Kentucky | Louisiana | Maine | Maryland |
Massachusetts | Michigan | Minnesota | Mississippi | Missouri | Montana | Nebraska | Nevada | New Hampshire | New Jersey | New Mexico | New York | North Carolina | North Dakota | Ohio | Oklahoma | Oregon | Pennsylvania | Rhode Island | South Carolina | South Dakota | Tennessee | Texas | Utah | Vermont | Virginia | Washington | West Virginia | Wisconsin | Wyoming