7 Best Irish Doodle
Pet Insurance

Plans Compared in 2023

Updated on by Matthew H. Nash – Licensed Insurance Agent

Bred by crossing an Irish Setter and a Poodle, the Irish Doodle has inherited the best from both of its parents. Irish Doodles are very active and typically skilled at hunting and retrieving, but they also make loving companions. Most can easily get along with children or other animals, making them the perfect addition to any family. They are also extremely intelligent, allowing Irish Doodle owners to quickly and easily train their newest family member.

But like any other dog, Irish Doodles always run the risk of getting sick or injured. You'll want to make sure your furry friend can get the best care possible whenever that happens, but vet visits can get expensive. One solution many dog owners are turning to is pet insurance. Pet insurance can help make visits to the vet much more affordable, but figuring out which plan is right for you can be overwhelming. As a licensed insurance agent and lifelong dog owner, I'm here to help answer all of your questions and break down your dog insurance options. Read more about our unbiased ranking methodology and advertiser disclosure.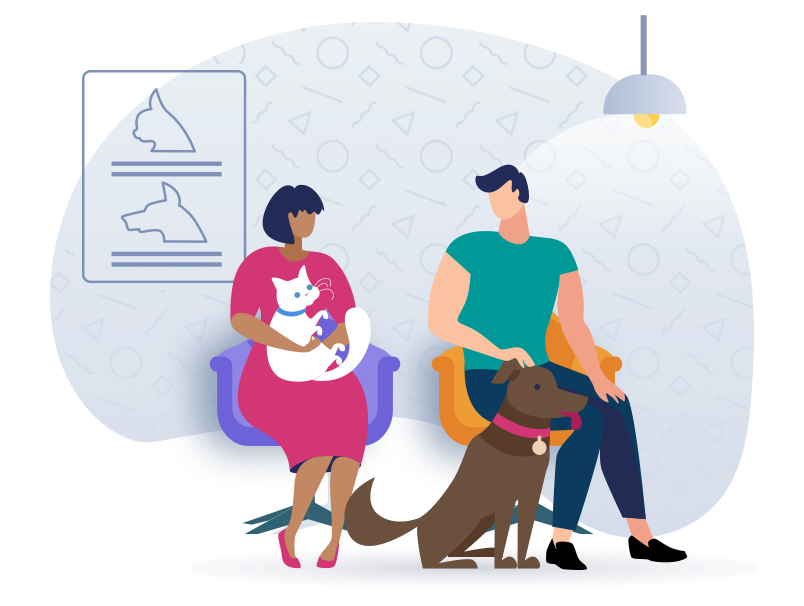 Top Irish Doodle Pet Insurance Scored, Ranked & With Cost
Use our below table to quickly compare the best Irish Doodle pet insurance providers. The average monthly specific prices shown are based on a healthy 2-year-old Irish Doodle with a $500 deductible and 90% reimbursement amount who is located in California with a 90210 zip code. Costs may vary based on age, location, and the coverage amount. Prices are accurate as of January 2023 and are subject to change. For the most up-to-date information, please visit the provider website.
---
Irish Doodle Pet Insurance FAQs
What is dog insurance and why is it useful for Irish Doodles?
Similar to human medical insurance, dog insurance can provide financial assistance to you whenever your pup needs healthcare treatment. This could include surgery, medication, test/diagnostics, emergency care, or exams as a result of illnesses, accidents, or injuries. If your pet is enrolled and kept active by paying a monthly fee, your dog insurance plan will help pay your vet bills, typically through a reimbursement model. Although insurance providers may not cover the entirety of the bill, dog owners typically save thousands of dollars by taking advantage of their pet insurance plan.
What are the age requirements for my Irish Doodle to be insured?
Every pet insurance plan is a little different, so it's important to check directly with your insurance provider for the most accurate information. However, most insurance plans require dogs to be at least 8 weeks old in order to be enrolled. This means that, in most cases, you should be able to enroll your Irish Doodle in pet insurance as soon as you bring him or her home from the shelter or breeder. Pet insurance plans may also have an age maximum to enroll, so it's important to enroll your Irish Doodle as soon as possible to ensure they're eligible for coverage when it's needed. Once enrolled, most plans will continue to insure your pet as they get into old age as long as the plan is kept active.
What are common insurance claims for Irish Doodles?
Irish Doodles are a strong breed that often live a long and healthy life. However, there are still a few health conditions Irish Doodle owners should be on the lookout for. One common ailment is gout, which is a form of arthritis caused by high levels of uric acid in the bloodstream. Hypothyroidism may also develop over time, causing your dog lethargy or weight gain. Other conditions that could affect your Irish Doodle are eye problems or epilepsy. Although these conditions are treatable, they often require ongoing medical treatment or regular monitoring by a vet.
What services are covered by dog insurance? What services are excluded from coverage?
Although each plan is a little different, you can typically expect dog insurance to cover unexpected illnesses or injuries as needed. If your dog were to become sick or injured during his or her life, dog insurance will cover at least a portion of the costs for treatment. Depending on your needs, you may want to choose a plan that covers additional services as well. This could include behavioral treatment, medications, hospitalizations, or preventative care.

Excluded services will also depend on your insurance provider. However, you can expect most dog insurance plans to consider cosmetic procedures, such as ear cropping, and pre-existing conditions to be ineligible for reimbursement. To ensure any illnesses your pup develops aren't considered pre-existing, it's important to enroll your Irish Doodle in an insurance plan as early as possible.
How can you tell which vets accept dog insurance?
Because pet insurance works on a reimbursement model, there aren't any providers that are considered "out-of-network". The insurance company doesn't need to work with the healthcare provider and, instead, will work with you directly to reimburse you for the cost of care. As long as you visit a licensed veterinarian, your insurance provider will work with you to determine reimbursement for treatment.
How does reimbursement work?
Reimbursement will take place after your Irish Doodle has seen a vet and you've paid the bill. Although every insurance provider is different, most will allow you to submit a claim online or via mail, email, or fax. They will likely require you to fill out a form and attach your invoice. Once the claim is approved, you will be paid back for all or part of your vet visit.
How long does reimbursement typically take?
This will vary by situation, but the standard turnaround time from receiving the claim to dispensing reimbursement is five to ten business days. If you send in your claim via snail mail, it may be a few extra days until your insurance provider can begin processing. Additionally, if your claim is more complex, it may take longer for them to process and distribute reimbursement.
Should I enroll in a high deductible or low deductible plan?
The type of plan that will work best for you and your Irish Doodle will completely depend on your situation. Insurance providers offer a variety of plan types including high deductible, low deductible, or even no deductible. Consider your budget, as lower deductible plans typically cost more per month than plans with higher deductibles. And although there is no absolute way to predict vet visits, you should consider your estimated health costs throughout your pup's life and how much financial help you'll likely need.
5 Useful Strategies for Keeping Your Irish Doodle Safe & Healthy
While pet insurance is a great way to prepare for unexpected illnesses and injuries, there are also steps you can take at home to help prevent sickness in the first place. Providing your Irish Doodle the best care possible will help to keep them healthy and happy throughout their life.
1. Exercise
Irish Doodles are typically pretty energetic dogs. That being said, you'll want to make sure they get plenty of exercise. Aim to spend at least 30 to 60 minutes each day going on walks, jogs, or playing fetch. On days when exercising outdoors isn't possible, make sure your Irish Doodle has plenty of toys inside to keep them occupied and from getting bored.
2. Training
Although they are an extremely intelligent breed, Irish Doodles may take a bit longer to train. Their parents have very different learning aptitudes – Poodles are ranked the 2nd most intelligent dog breed in the world, while Irish Setters rank 53rd – so your Irish Doodle's ability to learn commands will depend on which breed they most take after. But persistence here is key; if you provide consistent training, they will show you just how smart they really are.
3. Socialization
Another piece of training your Irish Doodle puppy is making sure they are properly socialized. Be sure to expose them to various people and other animals early in life. This will make them great companions on trips to friends' houses or dog-friendly businesses. They will also be less likely to appear overly-protective of their home, making it easier for you to invite guests over.
4. Grooming
Irish Doodles have very distinct coats thanks to the Poodle side of their family, but this means that regular grooming is essential to caring for your furry family member. A short coat style will require regular haircuts to maintain the length in addition to frequent brushing. If fur is left long, it will need to be brushed daily in order to prevent tangles and mats. But luckily, Irish Doodles are considered hypoallergenic and tend to shed less than other breeds.
5. Love and Affection
Irish Doodles are loving family dogs, so be sure to give your furry friend all the love and affection you can. Some may become bored easily or suffer from separation anxiety, so giving them as much attention as possible when you're home will help them stay happy and healthy. After all, you are their best friend, and all they want is love from their favorite human.
Conclusion
Choosing to enroll your Irish Doodle in pet insurance can be a huge help in ensuring your pup's health. Although the plans may seem confusing or overwhelming at first, I hope this article has helped you make sense of the vast pet insurance landscape.
After extensive research, we conclude that Lemonade pet insurance offers the best dog insurance policy at the lowest monthly price for the Irish Doodles. Their plans typically offer a great balance of coverage and affordability. Once you've found a plan that's right for you, you must pay the monthly premium and submit claims as needed. As long as your pet is enrolled, you can rest easy knowing you and your pup are protected in the event of an illness or injury.
SwiftScore Ranking Methodology for Irish Doodles
We ranked the best pet insurance policies for Irish Doodles based on a variety of important factors including the following:
Average monthly price for a 2-year-old Irish Doodle with a $500 deductible located in the 90210 zip code
Coverage and benefits
Key policy details including accidents and illnesses, surgeries, annual check-ups, cancer treatment, lab tests, and more
AM Best rating of the underwriter
Reimbursement percentage
Annual benefit amount
Technology and user experience

Ease of sign up

Policy language clarity
User reviews
Other state dog insurance resources
Alabama | Alaska | Arizona | Arkansas | California | Colorado | Connecticut | Delaware | Florida | Georgia | Hawaii | Idaho | Illinois | Indiana | Iowa | Kansas | Kentucky | Louisiana | Maine | Maryland |
Massachusetts | Michigan | Minnesota | Mississippi | Missouri | Montana | Nebraska | Nevada | New Hampshire | New Jersey | New Mexico | New York | North Carolina | North Dakota | Ohio | Oklahoma | Oregon | Pennsylvania | Rhode Island | South Carolina | South Dakota | Tennessee | Texas | Utah | Vermont | Virginia | Washington | West Virginia | Wisconsin | Wyoming