7 Best Greyhound
Pet Insurance

Plans Compared in 2023

Updated on by Matthew H. Nash – Licensed Insurance Agent

Affectionately known as "the 40-pound couch potato," the Greyhound, though deemed a swift-running race dog, is a gentle, lazy, and incredibly loving dog. They tend to be quiet dogs with a lower energy that matches their desire for the slow lane. Greyhounds are considered a large breed, weighing up to 70 pounds with very little body fat and a lifespan of 10-14 years. While typically healthy, Greyhounds are prone to conditions that affect large-breed dogs. These conditions, while usually treatable, can become expensive to manage. I have owned pets my whole life, so I understand the financial implications of pet ownership. Pet insurance can alleviate some of that financial burden. As a licensed insurance agent and dog lover, I can help you find a comprehensive plan that works for you. Read more about our unbiased ranking methodology and advertiser disclosure.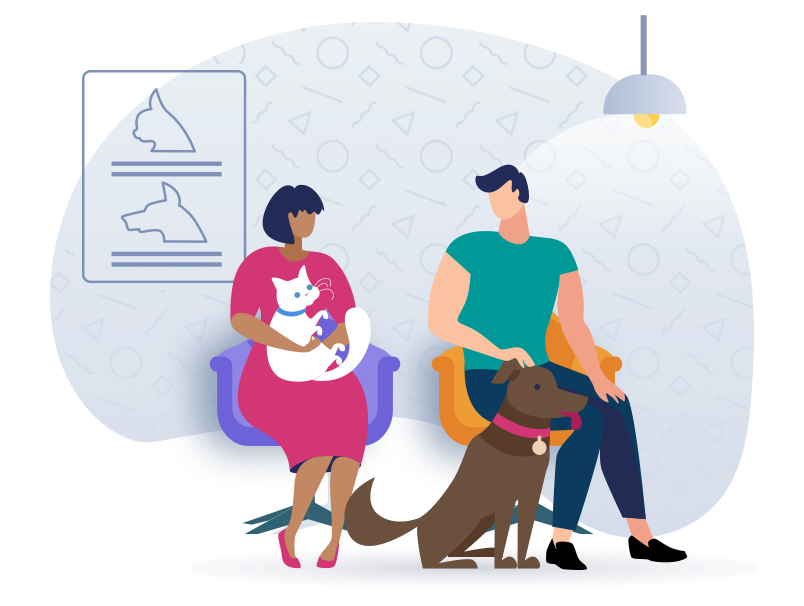 Top Greyhound Pet Insurance Scored, Ranked & With Cost
Use our below table to quickly compare the best Greyhound pet insurance providers. The average monthly specific prices shown are based on a healthy 2-year-old Greyhound with a $500 deductible and 90% reimbursement amount who is located in California with a 90210 zip code. Costs may vary based on age, location, and the coverage amount. Prices are accurate as of January 2023 and are subject to change. For the most up-to-date information, please visit the provider website.
---
Greyhound Pet Insurance FAQs
What is pet insurance, and is it worth the investment for our Greyhound?
Pet care costs continue to rise, making it hard to budget the necessary care for your dog. Pet insurance provides coverage for most routine visits that include vaccines and medications, but they also help reduce your out-of-pocket for chronic and acute medical condition treatment. A monthly fee, or premium, will keep your plan active. During enrollment, you will select a deductible and reimbursement rate. Once your deductible is met, your policy reimburses you a portion of the cost associated with veterinary care. This could save you hundreds or thousands of vet bills you hadn't anticipated or budgeted for. When you customize a plan, you select coverage based on your dog's age, breed, and overall health.
What is the proper age to insure my Greyhound?
It is easy to "think about pet insurance later." Many pet owners do, and it is often too late to submit a claim. Pre-existing conditions are not covered in most insurance plans. It is vital to research and enroll your new pup in a plan within the first six months; puppies are covered around eight weeks.
What are a few common insurance claims for the Greyhound?
Greyhounds are usually healthy, but they may be prone to certain genetic conditions that require treatment. Bone cancer often plagues this breed when it is too late to receive treatment. It is important to watch for signs of cancer in your Greyhound. These signs include general lethargy, weakness, increased hunger with weight loss, and growths. If caught early, treatment is available to help manage symptoms. Bloat is another condition seen in Greyhounds and is caused by impeded blood flow to the heart due to consuming large meals. The stomach becomes dilated and distended. Greyhounds have larger hearts relative to their size and can suffer from heart issues such as murmurs or high blood pressure. Veterinary care is typically needed for chronic and acute conditions. A comprehensive pet insurance plan could save you hundreds or thousands in out-of-pocket expenses.
What services are typically covered by insurance? What services are excluded from coverage?
Most chronic and acute conditions are covered under your comprehensive insurance plan. These include any unforeseen illnesses or injuries, but also include preventative care such as vaccines, wellness checks, and annual blood or stool sample testing. Customizing a plan is easy and takes very little time. It is possible to opt for basic plans, but you can usually add coverage that is applicable to your pet. Pre-existing conditions are not covered, which is why early enrollment is paramount.
Does pet insurance cover dental work?
Some plans may cover routine wellness, but coverage mostly applies to dental illness, injury, or infection. Every plan is a little different, so it is important to find what works best for you!
Can I use a veterinarian of choice, or are there insurance-approved options?
The beauty of a comprehensive pet insurance plan is, they work on a reimbursement method of payment. Most licensed veterinary clinics, specialty care, or emergency service clinics are covered.
Are there discounts for insuring multiple pets?
If you have multiple pets at home, it is important to research multi-pet discounts. Many provide this discount as an incentive to insure all of your pets, helping you save money in the long run.
Who pays for services at the time of veterinary care?
Pet insurance requires payment upfront for services, including your deductible. Once you submit a claim to your insurance company, you will be paid based on your selected reimbursement rate and deductible.
How should we choose from a high or low-deductible plan?
There is no right or wrong choice when it comes to your deductible. It all depends on your financial situation at the time of enrollment. If you are ok with a slightly higher monthly premium, you will pay a lower deductible or portion that must be paid before coverage kicks in, when care is needed. With a high-deductible plan, you pay slightly less every month, but your deductibles will be higher when you utilize coverage. Coverage is the same and neither is superior, but those with an inconsistent monthly cash flow, may consider that when making a decision.
5 Tips for Keeping Your Greyhound Safe and Healthy
Pet insurance can provide financial peace of mind to you and your family, but you can do a lot to ensure your Greyhound's health and happiness every day.
1. Daily Exercise
Greyhounds were bred to live in the fast lane, chasing small animals, and eventually used for racing. They are sighthounds and will run if not kept on a leash or in a fenced-in area. Though it may seem like they need hours of playtime and running, an hour of walking every day is sufficient for this sleek pup. Dogs tend to become obese without daily exercise and develop heart disease, arthritis, and muscle degeneration.
2. Proper Nutrition and Food Intake
Work with your veterinarian to find suitable food for your pup's energy level, stage in life, and body type. To avoid bloat, feeding your dog from a raised dish is important to help them digest properly. These sleek dogs may become overweight, which can add strain to their muscles and joints. Proper feeding is essential with your Greyhound.
3. Training
Greyhounds are highly sensitive and gentle dogs. Early socialization and positive reinforcement training is the best way to achieve success around other dogs. Training your Greyhound basic commands at a young age is a great way to keep them safe. Crate training is another valuable thing to teach your Greyhound at a young age. Have them spend some time in their crate while you are home. This allows them to see that they are safe and helps alleviate separation anxiety.
4. Home Accommodations
Greyhounds like to chase small animals. Providing an enclosed space in your yard is very important. They can squeeze through small spaces, so checking all the escape points is vital. Many places will require proof of a fenced-in yard if you are adopting a Greyhound. They can jump very high, so it is usually recommended to find a fence that is at least six feet high or higher.
5. Regular Grooming
Greyhounds are extremely low-maintenance in the grooming department. A rubber brush is all that is needed every week to help remove loose hair. Clip your pup's nails every three to four weeks to help prevent splitting, snagging, or causing damage to your floors and furniture. Brush your dog's teeth every day to minimize plaque buildup. Greyhounds do not typically have much of an odor, so bathing isn't needed often.
Conclusion
Your cuddly couch potato, aka Greyhound, is a dog that will delight you for years to come. Their gentle and loving demeanor is like none other. While we anticipate healthy pets forever, it is a good idea to consider a pet insurance plan to help minimize your out-of-pocket expenses should care to be needed.
After extensive research, we conclude that Lemonade pet insurance offers the best dog insurance policy at the lowest monthly price for the Greyhound. As they have reasonable rates, on-the-spot quotes, and many coverage options to choose from. Your small investment every month could help save you a lot of money in unforeseen medical bills.
SwiftScore Ranking Methodology for Greyhounds
We ranked the best pet insurance policies for Greyhounds based on a variety of important factors including the following:
Average monthly price for a 2-year-old Greyhound with a $500 deductible located in the 90210 zip code
Coverage and benefits
Key policy details including accidents and illnesses, surgeries, annual check-ups, cancer treatment, lab tests, and more
AM Best rating of the underwriter
Reimbursement percentage
Annual benefit amount
Technology and user experience

Ease of sign up

Policy language clarity
User reviews
Other state dog insurance resources
Alabama | Alaska | Arizona | Arkansas | California | Colorado | Connecticut | Delaware | Florida | Georgia | Hawaii | Idaho | Illinois | Indiana | Iowa | Kansas | Kentucky | Louisiana | Maine | Maryland |
Massachusetts | Michigan | Minnesota | Mississippi | Missouri | Montana | Nebraska | Nevada | New Hampshire | New Jersey | New Mexico | New York | North Carolina | North Dakota | Ohio | Oklahoma | Oregon | Pennsylvania | Rhode Island | South Carolina | South Dakota | Tennessee | Texas | Utah | Vermont | Virginia | Washington | West Virginia | Wisconsin | Wyoming