7 Best
Greater Swiss Mountain

Pet Insurance Plans Compared in 2022

Updated on by Matthew H. Nash – Licensed Insurance Agent

Just the name of the Greater Swiss Mountain Dog is as big as the dog itself. Weighing in anywhere from 90-140 pounds, this sweet pooch is a big soft teddy bear with a big fan base that includes her own dedicated website through the Greater Swiss Mountain Dog of America organization – gsmdca.org. Affectionately known as a "Swissy," the GSMD is very enthusiastic, happy and loves people. With a lifespan of 8-10 years, the Swissy doesn't have any specific genetic disorders but rather faces issues simply because she's a large breed dog. According to the GSMDCA, your Swissy can potentially face epilepsy, issues with her eyes such as cataracts, distichiasis (extra eyelashes that grow abnormally interfering with the eyeball itself) and entropion (when the eyelid rolls inward, causing the eyelashes to rub against the cornea), bloat (gastric dilatation and volvulus or GDV), orthopedic issues, shoulders osteochondritis dissecans (OCD), splenic torsion and urinary incontinence. While that seems like a scary long list, believe it or not, your GSMD is considered to be one of the more healthy large dog breeds. Of course it doesn't mean your Swissy will develop all of these issues or even one of them, but this is exactly why pet insurance is available. Dog insurance will help cover these issues, and more, while protecting your bank account. I'm a fan of all things dogs and my mission is to help you through the pet insurance process to ensure you find the right policy for you and your Greater Swiss Mountain Dog. Read more about our unbiased ranking methodology and advertiser disclosure.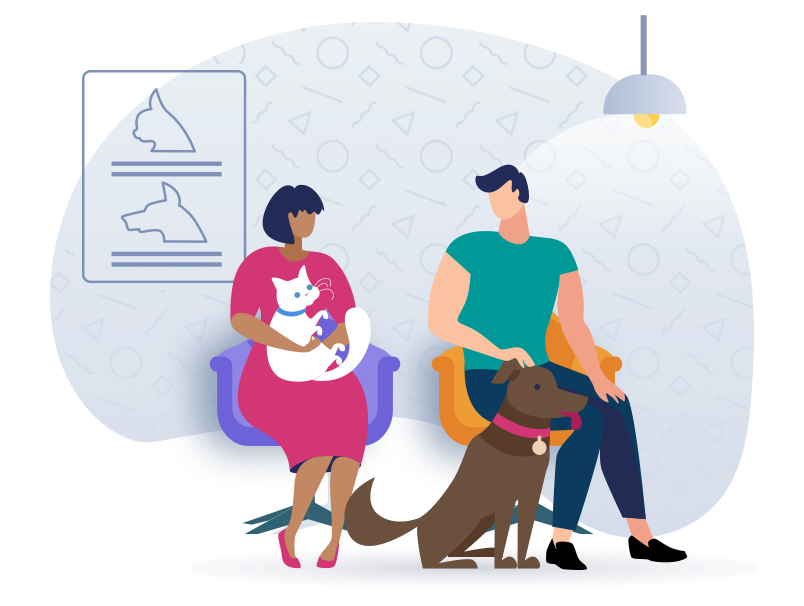 Top Greater Swiss Mountain Pet Insurance Scored, Ranked & With Cost
Use our below table to quickly compare the best Greater Swiss Mountain pet insurance providers. The average monthly specific prices shown are based on a healthy 2-year-old Greater Swiss Mountain with a $500 deductible and 90% reimbursement amount who is located in California with a 90210 zip code. Costs may vary based on age, location, and the coverage amount. Prices are accurate as of January 2022 and are subject to change. For the most up-to-date information, please visit the provider website.
---
Greater Swiss Mountain Pet Insurance FAQs
What is dog insurance and why is it useful for Greater Swiss Mountain Dogs?
Think of dog insurance as an assurance that your four-legged family member will be able to receive the healthcare she needs to live a long and happy life. You can purchase pet insurance to help protect your Swissy from any issues that may occur in her lifetime. To purchase dog insurance, you'll select a plan, make the required monthly payments to keep your policy active, and that's it. It's really that simple. When the unthinkable happens, you're set and ready to tackle those issues head-on. When the vet bills start rolling in, you just submit the receipts to your insurance carrier who will then reimburse you for a portion of your bill.

Dog insurance is that extra step you can take to protect your Greater Swiss Mountain Dog from the unexpected. As mentioned previously, your Swissy is generally healthy, but large breed dogs face their own potential list of health-related issues. A few problems that may come at your Swissy are epilepsy, issues with her eyes such as cataracts, distichiasis and entropion, bloat, orthopedic issues, shoulders osteochondritis dissecans (OCD), splenic torsion and urinary incontinence. This is where dog insurance will help to keep her healthy and around as part of the family for as long as possible.
How old does my Greater Swiss Mountain Dog need to be insured?
It's really never too early to start the dog insurance process for your Swissy. Dog insurance providers will usually want puppies to be at least eight weeks old before starting a pet insurance policy, but it never hurts to get that ball rolling as soon as possible. It's important to note that pet insurance premiums are based on age, so the younger you can enroll your pup in a plan, the better.
What are common insurance claims for Greater Swiss Mountain Dogs?
Your Swissy is known as a healthy breed, which is always comforting to hear. The bigger challenge is exactly that, she's bigger than most dogs. As a large breed, your GSMD faces issues associated with simply being on the larger side of the dog spectrum. Some insurance claims can include epilepsy, issues with her eyes like cataracts, distichiasis, which is when extra eyelashes grow abnormally and interfere with the eyeball itself, and entropion, when the eyelid rolls inward, causing the eyelashes to rub against the cornea – ouch! Another big dog issue is bloat, which is when gas or fluid fills rapidly in the stomach, causing the stomach to then flip on itself. Once that stomach is rotated, the gas/fluid is unable to escape, causing build up and more issues. Additionally, your Swissy faces orthopedic issues, shoulders osteochondritis dissecans (OCD), splenic torsion and urinary incontinence. Let's not forget, your furry family member is also a dog, so there's always the risk of physical problems like a broken bone or torn muscle. Preparing for the worst with dog insurance is certainly a great way to help your mind stay at ease for taking care of your pet as these conditions will need ongoing medical treatment and monitoring by a veterinarian.
What services for my Greater Swiss Mountain Dog are covered by dog insurance? What services are excluded from coverage?
There's a lot of potential issues that pet insurance will cover, including a long list of problems such as surprise injuries or accidents. Pet insurance policies can also include surgery, medication, medical tests, emergency care and exam fees. Some dog insurance plans will also cover hospitalizations and preventative care.

Don't be surprised that there are also issues that may be excluded in your plan. The important thing to keep in mind is that most dog insurance policies will not cover the cost of care for pre-existing conditions, which is why it's so important to enroll your Greater Swiss Mountain Dog in a plan as soon as possible.
How does reimbursement work?
As with many insurance policies, you are responsible to pay your pet's medical bill upfront. After that's done, you'll then submit the vet bill for reimbursement to your insurance provider and they will pay you back a certain percentage of that bill. Your insurance company will determine how much money you'll receive back based on your deductible and reimbursement rate.
Should I enroll in a high deductible or low deductible plan?
The question really should be, how do I want to deal with my finances in an emergency pet situation? If you don't want to stress about paying a large medical bill right when you're dealing with a sick pooch, then a low deductible plan may be for you. You'll pay slightly more in monthly payments, but you'll only have to deal with a lower cost deductible right when your pup requires emergency care. That said, as you determine your budget, you may find that a higher deductible is what works best for your monthly expenses. A high deductible plan means a lower monthly payment, but expect to pay a higher amount in the deductible when it's time to use your policy.
5 Tips for Keeping Your Greater Swiss Mountain Dog Safe & Healthy
No surprise here, but your Greater Swiss Mountain Dog started her hereditary line off in Switzerland. She was bred to be a farm dog, pulling heavy carts and herding cattle. She's big and hearty and she's likely taking up every last inch of available space on your couch. Smart move to include pet insurance as part of her overall care. Here's a few more tips to make sure your Swissy lives a long and happy life.
1. Regular Exercise
Your GSMD requires moderate exercise to keep her in tip top shape. A brisk walk around the block or a moderate hike once or twice a day will do the trick. Believe it or not, despite her size, she doesn't need a large amount of space. Most of the time she just wants to be near her humans and will rarely stray far away. One important note, your Greater Swiss Mountain Dog does not do well in the heat, no surprise, the clue is really right there in the name itself. If you live in a hot climate, or face hot summers, do not exercise during hot spots in the day and be sure you have a cool space for your Swissy to cool off and relax.
2. Training and Socialization
The key to training your Greater Swiss Mountain Dog is that you need to be more stubborn than her. Your Swissy is motivated by positive training and treats. It's not a good idea to try harness training with your Swissy because, let's face it, she's going to be stronger than you. The average GSMD is capable of pulling 3,000 pounds, or more. It's literally in her nature to wear a harness and pull a heavy tractor, you're going to be no match for her and you're just going to encourage her to pull even harder. Really, as with most dogs, the key is early socialization and puppy training classes because in this case, you're going to want to make sure she knows how to behave when walking on a leash, otherwise you're just going to be holding on while being dragged all over the neighborhood. Be prepared; GSMDs can be challenging to housebreak, sometimes taking up to six months. Stick with it, she'll get it eventually.
3. Nutrition
The Swissy will do well with many types of food, from kibble to raw foods to a combination of both. If anything, the biggest challenge with GSMDs is ensuring not to overfeed as that will lead to digestive problems and obesity (she's already a big dog, an overweight Swissy will be even more challenging). As with all dogs, ensure clean, fresh water is always available for drinking.
4. Love & Affection
Your Greater Swiss Mountain Dog is faithful and eager to please. She's sensitive, loyal, confident and can be extremely devoted to her family. She's very gentle with children as well as other pets – think of her as your own gentle giant. Don't be fooled though, your Swissy is also territorial, alert and vigilant. Anything and everything she wants from you is literally to just be near you.
5. Regular Grooming
Your GSMD is a "wash & wear" dog. The occasional bath and brushing will do the trick. That said, your Swissy does have a double coat to combat those harsh Switzerland winters. She'll benefit from professional grooming that includes a blowout to her undercoat followed by thorough brushing. Like all dogs, she will also need regular nail trimming and ear and teeth cleaning.
Conclusion
The Greater Swiss Mountain Dog is a unique, large, loving family dog. Adding a dog insurance policy to her overall care plan is a smart way to be sure you're doing all you can for her overall health and happiness. There are a lot of insurance options available, and the enrollment process can be confusing. You must select the best plan for you and your dog, pay the monthly premium, and then your Swissy is covered. There are too many reasons why your GSMD may need veterinary care. Having coverage means your pup can receive the necessary treatment without the stress of figuring out how you'll pay for it all.
After extensive research, we conclude that Lemonade pet insurance offers the best dog insurance policy at the lowest monthly price for the Greater Swiss Mountain.
SwiftScore Ranking Methodology for Greater Swiss Mountains
We ranked the best pet insurance policies for Greater Swiss Mountains based on a variety of important factors including the following:
Average monthly price for a 2-year-old Greater Swiss Mountain with a $500 deductible located in the 90210 zip code
Coverage and benefits
Key policy details including accidents and illnesses, surgeries, annual check-ups, cancer treatment, lab tests, and more
AM Best rating of the underwriter
Reimbursement percentage
Annual benefit amount
Technology and user experience

Ease of sign up

Policy language clarity
User reviews
Other state dog insurance resources
Alabama | Alaska | Arizona | Arkansas | California | Colorado | Connecticut | Delaware | Florida | Georgia | Hawaii | Idaho | Illinois | Indiana | Iowa | Kansas | Kentucky | Louisiana | Maine | Maryland |
Massachusetts | Michigan | Minnesota | Mississippi | Missouri | Montana | Nebraska | Nevada | New Hampshire | New Jersey | New Mexico | New York | North Carolina | North Dakota | Ohio | Oklahoma | Oregon | Pennsylvania | Rhode Island | South Carolina | South Dakota | Tennessee | Texas | Utah | Vermont | Virginia | Washington | West Virginia | Wisconsin | Wyoming