6 Best Gordon Setter
Pet Insurance

Plans Compared in 2023

Updated on by Matthew H. Nash – Licensed Insurance Agent

The Gordon Setter is a large breed of rare dog in the U.S. at least. He's a member of the Setter family that also happens to include both the Irish Setter and the English Setter. But, those distinct eyebrows on the Gordon Setter make him darn cute. Your Gordon has a lifespan of 10-15 years and you no doubt want to do all you can to beat that average, especially since he does have a few health obstacles that you'll need to keep an eye on. Genetically, some of the main issues are bloat, gastric torsion, or gastric dilation volvulus (GDV), where the stomach becomes overstretched and twisted with gas content. Other issues that affect large dogs, in general, include hypothyroidism, elbow and hip dysplasia, progressive retinal atrophy (PRA), and cataracts. That's a long list, but some options can help you take care of your Gordon Setter. Pet insurance is a way to help ensure your gorgeous Gordon stays healthy for a lifetime. As a fan of all dogs, big and small, and a licensed insurance agent, I am here to help make sense of the pet insurance options that are available to you and your Gordon Setter. Read more about our unbiased ranking methodology and advertiser disclosure.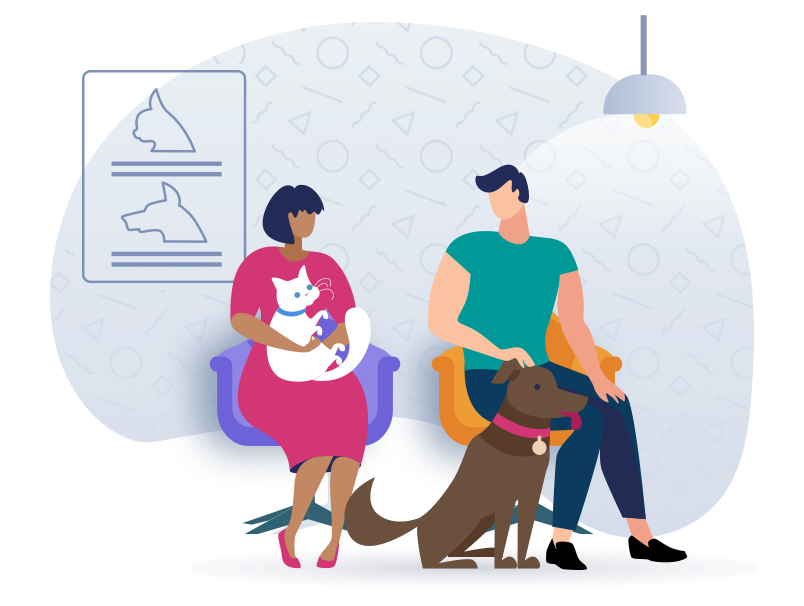 Top Gordon Setter Pet Insurance Scored, Ranked & With Cost
Use our below table to quickly compare the best Gordon Setter pet insurance providers. The average monthly specific prices shown are based on a healthy 2-year-old Gordon Setter with a $500 deductible and 90% reimbursement amount who is located in California with a 90210 zip code. Costs may vary based on age, location, and the coverage amount. Prices are accurate as of June 2023 and are subject to change. For the most up-to-date information, please visit the provider website.
---
Gordon Setter Pet Insurance FAQs
What is dog insurance and why is it useful for Gordon Setters?
Dog insurance is medical insurance you can purchase as part of a regimen to maintain your pup's overall good health. Pet insurance is another way to make sure your Gordon Setter receives the care he needs to stay a part of your family for as long as possible. Pet insurance is useful for your Gordon because it will help take care of medical expenses and will support you with the financial costs of the veterinary care required as part of your dog's upbringing and overall care. Dog insurance may not cover the entire cost of your dog's medical bills, but it will save money by covering a significant portion of those vet visits. Setting up a dog insurance policy is fairly simple, all you need to do is select a plan, make the required monthly payments to keep the policy active, and you're done. When needed, you'll submit receipts for reimbursement from your insurance provider.

Pet insurance helps when you have a Gordon Setter as it gets you ready for anything that may unexpectedly come your way. Potential issues include bloat, gastric torsion, or gastric dilation volvulus (GDV), where the stomach becomes overstretched and twisted with gas content, hypothyroidism, elbow and hip dysplasia, progressive retinal atrophy (PRA) and cataracts. Lots of trips to the vet will put a dent in your bank account, but pet insurance is an easy way to fight the cost of those vet bills.
How old does my Gordon Setter need to be insured?
The younger the better is really the answer, but in general dog insurance providers will want your Gordon puppy to be at least eight weeks old in order to start insurance coverage. Plan on enrolling your Gordon Setter in a dog insurance plan as soon as you bring him home for the first time. Most pet insurance premiums are based on age, which means the younger you can enroll your Gordon Setter in a plan, the better.
What are common insurance claims for Gordon Setters?
Gordon Setters are considered healthy dogs, but they have some genetic traits and general large dog issues that can creep up and become a problem. Genetically Gordon Setters are susceptible to bloat, also known as gastric torsion, or gastric dilation volvulus (GDV), where the stomach becomes overstretched and twisted with gas content. Like many large dogs, or really most dogs in general, additional issues to be on the lookout for are hypothyroidism, elbow and hip dysplasia, progressive retinal atrophy (PRA), cancer and cataracts. Of course, having an active dog also means there's a potential for active dog injuries with broken bones, scrapes and torn muscles. Any one of the items on this list will mean a trip to the vet and ongoing medical treatment, which is why pet insurance is so important.
What services for my Gordon Setter are covered by dog insurance? What services are excluded from coverage?
There are a lot of options when it comes to dog insurance. Your policy will likely cover surprise injuries or accidents and can also include surgery, medication, medical tests, emergency care, and exam fees. Some pet insurance plans also cover hospitalizations and preventative care. Almost any stumble, nasty germ or scrape your Gordon Setter might come across during his lifetime can be covered.

On the same note, some areas may be excluded in your plan. Dog insurance policies will typically not cover the cost of care for pre-existing conditions, which is why it's so important to enroll your Gordon Setter in a policy as soon as possible.
How does reimbursement work?
You will be responsible for paying the medical bill upfront, and you will then submit the vet bill for reimbursement to the insurance provider. Your Gordon Setter insurance provider will then pay you back a certain percentage of that bill. Your insurance company will determine how much money you'll receive back based on your deductible and reimbursement rate.
Should I enroll in a high-deductible or low-deductible plan?
As you shop around, you'll quickly learn that you can choose from high, low, and even plans with no deductible. Policies work like any other insurance plans; the higher the deductible, the lower the monthly payment typically, but that means you'll pay a higher cost during those unexpected emergencies. The last thing on your mind during a pet emergency visit should be how am I going to pay for this expensive vet bill. The lower deductible plan may be for you, which means a higher monthly payment, but that will equal less of a financial surprise during a stressful medical emergency.
5 Tips for Keeping Your Gordon Setter Safe & Healthy
You've brought home an excellent family dog. Your Gordon Setter will be a loyal companion for many years and including pet insurance in your pet budget will help make sure that he sticks around for as long as possible. In addition to that insurance, here are a few tips to make sure your Gordon Setter is happy and healthy.
1. Regular Exercise
Gordon Setters were bred to be hunting dogs, and they are high-energy, so running is certainly part of their genetic makeup. Plan on some exercise of daily running, walking, hiking or even biking. If you have a large fenced yard, your Gordon will use that space to the fullest running around on his own. That said, Gordon Setters love being bonded with their human, so exercise time with you will be one of his favorite activities. An important note, as mentioned earlier, bloat can be a serious issue for your Gordon. In order to help prevent bloat, never exercise with your pup for at least 30 minutes prior to feeding as well as no exercise 30 minutes after eating.
2. Training and Socialization
Gordon Setters are known for their loveable temperaments. Thanks to their roots as hunting dog, Gordons are easily trained. But, hunting dog genetics means they tend to run and chase something if it catches their eye, so be sure to work on that training early on. With that in mind, Gordons are smart, but also stubborn, however, they live to please their human. As with many dogs, early socialization and puppy training classes will go a long way in helping them to grow into well adjusted members of the family. Gordons are loyal, so they don't like to be left alone for long. Keeping them inside alone for long periods of time, without a lot of activity, could lead them to get bored and develop destructive behaviors.
3. Nutritious Diet
Because your Gordon Setter can have issues with bloat, their diet needs to be monitored closely. For example, feeding your Gordon a high protein diet is not recommended as health issues can develop from forcing rapid growth. Feeding high-quality dog food, both wet and dry, that includes fiber, will be important to maintaining your pup's health. Some small amounts of other foods such as chicken, salmon, fruits, and cooked vegetables can be safe, but it's very important that you check with your vet on what's best for your Gordon. It's worth mentioning again that you should not exercise your Gordon 30 minutes before feeding or wait at least 30 minutes after eating before heading out for some exercise. Always have clean, fresh water available as well.
4. Love and Affection
Gordons are very loyal and family-friendly. They want nothing more than to be with you as often as possible. Again, your pup does not like to be left alone for long periods. Other than exercising with you, his second favorite pastime will be snuggling at home with you and the family.
5. Regular Grooming
Your Gordon Setter needs a bit more grooming than your average pup. Plan on brushing your Gordon at least once a week to prevent matting, though it never hurts to do more than once a week. You'll only have to deal with minimal shedding if you can keep up with regular brushing. A monthly trip to the groomer will do him a lot of good, especially so that hair around his paws can get a good trim, along with some cleaning up of the hair around his ears, nose and tail area. Getting those nails trimmed and brushing his teeth regularly to prevent plaque build-up will be important. Your Gordon may have some dry skin issues, so bathing monthly, along with skin conditioner, will help prevent dandruff.
Conclusion
Your Gordon Setter is a unique, gorgeous dog who wants nothing more than to spend time exercising and relaxing with you. This large breed can have some tricky health issues, but nothing that isn't manageable with the help of a good vet. Your pet insurance policy is also a great way to ensure that your pup has all the care he needs. There are a lot of options when it comes to finding the best insurance for your pup. My job and my mission is to help guide you through all of the options to help you make the right insurance choice for you and your Gordon. Once you select a plan for you and your dog, and pay the monthly premium, your Gordon Setter is covered for many of the potential reasons where he may need veterinary care. Having pet insurance coverage means your pup can receive the necessary treatment without the stress of facing a pile of medical bills.
After extensive research, we conclude that Lemonade pet insurance offers the best dog insurance policy at the lowest monthly price for the Gordon Setters.
SwiftScore Ranking Methodology for Gordon Setters
We ranked the best pet insurance policies for Gordon Setters based on a variety of important factors including the following:
Average monthly price for a 2-year-old Gordon Setter with a $500 deductible located in the 90210 zip code
Coverage and benefits
Key policy details including accidents and illnesses, surgeries, annual check-ups, cancer treatment, lab tests, and more
AM Best rating of the underwriter
Reimbursement percentage
Annual benefit amount
Technology and user experience

Ease of sign up

Policy language clarity
User reviews
Other state dog insurance resources
Alabama | Alaska | Arizona | Arkansas | California | Colorado | Connecticut | Delaware | Florida | Georgia | Hawaii | Idaho | Illinois | Indiana | Iowa | Kansas | Kentucky | Louisiana | Maine | Maryland |
Massachusetts | Michigan | Minnesota | Mississippi | Missouri | Montana | Nebraska | Nevada | New Hampshire | New Jersey | New Mexico | New York | North Carolina | North Dakota | Ohio | Oklahoma | Oregon | Pennsylvania | Rhode Island | South Carolina | South Dakota | Tennessee | Texas | Utah | Vermont | Virginia | Washington | West Virginia | Wisconsin | Wyoming