7 Best
German Wirehaired Pointer

Pet Insurance Plans Compared in 2023

Updated on by Matthew H. Nash – Licensed Insurance Agent

Having an intelligent, athletic dog like the German Wirehaired Pointer (GWP) will keep you on the go, and the more you're out and about, the greater the chance that injuries can occur. Protecting your pointer as you would any family member should mean looking into pet insurance. There are quite a few options for dog insurance, and the terms can be confusing. As a dog lover and nationally licensed insurance agent, I've done all the research for you so it doesn't matter if you live in North Dakota or Virginia; this article has you covered. Read more about our unbiased ranking methodology and advertiser disclosure.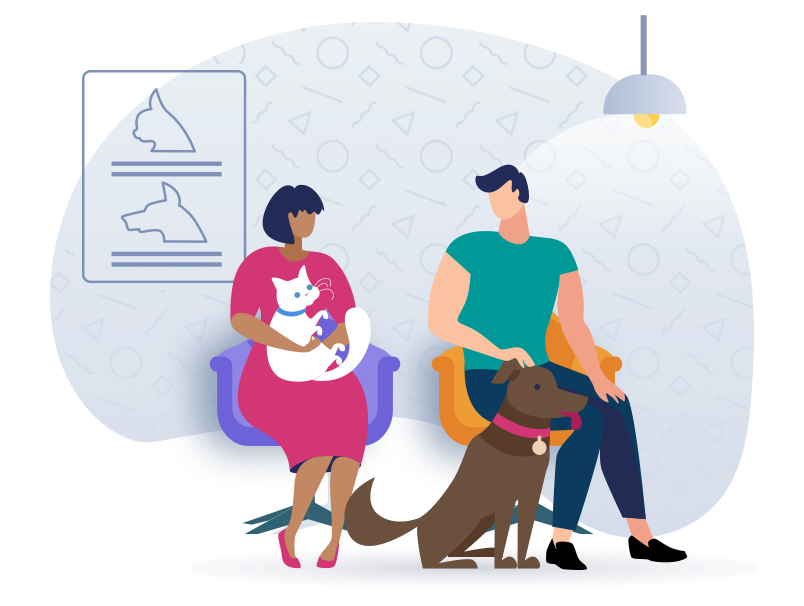 Top German Wirehaired Pointer Pet Insurance Scored, Ranked & With Cost
Use our below table to quickly compare the best German Wirehaired Pointer pet insurance providers. The average monthly specific prices shown are based on a healthy 2-year-old German Wirehaired Pointer with a $500 deductible and 90% reimbursement amount who is located in California with a 90210 zip code. Costs may vary based on age, location, and the coverage amount. Prices are accurate as of January 2023 and are subject to change. For the most up-to-date information, please visit the provider website.
---
German Wirehaired Pointer Dog Insurance FAQs
What is dog insurance?
Dog insurance is protection for your pooch against sickness and accidents. Dogs usually need to be at least 8 weeks old before they qualify for insurance. A few pet insurance companies will not offer policies on dogs older than 14 years old so shop around if you have a senior pointer.

Pet insurance often comes in one of three categories: accidents and illness, accidents only or a wellness plan. Accident coverage could be for a broken bone, swallowed object, surgery, toxic ingestion or x-rays. Insurance for illnesses might include ear infections, vomiting, bloodwork, cancer treatments or hospitalization. Wellness or maintenance plans focus on routine dental cleanings, vaccines, flea and tick prevention or annual exams. The wellness plan is usually not offered as a stand-alone but can be purchased along with another policy.
Is everything covered with pet insurance?
No, most insurance plans will not cover spay/neuter procedures, cosmetic items such as tail docking and ear cropping, and breeding/pregnancy/birth. Also, providers will look for pre-existing symptoms or conditions that your pointer was experiencing before you looked at insurance plans, and will not cover them once you have a policy in place. There is a waiting period of 2-15 days after you buy a plan before the benefits kick in.
How does dog insurance work?
Dog insurance policies work off a reimbursement model – you make a trip to the vet, pay the bill in full at the office, and then submit a claim. Most pet insurance will not use a specific network of veterinarians so you can go to one of your choosing. When you purchase a policy, you will need to decide how much of a deductible you would like to pay. The deductible is the out-of-pocket costs that you cover annually before you can be reimbursed for services. How high or low your deductible is will affect your monthly premium – the lower the deductible, the higher the monthly fee.

Other factors can also influence the cost of insurance, such as type of animal, age, breed of pet, gender, and where you live. The rate at which you are reimbursed, typically 70-90%, is an amount that you can select as well. The higher claim refund that you want, the more you will pay in monthly fees. Another dollar amount to be aware of is the maximum annual reimbursement limit, the most you can receive in one year on claims. Some providers offer unlimited payouts but you can expect to pay more in monthly premiums for that benefit.
Can a pet affect homeowner's insurance?
Protecting yourself with homeowner's insurance is required and the responsible thing to do. Liability coverage on your insurance is for visitors who may become injured in your home or on your property. As a dog owner, the breed you have can negatively impact your insurance as some providers will not cover specific breeds known to be aggressive. The German Wirehaired Pointer is not usually on the list of restricted breeds but your homeowner's insurance will still want to know if your dog has a history of bites or damaging furniture.
What are common insurance claims for the GWP?
If you've owned other dogs, you know that some medical conditions are more common to specific breeds than others. These conditions may require a trip to the vet's office to address the ailments. Here are a few of the more common insurance claims for a German Wirehaired Pointer:

Hip Dysplasia – the hip joint becomes loose causing pain and weakness in the hind end. After exercise, your pointer may have trouble climbing stairs or getting up off the floor. While it usually presents itself in older dogs, it is important to be aware of it in puppies. Overfeeding a young dog can lead to hip dysplasia based on quick weight gain and high calorie intake. There is no cure for hip dysplasia but anti-inflammatory drugs and acupuncture may help.

Entropion – when the lower eyelid starts rolling in on itself, it can irritate the cornea. A dog may experience tearing or squinting, possibly rubbing its eyes, and eventually a laceration or scarring could contribute to visual impairment. Surgery will be needed to repair the eyelid and cornea if problems persist.

Cataracts – another eye issue, this occurs when the eye lens becomes covered with a cloudy film that does not allow in light. If the cataract progresses to completely cover the lens, this can lead to blindness. These can be removed through surgery if the cataract is causing substantial visual impairment.

Von Willebrand's Disease – a bleeding disorder where the blood clotting process is impacted. Most cases are typically mild and may only result in nosebleeds or issues during surgery. More severe cases may require a transfusion and caution is used during surgery.
5 Tips to Keep Your German Wirehaired Pointer Safe & Healthy
1. Add Title
Pointers are fantastic hunters, and wirehaired ones can traverse land and water easily with their waterproof coats. GWPs require a lot of physical activity and mental stimulation daily, so do not get this dog if you are a couch potato. Like all dogs, if you do not burn off their excess energy, they will take it out on other things like your furniture or get up to some mischief. GWPs make great running partners! Pointers are highly intelligent and can be trained but also strong-willed, so they may not be a good choice for a first-time dog owner. Look for competition opportunities in tracking, agility or rally to work their minds and bodies.
2. Add Title
Because of their athletic abilities, a fenced in yard at least six feet high is recommended. Be sure to look for fencing that doesn't have a lot of gaps towards the bottom either or your pointer will dig his way out. They have a high prey drive so certainly keep an eye on small animals in the yard. If you already own a cat, it will be important to socialize them together early on and with supervision. Pointers are protective and make good watchdogs if you don't mind the barking to alert you to a possible stranger.
3. Add Title
Grooming is a good way to bond with your GWP and tame that wiry coat. They don't need daily brushing, though, a weekly combing will help with loose hair and dirt that is trapped in the undercoat. They shed in the spring and fall and a professional groomer can show you about stripping, using a special tool to pull out the dead hairs. Since they do like the outdoors so much, checking their ears regularly and wiping them out will benefit the pointer. As they are hunters by nature, keeping their nails trimmed is key as well.
4. Add Title
Due to their energetic nature, a high quality dog food is imperative to give them the energy they need. If you plan to run your dog for a couple of hours each day, make sure they get enough protein in their diet and healthy fats. Like other deep-chested dogs, pointers should slowly eat smaller meals twice a day and hold off on exercise for 1-2 hours after a meal to avoid gastric dilatation and volvulus. This dangerous condition occurs when the stomach fills with gas (bloat) and twists in on itself.
5. Add Title
Suppose you and your German Wirehaired Pointer plan to do a lot of hiking and walking through trails together. In that case, it is highly recommended that you stay up to date on vaccines for parasites and preventative heartworm solutions. Their rough, wiry coat will attract a lot of fleas, ticks and other bugs and worms. Always register your dog according to local ordinances and they should have a collar with a tag that indicates this along with contact information should they get away from you. Dogs with high prey drives should never be allowed off-leash unless the area is guaranteed to be free of small animals.
Conclusion
The German Wirehaired Pointer is a lively, devoted pet with a unique, distinct look all their own. The two of you will go on many grand adventures so it's best to be prepared with pet insurance. The sooner you purchase a plan for your dog, the easier it will be to avoid pre-existing conditions. Dog insurance at any age will help protect your pointer during accidents and illnesses that occur in their lifetime.
Ready to get started? After countless hours of research, we've found that Lemonade pet insurance consistently performs the best with the lowest monthly premiums.
SwiftScore Ranking Methodology for German Wirehaired Pointers
We ranked the best pet insurance policies for German Wirehaired Pointers based on a variety of important factors including the following:
Average monthly price for a 2-year-old German Wirehaired Pointer with a $500 deductible located in the 90210 zip code (Please note: prices will vary greatly based on your location)
Coverage and benefits
Key policy details including accidents and illnesses, surgeries, annual check-ups, cancer treatment, lab tests, and more
AM Best rating of the underwriter
Reimbursement percentage
Annual benefit amount
Technology and user experience

Ease of sign up

Policy language clarity
User reviews
See dog insurance prices in your state
Alabama | Alaska | Arizona | Arkansas | California | Colorado | Connecticut | Delaware | Florida | Georgia | Hawaii | Idaho | Illinois | Indiana | Iowa | Kansas | Kentucky | Louisiana | Maine | Maryland | Massachusetts | Michigan | Minnesota | Mississippi | Missouri | Montana | Nebraska | Nevada | New Hampshire | New Jersey | New Mexico | New York | North Carolina | North Dakota | Ohio | Oklahoma | Oregon | Pennsylvania | Rhode Island | South Carolina | South Dakota | Tennessee | Texas | Utah | Vermont | Virginia | Washington | West Virginia | Wisconsin | Wyoming