7 Best Fox Terrier
Pet Insurance

Plans Compared in 2023

Updated on by Matthew H. Nash – Licensed Insurance Agent

The Fox Terrier category includes two similar but separate breeds – the Smooth Fox Terrier and the Wire Fox Terrier. Modern Fox Terrier dogs can be traced back to 1870 when English breeders developed both breeds to be used in hunting packs to help flush out foxes. In the United States, Fox Terrier dogs of both coat types were considered a single breed until 1985 when kennel clubs began registering them as two separate breeds. As with other terrier breeds, the Fox Terrier breeds are very active and inquisitive, but, unfortunately, they are prone to a few breed-specific health problems. For instance, myasthenia gravis, a neuromuscular disease, is sometimes inherited in Smooth Fox Terrier dogs. If your Fox Terrier dog suffers from any of these health conditions, or if your dog becomes injured or sick with common illnesses like an ear infection or dental disease, veterinary care can become costly. Fortunately, many pet insurance providers offer dog insurance that covers a wide range of care. In the following article, I provide some general information about dog insurance and breed-specific tips to help you care for your Fox Terrier dog. Hopefully, you will find some useful information. Read more about our unbiased ranking methodology and advertiser disclosure.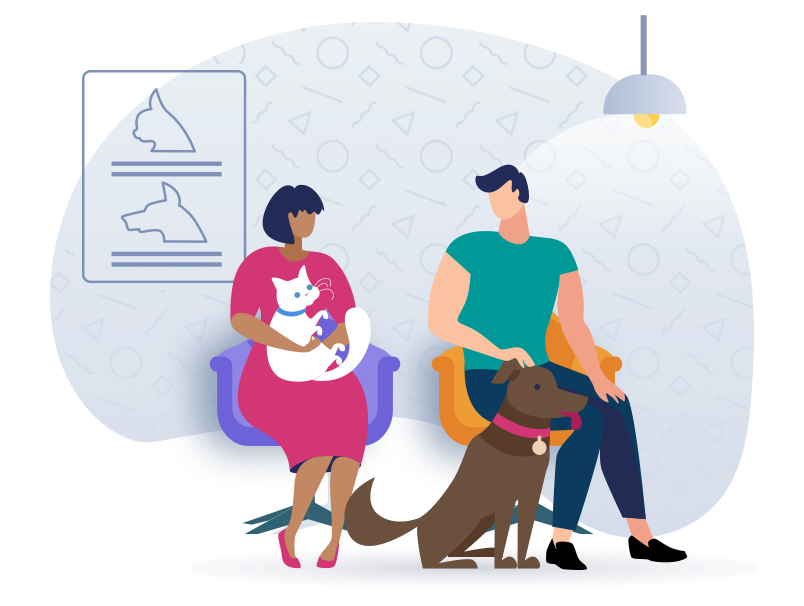 Top Fox Terrier Pet Insurance Scored, Ranked & With Cost
Use our below table to quickly compare the best Fox Terrier pet insurance providers. The average monthly specific prices shown are based on a healthy 2-year-old Fox Terrier with a $500 deductible and 90% reimbursement amount who is located in California with a 90210 zip code. Costs may vary based on age, location, and the coverage amount. Prices are accurate as of January 2023 and are subject to change. For the most up-to-date information, please visit the provider website.
---
Fox Terrier Pet Insurance FAQs
Does my healthy Fox Terrier dog really need dog insurance?
Just like health insurance for people, dog insurance can benefit any dog owner, regardless of the health or breed of dog. Fox Terrier dogs sometimes experience breed-specific issues like cataracts or myasthenia gravis for Smooth Fox Terriers and megaesophagus for Wire Fox Terriers or allergies for both breeds. Also, any dog can get sick or injured. Many dog insurance policies cover medical expenses for health concerns, potentially saving you thousands of dollars. Enrolling your Fox Terrier dog in good, basic coverage is highly recommended.
How old should my Fox Terrier puppy be before I enroll him?
Almost all dog breeders recommend waiting until a puppy is between eight and ten weeks old before you bring it home. Keeping in line with these recommendations, many dog insurance providers will not offer coverage for puppies less than eight weeks old. It's always a good idea to check with specific insurance providers about their age requirements, however, before enrolling your puppy, just to make sure he's eligible. For Smooth Fox Terrier dogs specifically, enrolling in dog insurance as soon as possible is a good idea because the clinical signs of myasthenia gravis can begin to appear at a very young age, usually less than a year old.
What specific coverage would be recommended for Fox Terrier dogs?
Breed-specific health concerns for Fox Terrier dogs are generally diagnosed through physical exams and x-rays, but to help diagnose myasthenia gravis, your veterinarian might also order blood tests or a biopsy of a tissue sample. Treating myasthenia gravis sometimes means your dog will take medicine indefinitely. Cataracts generally require surgery for treatment. Veterinarians usually treat megaesophagus with dietary changes, including a high-calorie food, elevated food bowls, or a Bailey chair, which is a specially designed chair that helps keep dogs upright as they eat. If you are concerned about any of these medical issues, you might consider a plan that covers diagnostic procedures, medication, and surgery. Otherwise, insurance plan coverage of basic treatment for unexpected illnesses or injuries or preventative care like dental cleanings is a great idea.

As you might expect, most dog insurance plans, similar to health insurance plans for people, exclude coverage for pre-existing conditions.
How does dog insurance typically work?
Pet insurance generally, including dog insurance, works on what is known as a reimbursement model. With this type of insurance, you will pay your veterinarian directly, usually at the time of service, and your insurance provider will reimburse some of the costs. There is no network of veterinary providers, so you don't have to worry whether your veterinarian's office accepts your insurance. Instead, any time your Fox Terrier dog needs care, whether for a regular, annual check-up, for an injury, or for an unexpected illness, take your dog to your regular veterinarian's office as usual. Pay your veterinarian's office as you normally would, and then submit a reimbursement request to your insurance provider. Once your insurance provider reviews your request, they will send you the appropriate amount of reimbursement, based on your specific plan's rates and coverage.
My Fox Terrier is pretty healthy. What type of deductible is recommended?
The type of deductible you choose is really up to you and your specific circumstances. There is no right or wrong plan, and dog insurance comes with high or low deductible options, sometimes even no deductible. If your Fox Terrier dog is young and healthy, you might prefer a high deductible plan, which should also come with a lower monthly premium. If you're worried about the potential for expensive medication or surgery, however, you might be more interested in a lower deductible plan even if it means you will likely pay higher monthly premiums.
5 Useful Strategies for Keeping Your Fox Terrier Dog Safe & Healthy
You want to provide the best life possible for your Fox Terrier dog. With an average lifespan of 12 to 14 years, Fox Terrier dogs of both breeds – Smooth Fox Terriers and Wire Fox Terriers – generally give their owners a lifetime of fun and love. Keeping the following tips in mind should help you make the most of your time with your Fox Terrier dog:
1. Grooming
The Smooth Fox Terrier dog has a soft undercoat and short, straight, flat, smooth topcoat that has a hard texture. This breed requires minimal grooming. A quick brushing session with a rubber hound glove or curry brush twice a week is enough to prevent excessive shedding, although you might want to increase grooming to three or four times a week during the seasonal shedding periods in spring and fall.

Grooming the hard and crisp double coat of the Wire Fox Terrier dogs is slightly more involved. The thick topcoat must be stripped twice a year, which means that you pluck the coat by hand or with a special stripping implement. If you choose not to strip the coat, you must regularly clip your Wire Fox Terrier dog's coat. Clipping is easier, but it makes the coat soft. You'll need to learn how to strip the coat if you prefer the hard texture. Other than coat stripping, the Wire Fox Terrier just needs regular brushing and combing.

Baths for either breed are rarely necessary. In most cases, you can just wipe the coat down occasionally with a damp cloth to keep it clean.
2. Feeding
Depending on their size, most Fox Terrier dogs do well with one and a half cups to two cups of food a day, split evenly between two meals. More active dogs might need some additional calories, though. Check with your veterinarian for recommendations about high quality dog food, amounts to feed your dog to maintain a healthy weight, and whether you should feed your dog wet or dry food or a combination of both.

If your Fox Terrier dog suffers from either myasthenia gravis or megaesophagus, he will likely have difficulty eating and may regurgitate food often. Managing your pet's symptoms can sometimes be accomplished by using elevated food and water bowls or a specially designed Bailey chair that keeps your dog upright while he eats. In some cases, your veterinarian might prescribe a high calorie food to help manage your dog's condition.
3. Hunting Instincts
Since these breeds were originally developed as hunting dogs, it should be no surprise that they have alert natures and acute hearing, making them exceptional watchdogs. Your Fox Terrier dog will also hunt any mice or rodents that might get into your home. Unfortunately, if your Fox Terrier dog has not been raised with cats, birds, or small rodents like hamsters or gerbils that might also be pets in your home, he will likely try to hunt them as well. This might not be your breed if you have other animals in your home. Even if they do get along, you should not leave them together unsupervised.
4. Exercise
Fox Terrier dogs have an endless impulse to move, dig, bark, and investigate. These breeds do well in active families, especially with slightly older children willing to play ball and run around with them. If you prefer quiet lap dogs, or do not have a lot of time or the inclination to be active, these breeds are probably not for you.
5. Sports and Work
Given their extremely active and inquisitive natures, Fox Terrier dogs excel at all kinds of activities and canine sports. They are naturals on agility courses and in obedience rings, but they are also often used as search and rescue, therapy, drug detection, or service dogs due to their intelligence and outgoing and cheerful personalities. Some Fox Terrier dogs perform in movies, on TV shows, in commercials, and even in circuses, and they seem to love learning and doing tricks and being in the spotlight. To keep your Fox Terrier dog happy, you should spend time teaching him tricks and giving him opportunities to shine.
Conclusion
As you give your Fox Terrier dog shelter, food, and lots of love and attention, you know that your dog also needs regular veterinary care to stay healthy and happy. If your dog develops a medical condition known to affect these breeds or suffers from an unexpected illness or injury, you might be faced with growing veterinary bills. It's understandable to worry about your ability to pay for treatment, surgery, or medication that your dog might need. An easy step you can take to help ease your mind is to check out dog insurance options. As you begin your search, you might be overwhelmed by the range of providers and plans.
After extensive research, we conclude that Lemonade pet insurance offers the best dog insurance policy at the lowest monthly price for the Fox Terrier. They are a reputable insurance company that consistently offers several different plans at reasonable rates for all dog breeds, including Smooth Fox Terriers and Wire Fox Terriers. All you have to do is look through their plan options, pick what works for you, your dog, and your finances, and enroll. Paying your monthly premium is all it takes to keep your coverage active, so it's there whenever you need it, whether you're facing an emergency or not. Dog insurance is a great idea for any dog owner.
SwiftScore Ranking Methodology for Fox Terriers
We ranked the best pet insurance policies for Fox Terriers based on a variety of important factors including the following:
Average monthly price for a 2-year-old Fox Terrier with a $500 deductible located in the 90210 zip code
Coverage and benefits
Key policy details including accidents and illnesses, surgeries, annual check-ups, cancer treatment, lab tests, and more
AM Best rating of the underwriter
Reimbursement percentage
Annual benefit amount
Technology and user experience

Ease of sign up

Policy language clarity
User reviews
Other state dog insurance resources
Alabama | Alaska | Arizona | Arkansas | California | Colorado | Connecticut | Delaware | Florida | Georgia | Hawaii | Idaho | Illinois | Indiana | Iowa | Kansas | Kentucky | Louisiana | Maine | Maryland |
Massachusetts | Michigan | Minnesota | Mississippi | Missouri | Montana | Nebraska | Nevada | New Hampshire | New Jersey | New Mexico | New York | North Carolina | North Dakota | Ohio | Oklahoma | Oregon | Pennsylvania | Rhode Island | South Carolina | South Dakota | Tennessee | Texas | Utah | Vermont | Virginia | Washington | West Virginia | Wisconsin | Wyoming