7 Best Finnish Lapphund
Pet Insurance

Plans Compared in 2023

Updated on by Matthew H. Nash – Licensed Insurance Agent

A semi-nomadic people called the Sami first developed the Finnish Lapphund breed to help herd reindeer in Lapland, including northern regions of Finland, Sweden, and part of Russia. Also known as Lappies, this breed continues to be very popular in Finland. Herding reindeer taught Finnish Lapphund dogs to be crafty, quick, and noisy, and today's dogs carry on those traits. As a lifelong dog person and licensed insurance agent, I've included some general information on dog insurance and also some tips specific to living with Finnish Lapphund dogs. I hope you find some useful information as you start your research into dog insurance. Read more about our unbiased ranking methodology and advertiser disclosure.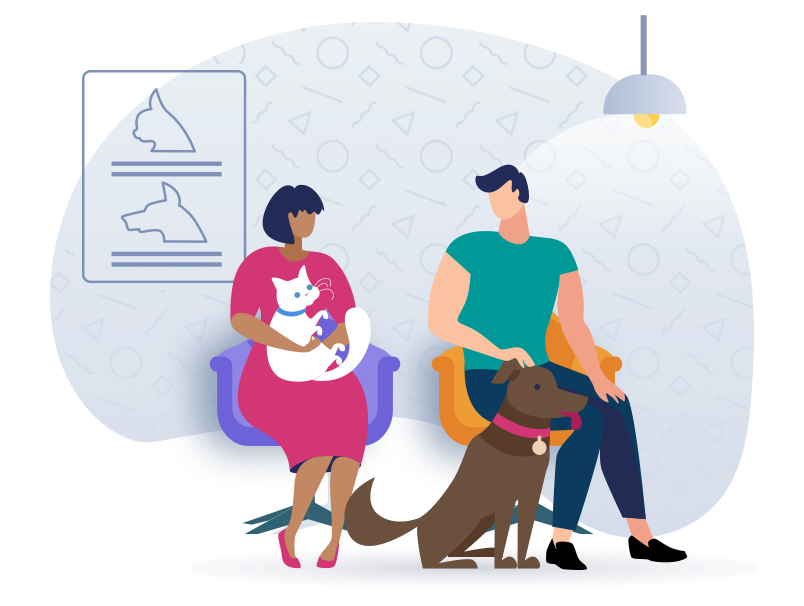 Top Finnish Lapphund Pet Insurance Scored, Ranked & With Cost
Use our below table to quickly compare the best Finnish Lapphund pet insurance providers. The average monthly specific prices shown are based on a healthy 2-year-old Finnish Lapphund with a $500 deductible and 90% reimbursement amount who is located in California with a 90210 zip code. Costs may vary based on age, location, and the coverage amount. Prices are accurate as of January 2023 and are subject to change. For the most up-to-date information, please visit the provider website.
---
Finnish Lapphund Pet Insurance FAQs
Do I need dog insurance even if my Finnish Lapphund dog is healthy? Should I wait to buy it when I need it?
Enrolling in dog insurance before you might need it is a good idea for any dog owner, regardless of their dog's health. Many dog insurance policies cover medical expenses for unexpected illnesses or injuries, which can affect any dog. Depending on your chosen plan, preventative care like dental cleanings might also be covered. Finnish Lapphund dogs as a breed sometimes experience hip or elbow dysplasia, which is usually treated with anti-inflammatory or pain medication, physical therapy, or even surgery, which can all be costly options. Dog insurance can help cover those costs. Considering these breed-specific issues and health concerns that affect all breeds, getting dog insurance for your Finnish Lapphund as soon as possible is recommended.
Will insurance cover my Finnish Lapphund puppy?
As a general rule, most dog insurance providers start coverage for puppies when they are at least eight weeks old, since that is the age that most breeders and veterinarians recommend bringing puppies home. However, it's a good idea to check with your specific insurance provider about their age requirements, just to be sure. Since elbow dysplasia, which is an inherited joint disease that sometimes affects Finnish Lapphund dogs, can impact dogs as young as one year old, it's a good idea to enroll your dog in pet insurance as soon as he is eligible.
Are there specific procedures or illnesses I should look for coverage for?
Finnish Lapphunds, as mentioned previously, are generally a very healthy breed but can sometimes develop elbow or hip dysplasia. These conditions are most often diagnosed using x-rays and treated with a combination of physical therapy, anti-inflammatory medication, and sometimes surgery. In addition to elbow and hip dysplasia, progressive retinal atrophy is also sometimes found in Finnish Lapphund dogs, which would require visits to a veterinary ophthalmologist. Based on these issues, you might consider insurance coverage for diagnostic procedures like x-rays, and medication. Since dental disease is also a common concern for all dogs, regardless of breed, finding a plan that covers preventative care like dental cleanings is also a great idea.

Generally speaking, most dog insurance plans, similar to health insurance plans for people, exclude coverage for pre-existing conditions, but this exclusion should not affect you and your Finnish Lapphund dog.
Dog insurance works on a reimbursement model. What is that?
A reimbursement model means that you pay the upfront costs for veterinary treatment for your dog, and your insurance provider reimburses you for some of the costs. Fortunately, with a reimbursement model, you don't need to find an "in-network" veterinarian, you don't need an insurance card to bring with you, and you don't have to worry whether your veterinarian's office even accepts insurance. When your Finnish Lapphund dog needs care, whether for a regular, annual check-up, for an injury, or for an unexpected illness, you take your pet in to see your veterinarian as usual. Your veterinarian's office will charge you for services, usually the same day, and you are responsible to pay your veterinarian's office directly. Once you've paid your bill, you simply need to submit a reimbursement request to your insurance provider. Your insurance provider reviews your request, compares it to your plan's rate and coverage, and then sends you a reimbursement check. It's that simple.
Can I get a low deductible with my dog insurance plan?
Much like health insurance for people, dog insurance includes a variety of options when it comes to deductibles and monthly premiums. You should be able to find plans with high, low, or no deductible options. If you prefer a low deductible plan, you will likely pay higher monthly premiums, but you may want the extra peace of mind if your Finnish Lapphund is older, seems prone to health issues, or requires expensive treatments regularly. On the other hand, if you are looking for a lower monthly premium, you may have better luck with a plan that has a higher deductible.
5 Useful Strategies for Keeping Your Finnish Lapphund Dog Safe & Healthy
Healthy Finnish Lapphund dogs live an average of 12 to 15 years. To help you and your dog get the most out of those years, keep the following tips in mind:
1. Grooming
As you might guess when first looking at the Finnish Lapphund dog with its thick, luscious coat, this breed sheds heavily. In fact, Finnish Lapphund dogs have a double coat – a smooth outer coat over a soft, dense undercoat. You will need to brush your dog daily during shedding seasons in the spring and fall. You might only need to brush weekly in the summer and winter months.

Other than brushing, grooming of your Finnish Lapphund dog should always include a quick check of the ears to make sure there are no signs of infection: redness, bad odor, or itchiness. Cleaning the ears regularly with wipes or a cotton ball dipped in mild, dog-safe cleanser should keep the ears infection-free.
2. Nutritious Diet
Even though Finnish Lapphund dogs are a medium-size breed, they are quite muscular and substantial. Feeding your dog around two cups of food a day is usually more than enough to fuel the moderate exercise requirements of this herding breed. Too many treats and table scraps might lead to obesity, which can create other health problems for your pet. Your veterinarian should be able to recommend some high-quality dog food, whether your preference is wet, dry, or raw, and will also recommend the amount of food you should be feeding your dog every day.
3. Love and Affection
Finnish Lapphund dogs are pack dogs, so they naturally want to be with their family and crave companionship. Generally speaking, they are among the friendliest of all dog breeds, although they are usually aloof with strangers at first. Lappies are not the breed for you if you are away from home or don't have extra time to spend with a dog. If left alone too much, they might begin engaging in destructive behavior.
4. Exercise
As with other herding breeds, the Finnish Lapphund dog is quick and agile, able to move effortlessly from a trot to a full gallop within seconds. They enjoy playing with their families, running around, or playing catch and fetch. Even given their active natures, their exercise requirements are actually fairly moderate; they will usually be satisfied with one long, brisk walk or about a half hour of energetic play daily.

Due to their heavy double coat, Finnish Lapphund dogs are intolerant of heat and humidity. If you live in a warmer climate, you should keep your dog indoors when not exercising.
5. Sports and Competitions
Originally bred to herd reindeer, this breed developed a strong startle reflex so they could pivot out of the way if a reindeer turned their way quickly. That startle reflex, combined with agility and intelligence, make Finnish Lapphund dogs a natural for canine sports and competitions including herding trials, agility courses, obedience competitions, rally, and tracking sports.
Conclusion
You know what it takes to be a good dog owner. You provide shelter, food, and love to your Finnish Lapphund dog and take him to the veterinarian on a regular basis to make sure he stays healthy. No one likes getting hit with the unexpected expense of a big bill for veterinary treatment for illnesses or injuries. It's also understandable if you are worried about covering the costs for potential treatment or medication that your dog might need in the future. The first step toward easing your mind about your ability to pay for excellent care for your pet is researching dog insurance options.
After extensive research, we conclude that Lemonade pet insurance offers the best dog insurance policy at the lowest monthly price for the Finnish Lapphunds. Not only are they reputable insurance companies, but they also consistently offer several different plans at reasonable rates. Pick the plan that works for you, enroll your dog, and pay your monthly premium. That's all it takes to keep your coverage active so it's there when you need it. Then you can relax and spend time with your beloved companion, knowing you're covered.
SwiftScore Ranking Methodology for Finnish Lapphunds
We ranked the best pet insurance policies for Finnish Lapphunds based on a variety of important factors including the following:
Average monthly price for a 2-year-old Finnish Lapphund with a $500 deductible located in the 90210 zip code
Coverage and benefits
Key policy details including accidents and illnesses, surgeries, annual check-ups, cancer treatment, lab tests, and more
AM Best rating of the underwriter
Reimbursement percentage
Annual benefit amount
Technology and user experience

Ease of sign up

Policy language clarity
User reviews
Other state dog insurance resources
Alabama | Alaska | Arizona | Arkansas | California | Colorado | Connecticut | Delaware | Florida | Georgia | Hawaii | Idaho | Illinois | Indiana | Iowa | Kansas | Kentucky | Louisiana | Maine | Maryland |
Massachusetts | Michigan | Minnesota | Mississippi | Missouri | Montana | Nebraska | Nevada | New Hampshire | New Jersey | New Mexico | New York | North Carolina | North Dakota | Ohio | Oklahoma | Oregon | Pennsylvania | Rhode Island | South Carolina | South Dakota | Tennessee | Texas | Utah | Vermont | Virginia | Washington | West Virginia | Wisconsin | Wyoming