6 Best English Setter
Pet Insurance

Plans Compared in 2023

Updated on by Matthew H. Nash – Licensed Insurance Agent

Of the three setter breeds – English, Gordon, and Irish – the English setter is the smallest, weighing in at between 35 and 80 pounds. This medium-sized pointing breed originated in Britain, and hunters prize them for their exceptional noses and good memories. Several different reputable pet insurance providers offer a wide range of options as far as rates and coverage. The following information in this article outlines dog insurance in general and a few breed-specific tips to help you care for your English Setter dog. As a lifelong dog owner and licensed insurance agent I will help guide you through pet insurance. Read more about our unbiased ranking methodology and advertiser disclosure.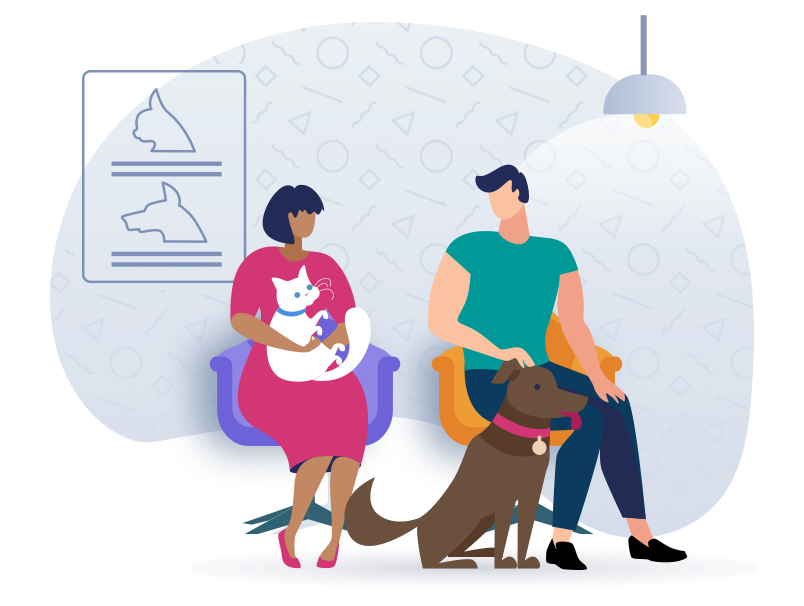 Top English Setter Pet Insurance Scored, Ranked & With Cost
Use our below table to compare the best English Setter pet insurance providers quickly. The average monthly specific prices shown are based on a healthy 2-year-old English Setter with a $500 deductible and 90% reimbursement amount who is located in California with a 90210 zip code. Costs may vary based on age, location, and the coverage amount. Prices are accurate as of January 2023 and are subject to change. For the most up-to-date information, please visit the provider website.
---
English Setter Pet Insurance FAQs
My English Setter dog seems healthy, so should I wait to buy dog insurance until he gets sick?
All dog owners can benefit from dog insurance, regardless of the health of their specific dog since many dog insurance policies cover medical expenses for unexpected illnesses or injuries as well as preventative care like dental cleanings. As described above, English Setter dogs as a breed sometimes experience hip or elbow dysplasia and hypothyroidism. Treatment can include medication, physical therapy, hormone replacement therapy, or surgery, which can add up. Generally speaking, having insurance before you need it is a good idea.
How old should my English Setter be to get insurance coverage?
Most dog insurance providers will not cover puppies younger than eight weeks old since that is the age that most breeders and veterinarians recommend bringing puppies home. However, you can always check with your specific insurance provider to see if they have other age requirements. Once you've determined whether your English Setter is old enough for coverage, you should enroll your dog as soon as possible since some issues like elbow dysplasia can impact dogs as young as a year old, and you want to make sure you have coverage before you actually need to use it.
What type of coverage should I get for my English Setter dog?
Elbow or hip dysplasia, which sometimes affect English Setter dogs, are often treated with a combination of physical therapy, anti-inflammatory medication, and sometimes surgery. Hypothyroidism generally requires hormone replacement therapy. Dental disease is a common problem for dogs of any breed and age, and your veterinarian may recommend regular cleanings. Considering all of these issues, insurance coverage for diagnostic procedures like x-rays, medication, preventative care like dental cleanings, and surgery is a great idea.

Generally speaking, most dog insurance plans, similar to health insurance plans for people, exclude coverage for pre-existing conditions.
How does dog insurance work?
Dog insurance works on a reimbursement model. With this type of insurance, you don't need to check with your veterinarian's office to make sure they accept insurance or are in-network with your plan. You don't get an insurance card to carry with you and present to your veterinarian. Instead, you are responsible for paying your veterinarian directly for medical services. Most veterinarians require payment at the time of service, although some might accept a payment plan. Either way, once you've paid your veterinarian's office, you submit a reimbursement request to your insurance provider. They, in turn, look over your bill, compare it with your plan and rates, and reimburse you for some of those costs, as appropriate.
What type of deductible should I look for?
The type of deductible you choose is up to you, and there is no right or wrong choice. Most dog insurance providers offer plans with high, low, or no deductible options. In general, if you are worried about your dog's health, for instance, if your dog is older or prone to breed-specific health issues, it might make sense to choose a lower deductible even though it will also mean you'll be paying a higher monthly premium. A higher deductible plan will usually come with a lower monthly premium, which might be preferable for dog owners on a tighter budget.
5 Useful Strategies for Keeping Your English Setter Dog Safe & Healthy
The average lifespan of an English Setter dog is 10 to 12 years. Keeping the following tips in mind can help you make the most out of those years with your dog:
1. Grooming
With its distinctive feathered coat on the ears, chest, belly, back of the legs, and tail, the English Setter dog sheds a moderate amount. Regular brushing at least twice a week will help reduce shedding and remove any mats or tangles that develop. A bath every two to three weeks is a good idea for most English Setters since they are very active dogs that love outdoor exercise. If you do not plan to show your dog in a competition, it might be helpful to take it to a professional groomer regularly to get the coat trimmed, which will also help reduce shedding, mats, and tangles.
2. Nutritious Diet
Most English Setter dogs are very active and enjoy a lot of exercise. To keep up with their high energy levels, you should feed your English Setter puppy a high quality food three times a day. Once your dog is older, feeding twice a day is recommended. Check with your veterinarian to see if they recommend any particular dog food brand. Choosing wet, dry, raw food or a combination of those is up to you. Talking to your veterinarian can also help you determine the appropriate amount to feed your dog to avoid overfeeding, which can lead to obesity and other health issues.
3. Love and Affection
English Setter dogs make wonderful family pets because they are gentle, affectionate, and friendly with people they know. They are known to be extremely patient, so you will probably need to supervise very young children who might be tempted to pull on your English Setter dog's ears or tail since your dog will likely allow it to their own detriment. English Setter dogs make lively, energetic playmates who will play fetch endlessly for families with older children. Since they are aloof with strangers and very alert in general, barking if someone approaches the house, English Setters make good guard dogs.
4. Exercise
Bred to be hunting dogs, English Setters love to run and chase prey. They are best suited to active owners who like long walks, jogging, hiking, or biking at least twice daily. They will retain their calm and sweet demeanor in the house if given enough daily exercise. It's important to remember that they should always be leashed for exercise unless they are in an enclosed area like a fenced-in backyard since they are likely to take off after birds or squirrels otherwise.
5. Sports and Competitions
Many English Setter dogs excel at agility, obedience, and rally sports. Their high energy levels, intelligence, and sporting background make them excellent candidates for these types of competition. In a rally competition, teams of dogs and handlers navigate a course of between 10 and 20 signs that include various turns and commands to be performed. The brisk pace is ideal for English Setter dogs.
Conclusion
As a good dog owner, you know that in addition to food, shelter, and love, regular veterinary care is vital to the health of your English Setter. It's understandable to worry about the costs for potential treatment or medication your dog might need. Enrolling in some good, basic dog insurance can go a long way toward easing your mind about your ability to pay for your dog's care, no matter what your bank account looks like. You might wonder where to start if you haven't started researching dog insurance yet.
After extensive research, we conclude that Lemonade pet insurance offers English Setters the best dog insurance policy at the lowest monthly price. As a reputable insurance company, they offer several different plans at reasonable rates for all dog breeds, including English Setter dogs. Decide on the best plan for you and your pet, enroll your dog, and don't forget to pay your monthly premium. Paying your premium is all it takes to keep your coverage active so that you can sit back, relax, and enjoy spending time with your beloved canine companion.
SwiftScore Ranking Methodology for English Setters
We ranked the best pet insurance policies for English Setters based on a variety of important factors including the following:
Average monthly price for a 2-year-old English Setter with a $500 deductible located in the 90210 zip code
Coverage and benefits
Key policy details including accidents and illnesses, surgeries, annual check-ups, cancer treatment, lab tests, and more
AM Best rating of the underwriter
Reimbursement percentage
Annual benefit amount
Technology and user experience

Ease of sign up

Policy language clarity
User reviews
Other state dog insurance resources
Alabama | Alaska | Arizona | Arkansas | California | Colorado | Connecticut | Delaware | Florida | Georgia | Hawaii | Idaho | Illinois | Indiana | Iowa | Kansas | Kentucky | Louisiana | Maine | Maryland |
Massachusetts | Michigan | Minnesota | Mississippi | Missouri | Montana | Nebraska | Nevada | New Hampshire | New Jersey | New Mexico | New York | North Carolina | North Dakota | Ohio | Oklahoma | Oregon | Pennsylvania | Rhode Island | South Carolina | South Dakota | Tennessee | Texas | Utah | Vermont | Virginia | Washington | West Virginia | Wisconsin | Wyoming