7 Best
Collie

Pet Insurance Plans Compared in 2023

Updated on by Matthew H. Nash – Licensed Insurance Agent

Not to be mistaken with their smooth-fur Border Collie counterparts, Collies are majestic and beautiful all on their own! Best known from the show "Lassie", Standard or "Rough" Collies are slightly larger than Border Collies, with fluffier coats and a little less of that frenetic energy. Graceful and gentle with other creatures, Collies are especially easy to love.

As a kindred dog lover, I am here to help you find the best dog insurance for your beloved Collie. As a nationally licensed insurance agent, I've done all the research so that you can get the best coverage for the best rates—no matter how old your Collie is or what state you call home.  Read more about our unbiased ranking methodology and advertiser disclosure.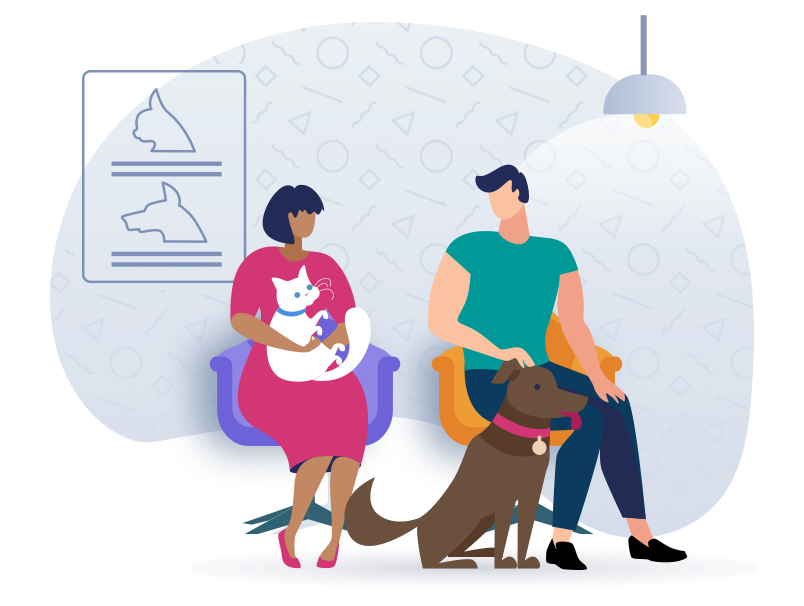 Top Collie Pet Insurance Scored, Ranked & With Cost
Use our below table to quickly compare the best Collie pet insurance providers. The average monthly specific prices shown are based on a healthy 2-year-old Collie with a $500 deductible and 90% reimbursement amount who is located in California with a 90210 zip code. Costs may vary based on age, location, and the coverage amount. Prices are accurate as of January 2023 and are subject to change. For the most up-to-date information, please visit the provider website.
---
Collie Pet Insurance FAQs
What is dog insurance and how does it work?
Dog insurance serves as emergency financial protection when your Collie has an unexpected veterinary crisis. For the most part, dog insurance waits in the background until a crisis occurs; however, just because it's waiting in the wings doesn't mean it's inactive. To keep your dog insurance policy active and ready for an emergency, you will usually be required to pay a monthly fee.

Dog insurance "works" when you use it during an unexpected or emergency vet visit. When your Collie has an emergency, you will pay your vet. Later, once you've paid your deductible to your insurance, you can submit a claim for reimbursement of the veterinary expense.

The monthly fee, deductible, and reimbursement amounts are all factors that will influence your decision as to which dog insurance company and plan are best for you and your furry family.
What will dog insurance cover and what won't it cover?
Dog insurance normally covers unexpected veterinary emergencies and accidents. These emergencies include car accidents, allergic reactions, broken bones, and infections. Each one can cost hundreds, even thousands of dollars to be treated, which is why having insurance for your Collie can be so helpful.

Dog insurance typically covers normal veterinary expenses like wellness exams and vaccinations. Additionally, dog insurance companies do not usually cover what they consider to be "pre-existing health conditions". Some companies, however, will offer limited coverage if they deem the condition curable, so it's important to consult your insurance's exact list of things they do and don't cover.

The older your Collie gets, the more likely they will develop one of the conditions many insurances won't cover. This means that there will be less your insurance can do for you in emergencies, leaving you to pay for more out of pocket. Whether your Collie is a puppy or an adult when you bring them home, getting them covered by insurance as early as you affordably can save you money later on in vet care.

More and more dog insurance providers are offering add-ons to their basic insurance plans that you can purchase to help with those routine vet visits. Depending on how often you take your Collie to the vet for routine vet appointments, these add-ons could be worth the added expense for the extra coverage.
What is a reimbursement rate?
A reimbursement rate is a percentage of what you paid the vet that will be given back to you by your insurance. Normally, this rate will be around 80-90% of that total vet bill.
How do I figure out my reimbursement amount?
Here's an example scenario to help you calculate what your reimbursement amount would be if your Collie had an emergency:

Let's say that you've already picked out what insurance plan and the company you want protecting your Collie. We'll imagine that this specific plan has a 90% reimbursement rate, a $250 deductible, and a $20,000 annual max benefit.

(This $250 deductible is simply the amount of money you need to pay before your insurance company will reimburse you for your claim. Additionally, that $20,000 annual max benefit just means that your insurance plan covers up to $20,000 in emergency vet expenses each year.)

Coming back to your reimbursement, let's say now that your sweet pup had an accident and needs a $10,000 unexpected surgery. Thanks to your 90% reimbursement rate, you will be given back $9,000 of that $10,000 (again, after you've submitted a claim). Taking $250 for your deductible, you will only be paying a total of $1,250 from that original whopping $10,000.

While paying over a thousand for vet care suddenly is still overwhelming for most pet parents, it is leagues better than having to shell out the $10,000 you would have had to with that original vet bill!
Do I have to pay the vet out of pocket immediately if my insurance is just going to reimburse me later?
Most often, you do have to pay your vet at that emergency vet visit, due to the typical process of how dog insurance works:
You pay the vet
You pay your deductible
You submit a claim
Your insurance reimburses you.
Insurance providers do not normally interact with the vet company directly, allowing pet owners to choose whatever vet they'd like. This can be a large benefit of the typical dog insurance process for many.

However, Trupanion provides a dog insurance plan that skips that first step of you paying the vet out of pocket for any of the expenses. Trupanion instead pays the vet directly, but with the condition that your vet must be a part of their network. For some, not having to pay anything out of pocket in an emergency is worth sacrificing the first choice in vet.
Is it better to have a high or low deductible – which is better?
Though we cannot expressly tell you which type of deductible is best for you and Collie pal, we can help you better understand their differences:

Buying insurance with a high deductible means paying less per month but more during a veterinary emergency.

Alternatively, buying insurance with a low deductible means that you will pay a little more per month but less in the case of an emergency. For example, you could be paying $40 a month for your adult Collie's insurance, but only $250 for your deductible when they need emergency vet care.

As we mentioned earlier, a deductible is simply the amount you have to pay in order to submit a claim to your dog insurance. Accordingly, you will want to be as prepared as possible to pay this amount should an emergency occur. That is why it is essential to consider which deductible, high or low, will be better for you based on your current financial situation. Many insurance companies have a free, easy-to-use quote calculator on their websites to help you when choosing.
Is it useful for me to have dog insurance as a Collie owner?
Compared to many dog breeds, Collies have an impressively long projected lifespan, in addition to a generally healthy disposition. However, like all dogs, Collies can suffer from an unexpected accident or illness and are particularly vulnerable to genetic eye anomalies.

When considering the care and quality of your Collie's life, we hope you can see how beneficial it can be to have dog insurance available to assist you. Although it would mean adding another monthly payment to your billing cycles, another $15 or $30 a month is far more affordable in the long term than a sudden $2,000 vet bill.

The unfortunate reality is that pet owners are commonly unprepared for these kinds of emergencies and cannot afford the vet care it takes to treat them. When this happens, some have had to euthanize their pets, simply because they couldn't pay for the vet care. Having a dog insurance plan for your Collie can drastically reduce the likelihood that you will ever have to make that decision.
How old does my Collie puppy need to be before they can be covered? Is there a maximum age my dog can be?
On average, dog insurance companies require that puppies be between 6 and 8 weeks old before you can apply for insurance to cover them. On the flip side, however, there is not normally a maximum age your Collie can be in order to get them insurance.

Even an elderly Collie can be covered, but it is more likely to have health issues that insurance won't cover. We highly recommend purchasing your Collie's insurance plan before their first birthday, if you can, since insurance for a puppy is cheaper than for an adult dog.

Pawp insurance has an "Emergency Fund" plan for up to 6 pets of any age. This plan is particularly notable for its affordable rate of $24 a month, but it does have its limitations. Any veterinary emergency you wish to submit a claim form must first be approved by Pawp's team of virtual veterinarians, meaning that you could potentially be denied coverage and reimbursement. Additionally, like most insurance plans, Pawp's Emergency Fund will only cover so much in vet bills each year.
What are common reasons for dog insurance claims?
Some of the most common insurance claims for dogs include these health issues:
Ear infections
Eye infections
Gastrointestinal issues
Skin diseases
Cancer
The risk only increases with puppies, who are often claimed for one of the above reasons in addition to the following: lacerations, bite wounds, diarrhea, and swallowing foreign objects.

Taking a pet to get treated for any one of these issues can be quite expensive, let alone if your Collie pup has more than one issue needing treatment. Insuring your Collie before these health issues can develop can save you significant financial losses.
5 Useful Strategies for Keeping Your Collie Safe & Healthy
Collies are loyal companions who love daily interaction—whether that's playing, exercising, or learning something new! These affectionate family dogs are eager to please and out to have fun. To help you carry on the fun with your Collie, we've put together 5 different strategies for keeping them safe and healthy in the day-to-day:
1. Daily Exercise is Essential
Though Standard Collies aren't as high energy as their distant cousins, the Border Collie, they still do best with a little activity each day. Include your Collie in family walks or playtime with the kids to ensure they get their activity needs to be met.
2. Grooming Is Key
The Standard Collie isn't called a "Rough" Collie for nothing! Grooming that thick fur isn't for the faint of heart but is necessary to the health and happiness of your Collie. Investing in a good brush that can get through their double coat is an essential part of caring for your Collie.
3. Feed Your Collie Smaller Meals
Some Collie's struggle with bloat. If you find that your Collie does indeed have bloating issues, consider feeding them smaller meals more often, rather than one or two big meals at the beginning and end of the day.
4. Socialize Your Collie
While still very intelligent, Standard Collies aren't as hard to train as Border Collies. However, early training and socialization will ensure that your amiable pooch remains the affectionate family dog you signed on for.
5. Monitor the Temperature Your Collie is Exposed to
It's hard to leave our pets behind when going to work and running errands, especially the people-oriented Collie. Although it's tempting to let your pup tag along for short errand runs, it can be very dangerous to leave your Collie unattended in a car. In 80-degree weather, the inside of a car can soar to well over 100 degrees, and with their notoriously thick coats, a Collie would suffer extra from that kind of heat.
Conclusion
Protecting your Collie's length and quality of life, while necessary in emergencies, is equally important in your daily routines. Grooming, regular vet visits, and activity are all essential parts of providing your Collie with the care they deserve.

With lifespans of up to 14 years, it can be hard to imagine our Collies falling ill, but even the healthiest dog is vulnerable to unexpected emergencies. Having dog insurance to rely on during these emergencies can help protect you from much of the resulting financial and emotional burden.
Ready to get started? After countless hours of research, we've found that Lemonade pet insurance consistently performs the best with the lowest monthly premiums.
SwiftScore Ranking Methodology for Collies
We ranked the best pet insurance policies for Collies based on a variety of important factors including the following:
Average monthly price for a 2-year-old Collie with a $500 deductible located in the 90210 zip code (Please note: prices will vary greatly based on your location)
Coverage and benefits
Key policy details including accidents and illnesses, surgeries, annual check-ups, cancer treatment, lab tests, and more
AM Best rating of the underwriter
Reimbursement percentage
Annual benefit amount
Technology and user experience

Ease of sign up

Policy language clarity
User reviews
See dog insurance prices in your state
Alabama | Alaska | Arizona | Arkansas | California | Colorado | Connecticut | Delaware | Florida | Georgia | Hawaii | Idaho | Illinois | Indiana | Iowa | Kansas | Kentucky | Louisiana | Maine | Maryland | Massachusetts | Michigan | Minnesota | Mississippi | Missouri | Montana | Nebraska | Nevada | New Hampshire | New Jersey | New Mexico | New York | North Carolina | North Dakota | Ohio | Oklahoma | Oregon | Pennsylvania | Rhode Island | South Carolina | South Dakota | Tennessee | Texas | Utah | Vermont | Virginia | Washington | West Virginia | Wisconsin | Wyoming