6 Best
Cockapoo

Pet Insurance Plans Compared in 2023

Updated on by Matthew H. Nash – Licensed Insurance Agent

Cockapoos are happy pups with an undeniable love for their families. Their happy disposition, non-shedding coat, and easy-going personality with children and other pets make them a perfect family companion. Pet ownership is a wonderful experience, but many dog breeds, including the Cockapoo, are prone to certain medical conditions that are treatable but can become financially overwhelming. Pet insurance will protect your finances while providing the care your pet needs to live a long and healthy life! I am an insurance agent and a lifelong pet owner and I am here to help you navigate the pet insurance landscape! Read more about our unbiased ranking methodology and advertiser disclosure.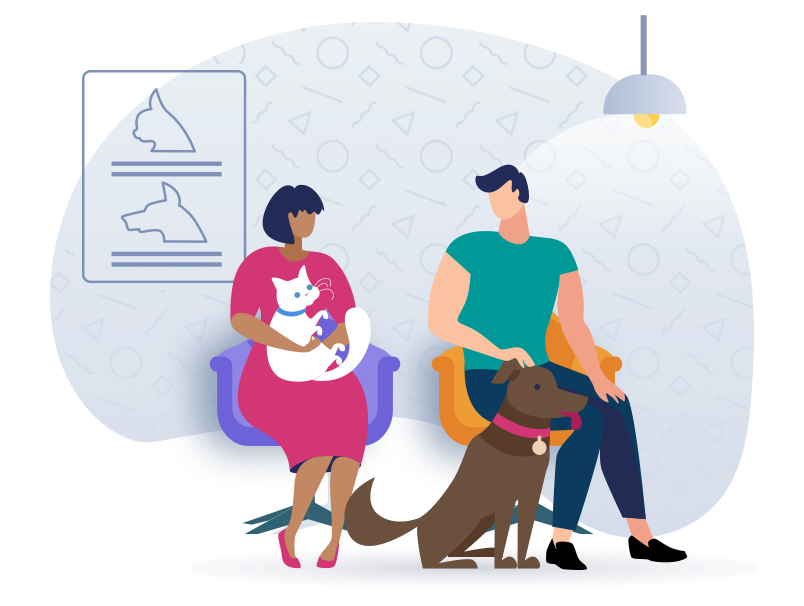 Top Cockapoo Pet Insurance Scored, Ranked & With Cost
Use our below table to quickly compare the best Cockapoo pet insurance providers. The average monthly specific prices shown are based on a healthy 2-year-old Cockapoo with a $500 deductible and 90% reimbursement amount who is located in California with a 90210 zip code. Costs may vary based on age, location, and the coverage amount. Prices are accurate as of January 2023 and are subject to change. For the most up-to-date information, please visit the provider website.
---
Cockapoo Pet Insurance FAQs
What is pet insurance, and is it worth the investment for our Cockapoo?
When you align with a pet insurance company, you are providing peace of mind for yourself and your family. Pet care costs are rising every year, making adequate coverage imperative. No one should have to make a medical decision based on finances. A comprehensive pet insurance plan will pay a portion of veterinary services rendered. You are able to customize a plan that works for you regarding your deductible and rate of reimbursement. Some families select basic coverage, while others opt for a more elaborate plan. Pet insurance often includes routine wellness, vaccines, stool and blood samples, emergency services, specialty services, medications, and more. It is important to verify specific coverage with your plan to ensure you have a suitable plan in place. Doing so could save you hundreds or even thousands per year in veterinary services.
What is the proper age to insure my Cockapoo?
Timely enrollment is one of the most important aspects of insurance. When your puppy is coming home, it is advised to have them already enrolled in an insurance plan. Puppies ingest things they shouldn't, chew, and can be unpredictable at times. Most plans will provide coverage by eight weeks. Adult dogs may be required to go through a waiting period before coverage eligibility kicks in. Pre-existing conditions will not be covered by your insurance plan. Waiting to enroll could cost you money.
What are a few common insurance claims for the Cockapoo?
Cockapoos tend to be a fairly healthy breed, unfortunately, they are prone to breed-specific conditions that require a medical diagnosis and treatment plan. Hip dysplasia is a common issue found in Cockapoos. This is a degenerative disease and may require total hip replacement surgery. Luxating patella is another common disorder in Cockapoos. With this condition, the kneecaps frequently dislocate. It sometimes corrects itself, but could eventually require medical intervention. This breed has noted many eye conditions: progressive retinal atrophy, glaucoma, cataracts, and corneal abrasions. Chronic and acute conditions, including illness, injury, broken bones, and diagnostics are sometimes necessary and can carry a hefty price tag. Pet insurance not only minimizes your out-of-pocket expenses, but it allows you to make decisions regarding treatment without the worry of the financial implications.
What services are typically covered by insurance? What services are excluded from coverage?
As mentioned earlier, your pet insurance provider does not cover pre-existing conditions, making early enrollment extremely important. Most comprehensive pet insurance plans will cover care associated with; infection, broken bones, acute illnesses, chronic conditions, preventative care, medications, diagnostics, and hospitalizations. It is important to verify eligibility prior to enrolling your pet. It is easy to customize your plan based on how much you're able to spend every month.
Does pet insurance cover dental work?
Some plans may cover routine dental care. Others may only cover accidents, injuries, or infections of the mouth. Dental care can be expensive so it is important to decide what plans work best for your dog!
Can I use a veterinarian of choice, or are there insurance-approved options?
Pet insurance plans work on a reimbursement method of payment, Therefore most plans are accepted at any licensed veterinary facility, including emergency service or specialty service clinics.
Are there discounts for insuring multiple pets?
A majority of pet insurance providers provide bundle pricing. That means, if you have multiple pets at home, you will receive a discount to insure all of your cats and dogs. Coverage typically includes cats and dogs, however, some providers may extend coverage to other animals. Verify with your provider to see what options are available.
Who pays for services at the time of veterinary care?
Based on the reimbursement rate and deductible your plan has set, you will pay upfront at the time of service. You will want to be sure to retain invoices or receipts to submit to your insurance company. A reimbursement payment will be sent to you minus your deductible, which is the amount you must pay before coverage kicks in. The insurance company will cover the percentage that your plan allows.
How should we choose from a high or low-deductible plan?
There is no right or wrong decision as it relates to your deductible. You must understand what you are willing to pay if an unforeseen accident or injury occurs. If you enroll in a low-deductible plan, you have to come up with less money at the time of care. For instance, you may pay a slightly higher premium every month, but your deductible is $250 versus $500. Deductible rates vary and can easily be customized. If you would like to save a bit every month in premiums and have enough savings to cover a higher deductible, that may be a good option for you. Your coverage doesn't change based on your deductible, which ultimately means a healthy pet and wallet for you!
5 Tips for Keeping Your Cockapoo Safe and Healthy
Pet ownership is a rewarding endeavor! A comprehensive pet insurance plan helps mitigate some of the unforeseen medical expenses that occur when you have a pet, however, there are many things you can do every day to ensure your Cockapoo lives a long and healthy life!
1. Daily Exercise
Walking your Cockapoo daily is a great way for you to bond with your dog, engage in cardiovascular activity that benefits both you and your pup, socialize your dog with others, improve digestion, lower your blood pressure, and reduce stress while building strong bones and muscles. High-impact exercise is not the best option for your Cockapoo when they are little as their joints are still growing. Playing with your dog and providing enrichment activities is a great way to stimulate their minds, while providing some exercise. A quick Google search or chat with your veterinarian will help you identify some fun mental stimulation games that will keep your pup's mind busy. A balanced dog participates in both physical and mental exercise every day.
2. Proper Nutrition and Food Intake
Work with your veterinarian or breeder to discuss food options. There are many high-quality foods on the market. Some may be packed with unnecessary fillers, so they are best to avoid. Finding a food with balanced protein, minerals, vitamins and other nutrients is important. Be sure to feed your dog the proper amount based on age, activity level and size. It is very easy to overfeed a dog. Their sad eyes begging for table scraps or extra treats, can make it more difficult. Resist the temptation to give them excessive treats. Overweight dogs can worsen their predisposition to joint issues.
3. Training
Crossbred with the poodle, the Cockapoo is a highly intelligent and focused dog, eager to learn and please his family. Starting the training early will help build trust, teach good habits, and create a lasting bond with your pet. Cockapoos prefer rewards through positive reinforcement training.
4. Ear Maintenance
Cockapoos are known for heavy, low-slung ears and a love of water! Sometimes those adorably floppy ears can become infected. It is important to check your dog's ears for debris and odor regularly. If they do go splashing around in the water, be sure to thoroughly dry their ears afterwards.
5. Regular Grooming
Cockapoos are a non-shedding breed that requires daily combing to help prevent mats and tangles. Some may opt for professional grooming at least once per month to keep their pup's locks more manageable. Nail care is also important. You will be able to tell when their nails need to be clipped by how they support their legs on a hard surface, as they will slide and click on the floors. Their pads should always support their legs.
Conclusion
Cockapoos are a wonderful mix of Cocker Spaniel and Poodle. They are a lively breed, great for those with allergies, and make a wonderful family companion. We do not often think of the what-ifs in pet ownership, making it easy to forgo a pet insurance plan. Doing that can lead to headaches, stress, and veterinary bills that pile up and become overwhelming to manage. With the various plans on the market, it's never been easier to customize a plan that works for you. A small monthly investment could save hundreds or thousands of dollars each year. A great company that offers competitive pricing and coverage is Lemonade pet insurance. With a few clicks online, you can see which options they have to choose from and quickly receive a quote. Prepare for your future, by making a small monthly investment with a pet insurance policy for your beloved dog today!
SwiftScore Ranking Methodology for Cockapoos
We ranked the best pet insurance policies for Cockapoos based on a variety of important factors including the following:
Average monthly price for a 2-year-old Cockapoo with a $500 deductible located in the 90210 zip code
Coverage and benefits
Key policy details including accidents and illnesses, surgeries, annual check-ups, cancer treatment, lab tests, and more
AM Best rating of the underwriter
Reimbursement percentage
Annual benefit amount
Technology and user experience

Ease of sign up

Policy language clarity
User reviews
Other state dog insurance resources
Alabama | Alaska | Arizona | Arkansas | California | Colorado | Connecticut | Delaware | Florida | Georgia | Hawaii | Idaho | Illinois | Indiana | Iowa | Kansas | Kentucky | Louisiana | Maine | Maryland |
Massachusetts | Michigan | Minnesota | Mississippi | Missouri | Montana | Nebraska | Nevada | New Hampshire | New Jersey | New Mexico | New York | North Carolina | North Dakota | Ohio | Oklahoma | Oregon | Pennsylvania | Rhode Island | South Carolina | South Dakota | Tennessee | Texas | Utah | Vermont | Virginia | Washington | West Virginia | Wisconsin | Wyoming