7 Best
Chorkie

Pet Insurance Plans Compared in 2023

Updated on by Matthew H. Nash – Licensed Insurance Agent

Chorkies have a larger-than-life personality, though their diminutive size might suggest otherwise. They are snuggly pint-sized pups with a lovable demeanor, making them a great addition for most. All dogs can be prone to certain breed-specific conditions. Chorkies are no different. These conditions can become costly to manage. The great news is, pet insurance can help alleviate some of the stress of compounding veterinary bills, while allowing you to make that appointment for your pup's procedure or medication, without having to worry about going into debt to do so. So many pet owners are forced to make a decision regarding their pet's medical care, based on finances alone. Now imagine having a financial safeguard in place that allows you to make the best decision for your pet while saving money! As a licensed insurance agent and lifelong pet owner, I can help you explore the money-saving possibilities with a comprehensive pet insurance plan! Read more about our unbiased ranking methodology and advertiser disclosure.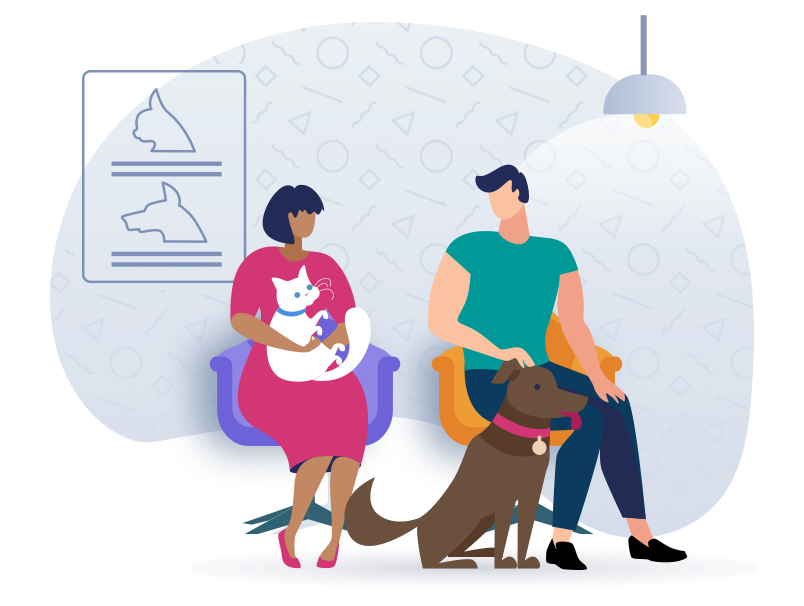 Top Chorkie Pet Insurance Scored, Ranked & With Cost
Use our below table to quickly compare the best Chorkie pet insurance providers. The average monthly specific prices shown are based on a healthy 2-year-old Chorkie with a $500 deductible and 90% reimbursement amount who is located in California with a 90210 zip code. Costs may vary based on age, location, and the coverage amount. Prices are accurate as of January 2023 and are subject to change. For the most up-to-date information, please visit the provider website.
---
Chorkie Pet Insurance FAQs
What is pet insurance, and is it worth the investment for our Chorkie?
A pet insurance plan can help you manage health costs for your Chorkie. Some studies indicate routine care, including vaccines and wellness check-ups, can cost up to $1500 per year. That does not include the cost to treat other issues such as broken bones, chronic or acute conditions, or illnesses like cancer diagnostics and treatment, tumor removal, hip replacement surgery, treatment for toxic ingestion, and more. Wound treatment and emergency surgeries can run into the thousands. When you consider your low monthly premium, a comprehensive pet insurance plan is a no-brainer. It seems unnecessary now, but once faced with a medical crisis, you will rest easy knowing you will not run your savings dry to cover the cost of treatment.
What is the proper age to insure my Chorkie?
Early enrollment is key! By enrolling your Chorkie into a comprehensive pet insurance plan early, you prevent the risk of claim denial for pre-existing conditions. Most providers recommend insuring your puppy around eight weeks old. It may feel nonsensical to apply for a pet insurance plan with a young and healthy puppy at home. However, some reports indicate that 1 in 2 puppies will already have a claim within their first year, while around 69% have a second claim within that first year. Dogs that are older than the puppy stage may need to go through a waiting period prior to eligibility. On the flip side, some may consider dropping their insurance once their dog reaches maturity. This is not recommended as your dog's risk of conditions and illnesses changes and evolves as they age.
What are a few common insurance claims for the Chorkie?
Chorkies tend to be a fairly healthy breed, but several health conditions have been noted in this breed. Luxating patella can afflict your Chorkie. This condition results in intermittent kneecap dislocation. Medical intervention is needed in severe cases, with mild cases resolving on their own. Hypothyroidism is another condition that can affect your Chorkie. It may cause complacency, weight gain, and seizures. This condition requires medical treatment to help manage symptoms and to prevent further complications. Your Chorkie is a small breed, so obesity and obesity-related illnesses can be common. Excess weight can cause lead to joint degeneration and other issues, along with lameness in the dog.
What services are typically covered by insurance? What services are excluded from coverage?
Pet insurance policies vary, so it is important to do a side-by-side comparison with each plan to ensure you are enrolling in a plan that meets your expectations and needs. That said, most comprehensive plans will include care associated with broken bones, infection, chronic and acute conditions, preventative care, wellness care including vaccines, blood work, fecal testing, medications, diagnostics, specialty service clinics, and emergency treatment. Some plans may exclude some of these listed, but this should give you a good idea of basic coverage. Services that are excluded are deemed pre-existing. A few examples of pre-existing conditions include arthritis, cancer, heart disease, and several others. It is always best to check with your provider to ensure coverage.
Does pet insurance cover dental work?
Some plans may cover routine dental wellness. Others may only include injury or infection of the mouth. There are many plans available that allow you to customize your plan by adding to your plan to include dental care.
Can I use a veterinarian of choice, or are there insurance-approved options?
Different than the human health insurance plan we are all used to, most pet insurance plans work on a reimbursement method of payment. Therefore, most plans are accepted at any licensed veterinary clinic, emergency service clinic, or even a specialty clinic.
Are there discounts for insuring multiple pets?
Insurance companies frequently provide a discount on your plan if you're insuring multiple pets. Cats and dogs usually fall under coverage eligibility, while a few plans in the market may extend coverage to exotic pets such as birds and other animals. Always best to contact your provider to see what discounts are available.
Who pays for services at the time of veterinary care?
Typical insurance providers require upfront payment at the time of service. You will pay for services rendered, submit a claim and receive a check from your insurance company minus your deductible. They will pay a portion of the care received based on your reimbursement rate.
How should we choose from a high or low-deductible plan?
Everyone has a unique financial situation. Customizing an insurance plan is easy with high-deductible or low-deductible plans available. Some may prefer a lower monthly premium, with a high deductible. Meaning, they pay slightly less per month, but have a higher deductible should their pet need medical care. Others may opt for a slightly higher monthly premium and lower deductible. Whichever plan you choose is what works best for you! Neither choice is superior and medical care is the same.
5 Tips for Keeping Your Chorkie Safe and Healthy
Pet insurance is a great way to mitigate out-of-pocket expenses for veterinary care. It provides peace of mind and lessens the financial burden of pet ownership. Along with a pet insurance plan, there are many things you can do with your Chorkie every day to ensure a long and healthy life.
1. Daily Exercise
Chorkies need about 30 minutes per day of exercise. Walks will help keep your pup active and at a healthy weight. Exercise helps keep your Chorkie's joints mobile and strong, but also helps combat boredom that can lead to destructive behavior. Mental stimulation games will also help create a balanced and happy dog!
2. Proper Nutrition and Food Intake
Chorkies love to eat, and have a tendency to become overweight easily. A nutritious diet that includes high-quality food in appropriate portions, is another great tool to help maintain their proper weight.
3. Training
Early socialization and training are important with this breed. Chorkies tend to become easily attached to their owners, so it is important to work with them on separation anxiety. Providing them with a safe space while you leave for short periods of time, works best. Socialization with other animals at a young age will help prevent aggressive tendencies.
4. Handling with Care
Chorkies are small dogs and must be handled with care. Small children, while they have the best intentions, may not always properly handle your Chorkie. It is important to educate your children on the importance of "handling them with care," as they can sustain injuries quite easily.
5. Regular Grooming
Chorkies may inherit either long hair, or short, based on how genetics unfolds. Longer-haired Chorkies will require combing a few times a week to keep them mat and tangle free. Shorter coats will need significantly less maintenance; a rubber brush to remove loose hair every week. Nail care is an important part of their routine. When they click on the floor, or slip easily, you know it's time for a trim. You can trim your dog's nails on your own, every 3-4 weeks, or find a groomer in your area. Your dog's pads should always support their legs.
Conclusion
Chorkies are loving, playful companions with open hearts. Now is the best time to research pet insurance plans for your pup to ensure proper medical diagnosis and treatment. With the cost of veterinary care rising, it is important to protect your dog's health, but also your finances. We may not consider illness or injury when we bring a new dog home, but this initial effort can save you hundreds or even thousands on unforeseen veterinary bills. I recommend researching Lemonade pet insurance for competitive pricing and coverage.
SwiftScore Ranking Methodology for Chorkies
We ranked the best pet insurance policies for Chorkies based on a variety of important factors including the following:
Average monthly price for a 2-year-old Chorkie with a $500 deductible located in the 90210 zip code
Coverage and benefits
Key policy details including accidents and illnesses, surgeries, annual check-ups, cancer treatment, lab tests, and more
AM Best rating of the underwriter
Reimbursement percentage
Annual benefit amount
Technology and user experience

Ease of sign up

Policy language clarity
User reviews
Other state dog insurance resources
Alabama | Alaska | Arizona | Arkansas | California | Colorado | Connecticut | Delaware | Florida | Georgia | Hawaii | Idaho | Illinois | Indiana | Iowa | Kansas | Kentucky | Louisiana | Maine | Maryland |
Massachusetts | Michigan | Minnesota | Mississippi | Missouri | Montana | Nebraska | Nevada | New Hampshire | New Jersey | New Mexico | New York | North Carolina | North Dakota | Ohio | Oklahoma | Oregon | Pennsylvania | Rhode Island | South Carolina | South Dakota | Tennessee | Texas | Utah | Vermont | Virginia | Washington | West Virginia | Wisconsin | Wyoming