7 Best
Chesapeake Bay Retriever

Pet Insurance Plans Compared in 2023

Updated on by Matthew H. Nash – Licensed Insurance Agent

The Chesapeake Bay Retriever (also known as the "Chessie") is an active, affectionate dog breed that embodies all of the classic characteristics of a retriever. If healthy, Chessies can live between 10 and 13 years old. However, Chessies can develop a range of genetic conditions that can impact their health and require veterinary treatment. For this reason, many dog owners enroll their Chessies in dog insurance to help make veterinary care more affordable, especially if more extensive treatment is needed as their pups get older. If you own a Chessie and are interested in enrolling in dog insurance coverage, this article may be able to help.

While the steps to enroll in dog insurance coverage are relatively straightforward, insurance language can be confusing. My team and I have compiled a list of everything you need to know about dog insurance to make this process easier.  Read more about our unbiased ranking methodology and advertiser disclosure.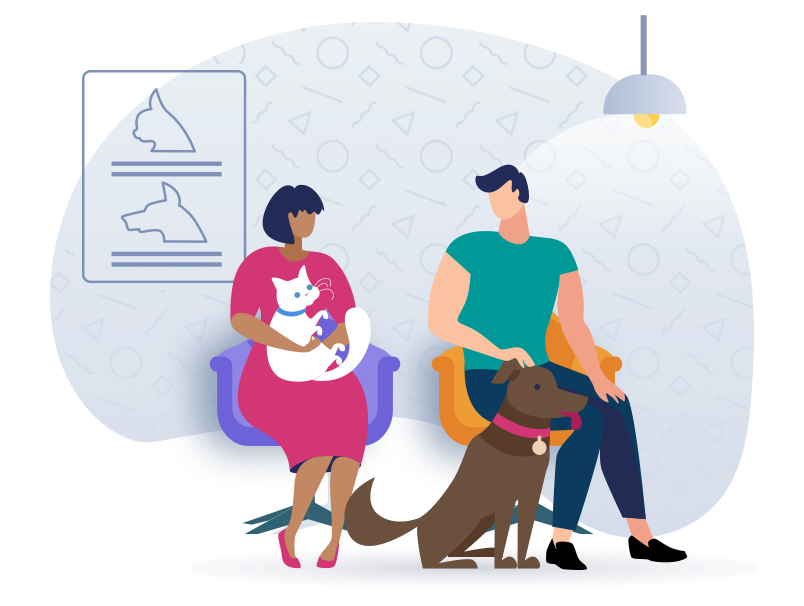 Top Chesapeake Bay Retriever Pet Insurance Scored, Ranked & With Cost
Use our below table to quickly compare the best Chesapeake Bay Retriever pet insurance providers. The average monthly specific prices shown are based on a healthy 2-year-old Chesapeake Bay Retriever with a $500 deductible and 90% reimbursement amount who is located in California with a 90210 zip code. Costs may vary based on age, location, and the coverage amount. Prices are accurate as of January 2023 and are subject to change. For the most up-to-date information, please visit the provider website.
---
Chesapeake Bay Retriever Dog Insurance Frequently Asked Questions
What is dog insurance? Why should I enroll my Chesapeake Bay Retriever in dog insurance?
Dog insurance is medical insurance coverage for dogs. Dog owners can enroll their pups in coverage to help ease the financial burden of veterinary care. Most dog insurance plans use a reimbursement model, which means that while you as the owner are responsible for paying your veterinary bills, your insurance company will reimburse you for the costs that you incur.

To enroll in dog insurance, all you need to do is find a plan that meets the needs of your dog (and your finances), start making monthly payments to keep the policy active, and then your dog is covered! Depending on your plan, you may be able to begin requesting reimbursement right away.

If you own a Chesapeake Bay Retriever, dog insurance may be a good idea due to the risk of chronic medical conditions associated with the breed. Additionally, this breed can also experience unexpected illnesses or injuries throughout their lives, resulting in expensive medical treatment.
How old does my dog need to be to be eligible for dog insurance?
Most dog insurance plans impose an age requirement of 8 weeks in order to be eligible for dog insurance coverage. However, there are usually no age limits to coverage; dogs can be covered by their insurance for their entire lives and enroll at any time past 8 weeks of age.
What are the most common insurance claims for Chesapeake Bay Retrievers?
While the Chesapeake Bay Retriever is a generally healthy breed, they may develop a number of genetic conditions that may require veterinary treatment, especially as they age. The most common condition that results in many insurance claims for this breed is Hip Dysplasia, common in larger breeds. This condition may greatly impact your dog's functioning and may require surgery. Other common ailments include Cataracts and gastric torsion.
What will my dog insurance plan cover?
Coverage varies by plan. However, basic dog insurance plans usually cover veterinary care needed for unexpected illnesses and injuries, including cancer. Some plans also offer more comprehensive coverage, including coverage for prescriptions, preventative care, and medical imaging.

Dog insurance plans in general offer generous coverage for veterinary care. However, it is important to know that dog insurance plans will rarely cover the cost of veterinary care needed to treat pre-existing conditions, which includes any condition diagnosed prior to beginning coverage.
How will I be reimbursed?
Once you are eligible for reimbursement (usually after you hit your deductible, if you have one), you can submit reimbursement requests to your insurance provider after your Chessie receives medical care and you have paid the initial vet bill. Your insurance provider will reimburse you depending on your reimbursement request rate and your deductible amount.
Should I enroll in a plan with a high or low deductible?
The type of plan that you choose should depend on what is best for your financial situation. For example, low deductible plans usually result in higher monthly payments, but you would end up paying less out-of-pocket before being able to be reimbursed. The opposite would be true for plans with higher deductibles.
5 Useful Strategies for Keeping Your Chesapeake Bay Retriever Safe & Healthy
Enrolling in dog insurance is just one of the many ways to ensure your Chessie's health. Other important health strategies that you can implement at home include:
1. Regular Exercise
The Chesapeake Bay Retriever is a high-energy breed that requires regular exercise. Examples of excellent activities to do with your Chessie are regular walks and visits to places where they can run. One tip is to fence in your backyard so that your Chessie can run in a safe and contained area.
2. Healthy Diet
Since Chessies are highly active dogs, they need a healthy and well-balanced diet for fuel and to promote strong bones, joints, and hearts. Make sure that you are feeding your Chessie meals that contain whole-sourced ingredients and are high in protein. You can consult with your vet for dog food brand recommendations.
3. Obedience Training
Chessies regular obedience training almost immediately. If you bring a puppy into your home, make sure that you enroll in obedience training as soon as possible and that your training is consistent in the home.
4. Grooming
Chessies are low maintenance when it comes to grooming. However, it is still important to meet your Chessie's grooming needs, including baths, brushing of the coat and teeth, and nail-clipping. This helps to keep their skin and hair clean and prevent fleas and ticks.
5. Routine Medical Check-ups
Like with all dog breeds, regular visits to the vet are important to detect underlying health issues and to treat any current concerns that you or your vet may have. Since Chessies are prone to certain genetic conditions, regular exams at the vet can help prevent conditions and lead to early treatment if a condition is found.
Conclusion
The Chesapeake Bay Retriever is among the most lovable dog breeds. If you are the proud owner of a Chessie and are considering enrolling in dog insurance, all you need to do is find a best plan for you, pay the monthly premium, and then your Chessie is covered. Health concerns can emerge at any time throughout your dog's life, and dog insurance makes it so that you do not need to worry about how to pay for your dog's care.
Ready to get started? After countless hours of research, we've found that Lemonade pet insurance consistently performs the best with the lowest monthly premiums.
SwiftScore Ranking Methodology for Chesapeake Bay Retrievers
We ranked the best pet insurance policies for Chesapeake Bay Retrievers based on a variety of important factors including the following:
Average monthly price for a 2-year-old Chesapeake Bay Retriever with a $500 deductible located in the 90210 zip code (Please note: prices will vary greatly based on your location)
Coverage and benefits
Key policy details including accidents and illnesses, surgeries, annual check-ups, cancer treatment, lab tests, and more
AM Best rating of the underwriter
Reimbursement percentage
Annual benefit amount
Technology and user experience

Ease of sign up

Policy language clarity
User reviews
See dog insurance prices in your state
Alabama | Alaska | Arizona | Arkansas | California | Colorado | Connecticut | Delaware | Florida | Georgia | Hawaii | Idaho | Illinois | Indiana | Iowa | Kansas | Kentucky | Louisiana | Maine | Maryland | Massachusetts | Michigan | Minnesota | Mississippi | Missouri | Montana | Nebraska | Nevada | New Hampshire | New Jersey | New Mexico | New York | North Carolina | North Dakota | Ohio | Oklahoma | Oregon | Pennsylvania | Rhode Island | South Carolina | South Dakota | Tennessee | Texas | Utah | Vermont | Virginia | Washington | West Virginia | Wisconsin | Wyoming