7 Best
Cavalier King Charles Spaniel

Pet Insurance Plans Compared in 2022

Updated on by Matthew H. Nash – Licensed Insurance Agent

Small spaniels have been popular companion dogs for hundreds of years and could be found in the royal courts and noble houses of Spain, France, England, and Scotland. King Charles I and his son Charles II contributed greatly to the popularity of what would eventually become known as King Charles Spaniels. Enrolling in a good dog insurance plan can help you cover some of the out-of-pocket costs as you care for your Cavalier King Charles Spaniel. Several different pet insurance providers offer a wide range of coverage options and plans for all dog breeds, including Cavalier King Charles Spaniels. Below, I've outlined some general dog insurance information and some breed-specific tips to help you care for your beloved companion. As a dog owner and licensed insurance agent, I hope you find some of the information helpful as you begin researching dog insurance options. Read more about our unbiased ranking methodology and advertiser disclosure.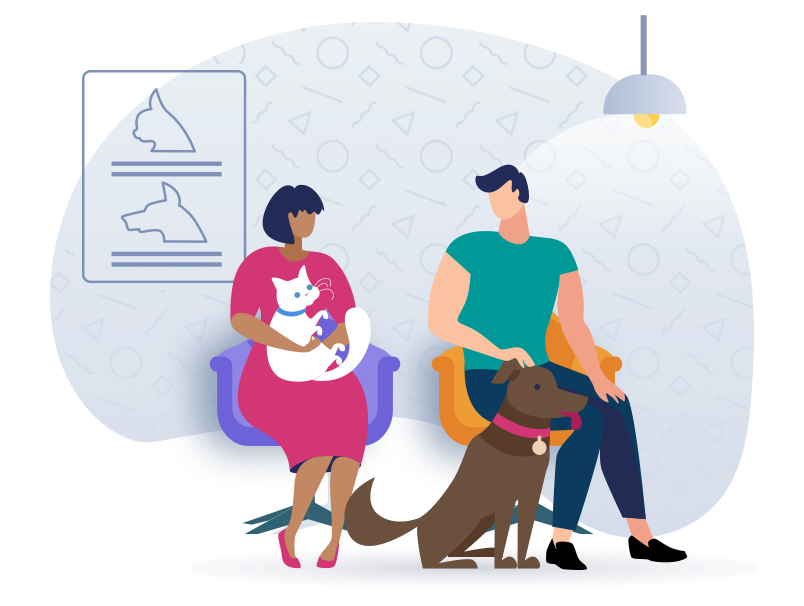 Top Cavalier King Charles Spaniel Pet Insurance Scored, Ranked & With Cost
Use our below table to quickly compare the best Cavalier King Charles Spaniel pet insurance providers. The average monthly specific prices shown are based on a healthy 2-year-old Cavalier King Charles Spaniel with a $500 deductible and 90% reimbursement amount who is located in California with a 90210 zip code. Costs may vary based on age, location, and the coverage amount. Prices are accurate as of January 2022 and are subject to change. For the most up-to-date information, please visit the provider website.
---
Cavalier King Charles Spaniel Pet Insurance FAQs
Do I really need dog insurance if my Cavalier King Charles Spaniel is healthy?
Simply put, all dog owners can benefit from enrolling in pet insurance. As you might expect from the name, dog insurance helps cover medical expenses for dogs in the same way health insurance helps you pay your medical expenses. As noted previously, Cavalier King Charles Spaniels as a breed are prone to certain health concerns like mitral valve disease, syringomyelia, and primary secretory otitis media. Even if your specific Cavalier King Charles Spaniel does not exhibit any symptoms for those health issues, all dogs can be subject to occasional, unexpected illnesses or injuries. Many insurance plans offer coverage for things like medication or diagnostic procedures like x-rays, as well as for preventative care, like dental cleanings, which is especially helpful with small dog breeds who tend to have dental problems.
How old does my Cavalier King Charles Spaniel need to be to enroll?
If you are buying your Cavalier King Charles Spaniel from a breeder, you will most likely bring it home between eight and ten weeks old. Many dog insurance providers do not offer coverage for puppies younger than eight weeks. However, you should always check with your chosen insurance provider about specific age requirements to make sure your puppy is eligible. Enrolling your Cavalier King Charles Spaniel in a good insurance plan as soon as possible is a good idea. Some illnesses like mitral valve disease can affect dogs at an early age.
What type of coverage should I be looking for? Are there issues common to Cavalier King Charles Spaniels for which I might need coverage?
Mitral valve disease, which sometimes affects this breed, causes the valve between the atrium and the ventricle on the left side of the heart fails to close completely, allowing some blood to leak back into the atrium. Veterinarians can detect this abnormal flow of blood when your dog develops a heart murmur. Left untreated, the disease can eventually cause congestive heart failure, so your veterinarian will likely check your Cavalier King Charles Spaniel annually for a heart murmur, sometimes using an ultrasound to aid in diagnosis. In most cases, mitral valve disease can be controlled with medication.

With syringomyelia, dogs have a congenital bone deformity where the rear part of the skull is too small, leading to the development of fluid-filled cavities in the spinal cord. Symptoms include scratching at the neck and sensitivity in the head and neck area. Mild cases can be controlled with medication. More serious cases require surgery.

Primary secretory otitis media, or glue ear, occurs when a mucus plug forms in the middle ear cavity. Head or neck pain, tilting of the head, scratching at the ears, and hearing loss are all symptoms to look for. Your veterinarian will likely diagnose the condition using an MRI or CT scan. Treatment often calls for surgery to remove the plug and antibiotics to clean the ear.

Given these breed-specific health concerns, choosing an insurance plan that covers diagnostic procedures like ultrasounds, MRIs, and CT scans; medication; and surgery is probably a good idea.
What if my veterinarian's office doesn't take insurance?
Unlike health insurance for people, dog insurance works on a reimbursement model, which means that it doesn't matter whether or not your veterinarian's office accepts insurance. With this model of insurance, you pay your veterinarian directly for medical services up front, and then your insurance provider reimburses you for some of those costs. When you take your Cavalier King Charles Spaniel to the veterinarian's office for a regular check-up or for care for an unexpected illness or injury, pay your bill in full directly to the office. Submit a reimbursement request to your insurance provider after you have paid your bill. They will review your request, compare it with your chosen plan's rates and coverage, and send you the appropriate amount of reimbursement.
Is it better to have a high deductible or a low deductible?
Dog insurance, like other types of insurance, can come with various deductible choices – high, low, or sometimes no. Any of these options can be the right one; it depends on your preferences and situation. If your Cavalier King Charles Spaniel is older or you are worried about some of the breed-specific issues outlined above, you might want to choose a lower deductible even though it will also mean you'll be paying a higher monthly premium. If you are more worried about your current finances, you might choose a plan with a higher deductible and lower monthly payment.
5 Useful Strategies for Keeping Your Cavalier King Charles Spaniel Dog Safe & Healthy
Cavalier King Charles Spaniels are the perfect combination of affectionate lap dog and highly trainable and athletic sport dog. This popular breed generally lives anywhere between 10 and 14 years. The following tips might help you as you provide the healthiest and happiest life you can for your Cavalier King Charles Spaniel:
1. Grooming
Generally speaking, Cavalier King Charles Spaniels are easy to groom. Their medium-length, silky coat sheds dirt fairly easily, and regular brushing reduces shedding. The long, silky hair on the ears, tail, belly, and legs, known as "feathering," should be brushed two to three times a week to prevent mats and tangles. If tangles do develop, using a stainless steel comb is best to remove them. Using a slicker brush will keep the coat shiny. If needed, bathing your Cavalier King Charles Spaniel every two to four weeks should keep them smelling great.

Although their regular grooming needs are minimal, Cavalier King Charles Spaniels require extra attention to the ears. Because the breed can be susceptible to primary secretory otitis media, also known as glue ear, it's important to clean the ears regularly with dog-safe ear wipes or a warm washcloth.
2. Nutritious Diet
In general, small dog breeds usually only need about a cup of food per day, distributed in two meals. Small dogs have faster metabolisms than bigger dogs, so the food you give them should be higher in fat and protein to help maintain their energy. Be careful not to overfeed your Cavalier King Charles Spaniel, since toy dog breeds tend toward obesity, leading to other issues like hip dysplasia, patellar luxation, and arthritis. Always check with your veterinarian about any recommended high quality dog food brands and the amounts you should be feeding your dog.
3. Love and Affection
One of the reasons the Cavalier King Charles Spaniel is such a popular breed is that they are known to be extremely friendly, social, and affectionate. They will likely follow you everywhere, just waiting for you to sit down so they can jump in your lap. Their intuitive nature means they can make great therapy dogs. This breed is ideal for families, since Cavalier King Charles Spaniels get along great with children, but also for a home with a stay-at-home parent, a home where at least one person works from home, or a retired couple. They do not do well when left alone for long periods of time.
4. Exercise
Although Cavalier King Charles Spaniels love to be lap dogs or couch potatoes, depending on their owner, they are naturally a very athletic breed that also enjoys playing and exercise. Most Cavalier King Charles Spaniels are willing and able to go for long walks or hikes with their owners, but keeping them on a leash is important because they love to chase moving objects and might dash off after a bird or squirrel. You can even use them to flush out birds if you're a hunter.
5. Sports
Cavalier King Charles Spaniels combine natural athleticism with a deep desire to please their owners. This combination leads to them excelling at canine sports like agility courses and rally, in which the dog and handler move through a course of 10-20 signs that display skills to perform – like turns – or behaviors – like sitting and staying. Dogs and handlers work together and must demonstrate both teamwork and enthusiasm throughout the course. Most Cavalier King Charles Spaniels are naturally animated, cheerful, and agile, making them the perfect dog for these types of sports.
Conclusion
Chances are that you consider your Cavalier King Charles Spaniel to be an important part of your family. You already provide the basics – shelter, food, love, exercise, and attention, as well as regular annual check-ups with a veterinarian. For the times that your Cavalier King Charles Spaniel might need additional care, for instance, medicine or treatments when they are sick or injured, dog insurance can help ease your mind about your ability to cover those costs, no matter the state of your finances. Research the insurance providers and coverage options available to you.
After extensive research, we conclude that Lemonade pet insurance offers the best dog insurance policy at the lowest monthly price for Cavalier King Charles Spaniels. Decide on the best plan for you, enroll your pet, pay your monthly premium, and relax, knowing you'll be able to provide the best care possible for your pet for years to come.
SwiftScore Ranking Methodology for Cavalier King Charles Spaniels
We ranked the best pet insurance policies for Cavalier King Charles Spaniels based on a variety of important factors including the following:
Average monthly price for a 2-year-old Cavalier King Charles Spaniel with a $500 deductible located in the 90210 zip code
Coverage and benefits
Key policy details including accidents and illnesses, surgeries, annual check-ups, cancer treatment, lab tests, and more
AM Best rating of the underwriter
Reimbursement percentage
Annual benefit amount
Technology and user experience

Ease of sign up

Policy language clarity
User reviews
Other state dog insurance resources
Alabama | Alaska | Arizona | Arkansas | California | Colorado | Connecticut | Delaware | Florida | Georgia | Hawaii | Idaho | Illinois | Indiana | Iowa | Kansas | Kentucky | Louisiana | Maine | Maryland |
Massachusetts | Michigan | Minnesota | Mississippi | Missouri | Montana | Nebraska | Nevada | New Hampshire | New Jersey | New Mexico | New York | North Carolina | North Dakota | Ohio | Oklahoma | Oregon | Pennsylvania | Rhode Island | South Carolina | South Dakota | Tennessee | Texas | Utah | Vermont | Virginia | Washington | West Virginia | Wisconsin | Wyoming